What Is a Treadmill Desk and Why Do I Need One?
A treadmill with desk is a standing or adjustable workstation which is designed so that users can walk on a treadmill while working. This type of work unit has become more and more common in recent years, and experts have identified a multitude of health and wellbeing benefits that walking while working can bring about. Experts agree that sitting in a fixed position at a traditional office workstation for an entire working day can be detrimental to health. Lack of movement and activity during the day means that office workers are often burning only the very minimum of calories leading to weight gain and increasing the risk of many health conditions. Sitting for long periods can also place stress on the back and neck, leading to aches and pains and stiffness in muscle and joints.
Standing up and engaging in some light physical activity such as walking on a treadmill can do a lot to address these issues. As well as increasing fitness and helping with weight loss, the additional movement and changes in posture during the day can improve energy levels, alleviate back pain, ease tension and prevent both physical and mental fatigue. More and more workplaces have chosen to introduce walking office tables to their premises in efforts to reduce illness, improve employee well being and boost productivity. As the office treadmill has grown in popularity, more and more versions have come on the market. There is now a wide variety of sizes, styles and performance specifications available and it can be difficult for prospective customers to choose from a large number of options available. We have tested hundreds of standing treadmill desks and trawled through thousands of desk treadmill reviews so that we can create a list of the five best walking workstations currently available anywhere.
Best Walking Treadmill Workstations Available Today
The NordicTrack Treadmill Desk
NordicTrack is known for its wide range of treadmills and other exercise equipment. Its treadmill workstation is one of the most aesthetically pleasing walking workstations on the market, featuring a large wood finish work surface with integrated tablet holder and desktop display. It also boasts a built-in USB charging station and adjustable worktop height. The treadmill itself has a top speed of 6 miles per hour and comes with a 2.6 CHP motor and an EKG Grip Heart rate monitor so that users can monitor their work out.
At 18" x 55", the tread belt is long and wide enough to accommodate that vast majority of strides and the cushioned belt absorbs shock for a more comfortable walk. The NordicTrack workstation is currently reduced to $999 on the company website from an original price of $1,999 making it quite the bargain and one of the best working treadmills available. The company offers free shipping, and 30-day money back guarantees as well as a lifetime frame and motor warranty and 1-year warranty on parts and labor.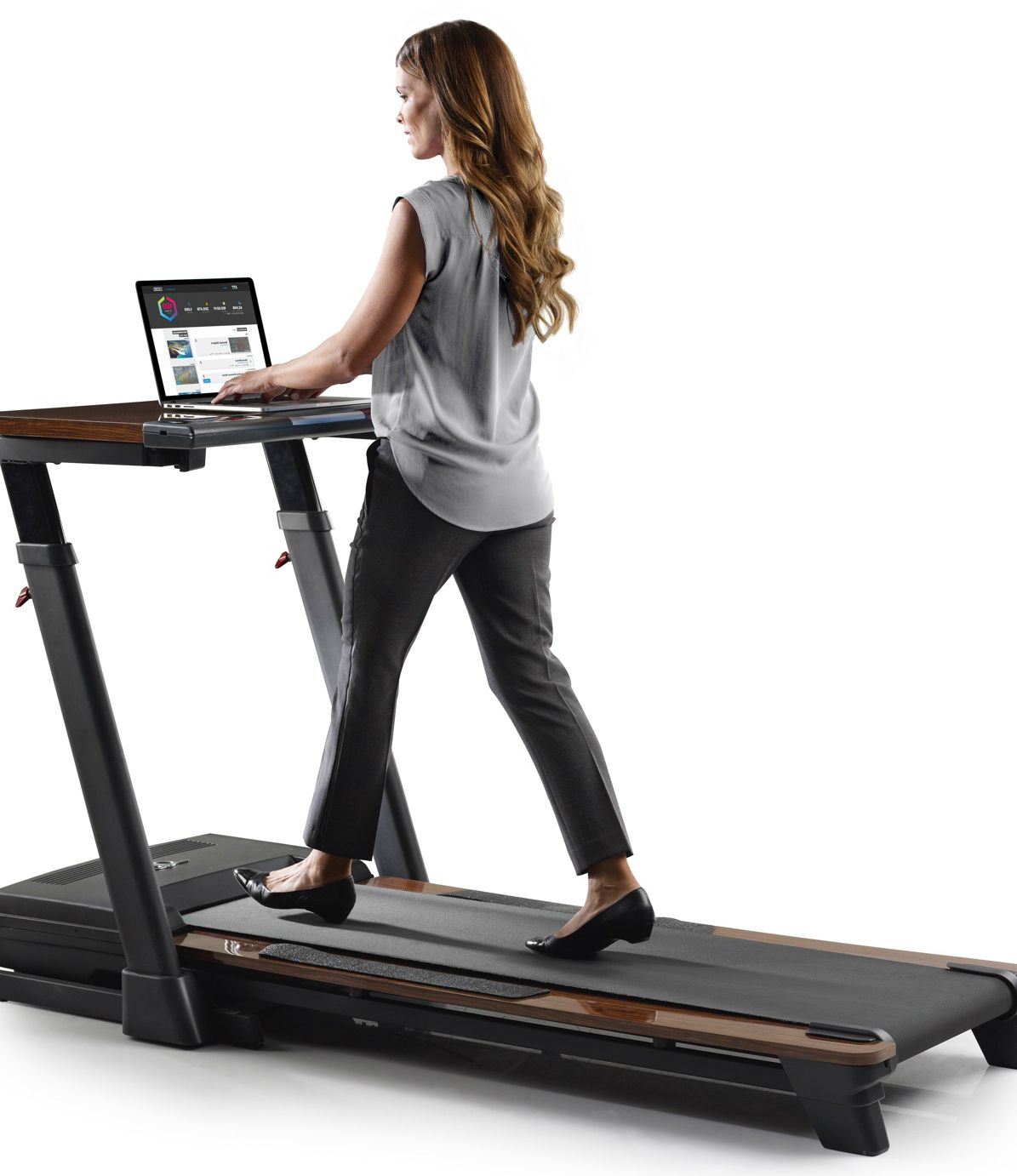 Pro-form Thinline Treadmill Workstation
Pro-form's Thinline model is necessarily a treadmill with a table top, suitable as an additional or secondary workstation. The 3 CHP treadmill has a top speed of 12 miles per hour, significantly higher than most walking office tables. It comes pre-installed with many exercise apps including iFit® and is compatible with Google Maps™ meaning that users can enjoy a much more enjoyable and challenging work out than on lower powered alternatives.
It is ideal for use during short periods of time, and although the unit is quite large and bulky, it is also very solid, stable and durable. The manufacturer offers a lifetime frame and motor warranty as well as a 5-year warranty for parts and a 2-year warranty on labor. At $1299, the product has been reduced by $1,000 from its original price. Delivery is free, and Pro-form offers a 30-day money back guarantee on the unit which arrives fully assembled.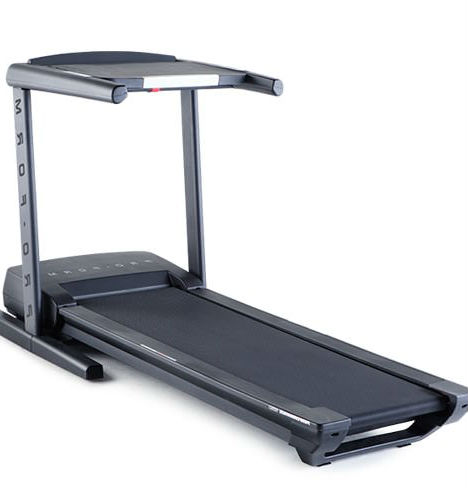 Trekdesk Treadmill Office Worktable
Trekdesk's standing workstation is an office table designed to be used with a separate freestanding under the desk treadmill. The unit is composed of a 72" wide heavy duty scratch and stain resistant plastic work surface mounted on a powder-coated steel frame. The work surface is fitted with a wide variety of integrated accessories which include a filing tray, cup holders, and a manuscript holder. Users can adjust the work surface height manually which takes a bit of effort.
Although it is not the most aesthetically pleasing model on the market, hundreds of the best treadmill desk reviews for the Trekdesk testify to customer satisfaction. The Trekdesk is shipped free within the 48 continental states of the US by Amazon and requires some assembly which the manufacturer guides at between 45 and 60 minutes. It comes with a 2-year limited warranty which covers defects in materials and workmanship under normal use conditions. Unopened products can also be returned within 30 days of receipt for a full refund.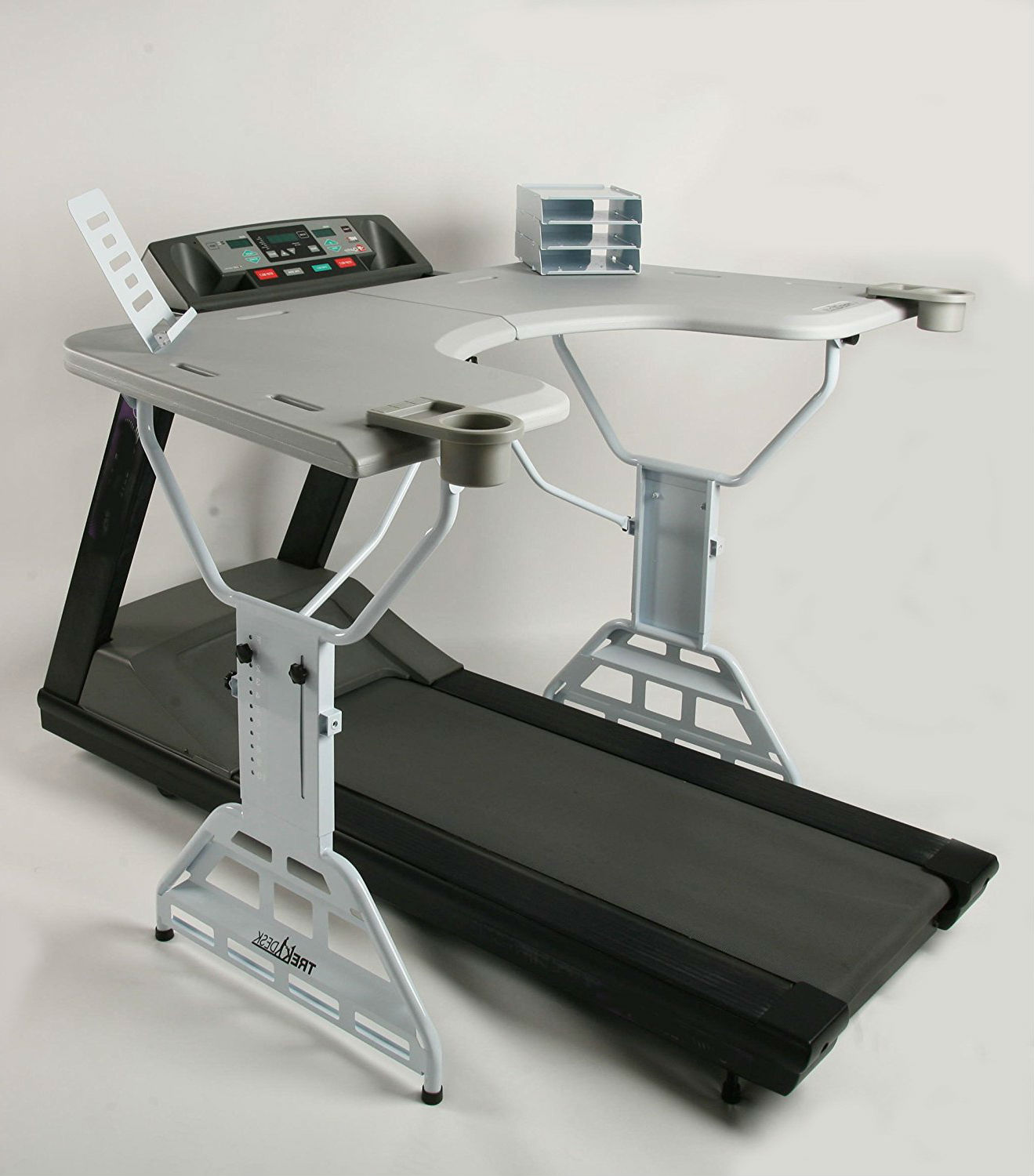 Steelcase Walkstation Treadmill Work Table
The Walkstation by Steelcase combines a commercial grade treadmill with an ergonomic office workstation to make a sturdy and durable walking desk. The workstation is available in a variety of sizes and stylish finishes. An integrated digital display lets users track time, distance and calories burnt while exercising. The treadmill unit has a top speed of 2 miles per hour and uses a patented Soft System® to absorb shock. Users can control both the work surface and the treadmill with a touchpad controller.
The Walkstation is also available in a fully adjustable sit-to-stand model with a wide range of programmable settings. With prices ranging from $4,566 for the standing-only model to $4,745 for the Sit-to-Walkstation, the Steelcase unit is not a cheap treadmill desk. However, shipping is free, and the manufacturer provides a generous 12-year warranty on work surfaces, a 5-year warranty on electronics and a lifetime warranty on the treadmill frame.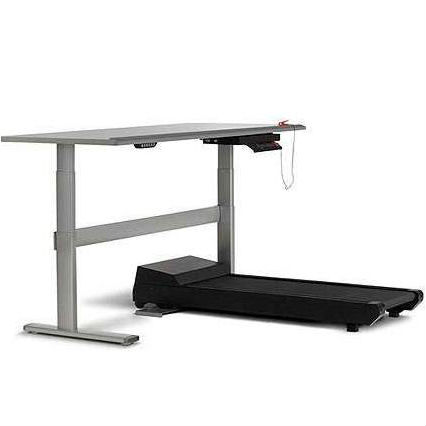 LifeSpan TR5000-DT7 Treadmill Desk
LifeSpan TR5000-DT7 Treadmill Desk is perfect for individuals who want to improve their physical fitness by working out during office hours. The desk offers various adjustment options through which users can customize it according to their needs and preferences. These include varying desktop widths, color options, and different height adjustments. Through the electric lift option, the desk height can be adjusted at runtime. This treadmill desk helps users counter the adverse effects of the ever-increasing sedentary lifestyles. Users can burn more calories which not only promotes their fitness and well-being but also helps improve their work productivity, energy, and efficiency.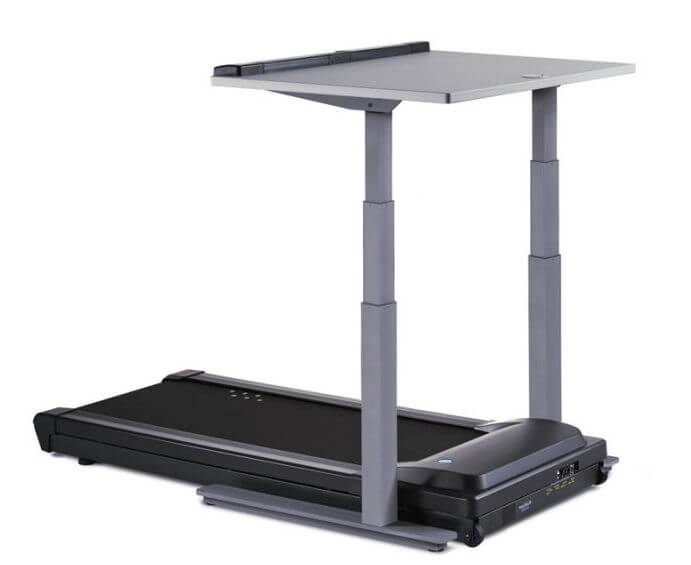 What are the Types of Treadmill Workstation Available?
The walking treadmill desk comes in a wide range of shapes and sizes. Some walking workstations are intended to be used as a secondary, occasional desk which users can use for short periods during the working day. Work surfaces can range from extra large table tops big enough to accommodate multiple full-size computer screens, to small plastic consoles with just enough room to fit a tablet. While many walking work tables arrive pre-assembled, there are some which will require some assembly. Design, materials, and sizes can vary greatly, as can quality, technical performance and aesthetic appearance. Some manufacturers offer a range of different colors and finishes so that the unit will fit in with the design in all kinds of various offices.
A number of the more recent additions to the market have been equipped with the very latest in fitness technology. Many are Bluetooth enabled and come pre-programmed with exercise apps. These are compatible with IOS and Android operating systems, allowing users to control and monitor the unit using a tablet or smartphone. We weighed up all of these aspects, scrutinized performance and analyzed all of these details to come up with a list of the very best desk treadmills you can find today. The following is a list of the main types of walking workstations:
All in One Treadmill and Desk Unit
The all in one walking workstation variety is a complete package proving a standing desk with a treadmill. This type of unit tends to be strong and sturdy as the work surface, frame and treadmill are bolted together. An advantage is that the customer receives the complete package, but in some models, there can be vibrations through the frame when the walking belt is in use.
Sit to Stand Treadmill Desk
Some adjustable standing walking desks can be both raised to standing and lowered to seating height, meaning that they are suitable for use as a primary work table. This type of unit offers a high level of convenience and the easy and simple transition from sitting and working to standing and walking means that users are more likely to use the workstation treadmill, maximizing the benefits of the unit. In order for the desk to accommodate both sitting and standing, it needs to be wide enough to accommodate a chair as well as a walking belt. Because of the size requirements, this type of walking workstation is not ideal for every office space.
Desk for Use with a Separate Treadmill
This type of unit is a stand-up or adjustable workstation which can be used in combination with a freestanding, separate treadmill for under the desk. This is an excellent choice for customers who already have a standalone walking belt that they wish to use. It is essential to look carefully at the measurements of this type of desk before buying to ensure that it will comfortably accommodate a treadmill and that the table surface or frame will not impede access to the control panel.
How Do We Choose The Best Walking Treadmill Workstations?
Performance, Technical Specifications, and Assembly
We looked at performance, technical specifications and ease of assembly to pick the best of the wide range of products on offers. As well as considering the aesthetic appeal and smart design, we looked at the manufacturing materials and assessed these for safety, durability, and comfort. We measured the time it takes to transition from sitting or standing to walking and evaluated how easy it is to continue to work while using the treadmill. We compared the top speeds of the treadmills and assessed how easy or difficult it is to work productively while walking on each of the units.
Aesthetic Appeal and Customisable Options
Appearance is an essential aspect of any piece of office furniture, and we looked for clean lines and contemporary design. We also compared the availability of different color and finished options and coordinating accessories and extras. We examined the weight of a variety of walking work tables and evaluated how easy it is to store them when they are not in use.
Shipping, Delivery Time and Assembly
We looked at shipping charges and conditions, evaluating the delivery method and the time taken by manufacturers to fulfill orders. Not all treadmill workstations require self-assembly, but for those which do, we assessed the level of difficulty in doing so and compared the manufacturer's estimated assembly time with reports by real-life users in online walking desk reviews. We considered how many packages the walking workstation is delivered in and whether or not all parts arrive in the same delivery.
Best Treadmill Reviews and Ethical Status
We looked carefully at reviews across a range of sites to find out exactly how the products perform in all kinds of office situations. We also considered the ethical credentials of the manufacturers of all the products we reviewed. As well as evaluating the use of environmentally friendly materials, we looked for recycled or recyclable components and examined the conditions and locations of the manufacture of all parts.
Price, Warranty, and Guarantee
Many customers will ask, how much does a treadmill desk cost and how much should I pay? We have cross-referenced prices across several sites to see exactly what customers should expect to get for their money. Purchasing a walking workstation can involve a significant investment, so it is essential to make sure that the manufacturer is willing to stand by the product, should there be any problems down the line. That's why we have studied the small print on all the products on our list to find out exactly what kind of warranties, guarantees and customer service are on offer once the unit has been delivered. As well as motors and frames, we examined the warranties on parts and labor and compared money back guarantees and customer service policies.