Review: Lander Treadmill Desk with SteadyType
Lander Treadmill Desk with SteadyType
Overview
Desk lifting capacity
360 lbs.
Desk height options
24.5" - 50.5"
Desk average travel speed
1.6"/sec
Desk power consumption
200W, .1W standby power
Tabletop thickness
1.125"
Desk controls
Bluetooth-enabled LCD Touch Paddle
Desk sizes available
30" (depth); 41", 47", 53", 59", 65", 71", 77", 83, 89, 95" (width); for extra support, frames from 59" to 95" wide come with crossbar.
Treadmill motor power
3.0 HP, 4000 RPM
Treadmill noise level
42.7 dB
Treadmill deck type
Bakelite 1"
Walking belt measurements
20" x 50"
Belt type
ultra-quiet 2.5mm rubber plus 2-ply fabric
Speed range
0.5-2.5 mph
Treadmill deck height
under 5"
Deck Suspension
6 compression shocks
Maximum user weight
400 lbs.
Treadmill side rails
Non-scuffing aluminum
Treadmill weight
147 lbs, 1.75 lbs (controller)
Overall footprint
67.5" x 28.35" x 9.5"
---
---
The Lander Treadmill Desk w/SteadyType is a must-have for anyone looking for ultimate comfort and productivity while spending hours in front of a computer. The Lander Treadmill Desk is easy-to-use, heavy-duty, and is a step ahead of competitor models. Coming with the ThermoTread GT Office Treadmill, the Lander Desk is a perfect solution for a modern working place.
Product Description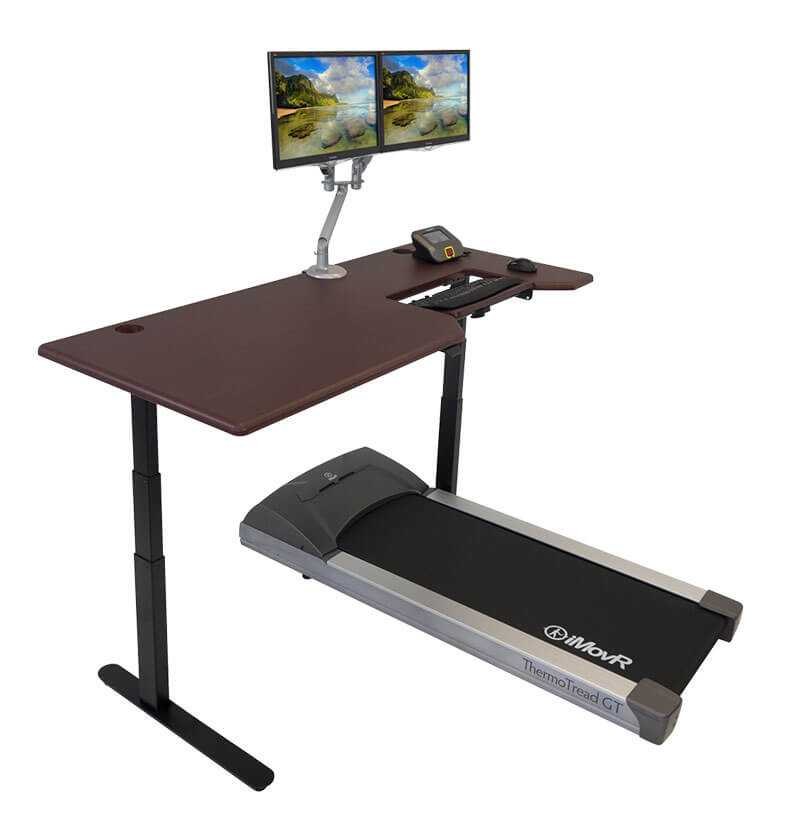 According to USA Today's Reviewed.com, the Lander Standing Desk by iMovR is the best standing desk the market has to offer. The Desk is praised for its build-quality, design features, easy-to-use construction and functions, and American-made quality. As an overall impression, the Lander Treadmill Desk was called a top choice as a highly-functional, heavy-duty and intuitive product that meets customers' requirements.
The Lander Desk is Intuitive and Easy-to-Use
The Lander Standing Desk is highly-adjustable! The manufacturer is proud to present the Lander Desk's cutting-edge design and technology solutions not present among competitor models the market offers no matter what the price is. With the Lander Desk, you know how to make the best of it for yourself intuitively. It is extremely user-friendly by design.
The Lander Desk features a fantastically convenient keyboard tray!
The built-in keyboard tray is ergonomic and makes for the best usability imaginable. Adjust it any way you feel comfortable. The design will allow you to set the tray at an angle up to 85 degrees. Such variability will meet the needs of users of any height, arm length, or typing preference. The SteadyType keyboard tray will let your arms and wrists rest neutrally while you're typing. This will ease the stress most users get during long working hours in front of their computers.
Another feature of the Lander Desk built-in keyboard tray is that it is more stable than the classic keyboard trays you used to work with. This means that while you're typing – and treadmilling – the stability of the SteadyType tray will not let your monitor shake and distract you.
As far as design solutions go, the SteadyType keyboard tray will perfectly match the finish of your tabletop.
If you want to know more about SteadyType, please visit https://www.imovr.com/steadytype.
The Lander Standing Desks are Built to Last
One of the key features of the Lander Desks is their American-made build-quality.
When buying the Lander Standing Desk, you know that you're in for top durability that is extremely hard to match. That is why the iMovR standing desk is your best choice.
Here are some facts about the Lander Standing Desks you should know about:
Desks are assembled in the USA (Michigan, WI);
Shipping takes 14 days or even less;
Desks come with a ten-year warranty on all the basic parts;
The 3D-laminated tabletop has a five-year warranty.
Control Your Desk's Height With a Control Paddle
Just like any standing desk, the Lander Desk is height-adjustable and will suit users of any height. However, with the Lander Standing Desk, you get a user-friendly solution for regulating the height of the tabletop.
Please meet the LCD Height Control Paddle. The device is attached to the bottom side of a tabletop. What it does is gives you access to the height regulation of your desk. The Paddle has hi-res LCD controls and makes the Lander Standing Desk the world's easiest desk a customer can think of.
The Lander Desk is the Desk That Walks the Talk
What sets the Landers Standing Desk apart from the majority of its rivals is the ThermoTread GT – the world's first treadmill for the office!
Today, millions of people spend countless hours in offices or home working studios tied to their computers. Not so long ago, it was a huge problem because sitting at a working desk affected your back, neck, arms, and wrist leading to a number of joint issues. Not to mention the modern-day overweight issues that have become alarmingly common.
The first solution for the aforementioned problems was the invention of standing desks that allowed users to stand while working with their computers or holding long online conferences.
But the iMovR has made a step further introducing a standing desk with a treadmill under it. Now, you can walk as you're typing, drawing, reading, or having an online conversation.
iMovR's ThermoTread GT is designed especially to be used as a standing desk extra equipment. That's why it has a smaller size than regular office treadmills have. Another feature is that ThermoTread GT makes less noise when it's working. The amount of noise ThermoTread makes during operation is only 42,7 dB – such noise level is practically normal for most offices. So when attaching a ThermoTread GT treadmill to your Lander Standing Desk, you won't have to worry about distracting your colleagues or turning your office into a noisy gym.
ThermoTread GT is designed for walking speeds only
What you should know about ThermoTread GT is that it is in no way a dual-task treadmill that you can use your back-up gym equipment. It is not for jogging. This treadmill is designed specifically for walking speeds with a maximum speed of 2,5 miles per hour. Driven by a motor of 4000 RPM DC, the treadmill packs 3.0 horsepower under its running belt. Due to this lesser speed specification, ThermoTread GT will serve much longer than a usual jogging/running treadmill.
Note: ThermoTread GT components come with a three-year warranty.
Keep Track of Your Statistics with the LCD Display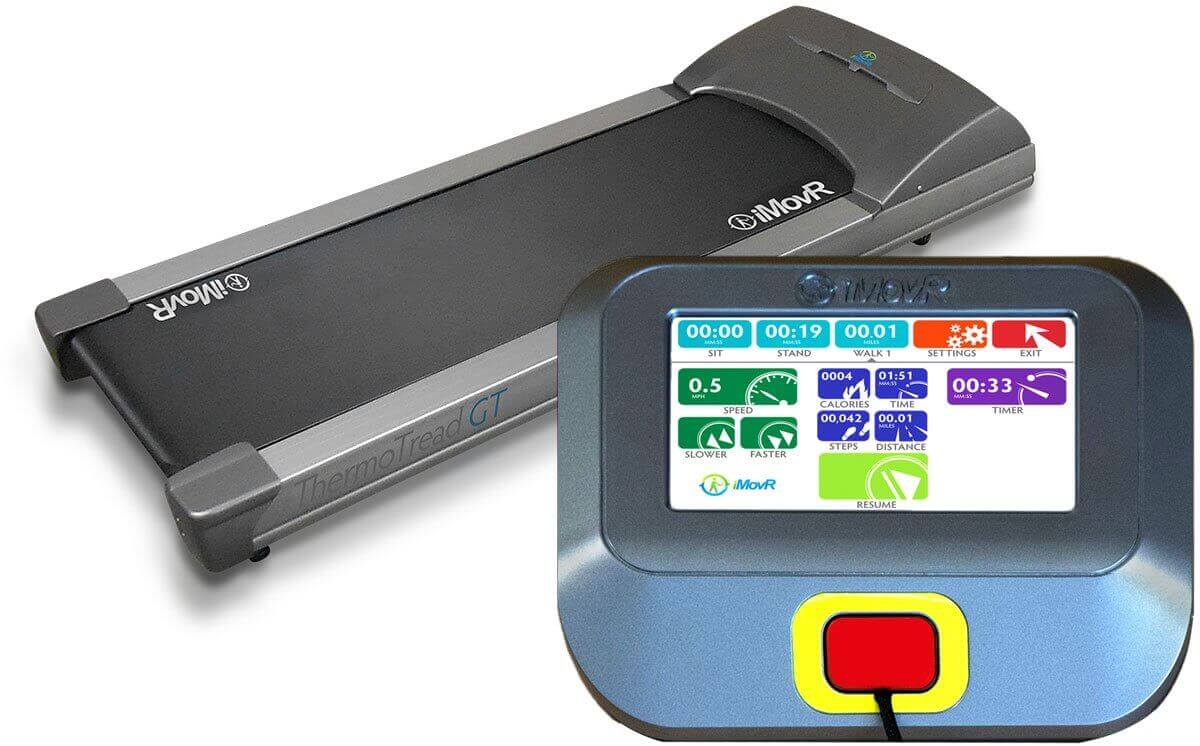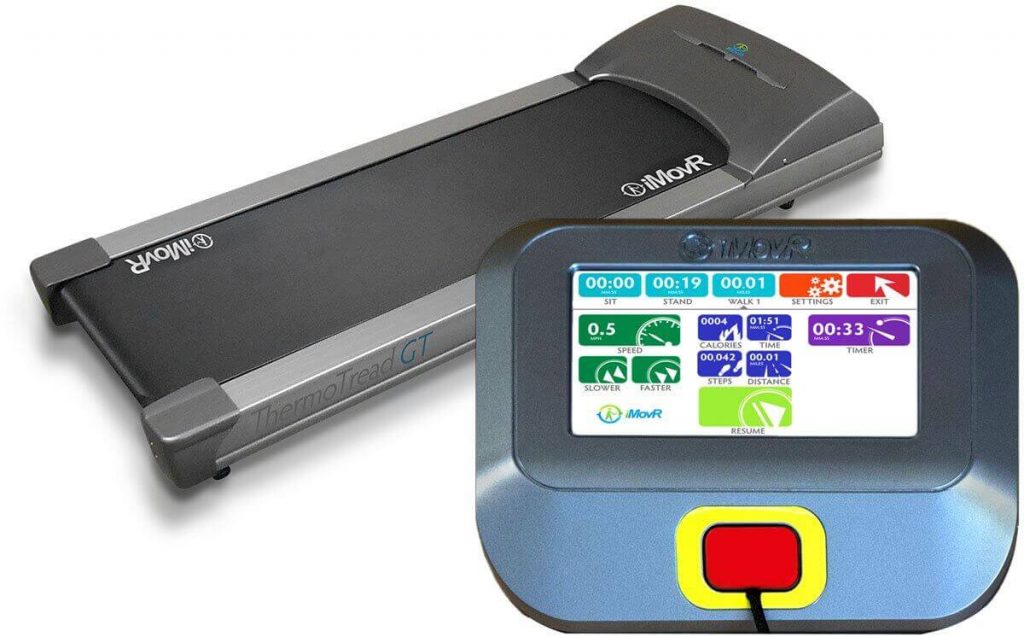 The Lander Desk's ThermoTread GT is equipped with an innovative tracking console. This console has a full-color LCD touch-screen display and a powerful microprocessor for faster operating.
With a ThermoTread GT console, you will be aware of your walking statistics:
Speed
Distance
Time
The number of burnt calories
But there's even more to this tracking console!
What makes it stand out among the likes is the option that lets users set up to five (!) user profiles to keep track of. This unique feature gives you a full review of your activity while working at the Lander Desk: sitting, standing, and walking. With the given information, you get to plan your physical activity for better in-office fitness.
ThermoTread GT is approved and certified by the NEAT and ANSI organizations as a quality and safe-to-use equipment.
To find out more about ThermoTread GT, please visit https://www.imovr.com/imovr-thermotread-gt-office-treadmill-desk.html.
Control Your Standing Desk with Your Smartphone
The Lander Standing Desk can be controlled via Bluetooth from a smartphone. Install the Lander smartphone app for the best user experience. You will get to control the desk remotely from your smartphone. Regulate the height, set reminders to stand so that the desk would send you push notifications, etc.
Enjoy a Custom 3D-Laminated Tabletop
Buying a Lander Standing Desk, you get to customize it. For instance, you are able to choose what your tabletop will look like. iMovR's tabletops are produced using high-end equipment, which sets them apart from conventional tabletops by competitor brands.
The tabletops are stylish and ergonomic. They come perfectly contoured, with the corners carefully rounded. iMovR uses cutting-edge 3D lamination for the tabletop finish. This process has two main benefits:
It's elegant and stylish (which is crucial many customers);
It provides the best protection compared to standard lamination.
With 3D-laminated processing, your tabletop will be more durable and keep its finish intact for years to come.
The Main Product Features
When buying a Lander Treadmill Desk w/SteadyType, you know that you're buying one of the best products in the standing desk category. Lander Treadmill Desk is a step ahead of most of its rival models and comes with the following features meeting your customer needs:
ThermoTread GT— the world's first office treadmill equipped with a touchscreen LCD console to keep track of a user's physical activity during work (time, speed, distance, calories);

Hi-tech Control Paddle for fast & easy height regulation;

SteadyType Keyboard Tray – a highly-adjustable ergonomic keyboard tray for the most comfortable typing;

Free application for remote control via Bluetooth;

The desk is 98% pre-assembled – no tools required;

100-day Guarantee.
Extra Accessories
It should be stated that a customer may purchase a Lander Treadmill Desk without the SteadyType keyboard tray. However, the tray is not the only accessory you may order to upgrade your Lander Standing Desk.
Table wheels
First of all, you may choose to make your Lander Desk mobile for the easier reorganization of your office or home working studio. If you have to move the table often, your best bet is to consider purchasing a set of Locking Caster Wheels.
With these wheels, you can easily slide the desk all over the office and do it safely in a matter of seconds.
To install the wheels, you will need to:
Flip the desk upside down,
Remove the leveling pads from the desk's feet,
Mount the casters,
Return the desk to its initial position,
Slide the desk to whatever location you choose.
When you have found the proper working spot, lock the casters so that the desk would stay fixed right where it is.
Standing Mats
If you choose to use your Lander Desk without a ThermoTread GT treadmill, you may want to replace it with an Anti-Fatigue Standing Mat. Use the mat for the most comfort while you stand. The mats are 100% polyurethane. They keep their shape and bouncing feel and won't curl at the edges. Coming with a 5-year warranty, these mats are also fully recyclable.
Monitor Arm
Another item to upgrade your Lander Standing Desk is an iMovR Monitor Arm. With this item, you will be able to choose the most comfortable position for your monitor. The arm will let you move a monitor with ease and choose whatever angle, height, or distance whether you choose to sit or stand. If you work long hours in front of a computer, you know how it affects your neck, shoulders, and eyes. iMovR Monitor Arm will make for the best working comfort you may dream of.
Power Management Device
Being able to connect your devices to a power plug without getting under the tabletop is fantastic, isn't it? That is why one of the best accessories for the Lander Standing Desk is a desktop power management device.
Just locate it on your tabletop, and you won't have to break your stride (in case you're walking on a ThermoTread GT treadmill) to plug on unplug a smartphone, a laptop, etc. This option is priceless.
Cable Management Kit
Another issue most users face is too many cables dangling from the desk or lying around right on the tabletop. There just seems no way you can get rid of them, right? Wrong! There is a solution – why not use a Tucker Cable Management Kit?
Such kits will introduce you to a whole new world of cable management. The options to reorganize your cables are almost limitless. Thanks to a variety of components, these kits will help you find the optimal way to keep your cables in order. Is there anything more beautiful than a tidy working place with no cables disorderly lying around a tabletop?
Things to Consider Before Buying a Lander Desk
Before buying a Lander Treadmill Desk, you will need to consider the following:
Are you physically fit to stand for long periods of time?
Do you have any health conditions that will make the use of a standing table harmful to you?
Do you have enough space in your office or home working area to locate the standing desk and the treadmill?
In case you don't have any medical restrictions to use a standing table and your office or home working area is big enough, there are no reasons why you should not buy a Lander Treadmill Desk.
But do you really need it?
Here some ideas why you might choose to buy a standing desk:
You sit too much and worry that it would affect your health;
You feel that you get tired too quickly while working at a computer;
You wish to implement more physical activity while working at the office;
You wish to stay fit.
FAQ
Can I Buy a Standing Desk without a ThermoTread GT?
Yes, you can. A ThermoTread GT treadmill comes as a piece of extra equipment, and its price is not included in the overall Standing Desk cost.
Can I Buy a Standing Desk without a keyboard tray?
Yes, you can. A SteadyType tray can be excluded from a purchase order?
Can I customize the Standing Desk?
Yes, you can. Most customizable specifications are available during the order procedure.
How can I customize the Standing Desk?
During an order procedure, you can customize your Lander Desk with a simple list of options: desktop size and color, base color, SteadyTray position (optional). You can also consider choosing extra accessories to go with your Standing Desk and a Treadmill.
Does a Monitor Arm come with the Desk?
No. Unfortunately, a Monitor Arm (just as a Standing Mat, a Power Management Device, a Cable Management Kit, and a set of Wheels) is not a part of a default offer. This is an extra accessory you may (or may not) choose to purchase in addition to the basic order.
---