7 Best Balance Boards 2021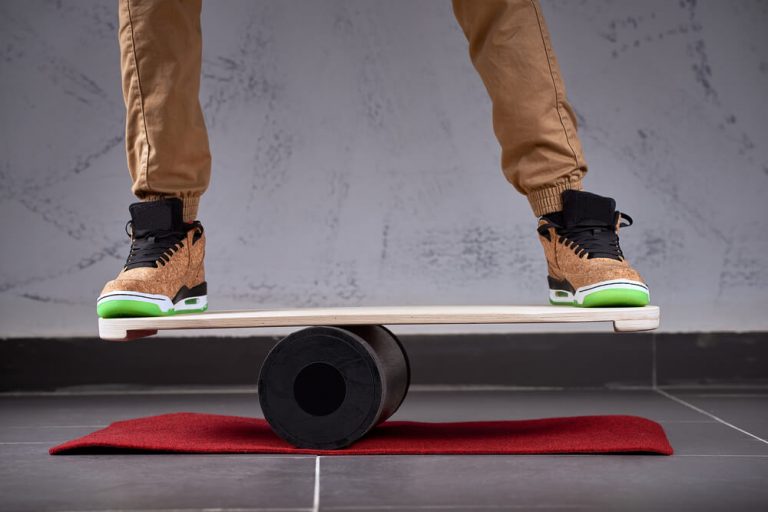 Balance boards for standing desks are on the rise in popularity now. There are good reasons for this. The main reason is that a balance board makes your daily work routine healthier. How? It makes you move. Ideally, they are to be combined with standing desks. Such a combination helps keep your body and brain toned, increasing your productivity and improving your health. Also, it is a great alternative for treadmill desks. It brings all the perks of a treadmill, but costs less and requires less space.
---
What is a balance board for standing desks?
A balance board is a device that consists of a deck and a rounded base. Such construction allows you to stand and balance on it training more than 46% of your muscles at a time. It allows users to improve posture, cultivate holistic health, and even exercise their brain during the day. It is a thing designed and used for athletic training, recreation, balance training, athletic training, injury rehab, therapy, brain development, etc.
Nowadays, we use a balance board as a piece of an ergonomic office environment and a great addition to a standing desk. How is it possible? The standing desk balance boards are different from fitness boards. They have a lower degree of instability so literally, anyone can use it without special training. Also, the standing desk balance boards have a bigger size and provide enough space. This means you can change positions, move, and stay stable, safe, and focused meanwhile.
How to integrate a balance training board into your office space? It is a perfect match for standing desks. Bringing the same health benefits as treadmill desks (improves your blood circulation and posture, lower diabetes and heart disease risks, etc.), a balance board is much smaller; it fits anywhere. It makes less noise. It is portable, so it can be easily used by several people in turns. And, it costs less than its competitors.
How do we choose and review balance boards?
Since there are lots of various standing desk balance boards on the market, it might be not that easy to choose the right model. Save your time, use the results of our research. We have gathered all the relevant information about the balance boards; checked all the scientific and medical researches about the balance boards, studied all the existing types of this product, checked thousands of user reviews, client surveys, blog posts. Finally, we have chosen the best balance boards (wobble boards, roller boards, balance disc options, etc.) based on their characteristics, specifications, and user reviews and feedback. Then, we have tested each item from that list to suggest and review only the best of the best balance boards for you and your coworkers. Here are the main decision criteria we use to choose the proper products for you.
Safety:
Material quality
Level of the tripping hazard
Design:
Ergonomics
Comfort
Size and color variety
Price:
Quality-price ratio
Price-warranty ratio
Trust score:
User reviews
Scientific researches
Customer surveys
Independent testing
Top 9 Best Balance Boards
---
Types of balance boards
There are several types of balance boards on the market – rocker boards, roller boards, wobble boards. They all are great for balance training and provide a wide range of difficulty levels to cater to the needs of different users. Though, not all of them are proper balance boards for standing desks. If you don't have any experience with this device yet, make sure you buy a balance board designed for office use. If you already know how to handle such a thing, you can try something more challenging of course.
Rocker Boards
Rocker board is the most basic and least challenging balance board type. Normally, people use it as a part of athletic training, injury rehabilitation, physical therapy. Such boards comprise a platform with a fulcrum underneath. The fulcrum is either perpendicular to the board's length or parallel to it. The lower edge of the fulcrum is either curved or flat depending on the degree of difficulty that it offers during balancing. It is designed so that you can move it in one direction only. That is why it is considered pretty easy to handle. And that is why it can be used as a standing desk balance board. The design of the rocker board allows it to be moved in one direction only. Different rocker board exercises can be used as part of balance training and athletic training.
Roller Board or Bongo Board
Such a board is not a good choice to mix with a standing desk. It is designed for water sports training. Though, you can get it for your office as a fun sports device for breaks. A roller or bongo board is a type of rocking board that adds more difficulty and instability during balancing. Its fulcrum is not fixed at any one point. Rather, the fulcrum is a cylinder that rolls from left to right during movement. This makes it tilt sideways and requires more skills to master.
Wobble Board
A wobble board is a round plastic or wooden balance board that consists of a flat board and a small hemisphere. Such construction allows it to move and rock in any direction. The 360 degrees motion feature makes it more fun and easy to use. It won't distract you from your routine tasks. So, a wobble board is as good for the office as it is good for physiotherapy, sports training, etc.
Balance Pad
A balance pad is a foam pad or an inflatable pad. It is perfect for the office as it promotes exercise while working at a standing desk. They don't distract from work as it doesn't require focusing on the movement. Also, it is a good choice for you if you switch from standing to sitting often. When you sit down, you still can use your balance pad as a cushion for your feet.
Balance Disc
A balance disc is an inflatable disc for easy balance training. It is very useful for improving one's posture, reducing back and knee pain, promoting micro-movements. A balance disc is a good choice for first-timers. It is easy to master and use. Also, it becomes multifunctional when combined with a sit-stand desk. When you are standing it serves you as a balance board. When you sit down, you can utilize it as an anti-fatigue mat.
How to choose the best balance board for standing desk?
Office balance boards are different from those for pure fitness purposes. Choose the right model for you, keep in mind that it should be stable enough. Why? You need to concentrate more on your work, not on keeping the balance. It should provide more stability and space for feet. They should be easy to master and get used for everyone, not only for advanced users and sportsmen.
In general, it is not that difficult to choose the best balance board for you. Just be sure to take into consideration the following factors:
Balance board type. It defines what kind of movement you will be able to make standing on it. Read on to get more information about the balance board types.
The size of the deck. You should stand and move comfortably on your balance board.
Design. The standing desk balance boards come in different colors and shapes. For sure, you will find the right option whether it is for the office or home.
Budget. They come in a wide range of prices, from budget-friendly basic models made of plastic to professional wooden balance board options.
Go for it! Find your best balance board for office and home, and enjoy all of its benefits – healthier lifestyle, fun, movement!
---