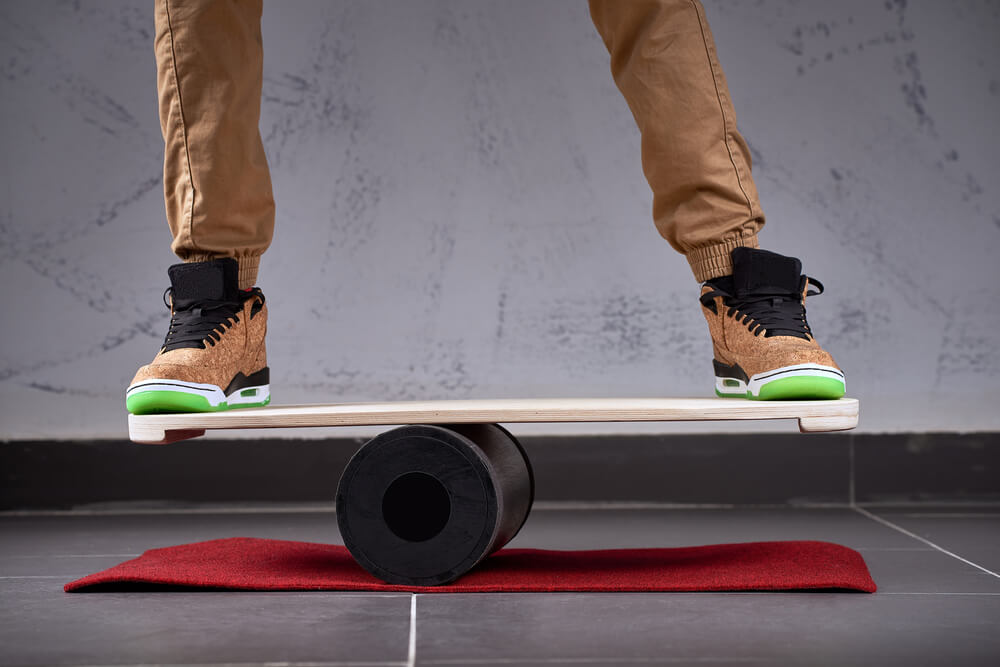 A balance board is a health and fitness device that is used for a number of purposes such as in health training, athletic training, injury rehab, therapy, balance training, and brain development. Users have to balance themselves on the surface and keep the board's edges from touching the ground. The unique design and function of balancing boards enable users to benefit from its various advantages. Standing desk balance boards allow users to improve their posture and core stability. A fitness board and other balance exercise equipment help users to cultivate holistic health and strengthen their core muscles' strength.
Best Balance Boards on The Market
The Plane by FluidStance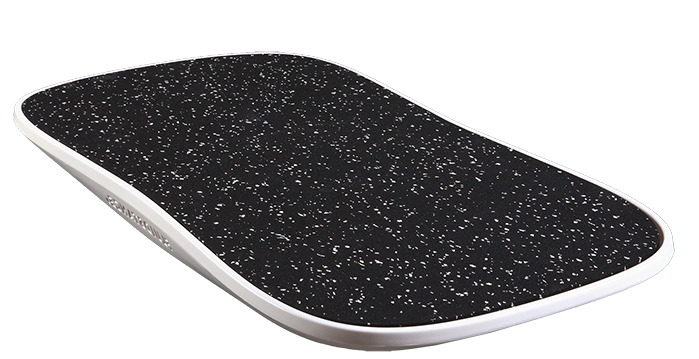 FluidStance's The Plane Balance Board has a convex shape with no added fulcrum. The convex base serves as the fulcrum through which the board can be moved in one direction. The board is fully recycled and recyclable which renders it to be an environment-friendly product. The design of the Plane helps users bring about movement and agility into the office while they work. It is one of the best products available which helps user mimic their natural ankle movements as if they are walking. This helps them stay in a moving position while they are working.
Santa Cruz and Maui Wurf Boards by JumpSport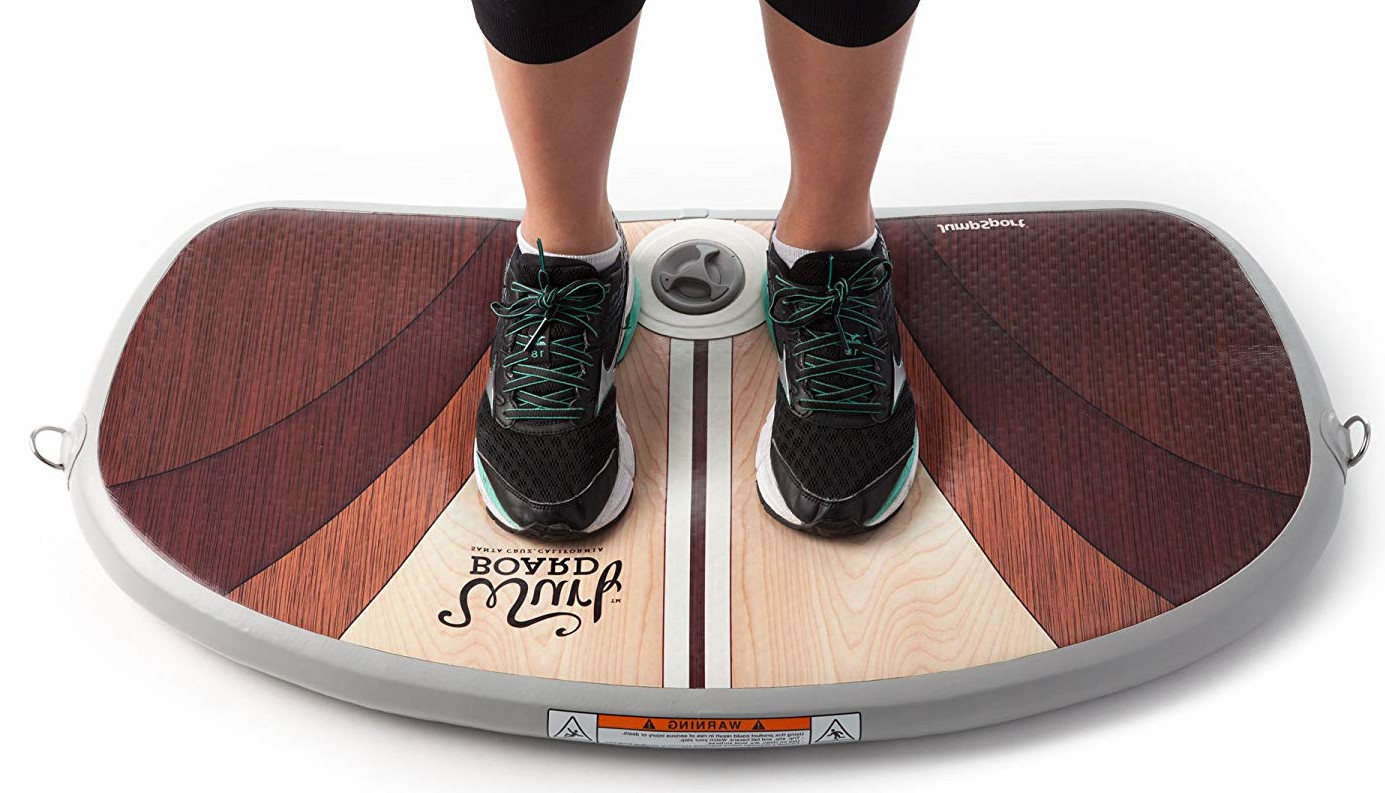 JumpSport's Santa Cruz and Maui Wurf Boards are more than active standing mats which can be used with a standing desk. They provide increased mobility and opportunity for exercise to users.  Boards have a light-weight design which is fully inflatable. These items will be a good choice for individuals who want a swaying motion as opposed to a rocking motion. Santa Cruz and Maui Wurf Boards can be inflated on different levels with each level providing a different experience and stability of the surface. This helps bring about variation in a balance board at the price of one.
Fitterfirst Active Office Board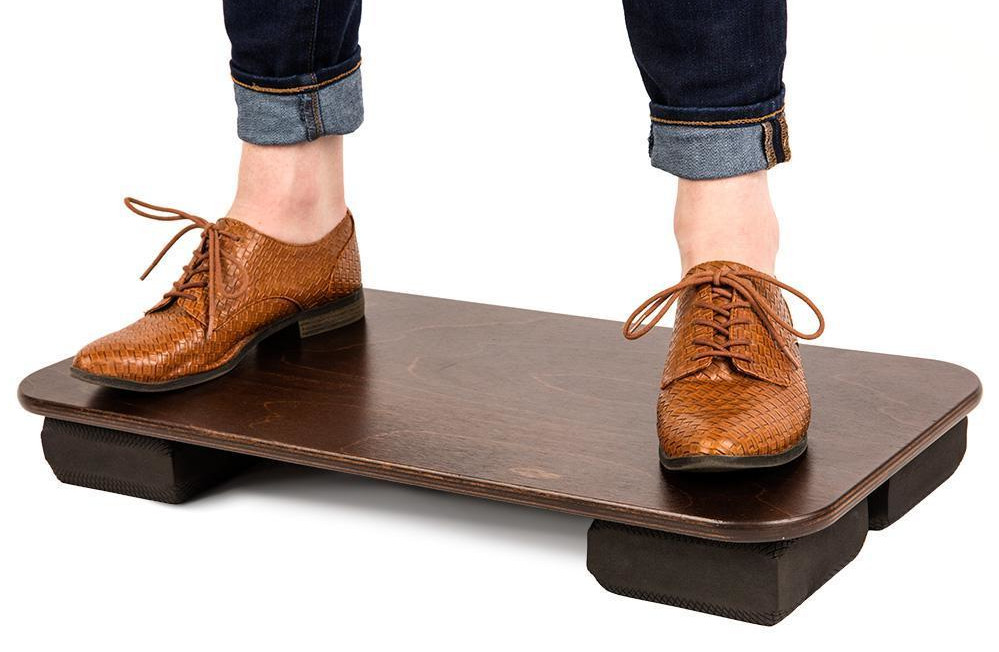 Fitterfirst Active Office Balance Board is considered the best balance board in the market today owing to its design, construction, and flexibility that it offers.  It is a wooden balance board with foam pads underneath. Pads are connected with Velcro strips which can be adjusted at 12 different levels. This option offers users with different levels of motion and balancing capability. Pads also provide a soft base to the desk which in turn offers good stability. It is available at an affordable price compared to other wood balance boards.
Vew-Do Zone Fitness Standing Desk

Vew-Do Zone Fitness Stand Up Desk Balance Board is the best device for a standing desk that offers excellent versatility and challenges to its users. It has replaceable bases which allow varying degrees of motion and balance. It can be used without a base or a base made of wood, foam or a roller. It is primarily used with a standing desk and doubles as a fitness board. It is available in a number of different colors and comprises a handle for easy carrying. It is one of the most challenging equipment available, but with practice, users can master it.
BackApp 360 Balance Board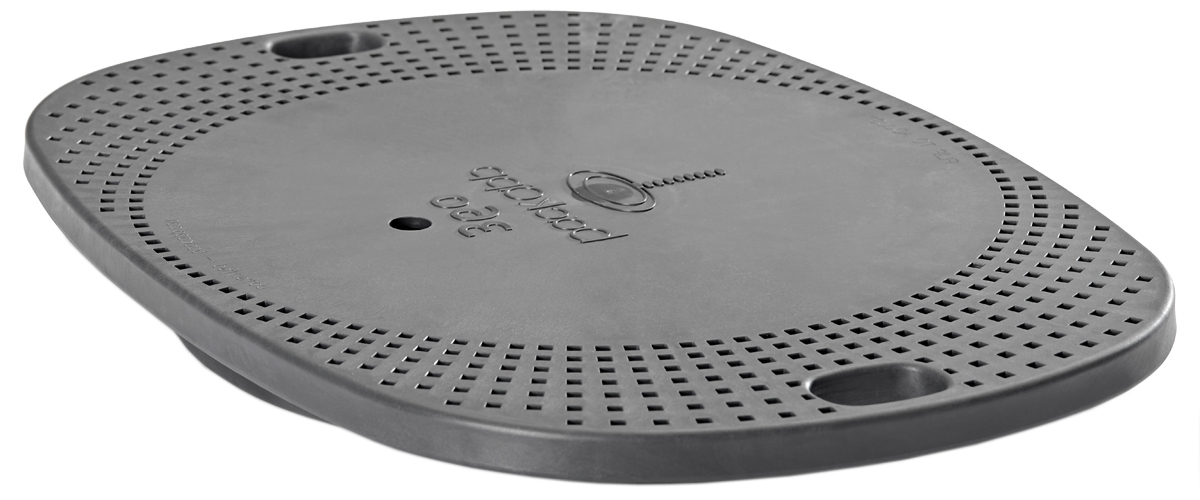 BackApp 360 Balance Board is an ergonomic balance board that allows for variable degrees of wobble when using the product. Users can change the degree of wobble that best suits them and the kind of work they are doing. When they want to switch to some other degree, they can simply do so by loosening or tightening a knob. Device is aesthetically pleasing, and feature handles that allow users to carry it around easily. It is considered to be the best wobble board based on the level of adjustability and variability that it offers.
What Kind of Balance Boards are Available?
---
A balance board is similar to a skateboard or snowboard. It comprises a platform that is balanced on a base of different shapes and material. It allows for a variety of balancing movement through different skill levels. It is primarily used in balance training and in offices to be used with standing desks. A number of devices are available that provide a wide range of difficulty level to cater to the needs of different users. Some of the different types of balance boards are listed below:
Wobble Board
A wobble board comprises a flat board whose base is a small hemisphere. The flat surface of the sphere is attached underneath the board with its spherical side on the ground. This allows the board to move and rock in any direction. A wobble balance board is usually in the shape of a circle and made from either plastic or wood. Because of its 360 degrees motion, it poses varying degrees of challenges to its users. Wobble boards are used in physiotherapy, sports training, balance training, gymnasiums, and standing desks. The different wobble board benefits make it a good choice to be used in offices and for sports.
Rocker Board
Rocker balance boards are the most basic and least challenging type of this devices. They comprise a platform with a fulcrum underneath. The fulcrum is either perpendicular to the board's length or parallel to it. The lower edge of the fulcrum is either curved or flat depending on the degree of difficulty that it offers during balancing. The design of the rocker board allows it to be moved in one direction only. Different rocker board exercises can be used as part of balance training and athletic training.
Roller Board or Bongo Board
A roller or bongo board is a type of rocking board that adds more difficulty and instability during balancing. In this kind of products, the fulcrum is not fixed at any one point. Rather, the fulcrum is a cylinder that rolls from left to right during movement. This makes it tilt sideways and requires more skills to master. Roller or bongo boards are mostly used by individuals training for water sports such as surfing, water skiing, and wakeboarding.
Balance Pad
A balance pad is a foam pad which is used in balance training and in offices to promote exercise while working. It is basically a thick piece of foam that serves as an unstable base on which the users can stand or place their feet while sitting. The sponge-like surface of the pad helps users exercise their muscles when they try to balance on it. Balance pads are used in offices and for exercise and balance training.
Balance Disc
A balance disc is an inflatable round disc that is used for improving one's posture and as an aide in fitness training. Users can balance themselves on the balance disc while standing or sitting on it or on their knees during a workout. The disc can be inflated according to the amount of firmness required by one's needs and specifications. It helps strengthen the core muscles of the body through the wide range of exercise options that it provides.
What Are The Qualities of a Good Balance Board?
---
Following are the qualities of a good balance board:
Variation in the type and degree of motion that it offers
More than one function and mode of movement
Aesthetically pleasing to look at
Durable and structurally sound construction
Easy to use and assemble
At least a couple of years' warranty and technical support provided
How Did We Review Balance Boards?
---
When reviewing the various types of balance boards, we considered several factors that play an important role in deciding on a particular product. The various pros and cons of each are closely analyzed with respect to other models. The technical specifications such as the degree and plane of movement, difficulty level, the material of construction, durability, and flexibility are evaluated. The ease of use of the product is also considered along with its ability to provide varying levels of movement and different functionalities offered. The technical support offered by the manufacturer, warranty, and shipping costs is also considered while rating balance boards during a review.
Choosing The Best Balance Board
---
There are a number of factors to consider when you want to buy a balance board. Whether it is:
twist exerciser,
surf exerciser (surf balance) or snowboard balance board
dance balance
office balance
core balance board or core balance disc
fitball balance disc
the following factors will help users choose the best option for them:
Identification of Needs
Identify the exact need for which the balance board has to be used for. Do you need a balance board for standing desk or surf trainer? If you want it to achieve fitness, then a number of products are specifically designed to be used in exercise and workout. A fitness balance board can be chosen by utilizing the various exercise options such as wobble boards exercises and other balance board workout options that they offer.
Frequency of Use
The frequency of use of the balance board should be identified, and the decision made accordingly. If device is to be used for long periods of time, then it is better to invest in a good quality board that offers you added comfort and flexibility.
Accessories, Warranty, and Shipping
The next things to consider when choosing a balance board are the aesthetics, features, and accessories provided with a device. If the manufacturer offers free shipping, that is also an added benefit. The number of years of warranty and technical support offered by the manufacturer is also an important factor which affects one's decision while choosing a product.
Price
Another main factor to consider is the amount you are willing to pay for the board. An expensive product may incur an extra cost at the time of purchasing as compared to a cheaper one, but its benefits greatly outnumber the amount you paid.