Best Balance Boards for Standing Desks 2021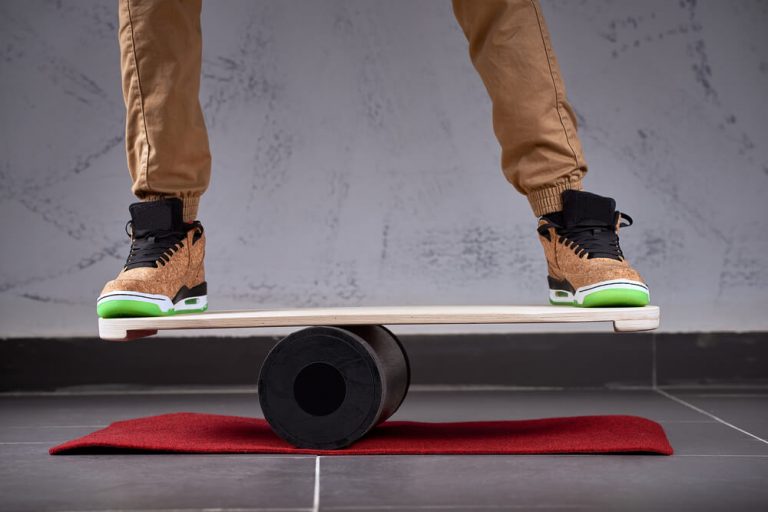 Since there are lots of various standing desk balance boards on the market today, it might be not that easy to choose the right model. And that is why we have decided to do this research and make it into a publication. We have gathered all the relevant information about the items you might like, checked all the scientific and medical researches about them, studied all the existing types of this product, checked thousands of user reviews, client surveys, blog posts. Finally, we have chosen the best balance boards (wobble boards, roller boards, balance disc options, etc.) based on their characteristics, specifications, user reviews, and feedback. Then, we have tested each board from that list to suggest and review only the best of the best ones for you and your co-workers. Hereuner, you will find the main decision criteria we used to choose the proper products for you.
So, save your time and use the results of our research to pick the best balance board.
---
Standing Desk Balance Boards Benefits for Buyers
First off, the customers who are constantly sitting in their chairs, at their desk all day long will be able to movw while still sitting and working. As you probably already know, excessive sitting leads to muscles strains, deficiency of regular fitness workout and permanent fatigue; with a proper standing desk balance board, customers can significantly improve their health value. They will be able to redduce time they spend sitting and exercise a more beneficial lifestyle of a standing desk owner. Second, the customers having a balance board can infuse new life in usual flow of their sitting work day and see their creative activities at a new angle. Third, embracing the ergonomics, standing desks and other related offers available on the market meet the growing demand of modern telecommuters, whose numbers have substancially risen lately.
In other words, ideally, the standing desk balance boards are to suffice standing desks. Such a combination helps keep your body and brain toned, increasing your productivity and improving your posture, normalizing the heart rate, and your overall health condition. Also, it is a great alternative for treadmill desks. It brings about all the perks of a treadmill and a full-fledged workstation, but costs more reasonably and requires less space. Furthermore, there are exciting options for male and female customers. Read the review and delve in the details of the bestbalance board options on the offer, carefully picked and defined by the author of this guide.
Standing Desk Balance Board Advantages: Takeaway
From the side, it may seem that a balance board is some kind of a luxury work place adjustment for workaholics who like to achieve maximum effeciency even while sitting at their office desk. It seems quite destructing to use a foot rocker, it feels like you can never truly relax or focus on the work when constantly moving your feel back and forth; but at that is only until you start using a standing desk rocker yourself.
Before we start talking about the features and functions of the product, let us categorize the main advantages of the standing desk balance device options, as conveyed in reviews by the customers:
Improvement of overall wellbeing: muscle tuning, posture development, and fatigue elimination without exercise or proper workout;
Increase in productivity due to safe and ergonomic design and reduction of sitting;
Focus on modernity and efficiency in the smart home design;
Other Reasons to Purchase a Standing Desk Balance Board
Another bright side of possessing a standing desk balance device is the reasonable cost. And the product is really worth the money spent. Made from sustainable materials, a standing desk has high value while being eco-friendly and easy to maintain. Another reason to add one to your cart on Amazon, which many customers have recently done, as sales research shows.
What is a Balance Board?
A balance device is an ergonomic device that consists of a deck and a rounded base. Unlike simple chairs that promote sitting lifestyle, such construction allows you to stand and balance on it, training more than 46% of your muscles at a time. Nearly as effective for beginners as attending the gym for a workout, It allows users to develop good posture, eliminate low back pains, cultivate holistic health, and even exercise their brain during the day, as the latest research indicate. It is an eco-friendly thing designed and used for recreation, balance training, athletic training, injury rehab, therapy, brain development, etc.
So, in this publication, we are happy to introduce you to the best options for both pros and beginners in 2021.
Balance Board Application in 2021
Costrantly working by a computer and experiencing dreadful fatigue? Cannot stand those terrible back and nech pains? Worry no longer, we have a great solution for you. If you do not recognize youself in this publication, look around; we bet you definitely recognize this person amongst your friends: this workaholic type with a bad posture, constant pain, and fatigue in their eyes, swelling ankles from sitting in their chairs through the day, that is the best description of that person. And that is what the lack of exercise does.
Nowadays, we use a balance board as a piece of an ergonomic office environment and a great addition to a standing desk, which together make a great combination and complete each other. How is it possible? The standing desk balance boards are different from fitness boards: they have a lower degree of instability. So, literally anyone — from beginners up to advanced users — can use it without special training. Also, the standing desk balance boards have a bigger size and provide enough space, which means you can change positions, move from side to side, and stay stable and safe while keeping focus on your work responsibilities. Together with other products for active work and fitness without workout one can purchase on Amazon, the standing desk balance board will help you in creating customized work place ergonomics and improve your health, in addition to the list of your health-oriented activities, such as running on a treadmill, cycling, and so on.
How to integrate a balance fitness balance board conveter into your office space? It is a perfect match for standing desks: bringing the same benefits for health as treadmill desks (improves your blood circulation and posture, decreases low back pains and headaches, lowers diabetes and heart disease risks, etc.), a balance board is much smaller. But at the same time, it is compact, fits anywhere, makes less noise, and it is portable, so several people can use it taking turns, not to mention the attractive price of the device.
Since there are lots of various standing desk balance boards on the market, it might be not that easy for customers to choose the right model. There is a foot rocker, a classic steppie, a whirly, a slope, a rubber pad, a gaming workstation, a corner pad, and many more. People may spend a whole lot of time checking out all the possible online sources and video reviews and still not find anything decent. So, we suggest you save your time and use the results of our research.
Our customers can stop spending their time searching the web for the right fitness balance board, cause we have already done it for them. In our comprehensive research, we focus on the best converters for office workers the US market can offer today. The research includes detailed description on standing desk converters both for the pros and the beginners, so you can find a product for any taste and budget in here: a steppie, a whirly base standing desk converter, a side rocker, and many more. So stick around and keep reading, we have a lot of interesting and ergonomic suggestions for you.
Safety:
Material quality
Level of the tripping hazard
Design:
Ergonomics
Comfort
Size and color variety
Price:
Quality-price ratio
Price-warranty ratio
Trust score:
User product reviews
Scientific researches
Customer surveys
Independent testing base
---
Top 7 Best Balance Boards
Standing Desk Balance Boards: Autonomous types
There are several types of balance boards on sale – rocker boards, roller boards, wobble boards, rubber pads, and cushions. Some even prefer a good old wooden steppie or a whirly station for exercise. They all are a great addition for balance training (as well as rocking and cushioning) and provide a wide range of difficulty levels to cater to the needs of different users. Though, not all of them are proper balance boards for stand-up desks. If you are a beginner and don't have any experience with this device yet, make sure you buy a balance board designed for office use. If you already know how to handle office standing desk converters, you can for sure try something more challenging. Remember that any type is good, as long as it allows you to move and helps to get you posture right.
Standing desk balance boards would also be a perfect addition for those you do excersise regularly or those who need specific balance training and workout. For instance, these converters will be good for sportsmen who practice cycling, surfing, skiing, snowboarding, and orther such physical activities professionally.
Rocker Boards For Creating the Perfect Workstation
To some degree, it can be a challenge for some people who own a desk to pick the right standing desk balance board option: it should enhance people's movement; the design should be ergonomic and up-to-date; the materials should be eco-friendly; the cost of the product is a weighty factor, too. Among myraids of balance board options suitable for fatigue reduction and partial fitness replacement for health purposes, the rocker board is the most basic and least challenging balance board type, as reported by most of the people who use them. Normally, people use it as a part of athletic training for their back and muscles, they help in injury rehabilitation, physical therapy. In the core of their popularity and beneficiality is a fact that such boards comprise a platform with a fulcrum underneath: the fulcrum is either perpendicular to the board's length or parallel to it. The lower edge of the fulcrum is either curved or flat depending on the degree of difficulty that it offers during balancing. It is designed so that you can move it in one direction only. That is why it is considered pretty easy to handle, and that is why it can be used as a standing desk balance board; however, the design of the rocker board allows it to be moved in one direction only. As claim reviews and publication, different rocker board exercises can be used as part of balance training and athletic training.
Roller Board or Bongo Board. The Crucial Choice
Such a board is not a good choice to mix with a standing desk. It is designed for water sports training. Though, you can get it for your office as a fun sports device for breaks. A roller or bongo board is a type of rocking board that adds more difficulty and instability during balancing. Its fulcrum is not fixed at any one point. Rather, the fulcrum is a cylinder that rolls from left to right during movement. This makes it tilt sideways and requires more skills to master.
Wobble Board Instead of Gym Workout
A wobble board is a round plastic or wooden balance board that consists of an ergonimic flat board (the base) and a small wood hemisphere: such construction allows it to move and rock in any direction. The 360 degrees motion feature of the wobble board makes it more fun and easy to use, as It won't distract you from your routine tasks. So, a wobble board is as good for the office as it is good for physiotherapy, sports training, etc.
Balance Pad to Exercise While Working
A balance pad is a foam base pad or an inflatable pad, which makes it perfect for the office as it promotes exercise while working at a standing desk. Another crucial feature is that they don't distract from work as it doesn't require focusing on the movement, and it is a good choice for you if you switch from standing to sitting often: when you sit down, you still can use your balance pad as a cushion for your feet.
Balance Disc and its Perks for Homeowners
A balance disc is an inflatable disc for easy balance training. It is very useful for improving one's posture, reducing back and knee pain, promoting micro-movements. A balance disc is a good choice for first-timers. It is easy to master and use. Also, it becomes multifunctional when combined with a sit-stand desk. When you are standing it serves you as a balance board. When you sit down, you can utilize it as an anti-fatigue mat.
How to Choose the Best Balance Board for Standing Desk?
Office standing desk balance boards are different from those for pure fitness purposes. Choose the right model for you, keep in mind that it should be stable enough and ergonomic. Why? You need to concentrate more on your work, not on keeping the balance of a potentially unstable construction under you. Thing is, you should be able to enjoy the slope instaed of being afraid of it. The board or cushion you pick should provide more stability and space for feet. They should be easy to master and get used for everyone, not only for advanced users and sportsmen. To facilitate the choosing experience of our readers, our guide contains the most important factors one should keep in mind while buying a standing desk balance board. Whether you look for a safe and reliable balance board option to embrace ergonomics and reduce number of chairs used in your household, in the following chapter of the guide you will find the metrics that matter the most.
Most Important Factors of Choosing a Balance Board for Your Workstation
In general, it is not that difficult to choose the best balance board for you. Just be sure to take into consideration the following factors:
Standing Desk Balance Board Type
It defines what kind of movement you will be able to make standing on it. Read on to get more information about the balance board types.
The Size Of the Deck
You should stand and move comfortably on your balance board.
Ergonomics in Design
The standing desk balance boards come in different colors and shapes. For sure, you will find the right option whether it is for the office or home.
The Balance Board Cost
They come in a wide range of prices, from budget-friendly basic models made of plastic to professional balance board options.
Go for it! Find your best balance board for office and home, and enjoy all of its benefits – healthier lifestyle, fun, movement!
Options Beyond our Review
Now, as we have flipped through the most popular and reviewable balance board options, we feel like adding a bit more and look around for the final time and a final pick: below is a bonus top-4 shortlist of items to boost your physical condition while working at a standing desk platform.
Standing Desk Balance Boards For Premium Buyers by Indo
Carved out of cabinet-grade birch, this six-kilo deck is pride of its US manufacturer: several colors including Bamboo, Blue, White Art, Doodle, and others are available, as well as a spectrum of sizes on the offer; and the price is worth the value, $119 at minimum. The Indo Standing Desk Balance Board is suitable for your household and office work, and its assembly is absolutely straightforward, which provides the quality balancing experience by deminishing fatigue from standing at a standing working platform, and you might find it useful for your home workouts and gym sessions.
Balance Board for Aestets with Carrom Roller Board
The Carrom Roller Balance Board, merging the qualities of hardwood plywood and UV polyurethane, is only $57.99, while its weight capacity is substantial, 300 lbs, and it comes in four color options, Natural, Green, Red, and Blue. This board is a great option for those who seek strong muscular system, sharp coordination, and perfect balance, with significant results in gaining and developing both upper and lower body muscles. The manufactirer provides a two-year warranty, and it will take you only two days to ship it by Amazon Prime services.
Balance Board for Fitness by Simply Fit
The USA-manufactured premium-quality plastic Simply Fit balance board comes in one size only, 66cm x 28cm x 10.1cm. However, it is a reasonable price that, together with a great weight capacity, has made the item favored by gym-goers and fitness fans. There is no roller in the package, and the rocking motions are provided by the board's convex shape: hence, the cost and usability are among the major advantages of the Simply Fit balance board.
Revolution Fit Balance Board for Utmost Versatility
Coming in various dimentions and colors and build with high-quality materials only, this balance board represents revolution in the realm of the like items for fitness and wellbeing: the Revolution Fit balance board has a robust weight capacity of 350 lbs with the board weighing 4.5 kg, and it is completely straighforward in usage and maintenance, and you can receive it in two days by Amazon Prime, backed by the two-year warranty proposed by the manufacturer.
In Conclusion
As most reviews in publication show, a lot of office workers suffer from severe fatigue these days. That mostly happens because we are spending more and more time by a computing, sitting in our chairs for most of the day. And is exactly why we need to use such ergonomic base as standing desk balance boards.
It doesn't really matter what type you prefer: a rubber pad, and air bag cushion, a steppie, a whirly station, a balance disk, or a classic board. It has to allow you the motion you need. It has to make us full of energy even when we are forced to sit in uncomfortable chairs all day long. We have described the best options for both pros and beginners, so we hope that with this review, we have managed to introduce you to the magical world on balance boards and standing desk converters. Once you get one, your life will never be the same.
---