Exerpeutic WorkFit 2000 Treadmill Desk Review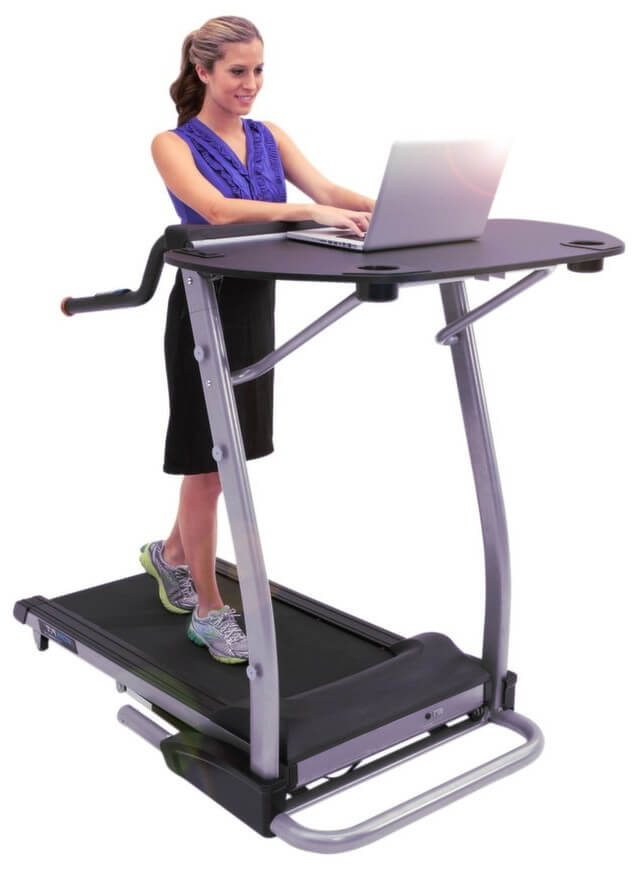 ---
Exerpeutic WorkFit 2000 Treadmill Desk is an affordable option for people who wish to get a treadmill fitted in their office, but with the overall design and the inability to provide a sturdy desktop platform, this may not be the most suitable option for employees who are continually relying on typing and writing on top of their desk.
At less than $1,000, Exerpeutic WorkFit 2000 Treadmill Desk does come with a couple of convenient offerings. This includes an appropriate motor that can provide the user with a steady walking pace without the risk of burning out. The desktop itself has a large area for keeping a laptop and other devices always close-by, and the belt size is also appropriate for the majority of people.
Exerpeutic WorkFit 2000 Treadmill Desk
Overview
Price
Starting at $820
Lift Type
None
Material
n/a
Sizes Available
24" x 48"
Belt Size
20" x 40"
Top Speed
4 MPH
Colors Available
Black and Silver
Weight
130lbs
Where Produced
n/a
Shipping
Shipping depends on the customer's location
Warranty
Only the motor of the treadmill is included in the warranty. The warranty lasts for five years following the purchase of the treadmill desk
Exerpeutic WorkFit 2000 Treadmill Desk Overview
Exerpeutic WorkFit 2000 Treadmill Desk is currently known as one of the most affordable products. There aren't many of treadmill workstations with a lower price tag, making this one a convenient option for people who want to keep themselves active while they are working, but are unable to spend thousands of dollars on a treadmill desk.
While the price is indeed a plus point when it comes to considering the purchase of the Exerpeutic WorkFit 2000 Treadmill Desk, there are a couple of concerns that can be unpleasant for the customer.
Desktop Surface Design And Specifications
This treadmill desk workstation is currently available in a single size, with a desktop surface that measures 24 inches by 48 inches. This is a relatively large surface area to keep a number of objects on, ranging from a laptop toward mobile devices, iPads, and even important documents.
Exerpeutic WorkFit 2000 Treadmill Desk does not offer a height adjustment system providing a fixed height table only. This makes the product less convenient for taller individuals who might be looking to get such a product into their office. Additionally, not all people feel comfortable working at the same level, so the inability to adjust the height to a comfortable level can be inconvenient for more than just the taller customers.
The desktop has a maximum weight capacity of 80 lbs. This is a relatively convenient weight amount, and it allows multiple items to be placed on top without worries. At the same time, however, it needs to be noted that the desktop is not as sturdy and stable during the operation of the Exerpeutic WorkFit 2000 as many competitor treadmill desks. The customer may find that it is difficult for them to work while they are walking on the treadmill.
Also, assembling this product may be a complicated procedure for the average user.
Treadmill Design And Specifications
Exerpeutic WorkFit 2000 Treadmill Desk is provided with a 1.5 HP motor. This is not the most powerful motor we have seen in on the market, but it can be a convenient feature at the same time – higher powered motors can burn out when a treadmill's speed is set to the lowest setting for too long. This treadmill has a maximum speed setting of 4 mph. The settings can be easily adjusted to accommodate the preferences and needs of the particular user. This allows for a steady pace of walking.
Exerpeutic WorkFit 2000 Treadmill Desk has a maximum weight capacity of 400lbs. We have noticed that this is an improvement over some competitor products – even some of the more expensive treadmill desks tend to have lower maximum weight capacity.
Warranty
The warranty for Exerpeutic WorkFit 2000 Treadmill Desk is somewhat limited. Only the motor seems to be protected under the guarantee that comes with the desk – the motor will be under warranty for a five-year period after the customer has purchased the product. The warranty doesn't provide coverage for the frame of the treadmill desk or the electronic and mechanical parts. For many customers, this may be another inconvenient point, as the motor is not the only part of the desk that may suffer from manufacturing faults after a few uses.
The Bottom Line
For those people looking to add a treadmill desk at home for part-time use Exerpeutic WorkFit 2000 Treadmill Desk is a great option. This walking desk is also an appropriate option for those customers who are shopping on a very limited budget.  Individuals who need a sturdy treadmill desk that will give them the ability to stay productive while they are walking on a treadmill might rather look at alternatives. This is because Exerpeutic WorkFit 2000 is not sturdy enough to allow a person to type of a laptop comfortably or write on paper, it is non-adjustable as well. These are essential factors that any potential customer will need to take into consideration if they wish to buy this product.
Have doubts regarding Exerpeutic WorkFit 2000? You will find lots of high-quality options. For example, check our iMovR Cascade review to have a better perspective.
---