TrekDesk Treadmill Desk Review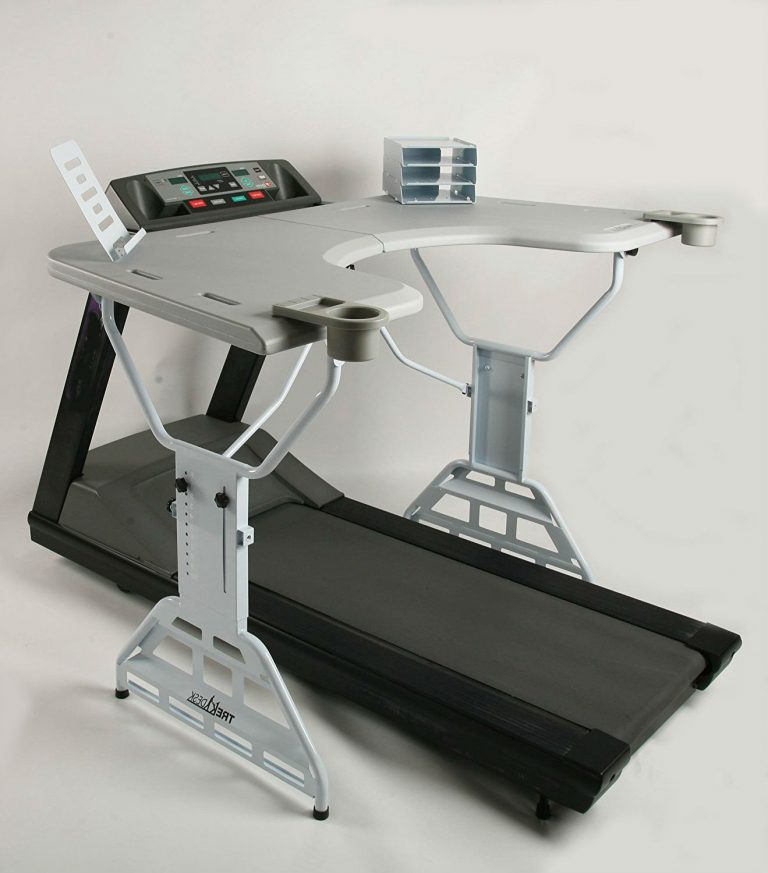 ---
The TrekDesk Treadmill Desk is a large standing workstation constructed of a heavy-duty plastic work surface on a powder coated steel frame. Both the frame and work surface are gray and there are no other color options available. The unit is designed to be attached to an existing treadmill, allowing users to walk while working.
TrekDesk's scratch and stain resistant work surface is manually adjustable to the desired height but it cannot be used while sitting. It is fitted with a number of built-in accessories including cup holders, a filing tray and a manuscript holder for reading books and magazines. The unit will accommodate some stand-alone treadmill belts and can be folded away when not in use. The company uses Amazon order fulfillment and offers free shipping within 48 states in the US.
TrekDesk Treadmill Desk
Overview
Price
$649
Lift type
Manual
Material
Powder-coated Steel (Frame) LPDE (Desktop)
Sizes Available
One Size – Table Surface of 72" x 34"Weight: 57 pounds
Controller
N/A
Walking Belt Size
N/A
Top Speed
N/A
Horsepower
N/A
Country of Production
USA
Shipping
Free delivery within 48 United States, fulfilled by Amazon.
Warranty
2-year limited warranty
How Does the TrekDeskTreadmill Workstation Look?
Beauty is not the TrekDesk's strongest attribute. The gray powder coated frame and heavy-duty plastic work surface looks dated and unattractive. The overall look is flimsy and cheap and the unit would not fit in a modern office environment. Nevertheless, the 72" wide work surface is of a practical size and has enough space to accommodate everything necessary for a typical working day. The built-in cup holders, manuscript holder, and file folders are very practical although lacking in style. The adjustable work surface can be positioned at a variety of heights and is suitable for users anywhere between 5 feet and 6 feet 4 inches in height. However, the work table cannot be used while sitting because at its minimum height of 46.5", it is far too high. The TrekDesk is only suitable for large rooms and it will not fit in any tight spaces. Customers should carefully measure the area where they intend to locate the unit in advance of making a purchase.
How Does the Treadmill Desk TrekDesk Perform?
There are many concerning performance issues presented by TrekDesk treadmill desks. First and foremost is the poor design which causes the entire unit to rattle and vibrate while in use. Some reviewers have managed to resolve this by modifying the frame with additional nuts and bolts or by providing additional support. However, since customers are paying a premium price of $649 for the product, this really should not be necessary. Although the work surface is very roomy, its weight capacity is a mere 55 lb, just a fraction of what most adjustable workstations can bear.
The work table can be adjusted from a minimum 46.5" to a maximum of 56.5". A severe disadvantage of this range is that the desk cannot be used while sitting down. This factor minimizes its flexibility as a workstation and makes it unsuitable for many users as the vast majority of people need to sit at least some of the time. This means that at best, the treadmill desk can only be used as a secondary workstation and users will need to have another 'main' table at which most of their work is done.
Additionally, although TrekDesk claims that the product can be combined with almost any treadmill, the position of the work surface is likely to block users' access to the control panel of their treadmill. This will cause great operational difficulty and may, in fact, mean that the workstation is unfit for a lot of users. Our final gripe with the performance of this product is the clunky, manual height fixing mechanism. At this price, we expected something better than knobs on the legs which need to be adjusted individually. As an illustration of just how inflexible the product is, manufacturer's instructions advise users to remove all items from the work surface before attempting to adjust the height, making this very inconvenient for daily use.
Assembling the TrekDesk Treadmill Desk
The TrekDesk arrives in a single delivery. Customers will require a power drill with a Phillips head attachment to put it together. It comes with detailed assembly instructions and the manufacturer has also made a step by step video to assist customers. Most users should be able to assemble the unit alone, but as there is a large number of small parts, this process can be tricky and time-consuming. The manufacturer suggests an assembly time of 45 – 60 minutes but this may depend on technical expertise and previous assembly experience.
Some TrekDesk reviews have complained that the console surface is not pre-drilled which can add time to the process. Others have noted that some of the parts contained within the packaging do not correspond with the instruction sketches. What is very concerning about this product is the flimsiness of the design once assembled. It is no wonder that the weight capacity is so low. Some users have managed to increase stability by making modifications to the frame but doing so may affect the warranty on the product. The company will accept missing parts claims up to 10 days from the purchase date. It's difficult to imagine that the unit would survive much movement or relocation and the limited two-year warranty offered on the unit reflects the manufacturer's lack of confidence in the product.
Shipping, Returns and Warranty
The company uses Amazon for order fulfillment and the unit is delivered free within the 48 US continental states. Charges vary for Hawaii, Alaska and Canada. International shipping is also available and customers can email the company to find out more about overseas shipping rates. The treadmill workstation is packaged in one box measuring 36" x 36" x 13" weighing 85 pounds.
TrekDesk aims to fulfill all orders within 9 business days and most international orders can be shipped within 10-16 days. The company will accept returns of unopened products within 30 days of delivery minus return shipping costs. The TrekDesk treadmill desk comes with a 2-year limited warranty covering defects in workmanship and materials under normal use conditions. Reviewers who have had to return the product report satisfactory resolution of the matter and full refunds.
The Bottom Line
Aside from its many technical shortcomings, the TrekDesk is a decidedly ugly piece of equipment without any trace of style or aesthetic appeal. The gray LDPE plastic work surface resembles something you might eat your dinner off in a hospital bed, and the desk frame looks strikingly like an older adult's walking aid. For a product which promises to keep you on your feet and out of the hospital, TrekDesk might be well advised to consider some design revisions. We also feel that the price of the desk seems entirely out of step with what is being offered. It is not a complete product as customers will need to add their treadmill and it cannot be used while sitting down which makes it useless for a lot of people.
The treadmill workstation doesn't excel in any area other than in its size. Had the price for this product been significantly lower, this product might have qualified as a good value option for customers in need of a low price desk with basic functionality. However, there are numerous better quality and better-looking standing work tables on the market which might work equally well or better with a separate treadmill. Some experts have criticized TrekDesk for its aggressive marketing methods, and unrealistic claims about its products and experts have commented on the treadmill desk's ergonomic deficiency. In spite of all this, the hundreds of TrekDesk reviews on Amazon are broadly positive so the company must be doing something right. Nevertheless, taking into consideration the many limitations of this unit as well as the high price and abysmal appearance, this TrekDesk Treadmill Desk review cannot score this product with anything higher than a 1/5.
Like TrekDesk Treadmill? You might also wish to take a look at our LifeSpan TR5000-DT7 review.
---