Best Inversion Table: Is It Worth Buying?
What is an inversion table? It is a training machine you can use to perform a set of exercises aimed at improving your health, spine condition, and body in general. Inversion therapy consists of changing the body's position, which can reduce or eliminate back pain. It improves the brain blood flow and spine position, and, as a result, the functionality of the lymphatic system increases, and immunity is strengthened.
---
7 Best Inversion Tables of 2020 — Buyer's Guide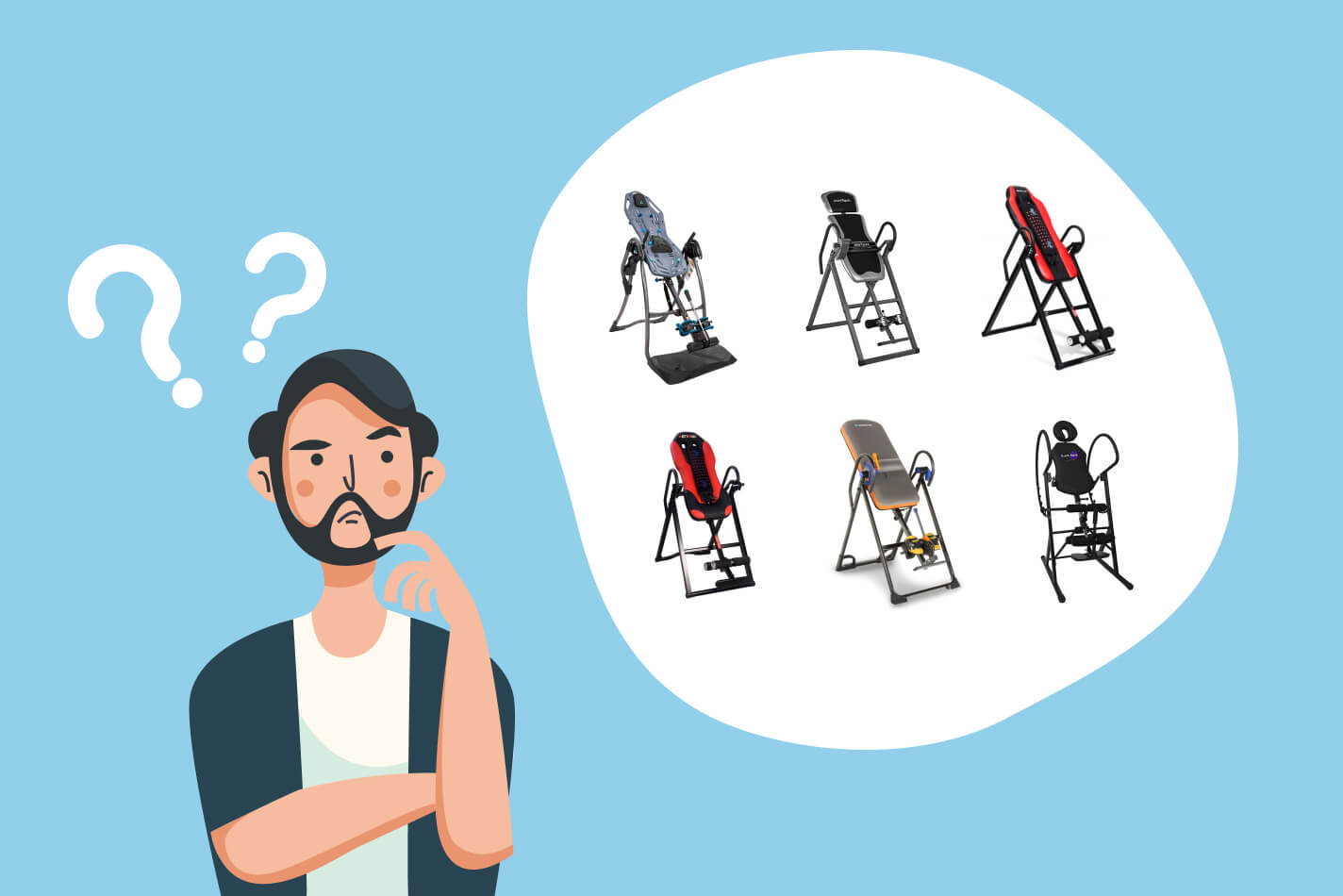 You may have been told by a friend, family member, physical therapist, trainer, or wellness expert that an inversion table can do wonders for your body. That's why you're on the hunt for the best inversion tables out there. Yes, inversion therapy performed safely and adequately is known to minimize spinal compression, offer relief for back pain, reduce joint pressure, and much more. It's safe to say that upside-down exercise makes you feel downright amazing! Let's now discuss how to pick the right inversion table to treat an injury, increase flexibility, or help you meet a personal goal for health and wellness.
You'll find many different inversion tables out there as you shop around. Don't just buy the first one that "seems" nice. This is where subtle differentiation can make all the difference. After all, this is a contraption that will require you to be in an unfamiliar and vulnerable position. You don't exactly want to take a chance by simply buying the first inversion table that pops up in your search.
What are the best inversion tables for alleviating back pain, muscle pain, neck pain, stiffness, and other common conditions? It depends on what you value in an inversion table. Here's a look at the best inversion tables for each key category:
Best Overall: Teeter FitSpine LX9
Best Value: Merax Vibration Massage and Heat Comfort Inversion Table
Best Budget: Innova ITX9600
Best for Extra Support: Exerpeutic 975SL
Best for Stress Relief: Goplus Heavy Duty
Best Deluxe Option: Health Mark Pro Max
Best Compact: Innova ITX4800
Yes, it can be tempting to buy the cheapest inversion table. That may be a strategy that works for you if you don't have any specific needs or conditions that need to be taken into account when making your decision. However, the best way to shop for an inversion table is to get a picture of what each product offers.
There are a handful of factors to consider when searching for the best inversion tables. That includes the availability of an adjustable headrest, memory foam, a solid ankle locking system, and a removable lumbar pillow. You should also take into account the reason behind your purchase. Do you seek inversion therapy to ease neck or lower back pain, recuperate after a trauma, or simply stretch daily?
Take a minute to learn a little more about the top eight inversion tables by category before you commit.
---
---
Reasons to Buy an Inversion Table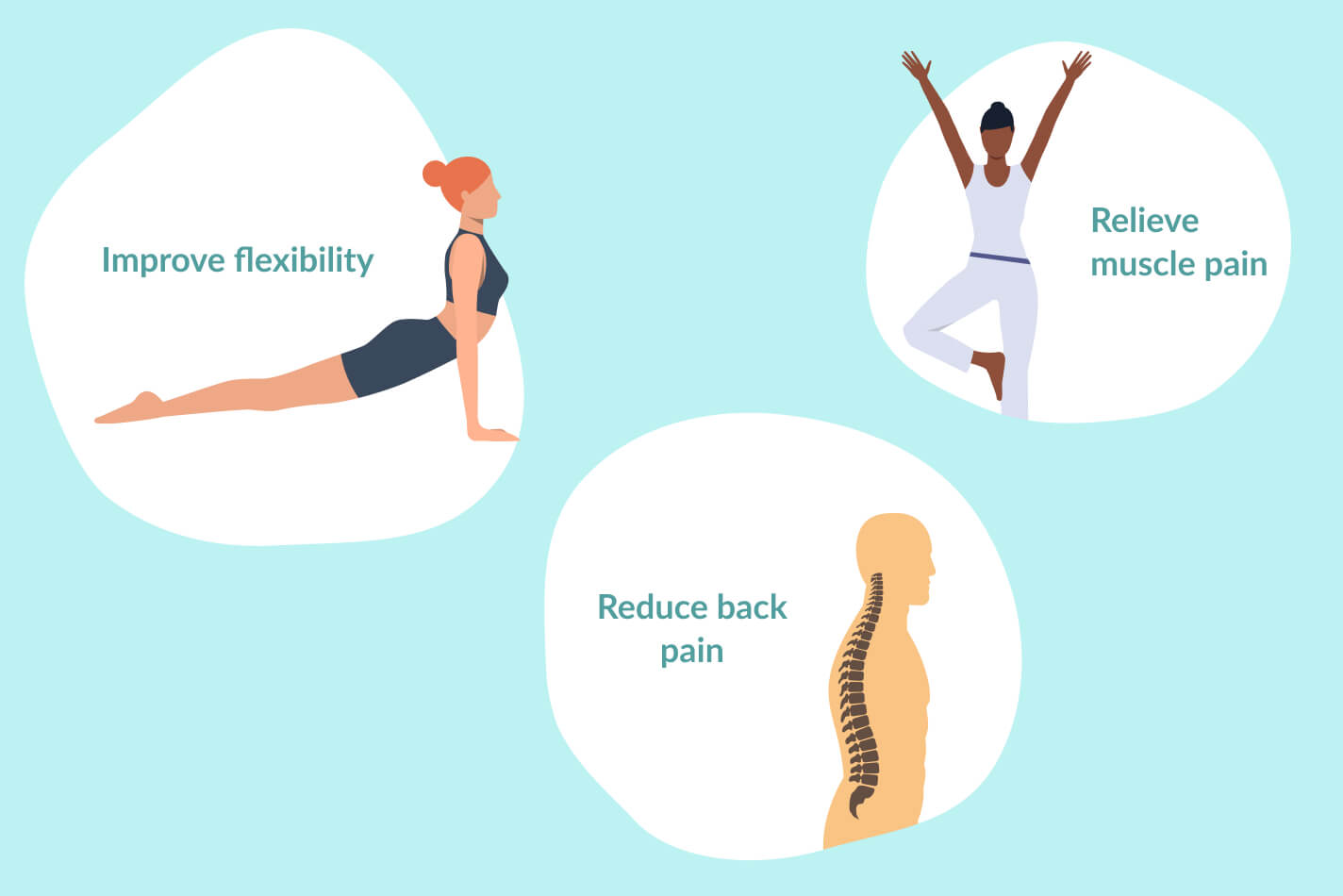 Many people like the idea of buying an inversion table because they see it as a versatile and ergonomic tool for training, physical therapy, or sports therapy at home. However, keep in mind that an inversion table won't be able to replace the help of a physical therapist or trainer. Nevertheless, it can help you improve your flexibility, relieve muscle pain, and reduce back pain. You may even be able to recreate moves you've done with a physical therapist or sports trainer in the office or your own home.
There's a variety of contraptions for inversion therapy. Many people choose to swing or hang when enjoying the benefits of upside-down exercise. However, almost everyone who switches to a more complicated form of inversion therapy begins with an inversion table. A table is simply the easiest way to do inversion therapy at home if you're a beginner. It provides comfort, safety, and security.
Inversion tables are ideal for beginners in inversion therapy because they are easy to use in a self-paced way. An inversion table allows you to become either partially or fully inverted. You start by securing yourself to the table in an upright position. The goal is to get into a position where your head is below your heart. Luckily, the best inversion tables allow you to go as slowly as you need!
The most common reason people use inversion tables is that they have back pain that does not go away with other methods. However, you don't have to experience back or other aches to want to use an inversion table. Inversion therapy is credited with helping people to enjoy health, vitality, flexibility, and mental clarity. It is used by both everyday health enthusiasts and athletes daily.
Pros:

Can be done in the privacy of your home instead of a gym or therapy office
Improves circulation
Improves posture
Eases back and muscle pain
Fixes stiffness
Offers relaxation
Promotes good digestive health
Good for your mental health
Cons:

Possibility of injury if used incorrectly
Not enjoyable for everyone
Takes up additional space
How to Choose the Best Inversion Table
The fact of the matter is that an inversion table can make you feel like an entirely "new person" once you enjoy the tension release that comes from being able to stretch in an entirely new way. Hence, it's obvious why you might be feeling motivated to find the best inversion table as quickly as possible. Taking a step back to consider what you need from an inversion table is essential. Here's a look at the core factors to weigh when shopping around:
Functionality
Ease of use
Comfort
Durability/Design
Special features
Price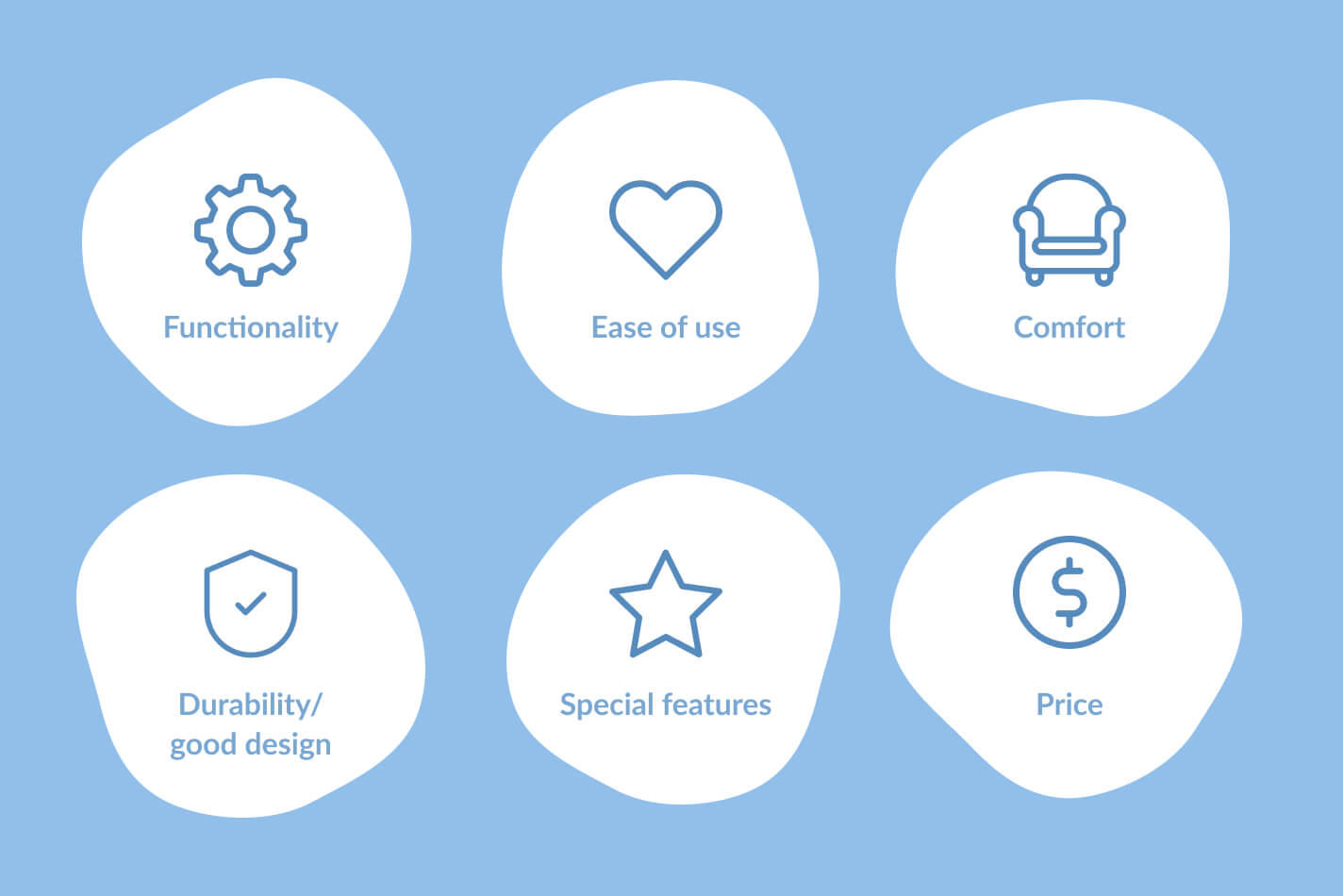 The perfect table's design is elegant, steady, and durable. You also want to feel like the parts and materials are made to last. Many buyers consider special features for storage or being "locked-in" essential. It's a good idea to have a blueprint in your mind for what you intend to do with your device. You may find that you can do the same things on a machine that costs little more than $100 as you would on one that's closing in on $1,000.
It's also important to be realistic about space when choosing an inversion table. Most standard inversion tables stretch out to cover roughly 5 feet of space when opened up into operating position. That's a pretty healthy amount of space being taken up by a piece of equipment. It can feel especially obstructive if you don't have a designated area for exercise inside your home.
Nearly every conversion table is indeed meant to be at least partially portable using fold-up features. However, you're still going to need to have the proper amount of space in your home to safely use the apparatus without fear of hitting against other pieces of furniture. The solution? Get out a tape measure to visualize exactly how much space the inversion table you're eyeing will be taking up in your home once it arrives!
Important Factors to Consider
Yes, some people are going to be "super users" when it comes to inversion tables. That means they will utilize all of the features and configurations in their exercises. It tends to be true of athletes who are looking to use inversion therapy to enhance performance.
Additionally, many trainers and physical therapists use inversion tables as part of their programs or when helping clients. Will you be using your inversion table for professional reasons? Then, it is essential to select a table with the biggest range of settings and weight capabilities to accommodate the different programs you'll be designing for your clients.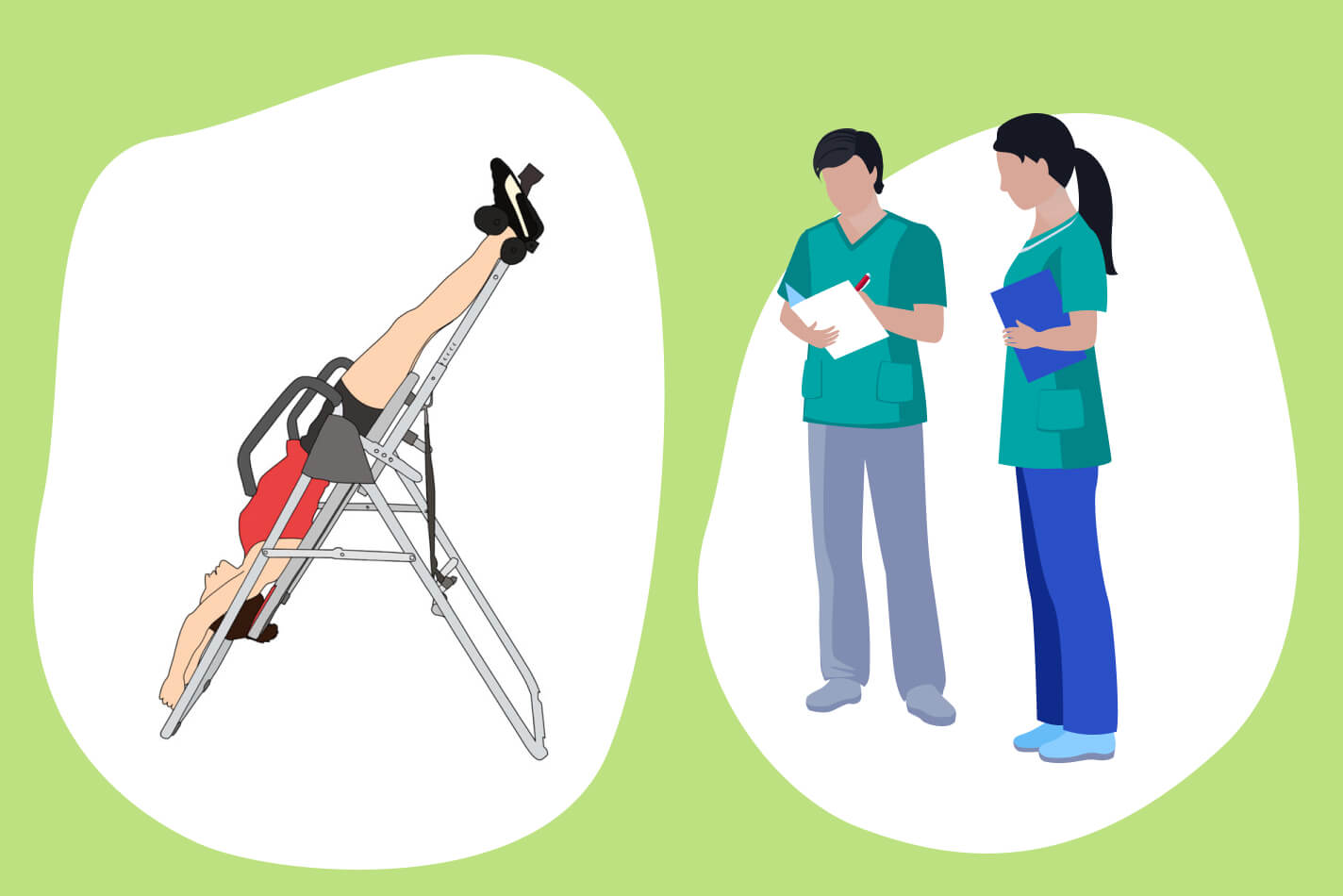 It's going to be essential to focus on weight limits if you're searching for an "oversized" inversion table. The standard weight capacity for a mainstream inversion table is 300 pounds. It's possible to find some that go up to 350 pounds without getting into the specialty range. However, you'll need to opt for a deluxe or specialty inversion table if you're looking for weight capacity beyond the 350-pound mark. And that will obviously impact your price point.
Which inversion tables should you have your eye on if you're serious about getting one in your home? The Teeter FitSpine LX9 is the clear winner in the category of Best Overall Inversion Table because it offers the best range of features at a mid-range price. What's more, the Teeter FitSpine LX9 features quality materials and construction. It's a table you'll find a very durable and trustworthy when you find yourself in the vulnerable and exciting upside-down position!
Of course, the other five inversion tables that made a list can also bring something noteworthy to the table. Buying such a device is not a decision to rush into, so make sure to do your homework in order to get the maximum benefit of inversion therapy!
---