iMovR Lander Standing Desk Review
iMovR Lander Standing Desk
Overview
Lift Type
Electric
Sizes Available
41" x 30" / 47" x 30" / 53" x 30" / 59" x 30" / 65" x 30" / 71" x 30" / 77" x 30" / 83" x 30"
Weight
176 lbs.
Lifting Capacity
360 lbs.
Colors Available
Solid, Nebule, Wood Grains, Carbon Filter
Where Produced
United States
Warranty
The steel frame comes with a lifetime warranty. Certain parts of the desk are under protection for ten years. Maximum warranty on components of the treadmill is three years
Shipping
Free within the United States. Various options are available for international shipping, which will incur additional charges
---
It's a fact that the longer we stay seated, the more exhausted we feel. It's therefore important to shift to a standing desk from time to time and get our body moving. However, most people find it such a hassle to move from one place to another and only a handful of people have enough space for two types of desks. This is why a standing desk became a popular necessity, not only in offices but also in homes. In this review, we will be examining new advancements in electric standing desks–the IMovr Lander Desk and its premium features.
What is a Standing Desk?
A standing desk comes in two types — a fixed one built for specific heights that may take up a lot of space in your working area, and an intuitive sit-stand desk that responds to your physical and working needs. Through its powerful mechanism and built-in electronics, a desk like the iMover Lander Standing Desk can adjust based on different heights and preferences, integrating convenient accessories and features while it's at it.
Some must-haves for us to classify a desk under our Best Standing Desk list include key features like quiet motors, height control mechanisms, lifting capacity, and a premium warranty, among other components. Of course, size and color combinations matter, especially for people who want to work in visually aesthetic spaces. This article gives insight into each feature of the American-made iMovR Lander desk so you don't have to go through all the fuss of extensive research. If it's a good fit for you, you'll know by the end of our review.
Health Benefits
Having a standing desk readily available for your use is not just all about the fad. It also has tons of benefits to your body, which is the reason why it became popular in the first place.
Aside from being the source of renewed endurance and cardiovascular health improvements, a standing office desk like Lander Desks can also give our bodies the movement it needs during long working hours. This, in turn, tells our brain to match the body's physical productivity with creativity and quick mental processing. Today, many companies have initiated sit-stand programs knowing the health and workforce benefits they provide.
Lifestyle Matches (Who May Benefit)
Ever bought something expensive, and after a few days, realized that it's not the right fit for you after all? We'll help you assess the iMovR Lander Desk so you don't have to go through that with this purchase. Let's take a look at who may want to buy this type of electronic sit-stand desk:
Freelancers with limited space
We know that if you're making top bucks, you're also most likely working all day long. Freelancers like graphic designers, writers, and virtual assistants who often work at home have to deal with small working areas. With the Lander standing desk, you'll be taking advantage of your vertical space rather than consuming horizontal spaces with static furniture that offers only a few benefits.
If you're a boss, your executive time is of utmost importance. Moving from one desk to another will be time-consuming, especially when you have a lot of papers to sign or presentations to finalize. There will be several gadgets or documents on your desk that will also need to move with you. Still, your health is more important than time. The iMovR Lander desk not only takes just a few minutes to set up (it's already built), it also takes mere seconds to adjust its height between sitting and standing.
It's a no-brainer that if your body needs more movement, standing is the easiest option. Did you know that spending more than 90 minutes just sitting significantly impacts your body's metabolism in a negative way? Not only does it cause a heap of health complications, but it also affects work productivity, so opt for a standing desk if you're in dire need of an energy fix. You can add other equipment or accessories such as under-desk treadmills, ergonomic chairs, and the much-preferred standing mats later on.
People who want to make the most of their active lifestyle
If you're already allocating time to exercise every day, your body will feel weak when you suddenly stop for work. Go for an iMover desk if you want to optimize your physical well-being. Chances are, you'll sustain your exercise efforts and reap more benefits. The iMovR Lander desk is also NEAT-certified, so you can be sure that it's built to add to your daily dose of movement.
People with unique heights
You may also opt for regular standing desks with no adjustment option. This works well if you have an average height. However, those who are taller or shorter than average may need something custom built. Regarding expenses, a wiser decision would be buying an electric desk such as the iMover Lander that can perfectly match your height.
Techy individuals who want seamless electronic integration
If you scan articles on the Lander desk, chances are you've noticed that it offers cutting-edge technology along with its premium desk features. Yes, it connects to your smartphone!
More details on the iMovR Lander standing desk are discussed down below, so you can find out if it's a good match to your lifestyle, working arrangements, and goals.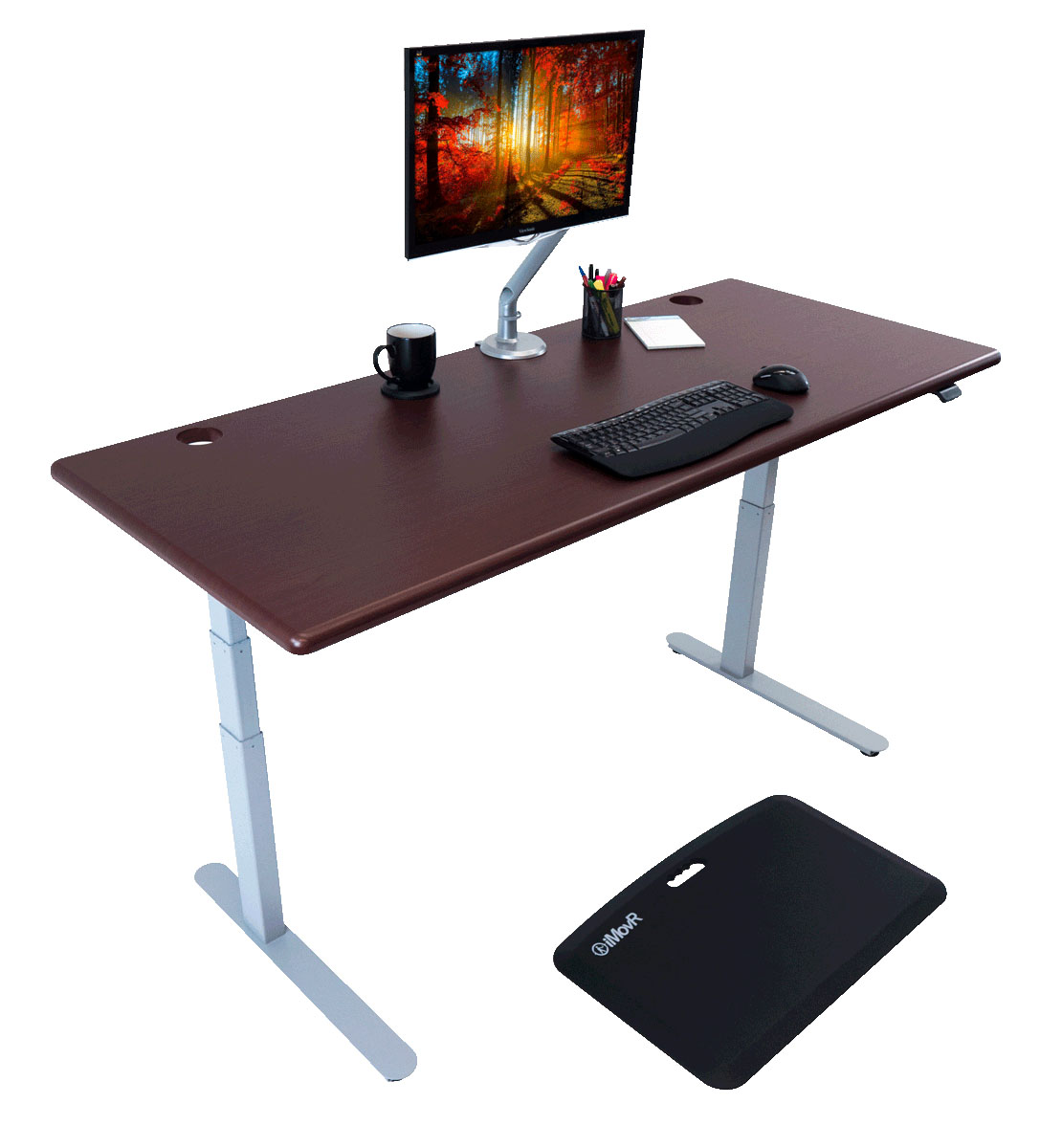 Product Review
The following features discuss what we love and what we feel iMovR can improve regarding this model of their electric standing desk. We'll touch on all of the details that people tend to overlook, some of which are its desktop specifications, stability, accessories, assembly option, and integration potential.
Product's Key Features
The Lander Desk's two-year research and development may very well stand for its quality. Because of the stringent process it underwent, this desk by iMovR has earned ANSI/BIFMA X5.5-2014 certification for its durability, performance, and long-lasting reliability. Its $1,049 value should also vouch for the premium standing experience that iMovR offers.
With a whopping 360 lbs of lifting capacity, this standing desk is by far one of the most durable in the market, allowing it to withstand a cart of about twenty bowling balls on its desktop. Its height range settings also capture a vast market since it can go as low as 24.5″ or as high as 50.5". This iMovR desk does the heavy lifting so you don't have to.
Even with an already hardcore lifting and height capacity, the iMovR Lander standing desk goes beyond standards with its incredibly whisper-quiet motors that allow its frames to adjust at the speed of 1.6 inches per second. Imagine — the full span from its lowest to highest level only takes less than a minute! You don't have to worry about these electronics, either. iMovR's base parts and electronic components are covered by a warranty of 10 years.
The iMovR Lander standing desk is one of the few reliable standing desks that are engineered and made in the USA. With this, you can expect a quality that marries technology and functionality. Yes, it's smartphone-ready and compatible with other accessories, making it the go-to choice for different people. It's already obvious why we love the Lander desk, isn't it? But that's not even the best part!
Personalized Design
The iMovR Lander desk goes above and beyond with its Instagram-worthy design collection that caters to different personalities and tastes. It offers 16 different tabletop designs — 5 solid colors, 8 solid wood grains, 3 specialty colors, and an option to customize your color choices. You also get to choose between 3 neutral-colored base finishes and 10 different sizes. Even the iMovR Lander's "small brother" known as the Lander Lite desk offers 36 varieties of the 3D laminated desktop. When combined with other desks in the iMovR line, you'll realize that there are hundreds of size and color combinations for your standing desk (including light maple, shark gray, shaker cherry, and other popular designs that you can check through the iMovR color sample kit). Other desks in the Lander line also have options for L-shaped desks for a multi-user function. If there's one table that truly adjusts for you, it's this one.
The surface of the desk is also 3D laminated and ergo-contoured, so you can be sure that it's built to withstand daily use, light scratches, water stains, warping, and even strong hospital-grade disinfectants. The material is also hermetically sealed, so you won't have to worry about any moisture penetrating the surface. iMovR gives 5 years of warranty just for the desktop itself.
What's great about the iMovR Lander standing desk is that it's easy to set up since it's 98% pre-assembled by the time you receive it at your doorstep, no tools required! This eases the burden of having to spend an excessive amount of time figuring out its bolts and nuts because it's almost fully assembled. Best of all, it gives you free shipping within the U.S.!
The iMovR desk definitely guarantees ease of use along with its industry-leading tabletop construction and service.
Advantages of its Main Features
Desk frame
The iMovR Lander desk boasts of a lifetime warranty for its desk frame. That says a lot about their confidence in its durability. Having a reliable frame that supports the electronic features of your standing desk is the most important reason for purchase. Oftentimes, cheap desks tend to be wobbly, but since the Lander standing desk is already in one piece with the frame, legs, and control panel firmly attached to the tabletop, there is no need to worry that your desk might fall apart as you adjust its height.
The iMovR Lander desk is sturdy and its components are all factory-aligned and bolted for your convenience and safety. Its minimum height is 24.5″ while the maximum is 50.5″. Just in case that's not enough, you can add the 6-inch optional height extenders. These frames slide seamlessly into each other at 1.6 inches per second as you switch from one height option to another, which gets you standing in minutes (or less)!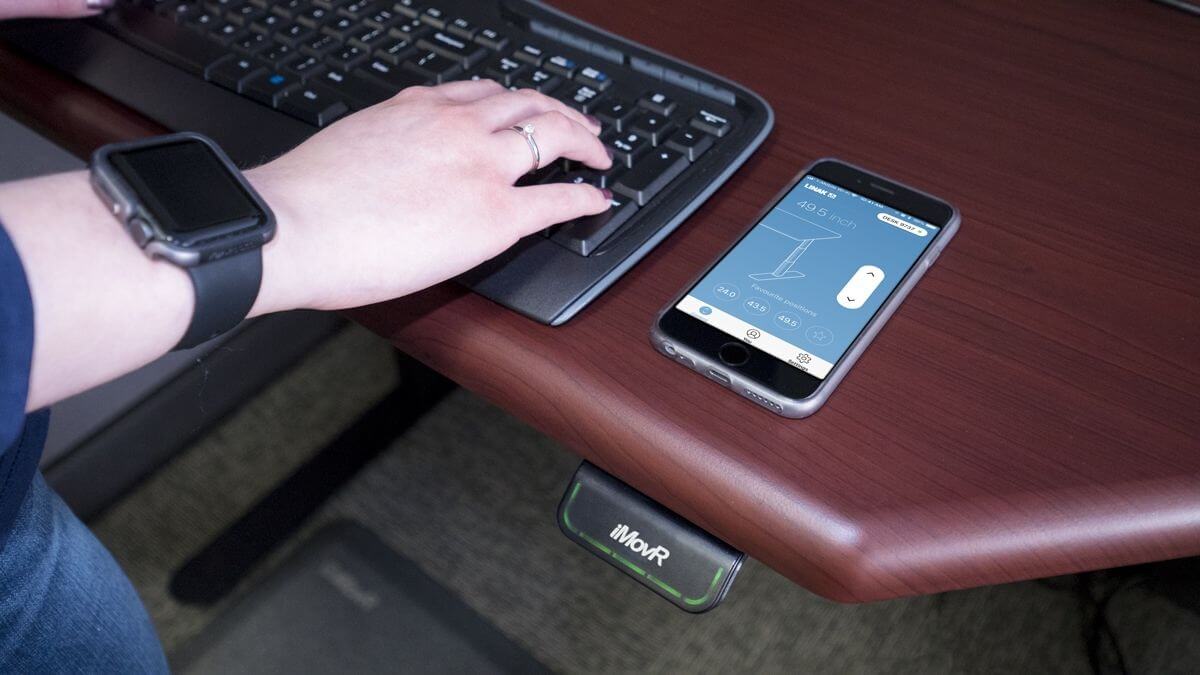 Height Adjustment Technology
The frame's intuitive height control paddle saves your time and effort using several features and options to make height changes. The paddle enables a smooth transition between a sitting and standing positions since a single stroke of your hand does the task better than overly-complicated control panels. It even goes the extra mile by adding a smartphone app that syncs with its Bluetooth-enabled controller. Personally, I'd just go with the double-tap height changes since it's such a no-brainer.
The control paddle also has a high-resolution LED display that shows the details of your height settings. The "health coach" on the smartphone app can also give you reminders to change position now and then. This is a great feature since the main idea of electronic standing desks is to help its users shift from a sitting to standing position and back every 90 minutes or so. If sitting is bad for you, standing for prolonged periods of time can also lead to severe complications like poor blood circulation and muscle fatigue. This is why a convenient adjustable height option is a must. You'll be changing positions several times a day.
Now, if you're curious about the electric power it takes to operate such a high-tech machine, the iMovR Lander desk consumes 200W when in use and only 1W when on standby. You'll also have value for your money since the electronic parts have a five-year warranty. Sure, premium standing desks cost a large sum of money, but the promise of durability and customer support can probably make one confident with this purchase.
Power Socket Add-On
iMovR knows that some people prefer the convenience of having power sockets readily accessible while others want it hidden. True to their concept of personalization, iMovR desks can have an optional grommet-mounted power socket on top of the table and has it in two colors — silver or black powder-coated finish. With a 72″ cord, it can also adjust as your desk shifts from one height to another. Should you opt for this feature, there is no need to bend down and risk hurting your back in the process. Each Lander desk can accommodate one to two of these charging nodes.
Monitor Arms
Perfect posture is one of the main goals of ergonomic furniture. Having monitor arms is one of the most crucial add-ons to your standing desk because it can give you the proper height and distance you need when looking at your monitor. This is the main reason why most laptops are not recommended for prolonged use — because they put a strain on your neck and eyes that slowly builds up whenever you look down at the monitor. If you want to maximize your standing desk, the Lander gives you the option to add this on a separate purchase.
Other Accessories
Keyboard Tray Option
Keyboard trays are often thought of as a means of removing clutter on your desk and making more space for documents or reading materials. Sure, it does a good job of saving space, but it does more than that. A great typing posture would be an L-shaped position where you're looking directly in front while your arms are relaxed and perched on the table. Having an ergonomic keyboard tray in addition to monitor arms will do wonders for your posture. The iMovR Lander standing desk already comes equipped with a provision for a keyboard tray should you wish to add that, too.
Cable Management
We all know that tangled cables can be an eyesore, especially when you have a high-tech desk that changes from one height to another. iMovR gives its users an extra hand through its cable management kit, which gives you universal cable organizers and varying components. We recommend getting the advanced kit, which includes a 12′ cord, 7-outlet surge protector, and a 24″ cable. Just a tip: before you bundle and secure your cables together, make sure that your desk is at your preferred standing height. This way, you won't go wrong with the "extra length" needed for the cables whenever you shift from a sitting position to a standing position.
Storage
Who doesn't want more storage? iMovR designers made sure to include a space underneath the tabletop into which you can slide the iMovR Hide-Away Storage Drawer. Made of molded plastic, this durable tray is light but strong enough to hold several objects inside. There's also a section where you can place your keyboard or laptop whenever you want to clear your table for other tasks. What's great about iMovR's storage drawer is its compatibility with regular desks that have under-table spaces, too!
Standing Mats
We've already discussed the benefits of standing mats in another article, so you probably already know that they provide a cushion between your feet and the hard floor. Aside from its health benefits, these mats also give you relief and comfort while you stand so you can gain the most out of your standing desk. Fortunately, iMovR also provides this product, so if you want to buy all of the ergonomic accessories that match your iMovR Lander desk, you can get them all in one go and have no doubt about their compatibility with one another. Because of the company's dedication to environmental sustainability, these mats are also made from 100% polyurethane material and are built to retain its shape even after many years. Yes, "years," because it comes with a warranty of 5 years and can be recycled when it finally retires.
Portability
The Lander desk gives you the option to add four detachable caster wheels that can be locked in place. Using these, you can transport your desk without having to pull the extra weight. Well, technically, you have to do some lifting when screwing the wheels in place, but after that, you're good to go! This also adds a bit of height to your desk if 50.5″ or 56.5″ still isn't enough.
What others are saying
Customer reviews are all available on the iMovR website, some of which you can also find below. These real reviews show the pros and cons of the product, which also include feedback on its functionality (including its smallest inconveniences). While the iMovR Lander desk doesn't have many reviews on Amazon, it was featured as an Editor's Choice for electric standing desks by Reviewed, a website managed by USA Today.





Warranty
When it comes to big electronic investments like standing desks, having an excellent warranty is of utmost importance. It's a good thing that this iMovR desk tops our list with a lifetime warranty on the frame, a ten-year warranty on all moving components and electronics, and five years on the tabletop.
Overall Pros and Cons
Is the Lander desk one of the best standing electronic desks? If you look past the hefty price, then for us, it is THE best. Here's why:
Pros:

It's super durable. This American-made product comes fully assembled, so you're sure it's aligned and set up correctly. Its tabletop is 3D laminated and can carry up to 360 lbs, enabling it to do some heavy lifting. Even its electronic parts and base components have a warranty of 10 years.
Its main features have premium quality. Its motor is whisper-quiet, so it's the top choice for shared office spaces. Its technology features boast of an American-made quality. It comes with a Smartphone app that syncs with your Bluetooth-enabled control paddle. If that's not enough, iMovR gives a 100-day satisfaction guarantee with free shipping!
It adjusts for you in all aspects. It pays attention to aesthetics and includes popular designs for its tabletop such as light maple, shark gray, and shaker cherry. It has hundreds of size options and designs to choose from. Its paddle enables a smooth transition from a sitting to standing position.
It makes your life easier. No tools required to set it up! Users may simply double-tap the paddle to adjust the height. The desk is designed with a built-in health coach, prompting you to move with its "change position" reminder.
It goes all-out with the following add-ons. Ergonomic keyboard tray option. Cable management kit. Provision for monitors. Spacious under-desk storage. A variety of standing mats all made in the USA. Detachable wheels that you can lock in place
Cons:

It's expensive. Price is $ 1,049.00 (They do give discounts to bulk orders as part of their corporate solution).
Conclusion
Overall, the Lander sit-stand electronic desk gives you value for money because of its premium features that surpass any other desks made in the USA. We're not afraid to say that it's the best one out there with all of the convenience and options it provides on top of its durability, quality, and top-notch electronics.
---