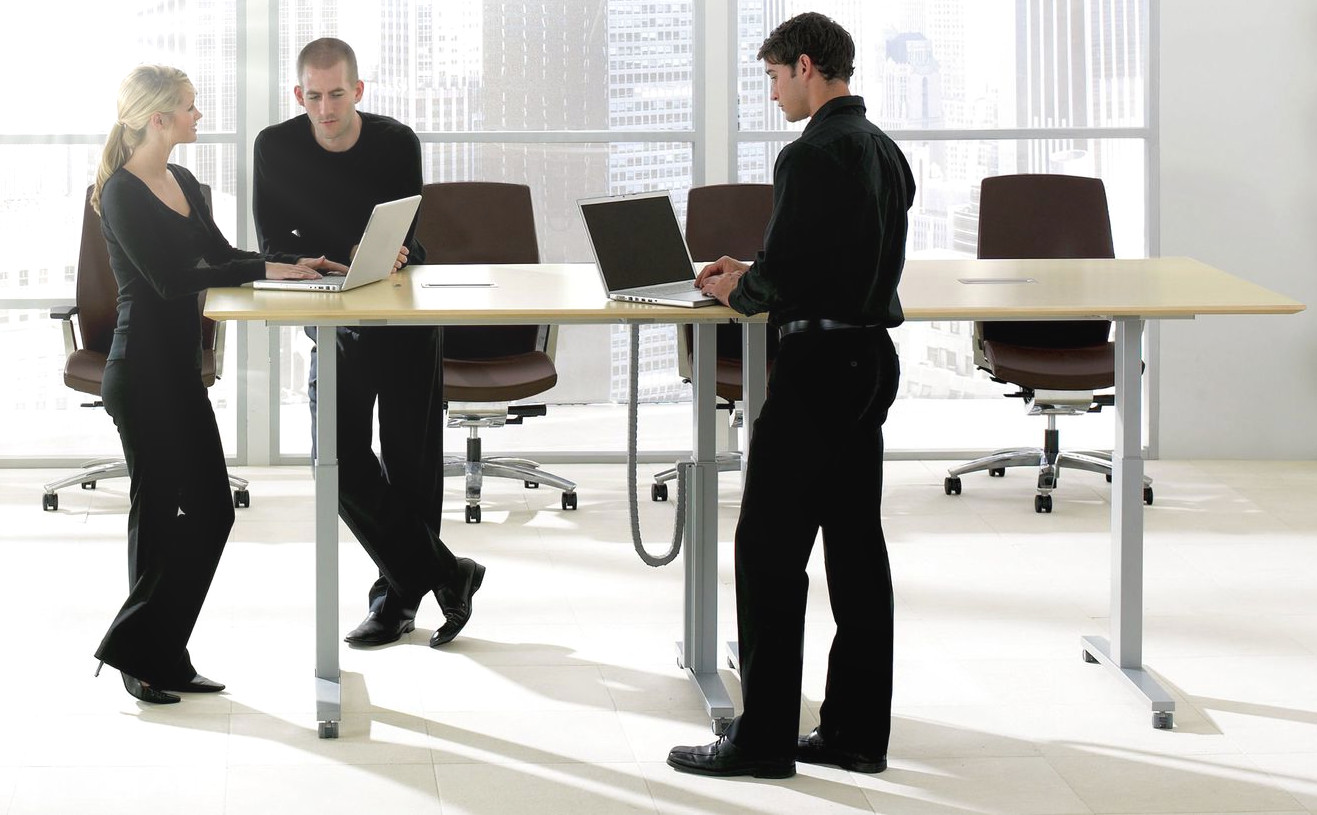 The average person sits around 13 hours every day. According to one study, sitting for an extended period can significantly increase the risk of obesity, as well as bring on other unwanted health conditions, such as cardiovascular disease and even diabetes. The problem is, millions of people have office desk jobs where they need to sit in front of a computer or talk over the telephone all day long. Such jobs make it difficult to avoid hitting that 13-hour-per-day counter.
Fortunately, the modern world is becoming more health-conscious – and this has brought along the innovation of standing desks. These desks are now found everywhere and are not only limited to an employee's personal workspace anymore. Conference desks have evolved too. Companies are increasingly looking at adding an adjustable height conference tables to their meeting room – this way, employees are encouraged to get up and stand while they are having a meeting. A standing conference table may not only promote the well-being of employees but may even help to improve their productivity; thus extending the benefits toward the company as well.
Best Height Adjustable Conference Tables On The Market
---
Buying a standing height conference table is not very hard if you use our professional help. We know that choosing the right product might be confusing because there are so many different options that companies can choose from. Choosing the right furniture is easier due to our extended review. Many unique conference tables on the market that add special features to help make meetings more productive and the lives of employees significantly easier – such as by adding a couple of power outlets to the table directly.
After we take a look at many of these options, we came up with reviews of some of the best conference tables available for companies who would like their employees to stand up more during conferences and meetings.
NewHeights Elegante XT Conference Table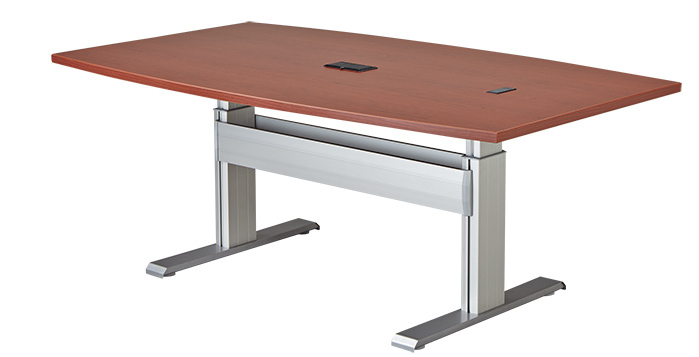 Companies looking for conference tables with electrical outlets will find NewHeights Elegante XT Conference Table a great option. While on the pricier side of these products, the table does come in quite a large variety of sizes, ensuring it will be perfect for any room. Manufacturer proposes many colors to choose from, and the product is made locally in the USA.
Focal Upright Confluence Adjustable Height Conference Table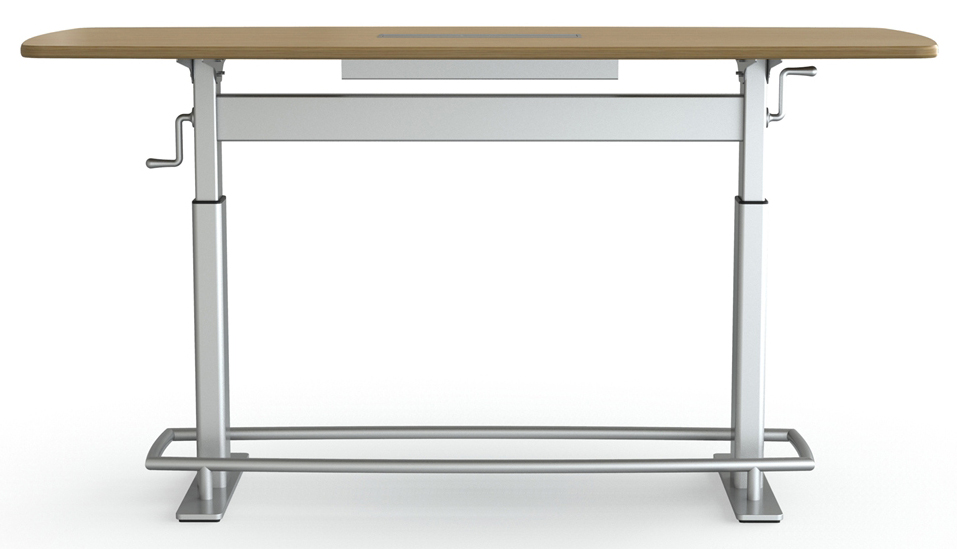 Focal Upright Confluence Adjustable Height Conference Table is a good option for companies looking to buy a standing height meeting table that comes with a series of quality features, along with a more traditional design. This conference table top allows multiple people to lean in on the meeting, while the manual adjustment system allows the height to be adjusted even if the power is off.
Height Adjustable Conference Table by UPLIFT Desk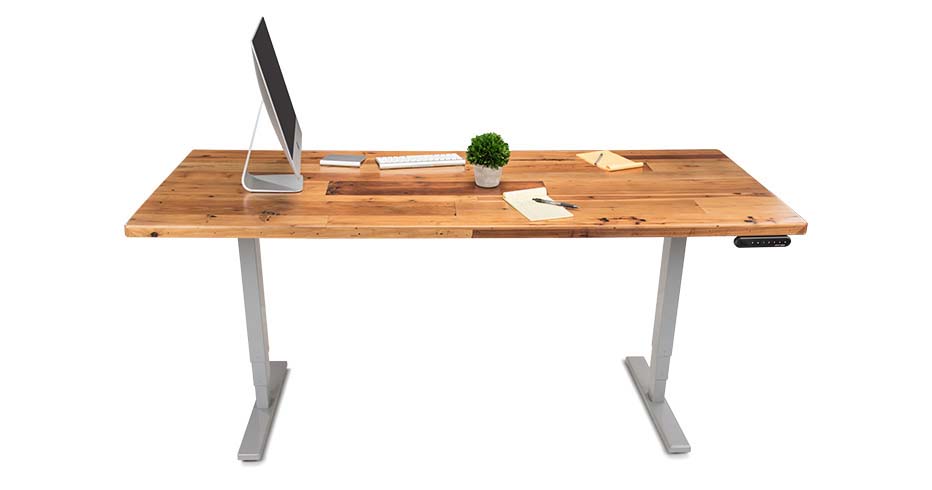 The unique conference table on the market that definitely worth paying attention to is Height Adjustable Conference Table by UPLIFT Desk. This product comes with a range of different customizations that the customer can select from. While following the standard conference table height at its lowest setting, the desk can easily be adjusted to allow employees to stand up during a meeting with the touch of a button.
iMovR Synapse Adjustable-Height Conference Tables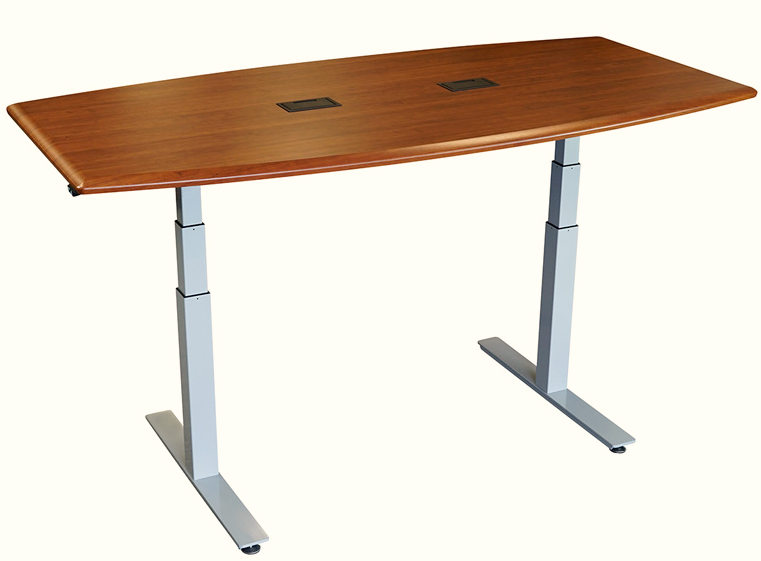 iMovR Synapse Adjustable-Height Conference Tables are types of sit-stand desks that provide users with the option of converting their desk to either a sitting or a standing one depending on their preferences. Their height can be adjusted in minimum time and effort through an electric lift mechanism. The tables are available in different sizes and models, each having its own distinctive features including cable management and different shaped table tops. With their stainless steel frames, 3D-laminated hardwood tops, availability in different colors, and finishes, Synapse conference tables offer users a long list of options they can choose those which completely fits their requirements.
Varidesk QuickPro Conference Table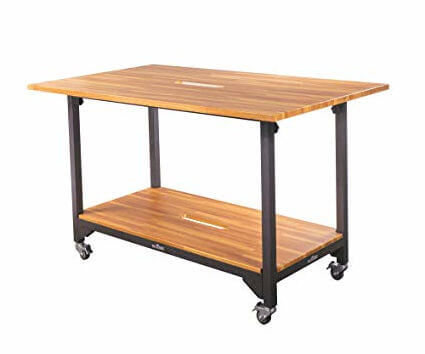 Varidesk QuickPro Conference Table is a type of standing 72" conference table that allows users to enhance their productivity and energy as they stand during work. It is a stylish yet heavy-duty meeting table that offers excellent cable management through the center opening. Its lower shelf serves as a beneficial feature where all the related accessories can be stored. The lock and roll casters enable the table to be moved at any location with minimum effort. It also features the QuickGrip hand-bolt system through which it can be assembled within minutes. The table comes with a 10-year warranty and 30-day money back guarantee.
How Did We Review Height Adjustable Conference Tables?
---
We look at each standing conference table and see a product that can promote the well-being of people and reduces the health risks that may result from too much sitting. While we found that many of these tables tend to offer very similar features, there is something like a unique conference table that offers one or two extra features that can greatly simplify a meeting, such as by adding power ports, USB ports, and other convenient features.
To determine which conference tables we had to review and add to our list of recommended options, we had to filter through a large number of options. While we did like the idea of a DIY conference table kit, we decided rather consider the options that come with everything pre-installed – this way, it reduces the effort needed from the company's side and rather focuses on boosting productivity and the health of employees.
We looked at all of the most important factors of each table – and filtered through the lists that were presented to us only the best of the best. We looked for products that came with customizable options, such as the ability to select from multiple conference table sizes and designs. We also search for furniture made from quality materials – buying a standing height conference table that is not made from top quality materials lead to a reduced lifespan of the product and often an unstable table once it is placed on the floor.
What Are Standing Conference Table Benefits?
---
Incorporating a standing conference room table as part of a company's movement has multiple benefits to offer – to both the company itself and the employees who will be attending meetings and conferences in the room. Whether a convertible conference table is created or a custom designed option is purchased, standing during meetings is associated with benefits such as the following:
The use of a standing desk in a conference room may also yield to shorter meeting times, and employees may experience an improvement in their productivity since standing causes each employee to focus on the topic at hand and avoids any participants in a meeting from dozing off.
Since sitting too much has been linked to adverse effects on the brain's physical structure, which could ultimately affect an employee's cognitive performance, there is a potential boost in productivity to gain here as well. Thus, adding an adjustable height wood table to a conference room, for example, can greatly help a meeting go by faster and also lead to more engaged employees.
It has also been found that standing at times while working may enhance energy level, leading to less fatigue in employees during the working day.


How To Choose The Best Standing Conference Table?

---

When it comes to buying adjustable conference room tables, there are many factors that a person should take into account to ensure they buy the right option. Whether that person is looking to buy a conference table with power or perhaps a very specific product, such as a bar height conference table, some specific factors that can help a customer make a better choice.

Size

One of the very first factors that should be considered is the size. A customer needs to know about the different conference table sizes that are available and ensure they also understand how much space is available in the room where the furniture will be placed. There is no use in buying a high-tech conference table that comes with all of the best features if it is going to be too big for the room. At the same time, the table should also not be too small, as multiple employees will likely stand around the table during each meeting. Many products are able to accommodate four to six people, but some can offer adequate space for more employees simultaneously.

Shape

The shape should also be taken into account when looking at standing height conference tables. There are various shapes available, with the default often being a rectangular shape. Rectangular tables are popular for a reason – they allow many employees to stand at the table simultaneously and they usually do not take up a lot of space.

Traditional vs. Modern

It is also important to consider whether a traditional or more modern design may be needed. In recent times, companies have started to come up with products such as conference table cable management systems, as well as conference tables with electrical outlets. These can all add to the overall convenience of the table – but if such features would not be a requirement during meetings and conferences, there really is no need to spend extra money on acquiring a product that offers such conveniences.

Price Range

Another important factor to take note of is the price of a product. Not only does a customer need to consider how much a product like an adjustable height wood table will cost them, but they also need to take their budget into account. It is also important to weigh all options to avoid overpaying for a particular option that may seem convenient at the time.

The benefits that standing during a meeting can offer any business are clearly on the positive side – this strategy leads to reduced meeting times and boost productivity among all staff members. Companies who are looking to further implement health-based solutions in the form of standing desks and similar objects into their office have more than just conference tables to take into consideration.

There are many other ways to help make employees more health-conscious. While these solutions will greatly help employees in terms of their overall well-being, they can also add to the overall productivity of a business, leading to a "win-win" solution that benefits all.

---