Lander Treadmill Desk Review
Lander Treadmill Desk
Overview
Treadmill Motor
3.0 HP, 4000 RPM
Walking Belt Area
20" x 50"
Speed Range
0.5-2.5 mph
User Weight Rating
400 lbs.
Noise Signature
Lowest in industry - 42.7 dB
Desk Lift Type
Electrical
Desk Sizes
41" x 30" / 47" x 30" / 53" x 30" / 59" x 30" / 65" x 30" / 71" x 30" / 77" x 30" / 83" x 30"
Desk Colors
Solid, Nebule, Wood Grains, Carbon Filter
Desk Weight
176 lbs.
Where Produced
United States
Shipping
Free within the United States. Various options are available for international shipping, which will incur additional charges
Treadmill Warranty
3 years on motor, 2 years on parts, 1 year on labor
Desk Warranty
Lifetime warranty on the frame, 10 years on all motors and electronics, 5 years on the 3D laminated tabletop
---
iMoVR is trying to be an eco-friendly company whose goal is to take care of people and nature, too. You can find more information about the steps that are taking in the direction of environmental sustainability on the company's website.
Innovative Details
The uniqueness of the Lander standing desks is that the workstation includes a treadmill manufactured especially for walking slowly while working. The motor is more long-lasting than the ones on the treadmill manufactured for running and training in the gym. The highest score that you can reach is 2.5 mph which is the best option for the office.
Another innovation is a desktop console with a touch-screen ThermoTread GT's display. You can easily control the treadmill by using it. The display also shows statistics on a user's health and performance parameters. What is more, the workstation can be shared among up to five people, and statistics about each user's performance on the treadmill as well as health statistics while sitting and standing will still be saved. The microprocessor of the console provides quick and well-coordinated system work during the whole day. 
Treadmill Desks for Offices
Lander Treadmill desks are perfect not only for home but also for companies' offices. No matter how big your working place is, most likely that iMoVR standing desk will fit perfectly. The noise level is very low (for particular models, it is 42.7 dB only), so you do not have to worry about disturbing your colleges. Companies' heads might want to replace all ordinary desks with iMoVR workstations to make their employees more productive during the day.
Control

The treadmill desk by the iMoVR can be controlled by using two devices. A modern and easy-to-use LCD control paddle is already installed on the desktop, which makes it always available for a user. By tapping on the LCD paddle, you can control and change the height of the desk depending on your preferences and current position. This device is also responsible for sending reminders. For instance, if a user wants to get notified every time that he has been sitting for too long and it is recommended to stand up and do a walk now, it can be easily settled. All you have to do is choose a program on which time periods to send notifications. The company has already installed an integral coach based on artificial intelligence to help their customers to hold control over their working positions.
If you wish to control the desk remotely, you might find a mobile app helpful. It includes the same functions, such as changing the height of the desktop, getting notifications and reminders, and some more. According to the company, there are continuing to work on the app for it to provide more functions concerning health issues and become even more user-friendly. The app is connected to the desk via Bluetooth, which makes it as easy as using any wireless headphones. 
Customization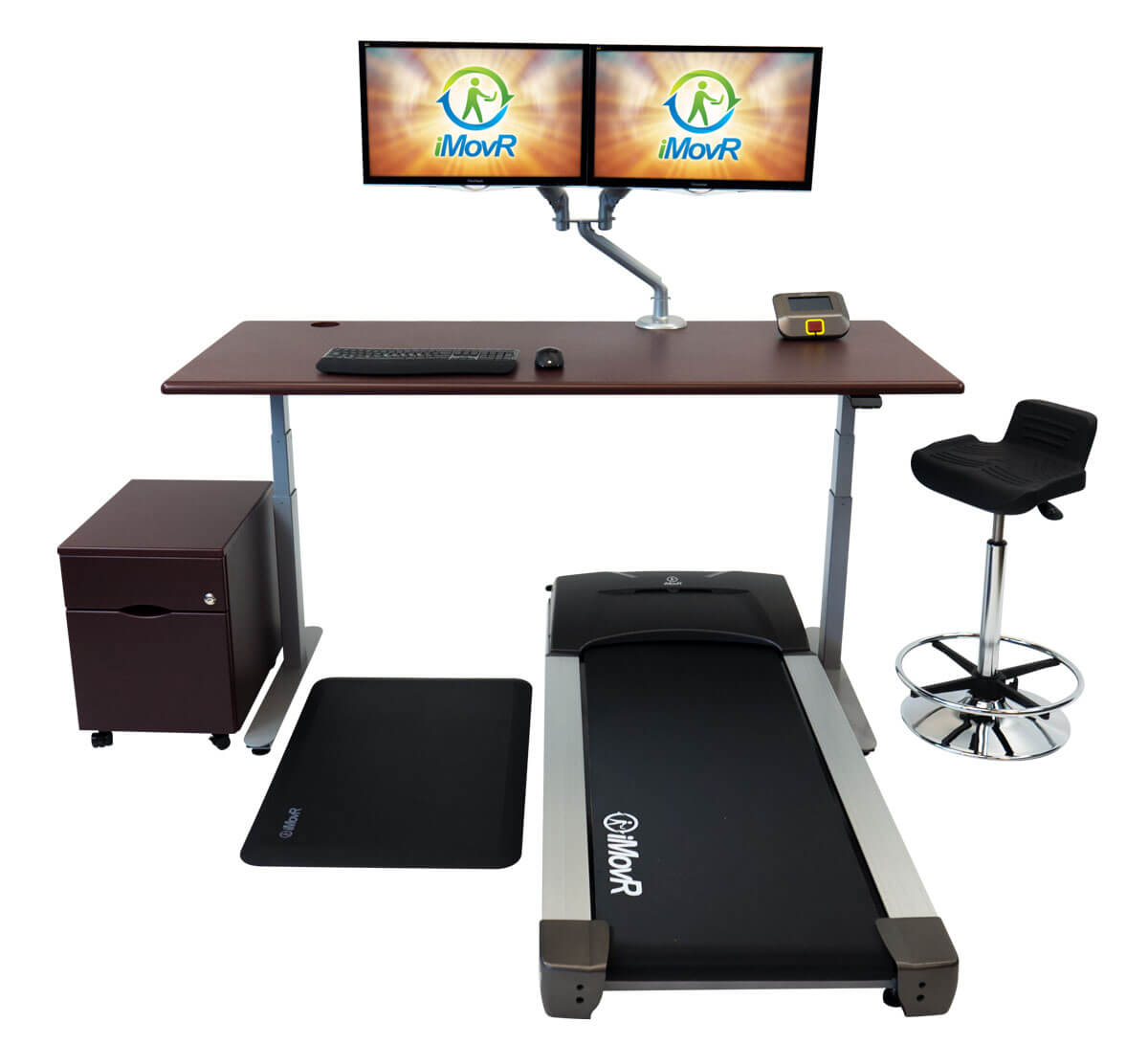 In this paragraph, we provide you with detailed information on how to make a working station designed exclusively for you. iMoVR pays attention to customers' wishes and makes everything possible to create an individual working station for each client. 
The company offers a wide variety of colors to print a tabletop. Clients can choose from a standard palette that consists of 21 colors, but it is also possible to customize your desk by choosing a personal shade. You can find all the samples on the company's website. Open a full-screen version to imagine a picture how your desktop will look like;

There are groups of colors depending on the tones and the structure. If you are a fan of simple monochrome colors that do not distract from work, choose one from solid colors. This section includes white, gray, black, and red. If you prefer classic solid-wood desks, iMovR has a special offer for you. Modern technologies make it possible for wood grain images to wrap around the table perfectly so that one will never realize that the tabletop is not made of wood. Another advantage of this option is that these wood-like top layers are water- and damage-proof. Moreover, dust or fingerprints are invisible on the table. You can choose from dark and light wood. For instance, there are "almond cherry" or "light maple" colors;

Besides customizing your tabletop, you can also decide on other details and their color or type. There three base colors available (black, gray, and white). The company provides a huge variety of additional must-have devices. Firstly, because you will change your position while using this working station, you may want to control the height of the monitor. You can control the distance of the monitor easily with a monitor arm for you to find the best angel and feel comfortable both standing and sitting;

Another way to make your desk more organized and clean is to place a power and charge device on the table. One includes a wireless charger for your smartphone or watch, AC, and USB outlets (Type-A and Type-C both included). When owning this device, you will forget about tangled wires and running out of sockets to charge your cell phone or tablet;

To make your desk flawless with a cable management kit by Tucker. This set is easy to install and change the combinations whenever you want. It consists of a cable tray and a six-outlet, twelve-foot under-desk surge protector. 

It is always better to have a place just under your desk where you can place all the things that are not needed at the moment. iMoVR has prepared a convenient storage drawer that can help a user to keep office supplies, a laptop, a tablet, or any other stuff disturbing you while working;

You can also order a desk with an ergonomic keyboard tray, also known as a steady type. It is embedded easily since there are already some holes prepared for quick installation. A trackless keyboard tray is needed to make the typing process more relaxed. It is designed to have a little tilt which raises your comfort while working to a completely new level;

Add a file cabinet to your personal working station to get even more space for keeping the most important things next to you. The cabinet is mobile because it is placed on the casters. The surface of the cabinet is manufactured using the same 3D lamination technology. Thus it is damage-proof. Casters a]can be added to the desk to make it easy to move, too. When attached to the feet of the desk, they can be blocked when you want your working place to be still.
Warranty
The iMoVR company provides a 100-day 100% satisfaction guarantee to all customers. Considering an industry-leading warranty, the company offers a ten-year warranty on basic parts of the working station (the leg motors are also included) and a five-year on a 3d-laminated tabletop. Moreover, iMoVR offers a three-year warranty on motor, two-year on parts, and one-year on labor. 
Shipping
The product will be shipped to your house almost completely pre-assembled, which means that you will have no problems with unboxing and installation. Delivery will take approximately two weeks or even less. 
Policy of Returns
The iMoVR's policy of return is very loyal to the clients. To begin with, you can easily cancel your order or change it within the first 24 hours after making it. The company will still accept updates concerning your order after. However, changes will be subject to a twenty- percent charge (as if it is a return). 
You do not have to worry that you will not be happy with the quality. iMoVR offers a 110-day satisfaction guarantee. It means that even if you receive your order and decide not to keep the working station because you have changed your mind or you are not fully satisfied with colors and materials, you will always have an option to send the product back. The company will charge you a twenty-percent fee, so you will get 80 percent of the original price back. You should remember that the company will accept the return unless the working station is not in sellable condition and is not placed in the packaging as when receiving. A client takes responsibility for paying all costs of shipping the product, which iMoVR does not include in the refund sum. If you have any questions concerning updating an order or the process of returning some goods, you can reach the company's staff by calling (888) 208-6770 or writing an email at customercare@imovr.com. 
In addition, it is also possible to exchange your desk if you are generally happy with the quality but would like to get other colors or to add some devices. Use the same phone number and an email address to explain your situation. You have to follow the same rules (the condition, the package of the product, shipping costs) as when you return a product.
An Exclusive Offer For Clients
iMoVR now has a special offer for the clients who already have a desk from the company. If you consider it to be an old-fashioned one and want to buy the Lander treadmill desk instead, it is the right time to make a purchase. All you have to do is to send a photo of your former desk, and the company will provide you with a 150-dollar discount for a brand new product of the latest model. 
Do I have to purchase the whole workstation?
In general, you cannot buy the desktop only and not pay for a treadmill. The company offers a special standing work placed as a single set. It includes a desktop, a treadmill, and a touch-screen LCD display. However, there are also many devices and options to update the workstation, which are not necessary to buy, such as a specially designed chair, a file cabinet, or a standing mat. Pay attention to the fact that some pictures on the website show the desk with some additional details like a monitor arm. If you do not order it separately, you will not find it in your parcel. 
Where Can I Find All Colors' Samples?
All the colors are available on the company's website. The samples can even be purchased as a separate product. For all details, go to https://www.imovr.com/imovr-3d-laminate-color-samples-kit.html. But you can always contact a website manager that will orient you.
Read about the best treadmill desks and learn about main options on ergonomic walkstations today.
---