Steelcase Walkstation Treadmill Desk Review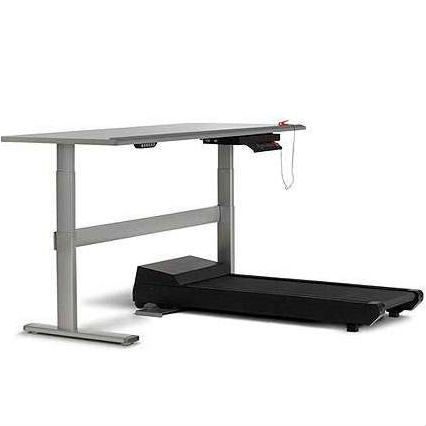 ---
The Walkstation by Steelcase is a walking treadmill desk available as either a Walkstation or a Sit-to-Walkstation. The unit is a premium price product combining an ergonomic office desk with a commercial grade treadmill which has a top speed of 2 miles per hour. It was first introduced to the market in 2007 and the model has not changed much since. Steelcase uses a Patented Soft System® to absorb shock in the front part of the desk. Users can control the treadmill and the desk with a stowable touchpad controller. The built-in digital display allows users to keep track of time, distance and calories burnt while walking.
In the Sit-to-Walkstation version of the desk, the work surface height is fully adjustable with a wide range of programmable settings that will accommodate the majority of users. The unit is sturdy, durable and covered by a long-lasting and comprehensive manufacturer's warranty. Over recent years, the Steelcase Treadmill desk price has fluctuated quite considerably. Prices have dropped from the original 2007 price tag of over $5,000 to $4,566 for the basic model and to $4,745 for the Sit-to-Stand version which was initially $400 more expensive than its sister product.
Steelcase Walkstation Treadmill Desk
Overview
Price
$4,566 (Steelcase Walkstation), $4,745 (Steelcase Sit-to-Stand Workstation)
Lift type
Electric
Material
Work surface is High-Pressure Laminate. The frame is steel and extruded aluminum
Sizes Available
Desk surface 38" x 32" or 66" x 32"
Weight Capacity
Desk surface 180 lb. Treadmill user weight 350 lb
Controller
Digital display controller
Walking Belt Size
18″ X 53″
Top Speed
2.0 mph
Horsepower
Unknown
Country of Production
USA
Shipping
Free
Warranty
12-year warranty on work surfaces, 5-year warranty on electronics, lifting column and electrics. Lifetime warranty on the treadmill frame
What does the Steelcase Walkstation Look Like?
The design of the Steelcase has not changed since the product initially entered the market in 2007. As such, the Walkstation looks clunky, quite dated, and has nothing that makes it stand out. The desk and frame finishes along with the coordinating accessories from the Steelcase range do not have the contemporary minimalistic style that we have come to associate with competitor products on the market.
Walkstation comes with either a 38" rectangular work surface or a 66" wing shape top and there are many color options including black, white, maple and cherry. Although the desk is not particularly attractive, neither is it in any way offensive and it could fit in well in the majority of offices. Optional extras include slat rails or a slat wall for holding a monitor arm and work tools. There are also some privacy and modesty screen options and a cable management systems which can be added to the Walkstation. Prices for the optional extras are on the high side. A monitor arm will cost an extra $195 while a slat rail will set you back $91.80.
How does the Steelcase Walkstation perform as a Treadmill?
The treadmill belt is 18" wide and 53" in length which is long enough for most strides. The belt is 6" off the ground which is quite high in comparison to other models. A stowable display, mounted underneath the desk shows speed, time, distance and calories burned. This can be easily accessed and slid back under the desk out of view. The desk also uses noise cancellation technology to minimize the sound of the motor and is limited to an upper speed of 2.0 mph which is as fast as most people would wish to walk while working. A built-in Odometer tracks the total distance walked on the treadmill and estimates the number of calories that the user has burned.
Experts have noted that the treadmill has rated poorly for power consumption, in the 3A to 8A range. Steelcase has not published the horsepower of the treadmill but they state that it has been designed explicitly for walking rather than running. This means that the motor has more torque when operating at low speeds and should enhance the longevity of the machine. The treadmill is unsuitable for users who weight more than 300 lb and some Steelcase Walkstation Treadmill Desk reviews from heavier users have complained about damage to the belt after prolonged use.
How does the Steelcase Walkstation Treadmill Desk perform as a Workstation?
The basic model Walkstation cannot be used sitting down and must remain in standing position. The desk surface has a weight capacity of 180lb which although low compared to other standing desks, is adequate for most workstation needs. The wider Sit-to-Walkstation version of the Steelcase Treadmill desk costs just slightly more than the basic model and is fully adjustable from a minimum height of 24.25" to a maximum of 52". This range is large enough to accommodate the vast majority of users. The extra width of the Sit-to-Walkstation allows users to fit a chair next to the treadmill which makes it more versatile and means that the desk can be used only as a desk for long periods of time.
The electric lift uses a three-stage telescoping frame and an internal DC motor. The unit is programmable with up to three preferred height settings and travels at 1.25" per second when in motion, translating into a transition time of approximately 8 seconds from a sitting to standing position. Although detailed dB data isn't available for this desk, some Steelcase Walkstation reviews have noted that the lift motor is quite loud. The workstation frame consists of sturdy, squared telescoping legs on wide steel feet and users report that it feels steady, solid and durable.
Shipping, Assembly, and Warranty
Customers who wish to purchase either version of the Walkstation will need to be prepared to wait. According to the company website, neither product can be shipped in less than 28 – 35 days. US shipping is included in the price, but as the Walkstation is a heavyweight 225 lbs, free delivery only applies if you have a loading dock. Inside delivery carries a surcharge and is assessed and charged on a case by case basis.
The Walkstation is pre-assembled so customers will be pleased that they don't need to fiddle around with screwdrivers or drill bits. An initial set up of preferred height settings is necessary but this can be done via the simple and straightforward control unit which can also be easily reset or changed. Steelcase offers a lifetime warranty on the desk and treadmill frame, a 12-year warranty on the Walkstation Desk surface, five years on the electronics and urethane profile and a three-year warranty on parts and wear items. Treadmill service labor carries a 1-year warranty.
The Bottom Line
The eye-wateringly expensive Walkstation is not going to fit every budget. There are plenty of people out there who have cars that cost less, and the unit doesn't give us too many persuasive reasons that it is worth the investment. Its energy consumption is woefully poor and it cannot compete with newer competitor models in appearance, performance or power. Although an innovative product when first launched on the market, the Walkstation now trails behind a number of superior, cheaper and more attractive products, particularly regarding of its adjustable work surface performance. For a similar price, it is easy to find beautifully designed products with high energy efficiency, superior technical specifications and a host of extras. Customers will also find better options by combining a standalone treadmill with any number of adjustable standing work tables on the market. What boggles the mind is that the Walkstation's price has increased by more than $1,000 since 2015.
Industry insiders say that the manufacturer has orphaned the product and as such, there is little incentive for Steelcase to promote the unit by lowering the price or offering any upgrades. It seems like Steelcase have resigned to leave the unit in the past and focus on other parts of their product range. Nevertheless, the Walkstation is a sturdy, durable and reliable product and an excellent warranty is available, should anything go wrong. It is likely that customers could get a decade of use from the product. If the Walkstation was more affordable, we would consider raising the rating to a 3. However, the crazy price tag, pricey accessories, slow delivery and all round datedness of the unit mean that this vintage offering from Steelcase gets a very underwhelming 2/5.
Have doubts about Steelcase Walkstation Treadmill Desk? You can find lots of top-quality options. As an example, take a look at our LifeSpan TR1200-DT5 review to get a different perspective.
---