9 Best Under-desk Treadmills 2021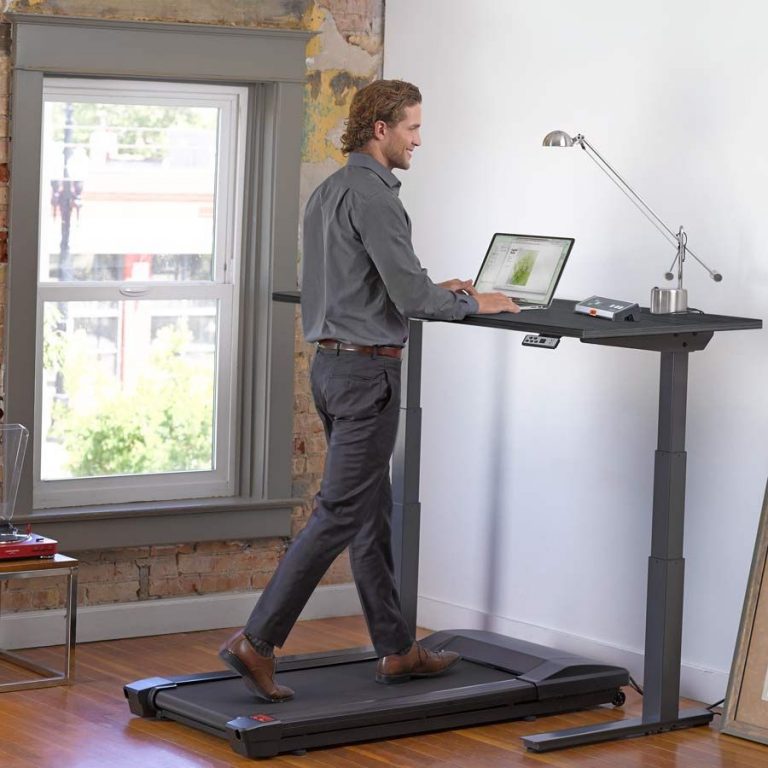 ---
The next best thing to a traditional standing desk is the treadmill desk. While typical treadmills have sidebars, under-desk treadmills have a stand-alone treadmill base so that they can easily slide under any standing desk. Вesk treadmills are designed to make you move more during the day, even when you work at the computer. These devices come in a range of sizes, shapes, and quality standards, and some of them are better able to manage the repetitive motion of walking than others. Though, to make you stay safe and focused on work, they all have safe speed range and automatic stop features.
What is the difference between walking treadmills and running treadmills?
Running treadmills are designed for sports and fitness. And, as the name suggests, they are designed for running. This means that, unlike walking treadmills, they have insufficient torque at low speeds. If you somehow combine a running treadmill with your standing desks and use it at low speeds, it will break in a very short period of time. Not talking that it is not adapted to enable you to stay focused on your work. Also, as the desk walking treadmills are made for the office environment, they make less noise not to disturb the coworkers and not to bother you as well.
How do we choose and test the best under desk treadmills?
Choosing the best under desk treadmills may take quite a lot of time. Since nowadays there is such a variety of under-desk treadmill models on the market, the mission seems to be impossible at a first glance. To help you choose the right product we have elaborated a complex review system that allows us to find the best desk treadmill models and suggest them to you. Before delivering our best under desk treadmill reviews, we examine the products to a tee, from the delivery and packaging to the ease of installation and use. Here are the main points of our evaluation process:
Safety:
Stability
Performance
Max speed
Emergency stop and other safety features
Сonformity with hygiene norms and standards
Ergonomics:
Design & Dimensions
Standing Desks Compatibility
Weight
Weight Capacity
Belt Walking Area
Trust score:
User reviews
Scientific researches
Customer surveys
Independent testing
Comfort:
Noise
Controls
Electronics
Price
Quality-price ratio
Price-warranty ratio
Delivery:
Packaging
Assembly process
Support
---
Our top picks: 9 best under-desk treadmills of 2021
---
Benefits of Having a Desk Treadmill
Everyone who spends more than 3-4 hours a day sitting at work has a higher health issues risk. Though, you can minimize these risks. And an under-desk treadmill can help you greatly with this. A walking treadmill makes you move more during the day while typing, talking on the phone, checking out your mailbox, etc. A treadmill itself, or better a treadmill desk, helps your body stay in tonus, maintain your normal weight, make your blood circulate freely, etc. Also, it is a scientifically proven fact that treadmill desks influence your cognitive abilities. Desk treadmills can improve attention and memory. You stay active and focused even after you stop walking. As a result, there are great improvements in work performance. So, an under-desk treadmill (better a treadmill desk set) is more likely to be the next great lifestyle addition for:
Company owners or human resource officers who want to champion health and productivity
Home-office freelancers who want to start or maintain a healthy lifestyle
Health-conscious office workers whose health and fitness are a priority
So, what are the advantages and disadvantages of using desk treadmills in your company or home office?
Pros:

Through walking consistently for a longer period of time, you can improve your metabolism, which can help you burn more calories and develop lean muscles.
It enables you to stay focused on work and to shape your body at the same time.
When you feel blue, taking a walk will boost your state of mind. It helps to stay focused and keep your productivity at a good level.
You can strengthen your balance and coordination by walking regularly.
You are at a decreased risk of heart attack by exercising regularly. A good adjustable-height treadmill desk also helps reduce the risk of developing diabetes and hypertension.
Using a walking treadmill every day, you will improve your overall body posture and avoid pressure on your joints and muscles. As a result, you can lower the risk of back pain, headaches, etc.
Cons:

A treadmill desk can be too bulky for small rooms and workspaces. In this case, pay attention to compact under-desk treadmills.
Desk treadmills can be noisy. Just pay attention to the noise level various walking treadmill models create. The best under desk treadmills are whisper quiet.
How to Choose the Best Under-Desk Treadmill?
On the market, there are numerous types of treadmills available, and it is important to choose one that suits your working arrangement best. As each under-desk treadmill has its advantages and disadvantages, you can understand which one suits you the most by answering the following questions first:
Are there coworkers around you?
Do you work at home? Or are you surrounded by colleagues? If you are planning to use it in the office, a silent treadmill is a must. If you work in your home office, the noise level is not the main factor to consider. In this case, you better pay attention to the treadmill dimensions.
How much space do you have?
If your working space is too tiny, opt for the smaller models. There are several on the market. Normally, they are the same good. The only difference is that they are shorter. Do not forget forget to take a look at your desk dimensions, too.
What are your weight and height?
It may seem strange at a first glance, but these are very important factors to consider. There are various desk treadmills with the different max user weight capacity. Some can only accommodate 200 lbs while the other desk treadmills are designed for weights up to 400 lbs.
In the same way, our height will more or less dictate our stride. The taller we are, the longer our strides. So, chances are you might want to reconsider the compact treadmill and opt for one that has bigger dimensions.
What is the right walking speed for you?
Please note that most under-the-desk treadmills do have a peak speed of 2 to 4 miles per hour. This is because they were made to walk while working, not to sweat while working. If you are just a beginner and don't go to the gym frequently, 2 miles per hour speed should be more than enough for you. Though, it is best to choose a desk treadmill that allows you to walk at a maximum speed of 4 miles per hour. Why? Chances are that in a couple of months you will get used to your treadmill standing desk and train more intensively.
Budget or durability?
For every piece of equipment, it's always one or the other— if you want something more durable, then it means you need to stretch your budget. It is the same story with all the products. If you want a durable and 100% reliable piece of equipment, you have to stretch your budget. Nevertheless, you can save some money on a treadmill base. It will be the same sturdy and long-lasting. The only thing is that you will have a simpler console.
What about the warranty period? It depends on how you interpret the return on your investment when it comes to warranties. Some want to use one treadmill for decades. While others prefer to pay less and have a shorter warranty, knowing they are going to purchase a new model in the next few years. The choice is yours.
---