Best Under Desk Treadmills of 2020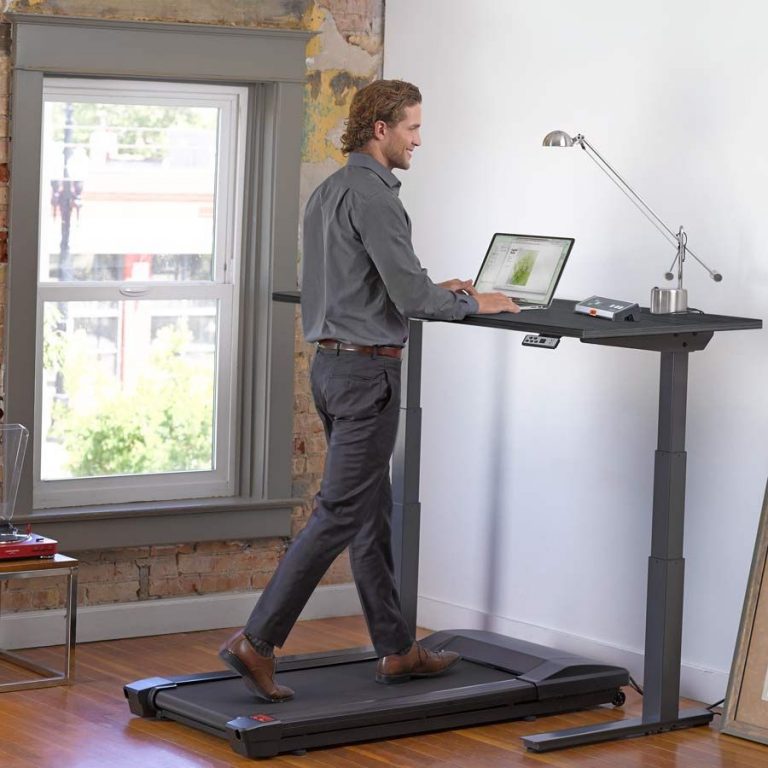 ---
Did you know that if you sit down for more than 90 minutes, your body's metabolism slows down dramatically? Multiply that by at least six times and you get the sitting-down time of an average American in a day. It's no wonder why our generation is suffering from heart diseases, obesity, and muscle degeneration! While this is indeed troubling news, we're here to share one of the solutions to those working at their desks full-time.
What is an Under-Desk Treadmill?
Treadmill desks are the next best thing to a regular standing desk. While normal treadmills have side rails, these typically have a standalone treadmill base, so they can easily slip under any standing desk. In addition, its specially-designed features like automatic stop and safe speed range make it great for busy workers who are on the go. Not only do these provide more movement to combat our sedentary lifestyle, but placing a treadmill under your regular desk will also keep your fitness in check while doing office work.
Even if you're at your home office and have all the time to work out, under the desk treadmills can give you the additional warm-up that you need because—let's face it—relaxation often takes priority over exercise.
Benefits of Having a Desk Treadmill
Aside from preventing health problems, an under-desk treadmill can also give our bodies small bursts of recovery during long working hours, which signals our brain to "move." This results in increased productivity and better creative outputs. Today, many companies have already adopted treadmill work stations in their offices knowing the benefits they provide.
Who May Want to Get an Office Treadmill?
People have different preferences when it comes to their physical activities— some want intensive exercises while others choose the comfort of lighter movement. Walking on a treadmill combines some of the benefits of a workout with the ease that people look for. Because of this, an under-desk treadmill is more likely to be the next great lifestyle addition to the following people:
Company owners or human resource officers who want to champion health and productivity
Home-based freelancers who want to start or maintain a healthy lifestyle
Health-conscious office workers whose health and fitness are a priority
Whatever industry or work setting you're from, the following under desk treadmill reviews will give you insights about several features, so you can find the best fit for your working needs:
---
Top 7 Best Treadmill Desks Review
---
Reasons to Buy an Under-Desk Treadmill
By walking at least 30 minutes per day, you will increase your physical and mental capacity and will gain the following results:
Benefits to Your Physical Well-being:
Walking increases heart and lung fitness, reducing the probability of developing heart disease or suffering from a stroke.
It will enable you to better manage long-term health conditions such as increased blood pressure, high cholesterol, recurring muscular pain, joint stiffness, and diabetes.
Using your legs daily will strengthen your bones and improve your sense of balance.
Eventually, you'll notice your muscle strength and endurance growing.
With proper diet, walking will contribute to your fitness by reducing fat that would otherwise be accumulated during hours of sitting.
Benefits to Your Mental Well-being:
By simply walking, you can enhance the neural connections in your brain, which help increase memory, reasoning, and learning.
It also prevents memory loss because movement allows oxygen and blood circulation to flow better throughout your body. This fuels the brain's cognitive function, making you more productive, creative, and focused throughout the day.
Having the right amount of movement in the day can improve one's sleep quality and prevent interrupted sleep cycles. This increases your body's recovery rate.
Since movement replenishes your brain's GABA neurotransmitter, which is in charge of anxiety and depression, symptoms from these mental disabilities can be reduced.
In addition, it can boost one's mood because physical activity is proven to increase dopamine, serotonin, and norepinephrine, which fight against stress.
Checking your under-desk treadmill's pedometer and stats will give you more motivation to continue your new fitness regiment.
How to Choose the Best Under-Desk Treadmill
There are different types of treadmills available on the market, and it's important to select one that best fits your working arrangement. Since each under-desk treadmill has its own pros and cons, you can balance them by first answering the following questions:
Do you work alone at home or do you work with others in an office?
Depending on your setup, you might want to let go of some features such as noise reduction to give way to your preferred size specifications. However, if you're planning to use it in the office, a silent treadmill might be non-negotiable (especially for your officemates).
How much space do you have?
Regardless of your working setup, checking your work area's dimensions and existing desk specs is crucial before you buy an under-desk treadmill. While most treadmills are made to complement any standing desk, having a tiny space indicates that you need your desk treadmill to be portable.
What are your weight and height?
I've read some reviews from people complaining about how their new under-desk treadmills are either too small or too flimsy. It's important to know your weight because some models can only accommodate 200 lbs while others were built for weights up to 400 lbs. In the same way, our height will more or less dictate our stride. The taller we are, the longer our strides. This means that you might want to reconsider the compact treadmill that you're already eyeing and go for one that has bigger dimensions.
What is your current fitness routine?
If you're someone who already has a solid fitness regime and just wants a treadmill for an additional workout, please note that most under-the-desk treadmills only have a top speed of 2 to 4 mph. This is because they were built for walking while working, not for working up a sweat. Now, if you don't have an exercise plan at all and live a completely sedentary lifestyle, it's best to select one that will allow you to transition from zero to a four-digit stat on your treadmill console.
Budget or durability?
For every piece of equipment, it's always one or the other— if you want something more durable, then it means you need to stretch your budget. However, for under-desk treadmills, you can always stay within the budget by exchanging some features for durability. For example, if you're not that techy, you won't need the console's app feature to track your progress. The older generation prefers writing down the details rather than understanding the workings of a Bluetooth connection. When it comes to warranties, it depends on how you view the return on your investment. Some may prefer investing on one treadmill for the rest of their lives while those who are on a tight budget will opt for shorter warranties, knowing that in the next few years, they can buy the latest model.
After answering the above, you may now go back to the under-desk treadmill reviews and consider the noise, size specification, weight capacity, speed range, price, console features, and durability or hardware quality.
What Are the Alternatives?
Most of us probably started with standing desks. No, not a high-tech one, but just your good old-fashioned taller desks. The problem with this is that it cannot accommodate everyone's heights perfectly. Heck, if the same person wears heels one day and flats on another, the desk can't keep up. This is why adjustable standing desks were invented. Nowadays, high-tech standing desks can store height settings at a click of a button. For those on a tighter budget, they can also buy a desk, which can be manually lifted and set in place.
Standing Mats
Though just standing is so much better than sitting all day, it still brings a considerable amount of fatigue to our legs and joints. Ironically, standing with no movement will cause more problems. This is because our joints are not meant to absorb all the pressure from the hard floor while the rest of our body is disengaged. By cushioning our feet with standing mats that are about 1" thick, we create a sense of instability that prompts the rest of our lower body to create minute movements. Today, there are approximately three types of standing mats— flat, non-flat, and active. As described by the name itself, flat standing mats are leveled while non-flat mats have varying texture and shapes. Some non-flat mats are inclined at the front while others have ridges. Active mats also offer a great deal of movement because they create a swinging motion involving your legs and pelvis.
Balance Boards
Balance boards are a step up to active mats. Aside from the swinging motion, they will bring the challenge past your pelvis and up to your torso. Yes, that's where the abs are. Now, a major concern that usually comes up with balance boards is their safety. I can already imagine some staff stumbling and destroying their laptop in the process. It is true that there are extreme balance boards available in the market, but those designed for the office have a tilting degree of about 15 to 20 degrees. Nowadays, different balance boards have been boss-approved. Some of these are the beginner versions of rocker boards (allows back-and-forth or right-to-left swinging), wobble boards (swinging on all sides), or the Level Balance Board by FluidStance (wider base with less tilting degree). For the office, I'd stay away from roller boards altogether simply because the base isn't attached to its board.
Leaning Chair
At some point during our workday, we do have to sit down. Another good innovation is the leaning chair, which removes some of the pressure from our feet and legs. Characterized by higher heights than ordinary chairs, these allow us to transition between sitting down and standing up with no difficulty. Because of the height and back support, we can also stretch our legs and bodies as we work. For me, one great thing about my leaning chair is that it has a tilting motion that puts some movement into my waist area. Existing leaning chair designs are quite unique from each other and offer several different ergonomically-friendly highlights. It's best to check which ones will benefit you the most considering age, job, and budget.
Under-Desk Bikes
If you want more activity while sitting, under-desk bikes were also invented so our legs can "work" with us throughout the day. However, some would complain about the seats, which often fail to support the lower back. Like leaning chairs, it's of utmost importance to check each feature of under-desk bikes. These include levels of adjustment (so it can perfectly match your height and weight), tension settings (so it won't become boring in the long run and still challenge your leg strength), stats display (so just like the treadmill, you can check your progress), and desk-chair-pedal compatibility (others have problems because their under-desk bikes get in the way of their swivel chairs and office desks). In contrast, what I like about this is that they can still work with or without the desk, just like under-desk treadmills.
If you're still unable to make the shift from sitting down to walking on an under-desk treadmill, you may try the above products first. If not, just try standing up every thirty minutes. Though it can be unproductive, I found that planning my tasks ahead of time enables me to remain productive even as I walk away from my computer. I can walk toward the water dispenser, photocopy some papers, talk on the phone while pacing, or read while standing up.
Conclusion
The human body was built for a rigorous and lung-pumping movement like running, lifting, and hunting. As innovation permeated our societies, we easily became comfortable sitting down in front of our computers, eventually losing movement along with our decreased productivity and diminishing health. That's why most of us can't stay seated and tend to get distracted after a few hours. It's not your fault at all—it's because the body wants us to get up and take care of it.
Walking on a desk treadmill won't instantly give us a healthy body. It won't even be nearly as effective as a full workout session. It instead helps us get out of our sedentary lifestyles by integrating movement into our working hours.
The list provided above will hopefully help you make the under-desk treadmill transition and create a healthy multitasking routine based on your needs.
---