9 Best Under-desk Treadmills 2021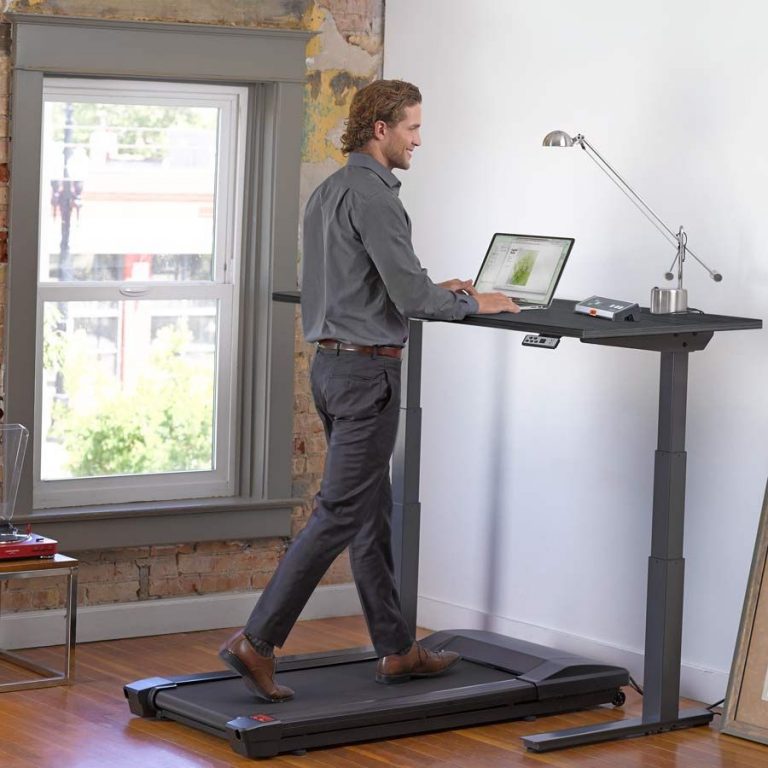 The standing desks have become very popular nowadays in the United States. At present we usually work at home in a limited space or in the office sitting for all the day long and worsening our health. These desks help to change the body position without making inevitable numerous breaks for warming up your legs and shoulders. Some of them are provided with an option of adjustment for a personal height. These desks improve your health by reducing the risk of many possible illnesses caused by sitting in a fixed motionless posture and additionally gaining and excessive weight. Certainly, standing all day long may evoke your leg pain, so it is reasonable to move forward and pay attention to a remarkable product that was specially invented for walking and running while using the standing desks. If you do not have time for visiting the gym or make a workout even occasionally, the under desk walking treadmill is just what you need to think about instead of the gym. Here you may find a detailed description of this simple but indispensable and health supporting electric machine. Maybe it is not an overall guide, but one of the most complete reviews of inmovement treadmills you may see. It includes information about some popular, high rating and health improving walkstations with remote control, modern design, and various useful apps. The best under desk treadmills are just what you need to stay cheerful, healthy, and at the same time professionally successful!
---
Why Not to Buy a Traditonal Walking Treadmill?
The next step to undertake after buying a traditional standing desk is to get the electric treadmill desk. What is the difference between the traditional treadmills and the under desk treadmill? While typical treadmills have sidebars, under-desk treadmills have a stand-alone treadmill base so that they can easily slide under any standing desk. As a result, you receive 2 in one product: a quality gym integrated into your working place. Now you may continue performing your office duty while staying active, walking or even running, whatever you prefer to do.
What Advantages You May Get Through Having an Under Desk Treadmill?
Desk treadmills are designed to make you move more during the day, even when you are working at the laptop, talking by phone, typing reports, reading, or even conducting an online meeting with your colleagues. You will probably be surprised to learn that the under desk walking treadmills are perfect not only for your health status. Several independent studies and observations proved that walking or any other kind of active movement for two hours or longer produce a positive impact on your productivity and creativity. Have you ever noticed that when you are thinking over some difficult problem tensely you often stand up unconsciously and start walking here and where? And isn't it very difficult to keep on sitting while discussing anything emotionally? It was definitely noticed that the workers make decisions more quickly, with less hesitation, and with substationally better results when they have any opportunity to tread or move.
A Scientific Base for Your Health and Productivity Improvement
The scientists claim that staying in movement is always better for your brain than sitting, as it releases endorphins in your body. This process is perfect for your health in a very wide sense: you forget about your problems and worries, your mood improves and nothing else may distract you from your working goals. And you will always feel confident and satisfied with reaching some fitness and health improving tasks while staying a creative and high-performance worker. Only imagine, that all these diverse positive changes will be possible due to the under desk walking treadmill!
What Kind of Improvements to Your Health the Under Desk Treadmills Provide
When we start thinking of buying a treadmill of any kind, whether it will be a traditional running machine or a treadmill to put under our desk, we certainly plan to take care of the health. We expect our future walkstation to be both convenient and useful. What kind of diseases we may avoid through using a treadmill just for walking and slow running, as the work environment permits?
Excessive Body Weight
It is quite obvious that any kind of movement, whether it will be walking or running, is better than sitting because it helps to burn excessive calories. And an active movement on a walking treadmill burns more calories than simply standing at the table and typing. Surely, not as many as training at the gym, but some hours of walking or even very slow running will certainly help you to decrease your weight and keep it normal for a longer time. Instead of going to your chair after an abundant lunch and increasing your weight, you will have a comfortable walk on the treadmill and even do not notice the burden. But your health would certainly notice the changes. The best under desk treadmills are often equipped with a console with a led display to control your running speed and the number of calories you are losing off. Let us give you just one general advice not aim at a quick result and increase the speed and duration of your exercise as you will get used to your treadmill. Excessive loads maybe not useful for your health unless you are already used to regular training at the gym.
High Blood Plessure
High blood pressure nowadays is considered to be one of the main health risk factors, together with an extra weight. Not even mentioning the highly evident fact of an excessive cardiac load, the unregulated high blood pressure may suddenly result in a stroke or heart attack. On the contrary, even a slow walk on the treadmill desk helps increase blood flow and respectively lowers both systolic and diastolic blood pressure. In a wide sense it can certainly be a good step to your health improvement.
The Risk of Diabetes Type 2
A lot of people now also suffer from diabetes Type 2, due to the metabolism changes. This disease at present ranks second in frequency after cordial health problems and a redundant weight. In this case, an active movement is better than taking strong medicines and effective enough to reduce high glucose levels and prevent the life threating state of health.
Sturdy Bones, Flexible Joints and Correct Posture
Obviously, our musculoskeletal system is subject to the continuous negative impact of excessive loads, gravity, and inevitable age changes. It is hardly possible to find an aged person who has a perfect health and does not suffer from regular pain. Therefore it is advised to exercise in various ways so as to maintain strong dense bones as to avoid the pain. On the other hand, people already having rheumatological diseases are unable to exercise, especially at the gym. Walking or low speed running using the under desk walking treadmill can surely serve as a facilitated, but effective kind of exercise to make their health status steady.
The General Body Tone as an Indicator of Health Status
You will probably agree now that such a simple and easy product like the treadmill with a walking deck can keep you healthy, cheerful, and full of working energy instead of visiting doctors, taking medicines, or spending a lot of time on the workout at the gym. The happy owners of the under desk treadmill admit that using this machine even two hours a day is already quite enough to stay in shape, feel no pain or heaviness due to the weight, and keep fit.
General Technical Characteristics of the Best Under Desk Treadmills
These devices come in a range of sizes, shapes, and quality standards, and some of them are better able to manage the repetitive motion of walking than others. They are provided with all necessary features for your safety: a solid deck, wide enough for comfort moving, long well-fixed belt, and a remote control system. Besides, many of these treadmills may fit in a very limited space. To make you stay focused on work, a treadmill usually has a safe speed range and automatic stop features, as well as a noise reduction and a step count system.
What is the Difference Between Walking Treadmills and Running Treadmills?
Both kinds of treadmills in the general sense are aimed at helping you to improve your health at home, not at the gym. Running treadmills are designed for sports and fitness. And, as the name suggests, they are designed for running. This means that, unlike walking treadmills, they have insufficient torque at low speeds. If you somehow combine a running treadmill with your standing desks and use it at low speeds, it will break in a very short period of time. Not talking that a running treadmill is not adapted to enable you to stay focused on your work. Also, as the desk walking treadmills are made for the office environment, they make less noise not to disturb the coworkers and not to bother you as well. Besides, you may simply get tired very quickly after an hour's run. That is not at all the result the users expect to get from our fitness product. Just stay active and learn what other useful options the treadmills may offer you!
How Do We Choose and Test the Best Under Desk Treadmills?
Choosing the best under desk treadmills for your workout may take quite a lot of time. Since nowadays there is such a variety of under-desk treadmill models on the market, the mission to select the best walkstation seems to be impossible at a first glance. And it is very difficult to find any solid rating, thorough reviews, or comparative testing results of under desk treadmills. To help you choose the right product with a solid desk we have elaborated a complex review system of treadmills that allows us to find the best desk treadmill models and suggest them to you before you make a first tread on your running machine. Before delivering our best under desk treadmill reviews, we examine the products to a tee, from the delivery and packaging to the ease of installation and use of the walkstation. Here you may see the main points of our evaluation process of treadmills:
Safety of Treadmills
Stability
Performance
Max speed of the walkstation
Emergency stop, switching off, and other safety features so as to control every step during your workout
Сonformity with hygiene norms and standards
Ergonomics of the Treadmill Workstation
Design & Dimensions (height, length and width of the treadmill desk)
Standing Desks Compatibility
Weight of the walkstation deck
Weight Capacity of the walkstation (maximum possible weight)
Belt Walking Area of treadmill (height and width of the deck)
Trust Score
User reviews
Scientific researches concerning the treadmill
Benefit for health
Customer experience surveys
Independent treadmill testing reviews
Comfort and Health
Noise of the running machine
Controls of the machine desk
Convenient walkingpad
Electronics (including the console with a led display, a bluetooth wireless connection, and remote control)
Ease of use and a detailed description
Price of the Walkstation
Quality-price ratio
Price-warranty ratio
Delivery of the Walkstation:
Packaging of the running machine
Assembly process of the walkstation
Technical support of the treadmill owners
---
Our Top Picks: 9 Best Under-desk Treadmills of 2021
---
Benefits of Having a Desk Treadmill
Everyone who spends more than 3-4 hours a day sitting at work in limited space has a higher health issues risk. Though, you can minimize these risks by doing an exercise in a low rhythm. As we see, an under-desk inmovement treadmill can help you greatly with this, though it requires very little space for placing. A walking treadmill with a remote control app makes you move and exercise in any suitable rhythm during the day while typing, talking on the phone, checking out your mailbox, etc. A treadmill itself, or better a treadmill desk, helps your body stay in tonus, maintain your normal weight, make your blood circulate freely, etc. Also, it is a scientifically proven fact that a treadmill workstation influences your cognitive abilities. Desk treadmills can improve attention and memory. You stay active and focused even after you stop walking or jogging. As a result, there are great improvements in work performance only due to the treadmill. So, an under-desk inmovement treadmill (better a treadmill desk set) is more likely to be the next great lifestyle addition for:
Company owners or human resource officers who want to champion health and productivity
Home-office freelancers who want to start or maintain a healthy lifestyle but have no free space for a regular treadmill and no time to exercise in a gym
Health-conscious office workers whose health and fitness are a priority
So, what are the advantages and disadvantages of using desk treadmills for any customer in a company or home office?
Let us review some advantages of a treadmill workstation for a customer:
Pros:

Through walking consistently for a longer period of time, you can improve your metabolism, which can help you burn more calories and develop lean muscles. With the certain help of the walkstation you may simply review your way of life and throw off your weight.
Thus, a treadmill enables you to stay focused on work and to shape your body at the same time.
When you feel blue, taking a walk will boost your state of mind. Again, a treadmill helps to stay focused and keep your productivity at a good level.
You can strengthen your balance and coordination by walking regularly on these desks.
You are at a decreased risk of heart attack by exercising regularly. A good adjustable-height treadmill desk also helps reduce the risk of developing diabetes and hypertension.
Using a walking treadmill every day, you will improve your overall body posture and avoid pressure on your joints and muscles. As a result, you can lower the risk of back pain, headaches, etc. You may certainly agree that a treadmill is better thancontinuous pain and suffering.
Cons:

A treadmill desk can be too bulky for small rooms and workspaces because of its length and width. In this case, pay attention to compact under-desk treadmills.
Desk treadmills can be noisy. Just pay attention to the noise level various walking treadmill models create. The best under desk treadmills are whisper quiet.
How to Choose the Best Under-Desk Treadmill?
On the market, there are numerous types of treadmills available, and it is important to choose one that suits your working arrangement best. Usually, all the modern treadmills are equipped with a remote control system. As each under-desk treadmill has its advantages and disadvantages, you can understand which one suits you the most by answering the following questions first:
Are there coworkers around you?
Do you work at home? Or are you surrounded by colleagues? If you are planning to use it in the office, a silent treadmill is a must. If you work in your home office, the noise level is not the main factor to consider. In this case, you better pay attention to the treadmill dimensions.
How much space do you have?
The problem of free space for a walkstation is really important. Fortunately, you have a choice of several running machines. If your working space is too tiny, opt for the smaller models of treadmills. There are several machines on the market, you may see some of them described above and choose the treadmill that suits your space. Normally, these mini walkstations are the same good. The only difference is that they are shorter. So do not forget to take a look at your desk dimensions and the free space available, too, it may be a guide to your future comfort.
What are your weight and height?
It may seem strange at a first glance, but these are very important factors to consider before you buy a treadmill for yourself. There are various desk treadmills with the different max user weight capacity. Some can only accommodate 200 lbs while the other desk treadmills are designed for weights up to 400 lbs.
In the same way, our height will more or less dictate our stride. The taller we are, the longer our strides. So, chances are you might want to reconsider the compact treadmill and opt for one that has bigger dimensions.
What is the right walking speed for you?
Please note that most under-the-desk treadmills do have a peak speed of 2 to 4 miles per hour. This is because they were made to walk while working, not to sweat while working. If you are just a beginner and don't go to the gym frequently, 2 miles per hour speed should be more than enough for you. Though, it is best to choose a desk treadmill that allows you to walk at a maximum speed of 4 miles per hour. Why? Chances are that in a couple of months you will get used to your treadmill standing desk and train more intensively.
Budget or durability?
For every piece of equipment, it's always one or the other— if you want something more durable, then it means you need to stretch your budget. It is the same story with all the products. If you want a durable and 100% reliable piece of equipment, you have to stretch your budget. Nevertheless, you can save some money on a treadmill base. It will be the same sturdy and long-lasting but better for your budget. The only thing is that you will have a simpler console without a useful app installed and no wireless connection. On the other hand, the ease of use of this inmovement device can be an advantage too.
How long is the warranty period for this workstation?
What about the warranty period? It depends on how the customer interprets the return on his investment in this inmovement treadmill when it comes to warranties. Some want to use one treadmill for decades and expect the manufacturer to provide long-lasting electronics and the other parts as well. While some other customer prefers to pay less and have a shorter warranty, knowing he is going to purchase a new model with a modern design and improved app in the next few years. The choice is yours.
---