LifeSpan TR5000-DT7 Treadmill Desk Review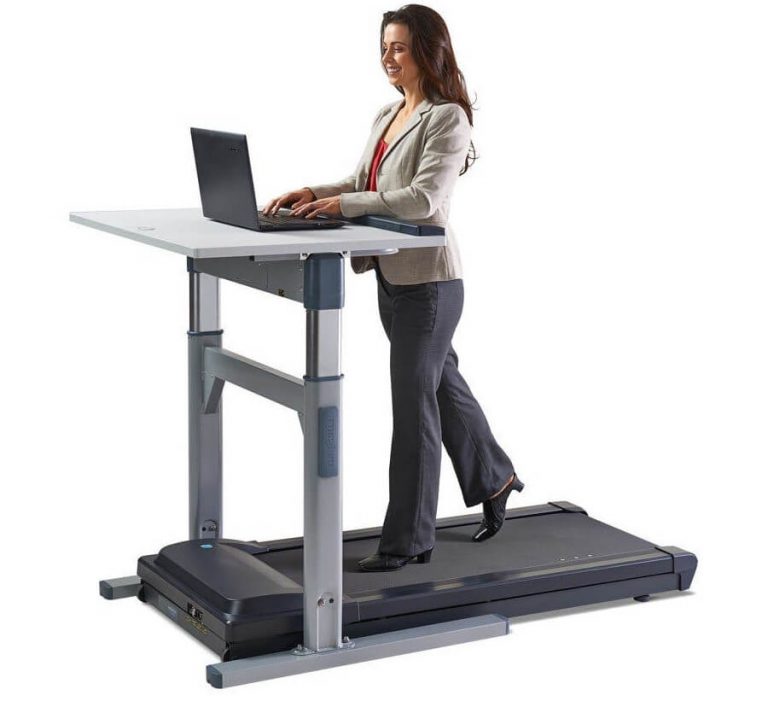 ---
LifeSpan TR5000-DT7 Treadmill Desk is a high-end option for people who are serious about adding a way to keep themselves active at work. This also means that the particular treadmill has a much higher price tag than some competitor products out there, but when quality is the important factor that a potential customer is taking into account, then this might be the perfect option for them.
Lifespan treadmill desk comes in a variety of customizable options. Customers can choose between various desktop widths, as well as different color schemes to help ensure the customer can equip their office with a device that perfectly matches the décor that has been equipped in the office. The integration options offered by the treadmill desk further adds to the overall value that it can offer the customer.
LifeSpan TR5000-DT7 Treadmill Desk
Overview
Price
$2,199.00 – $2,449.00
Lift Type
Electric
Material
Phenolic, Plastic, Composite board
Sizes Available
Depends on selected materials. Desktop width sizes include 38 inches, 48 inches, 60 inches, and 72 inches
Colors Available
Cool Gray, Absolute Acajou, Jamison White, Wild Cherry
Weight
Desktop: 86lbs; Treadmill: 119lbs
Where Produced
n/a
Shipping
Standard delivery is offered free of charge. Additional delivery options are available, ranging in price from $49 to $229, depending on the option selected
Warranty
The frame of the treadmill desk comes with a lifetime warranty. A three-year warranty period for the motor, two years for the parts, and a one-year warranty for labor
LifeSpan TR5000-DT7 Treadmill Desk Review
Lifespan TR5000-DT7 Treadmill Desk is a solution that fits in perfectly with the lives of people who are concerned about the effects that sitting all day has on their health. While a standard standing desk may have several benefits to offer, the idea of continuously moving on a treadmill further adds to the benefits by ensuring the user can remain active, even when they are at work.
This walking workstation is definitely on the higher end of these products, offering a range of features that are not seen in the lower-priced options on the market. This workstation ranges from the ability to integrate the treadmill desk with applications such as Apple Health to track calories burnt, and steps walked, toward an electrical height adjustment system that makes it exceptionally easy to increase or decrease the desk's height according to what feels most comfortable for the user.
Desk Design And Features
The desk featured in the TR5000-DT7 Treadmill Desk is made from top-quality materials, with a one-inch thick composite board construction. The desk is also equipped with several convenient features, such as an electric height adjustment system that allows to change the height of the standing table from 27.5 inches all the way up to 50.5 inches. This ensures both shorter and taller users can be adequately accommodated, while also ensuring the desk can be used both standing up and sitting down.
The desktop surface is available in a variety of convenient and modern colors. These colors include Gray, Wild Cherry, Jamison White, and Absolute Acajou. It should be noted here that colors other than the default gray option do incur additional charges, which will be added to the customer's order at the time of purchase.
The desk is available in different sizes, with width options that include 38 inches, 48 inches, 60 inches, and 72 inches.
TR5000-DT7 Treadmill Features And Design
The treadmill was designed to favor durability, featuring a 3 HP commercial motor for continued performance without having to worry about noise or wearing the device out. The treadmill can support a weight of up to 400lbs, which is a significant improvement over some competing products. Furthermore, walking noise is reduced with the inclusion of six separate impact-absorbing shocks.
Lifespan TR5000-DT7 treadmill features a construction that is rated "best-in-class," with an aluminum rail, a heavy-duty deck, and a high-mileage belt. This ensures the user can continue walking on the treadmill without having to worry about a belt or motor that will easily wear out.
TR5000-DT7 Treadmill Warranty
The warranty that comes with Lifespan TR5000-DT7 is certainly convenient – the frame has a lifetime warranty. This is a particular factor that is often unseen with the competing products out there. The lifetime warranty does not account for the entire treadmill desk and all of its components, however. This should be noted by customers – the full warranty terms should also be closely studied by a potential customer to ensure they thoroughly understand what is covered and what would not be covered under the product's warranty.
The following warranties also apply to the purchase of this treadmill desk:
The motor will be under warranty for the first three years following the purchase date.
The mechanical and electronic parts will have a two-year limited warranty.
There is a one-year warranty for labor included.
In addition to the standard warranty that comes included when the customer decides to buy the TR5000-DT7 Treadmill Desk, an additional extended warranty coverage package can also be added to the order. This will, however, increase the total amount payable for the product. The following options are available:
A three-year extended warranty period will cost the customer an additional $229.
A five-year extended warranty will lead to an additional cost of $429.
The Bottom Line
When it comes to quality, durability, and functionality – these are the three primary functions that the TR5000-DT7 Treadmill Desk can offer each customer who opts for the product. This treadmill desk focuses on health, but at the same time, ensures that the user can experience improvements in their productivity and that they can focus on getting their work done while they are active on the TR5000-DT7.
Customers interested in the TR5000-DT7 Treadmill Desk need to understand that they will have to dig deeper into their wallets if they wish to equip their office with this product, with a price tag of over $2,000. LifeSpan TR5000-DT7 Treadmill Desk does come with many convenient features that can make the life of the user more convenient, especially when compared to some of the alternative options that we have seen.
Like LifeSpan TR5000-DT7? You might also want to read our ProForm Thinline review.
---