LifeSpan TR1200-DT5 Treadmill Desk Review
LifeSpan TR1200-DT5 Treadmill Desk
Overview
Price
$1,299.00 – $1,349.00
Lift Type
Manual
Material
Phenolic, plastic, 1″ thick composite board
Desk Sizes Available
38" x 29" and 48" x 29"
Treadmill Sizes Available
68.5″ x 38″/48"
Laminate Colors Available
Cool Gray, Wild Cherry, Absolute Acajou, Jamison White Obsidian Black
Treadmill Base Colors
Silver, Charcoal
Weight
Desktop: 60lbs; Treadmill: 114lbs
Where Produced
n/a
Shipping
Standard Delivery: Free; Inside Delivery: $49; Room of Choice Delivery: $129; White Glove Delivery: $229
Warranty
lifetime warranty on frame. 3-year warranty on motor. 2-year warranty on parts. 1-year warranty on labor
Other
Step counting, Intelli-Guard system, LifeSpan Active Trac application for iPhone and Android
---
LifeSpan TR1200-DT5 Treadmill Desk offers an all-in-one package for those people who are looking to keep themselves more active while at work. This treadmill helps to avoid extended hours of sitting down in front of a desk and rather gets a person to stand up and keep walking while they are working. This device brings about potential benefits such as improved productivity, while also contributing to a person's health – the continuous walking contributes to burnt calories at the end of the day, along with an improvement in muscle mass, of course.
While there are multiple convenient features provided by LifeSpan TR1200-DT5 Treatment Desk, a couple of concerns have also been raised. In this review, we look at possible pros and cones about the treadmill desk to help our readers make an informed decision.
LifeSpan TR1200-DT5 Treadmill Desk Review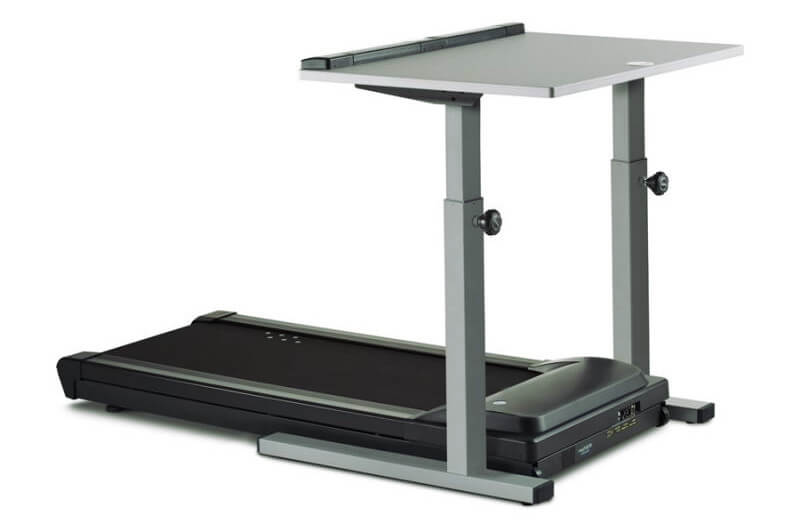 The TR1200-DT5 Treadmill Desk offers a two-in-one structure that combines the usefulness of a quality standing desk, along with a treadmill. The result is a device that takes the idea of a standing desk one step further, by adding a way for the user to walk at a pace that is convenient for them while they are getting their work done.
Desk Design And Features
TR1200-DT5 Treadmill Desk was designed to be useful for anyone, regardless of their height. This is thanks to the manual adjustable height system that is pre-installed in this standing treadmill desk. The manual adjustment system can be used only when power is not connected. Multiple height settings can be configured, ranging from 33.5 inches up to 52.5 inches, depending on the user's height and what is most convenient for them.
Furthermore, the manufacturer behind this desk allows the user to choose from a range of customizable options for their convenience – as well as to ensure that the desk design they choose will seamlessly blend in with the interior décor of their office.
LifeSpan TR1200-DT5 is also available in two different sizes to ensure an appropriate surface area is available to accommodate the items that the user needs to place on top of the desk. Customers can choose between two different depths – including a 38-inch option and a 48-inch option. The user can choose between five different colors for the desktop surface, including Cool Gray, Obsidian Black, Wild Cherry, Jamison White, and Absolute Acajou.
While convenient, it should be noted that some customers may find the fact that there are only two options to choose from somewhat limiting. Customers should ensure they choose the option that will be large enough for their computer and other items while avoiding the larger option if space in their office is limited.
TR1200-DT5 Treadmill Features And Design
The LifeSpan treadmill is located underneath the desk – the standing desk itself is attached to the treadmill with sturdy materials to ensure the desk does not move while the treadmill is powered on. TR1200-DT5 Treadmill Desk contains a 2.25 HP motor, which provides a silent operation to avoid noises distracting the user and any other people who may be working in the same office. The LifeSpan treadmill is also equipped with six shocks that have been designed with impact-absorbing technology to reduce further the noise. 2 wheels are mounted to the treadmill base to ease it moving if there is such a need.
At the same time, the motor can provide the user with a convenient way to walk at a comfortable pace with treadmill speed settings up to 4 MPH.
LifeSpan TR1200-DT5 treadmill can support users with a maximum weight of 350lbs, making this a convenient option for some of the heavier individuals who might be interested in becoming more conscious about their health and add a way of keeping active while working to their office layout.
The frame of the TR1200-DT5 Treadmill Desk is available in silver and charcoal colors, ensuring it can also fit with the interior design of the office where the treadmill will be used.
Warranty
A limited warranty is offered on LifeSpan TR1200-DT5 Treadmill Desk. The frame of the treadmill comes with a limited lifetime warranty. The other parts of the treadmill desk do not come with the same lifetime warranty, but still comes with warranties that ensure the user will be able to have their LifeSpan treadmill desk repaired should any factor or manufacturing faults come up.
LifeSpan treadmill's motor comes with a limited three-year warranty, while the loose parts of the treadmill and the desk comes with a limited two-year warranty. Furthermore, there is a single one-year warranty on labor that may be charged in cases where the treadmill needs to be sent for servicing or repairs. Once the first year has passed, the customer will be held responsible for labor charges.
The Bottom Line
For people looking to spend more time being active during their work hours, adding a LifeSpan TR1200-DT5 Treadmill Desk to their office may be a great solution. LifeSpan treadmill workstation is equipped with high-quality materials and offers advanced features that will allow the user not only to keep active while they are working but also track their progress.
Even though certainly a convenient product, it should be noted that the TR1200-DT5 Treadmill Desk comes with a relatively high price tag that might not fit within the budget of every customer. Furthermore, the limited options in terms of the desk surface size may also be inconvenient for some customers. Other than these, the desk does seem to be a good option.
We advise you to check out our TrueForm Walking Desk review in case you don't know whether you'd like to try out LifeSpan TR1200-DT5.
---