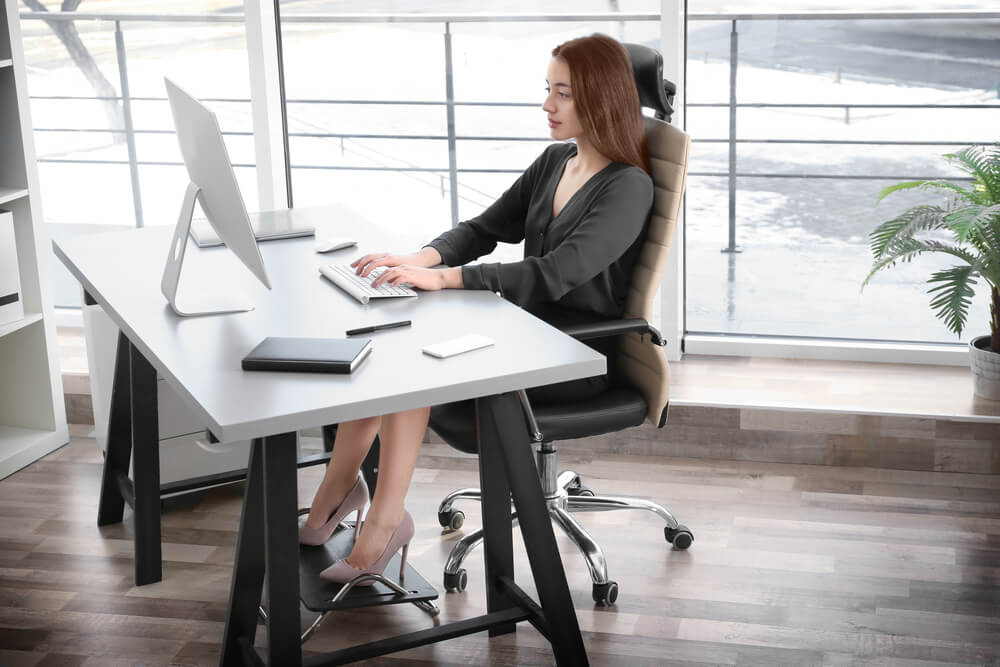 Footrests have become popular for many important reasons. One of the main points to be taken into consideration is potential health benefits. With the right under-desk footrest, a person can significantly improve blood circulation while sitting down – it has been established that sitting with a person's feet on the ground for too long can cause strain on the ligaments and muscles, as well as tendons. Blood pools start to accumulate in lower limb regions of the body. This leads to pain and discomfort, among other potentially uncomfortable symptoms.
One problem that many people face is that choosing an excellent under-desk footrest is not an easy task since there are different types of these products on the market, and a large variety of brands to choose from. To help our readers to buy the best foot stand, we looked at the options that are available right now to present and list the top ones.
Best Footrests On The Market
---
There is a significant variety of products in this category on the market, each claiming to be the best under-desk footrest. A simple search for footstools on Amazon offers hundreds, if not thousands, of results to look at. This can make the process of buying the best office footrest difficult – and time-consuming. That is why we decided to look for the best desk footrest – and to present the five top choices that we found below.
Humanscale FM500 Ergonomic Foot Rocker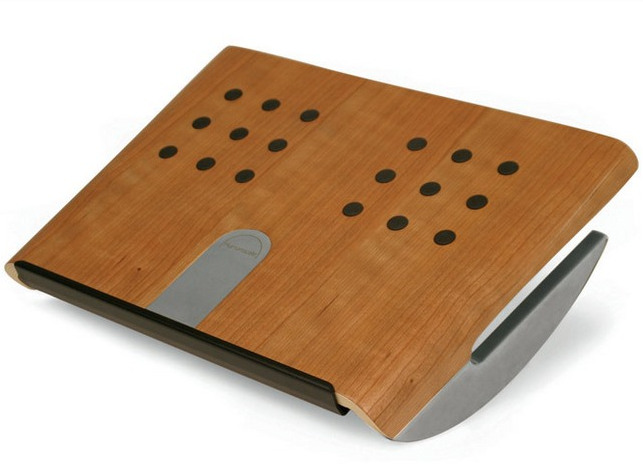 First up on our list of the best footrests for any person who wants to have a more active lifestyle while working is Humanscale FM500 Foot Machine Footrest. This option comes with a truly ergonomic design and offers a gentle stimulation that even reaches the calves. As our selection for the best ergonomic footrest, the Humanscale FM500 Foot Machine is relatively affordable and comes with a full lifetime warranty. The product features a very sturdy overall construction and was designed to pivot exactly where a user's ankle would be placed, offering a significant advantage over many of the competing options promoted as the best footrest.
Humanscale FM300 Ergonomic Foot Rocker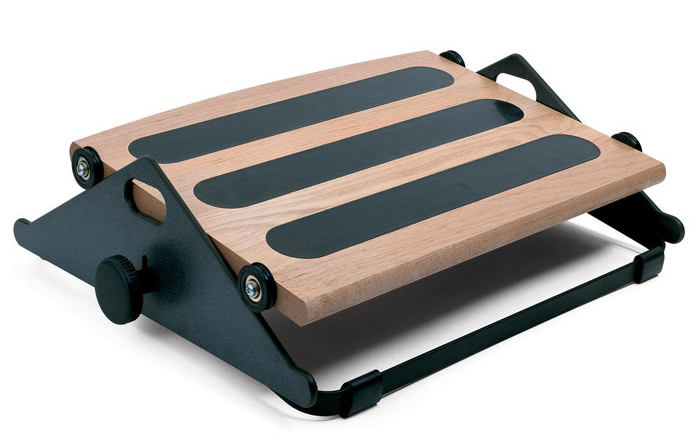 The next option on our list is Humanscale FM300 Foot Rocker, an excellent product for any person looking for a footrest that can offer them the best foot support. This is also a relatively cheap footrest, further adding to the benefits that the product has to offer. The product is made from hardwood and features a tubular steel frame. It comes in a natural wood color with black stripes painted over. Humanscale FM300 Foot Rocker also features a 15-year warranty, which is better than what is offered from the majority of competitors on the market.
Humanscale FM100 Ergonomic Foot Rocker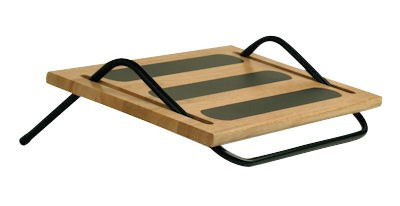 Those who would like to take advantage of the many footrests under desk benefits that we discuss here at a budget-friendly price should consider Humanscale FM100 Foot Rocker. This product is available for just under $100 and is made from hardwood, along with a nice steel frame. The footrest comes in natural wood color. It is also painted with black stripes. Customers are provided with a 15-year warranty with this product.
HOVR Floor Stand Leg Swing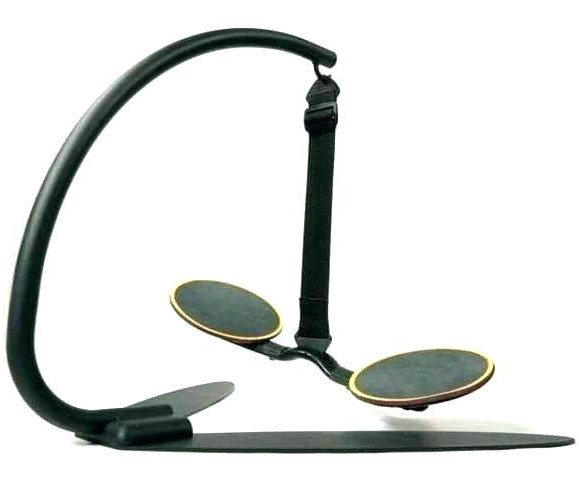 Floor Stand Leg Swing made by HOVR is a really unique option and a good one for those individuals looking for more knee space under the desk. This product is not an average foot stand like most competitor options, instead it comes as the form of a swing to keep a person's feet active while they are sitting down and busy with their work. This product comes with a one-month money-back guarantee, free shipping to continental U.S. and is available in black color with both blue and black straps.
Desk Jockey Office Foot Stand Cushion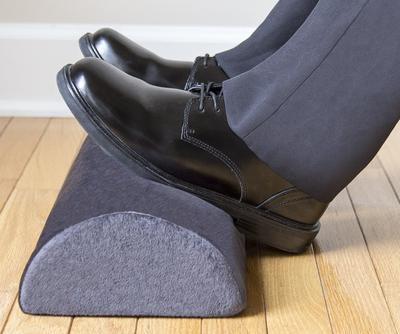 Desk Jockey Office Footrest is a good foot stand cushion that comes at a lovely price – at less than $30, this is one of the most affordable options that people can opt for. The foot stand cushion is made from premium quality therapeutic-grade memory foam, and is large enough to accommodate both feet at the same time and provide a high-quality rest for the customer's feet. It comes in two different color options that the customer can choose from.
How Did We Review Footrests?
---
When it comes to looking at footrests that are on the market today, we noticed that there are a few things that we need to take into consideration as more important than other factors. While we understand the benefits that a footrest for under desk has to offer – such as reducing feet swelling while sitting at the desk, we noticed that leg resting stools are not all the same.
While we looked through the top desk foot rests on the market, we considered a lot of different factors about each. This included the price, the warranty that came with the under-desk footrest, the materials used in the construction of the footrest for under desk, and, of course, the overall quality.
We also considered the compatibility of these products – such as whether they would be compatible with 5-foot desks, as well as 4-foot desks, or rather have a more limited compatibility list.
What Are Footrests Benefits?
---
Choosing to add an under-desk footrest to your office setup can offer you plenty of benefits. These potential benefits that a footrest for desk offers does not only extend to a person's well-being but also extends to other particular areas of a person's life. Below, we list the most important reasons why people should be looking toward using an office leg rest or perhaps even an adjustable height footrest while they are sitting down and working:
When sitting down for prolonged periods and keeping the feet in the same position, blood pools tend to accumulate in the body's lower limbs. With a footrest under the desk, the risk of these blood pools building up in the lower limbs of a person's body is significantly reduced.
As blood pools accumulate, excessive pressure is applied to the tissues in the lower limb regions. This causes additional strain to be placed on tissues such as the tendons and ligaments, as well as the local muscles in the area. With a footrest for work, the pressure is reduced. Thus, by adding a footrest for an office chair or another type of footrest to a person's workstation, they greatly reduce the strain that they are placing on their lower limbs while they are sitting down.
The fact that the excess pressure is present while sitting down for too long, especially when both feet are kept still for long periods, may also lead to pain. Not only will the person's lower limbs start to hurt, but it is known that the pain can start to migrate toward their back. With a footrest for office, this pain can be potentially avoided.
Shorter individuals often find that their feet hang from a chair without touching the ground. This can certainly be uncomfortable and is another area where footrests for chair comes in handy. By adding a footstool for under desk to their work environment, shorter people can have a platform below their feet at all times.
Muscle tone may also be preserved with the use of an office footrest or a general leg rest for a desk, as the continuous motion provided by a footrest for office with an ergonomic design tend to keep a person's feet active while they are in a seated position.
How To Choose The Best Footrest?
---
While looking for an ergonomic footrest, we recommend our readers take into account the following factors to ensure they buy a right under-desk footrest that can offer them real benefits.
Surface
The surface of an under desk leg rest or an office chair footrest is important. Preferably, both feet need to fit on the service, even when opting for a small footstool for under the desk. It is also important to consider how the surface of a particular ergonomic footstool will pivot, if buying a rocking footrest or a similar product, for example.
Quality of Materials
The materials used in the construction of a footrest, whether a wooden footrest or a different type, is also essential. Not all materials are the same – some of them used in a portable footstools produce a better quality and will last a more significant period.
Height Adjustability
An adjustable footrest can help to provide a more flexible usage, compared to buying a small or tall footstool that cannot be adjusted at all. It is, however, important to consider how much of a height adjustment can be applied and consider if the variation is appropriate for the potential user.
Design
The overall design of an ergonomic footrest under the desk is also an important deciding factor for many people. Consider how it looks and how it will fit in with an existing interior decor of an office where the footrest for the chair will be used.
Price and Warranty Issues
The price should also be taken into account, as these products vary a lot in pricing. An adjustable height footstool may often turn out to be more expensive, but maybe a more useful option in some cases, for example.
---