The Best Standing Desks by Category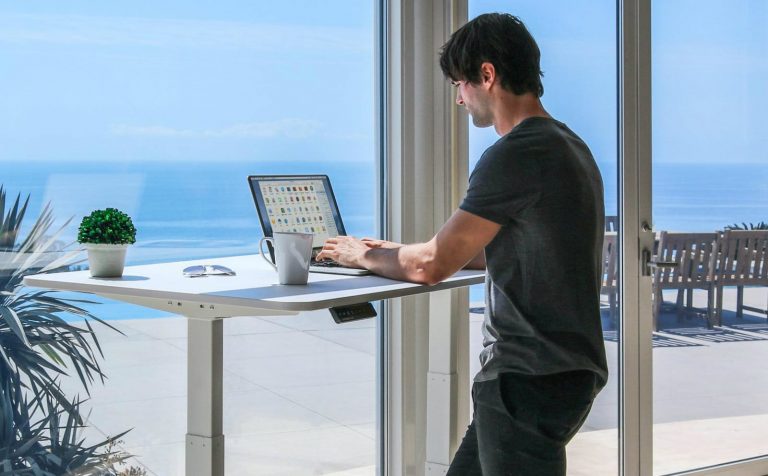 ---
What are Adjustable Standing Desks?
Why adjustable standing desks, you may ask? It is to stop or lessen the unhealthy sedentary lifestyle. An adjustable desk allows you to stand or sit while you are working. It allows you to adjust the desk to a favorable height so that you can work healthy and rotate from sitting and standing, which will make you feel more energized and focused.
There are a lot of adjustable desks we can choose from, so make sure to get the best standing desk for you or your company. You can discover ones that can be lifted pneumatically, or manually by using your hands to turn a knob or wheel. Then there are the electric standing desks, which are the best standing desk of them all.
An adjustable standing desk is proven to improve your health, focus, and productivity. There are a lot of health benefits that make it a necessity for every office or home.
The standing desk helps you burn those extra calories and gets your heart pumping while you can still get your work done. This desk lowers the risk of weight gain and obesity and lowers your blood sugar levels. It will not only keep you healthy but lifts your mood and energy levels. Here are the different standing desk options for you.
---
Our Top-14 Standing Workstations
---
Types of Standing Workstations Available
Manual Standing Desks
Manually adjustable standing work tables rely on a crank mechanism and require repetitive physical effort to change the height. These workstations are usually cheaper than electric desks and slower to lift. Manual stand to sit units were the first type of adjustable office tables on the market, and they have become less popular in recent years. It can be time consuming and inconvenient to change position, and for this reason, many users find that they avoid moving at all. Crank operated versions do not usually provide a smooth lift, and this can lead to spillage and mess. As electrically adjustable furniture has become more affordable, fewer people are choosing manual standing desks.
Electric Standing Desks
Electrically adjustable standing workstations use a motor to lift and drop the surface height. The benefits include much smoother and faster lifting, increased load capacity, and the ability to store preset preferences. The latest electric adjustable workstations interact with smartphone and desktop apps and are equipped with A.I capabilities and other hardware. Electric sit to stand furniture allows users to transition from sitting to standing quickly, smoothly, and with no physical effort. Many of these products now use advanced noise-canceling technology, making the motor barely audible. This means less disruption to users and co-workers.
Hydraulic Standing Desks
Hydraulic lifting furniture is powered by electricity or a hand crank. Hydraulic lifting is quiet and allows for increased load capacity and smoother ascent and descent. It is a less common mechanism than electric or manual lifts but it is quite effective and easy to use.
Counterbalance Standing Desks
Counterbalance mechanisms use pneumatic systems or springs to offset the weight and assist with lifting. They provide a fast and smooth lift without the need for any power source. Counterbalance allows for effortless height transitions and seamless movement. Users can easily move the work surface up or down by holding down a paddle or handle which releases the safety brake, gently guiding the desk to the required height. Counterbalance work tables glide up and down in an almost magical movement. As no power source is required for this type of standing desktop, they can be located anywhere.
Why Buy an Electric Standing Desk?
With electric standing desks, you can adjust the height with a simple push of a button. You can easily and effortlessly adjust the height of your desk to your most comfortable sitting and standing level. You can set your preferable height in the electric standing desks with a touch of a button, and the desk will have a memory that saves your preferred height if it were to be in a standing form or sitting.
The desk will adjust itself with ease. You can set it to a comfortable height that suits you best. Getting it to the proper height can be difficult with a pneumatic desk as well. Some electric desks can easily be adjusted up to 0.1 inches with a quick push of a button, which will allow you to make quick and effortless adjustments, especially when standing depending on the task. Making a small height adjustment with a pneumatic desk involves releasing the mechanism and physically moving it up or down. The electric desks can handle more weight than other standing desks and there is no need to worry about counterbalance or physical strain that requires an odd position for your body or to put unnecessary stress on your lower back.
The additional functions that it offers are some of the best standing desks that will have a grommet, and that supplies power to an outlet on the table itself. You can charge your phone or use other appliances of any type, so the added power boards are definitely a bonus.
They also have more open space. A lot of the desks offer add-ons or support the computer under the table, leaving you with more space to organize your office equipment. Having an electric standing desk will also make movement easier. As you stand up, you can press a preset button to lift the table and move your chair out less than usual.
Breaking it down, if you are going to buy an adjustable stand-up desk, buy the best standing desk. Your health doesn't have a price and the electric desks are far more efficient.
How to Choose the Right Electric Standing Desk
Choosing the right standing desk will be determined by quite a few factors. First of all, you should estimate your office equipment so you can get an idea of what weight capacity is required to support and lift the weight. For most of us, that won't be a problem because we don't share our table with others.
Elbow position
Select a desk that can at least lower to your lowest sitting elbow height and at least as high as your tallest standing elbow height. If the desk is going to be used by others as well, you will need to create the largest amount of range that you can justify.
Shape
The shape of the desk also plays a crucial role due to the comfortability and space available both with and without the additional accessories. An example is the monitor arm placement, which prevents the monitor from hitting the wall or other colleagues if you were to swing it.
Noise
Noise plays a critical role, especially in the workplace. You surely need to consider others in the workspace so that you don't distract them from their work or have deafening effects on others as some of them use hearing aids.
Accessories
The additional accessories that can be added on are bought with the desk. The product can supply you with the accessories that will make it easier and better for you.
Power accessories are essential as the power cord length and power cable management is designed so that you don't trip and fall. The power grommet's function is to eliminate the need for an extension power cord for the other electrical equipment on your desk.
Speed
Ensure that the speed is fast enough when buying an electric standing desk with a treadmill. When walking, soon you'll ask yourself, "Can you run on a treadmill desk?" Yes, if the treadmill is fast enough, and you are going to want a faster one later in life.
Price
Given the cost of the standing desks, you can afford one. Is it value for money? On average, electric standing desks cost you anywhere from $600-2000. How much does a treadmill desk cost? The electric standing desk will cost you anywhere from $800-$4000. Some of the electric standing desks have accessories that you can buy like a treadmill for your desk.
You might also ask yourself, "Are treadmills bad?" No, they are not. They help you to move while staying stationary. It allows more blood flow and keeps you on the go, which is especially important while working.
The customizable factor is to ensure that the product has the texture and color that you would like, and will bring new life into your workplace that will not stand out like a sore thumb.
---