The Best Standing Desks of 2021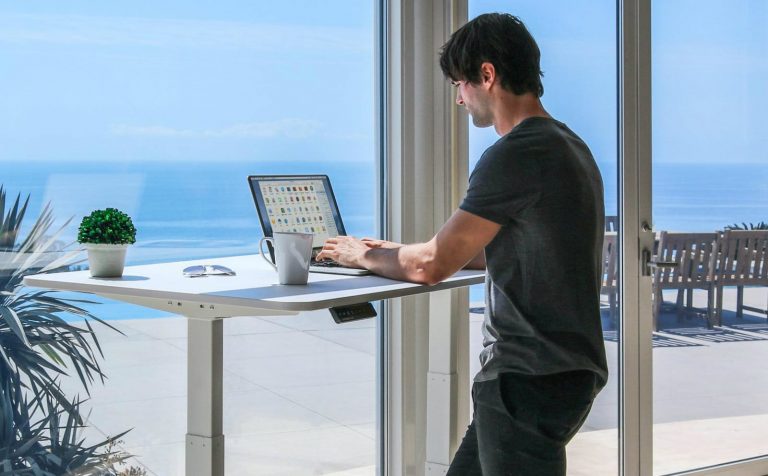 A standing desk or stand-up desk is a desk that helps you switch between sitting and standing throughout your workday, which is indispensable for reducing the level of tiredness, boosting your comfort, and taking care of your health. As they are adjustable, all variations of standing desks are designed for writing, reading, or drawing while standing up or while sitting.
There are manually-operated desks and electric adjustable-height standing desks. Nowadays, home and office-based workers around the globe use electric adjustable-height standing desks. These are typically powered by precision linear motor drives. They help to change the height with the press of a button. Such stand up computer desks have a huge advantage over most manually-operated desks in velocity, convenience, and comfort, but tend to cost more than the manually-controlled ones. Even so, both remain a good choice for homes and offices across the country. Which one do you need? Check out the information we have gathered for you and you will definitely find your dream desk, the one that works for your unique workspace.
---
Top 3 Best Standing Desks 2021 For You
1) iMovR Lander: Top Rated Made-In-USA Standing Desk
The iMovR Lander standing desk is entirely made in the USA featuring powerful motor that can silently lift up to 360 pounds at a speed of 1.6 inches per second, durable premium components, built-in health coach and industry-leading warranty. ANSI/BIFMA X5.5-2014 certification for durability, performance, and long-lasting reliability. Smartphone-ready and compatible with other accessories.
2) UPLIFT V2 Bamboo Standing Desk: Best Value Stand-Up Desk
Uplift is a budget adjustable standing desk. Its adjustable height can go as low as 26.3 inches and as high as 50.9 inches. 355 lbs of lifting capacity. Customizable accessories, size, and desktop material. This affordable standing desk is good both for office and home as it meets the ANSI/BIFMA requirement for safety. Uplift is one of those few inexpensive standing desks that have a 7-year warranty on all parts except the desktop.
3) Jarvis Bamboo Standing Desk: Best Eco-Friendly Desk
This Jarvis model is a standing desk with high quality bamboo desk top. Jarvis uplift desk has a simple ergonomic design with grommet holes and custom handsets. 29 – 48.25 inches height range. 350 lbs of lifting capacity. Highly customizable one – two shapes, seven variants of desktop dimensions, multiple color options, two types of handsets. 7 years warranty on frame, electrical, and mechanical components.
How do we choose and test the top standing desks
Choosing the best standing desk may be challenging. Like any furniture, it will be comfortable, useful, and beneficial for health only if it meets all your requirements. Since there are so many different models and price points on the market, the mission seems to be impossible or quite overwhelming at the very least. All this standing desk comparison may take hours or even days. We are here to help. To find the best standing desks, we have elaborated a peculiar evaluation procedure to analyze thoroughly each and every product. Before delivering our top standing desks review, we examine the products to a tee, from the delivery and packaging to the ease of installation and use.
Safety:
Material quality
Сonformity with hygiene norms and standards
Ergonomics:
Design
Customizability
Range of Height Adjustment
Leg Spacing
Size and color variety
Trust score:
User reviews
Scientific researches
Customer surveys
Independent tests
Comfort:
Stability
Noise
Lift Speed
Controls
Electronics
Price:
Quality-price ratio
Base price-warranty ratio
Delivery:
Packaging
Assembly process
Support
Such an in-depth analysis lets us generate reliable reviews of all standing work desks. And of course, we take into account the particularities and unique characteristics of each of the best standing desks.
What should I know about standing desks?
The first thing you should know is that you need to choose the desk which is right for you. It seems to be easy, but it is not. If you have never used a standing desk before, start with asking yourself several questions:
Where am I going to work, in the office or home?
What type of work do I do most of the time?
Do I use a stationary PC or a laptop?
Do I do a lot of keyboarding?
How frequently do I use complementary devices like printers?
Do I have a good chair? Is it adjustable?
Let's start from the last point. Yes, you need a chair even if it is a "standing" desk. Standing for long periods can affect you the same as sitting. The smartest thing to do is to switch between standing and sitting during the day. This means that you do need a chair. And it also means that it is better to buy a height adjustable desk. It allows you to go from standing to sitting in seconds, so you don't need to keep your traditional desktop. When you give answers to all other questions, you will understand which size, type, and maybe even model of the best standing desk for you.
Before you browse our list of top rated standing desk tested and reviewed, let's check out what types of standing workstations are there.
Manual Standing Desks
Manual adjustable standing desks use crank mechanisms. This means they require repeated physical exertion and more time to switch between sitting and standing modes. Usually, even the best standing desks of this type are not made to provide a smooth lift; this can lead to extra tiredness, spillage, and mess. So, the best standing desk controlled manually still will irritate you in a while. That's why this type of sit-stand desks have almost disappeared from the market. As motorized adjustable standing desks have become affordable, fewer people are choosing manual standing desks.
Electric Standing Desks
An electric adjustable standing desk is a desk equipped with a motor to lift and put down the desktop. They are smoother and faster lifting than the previous type. They have increased load capacity and can memorize your preset preferences. The best standing desks of this type can be controlled by a control console or smartphone and desktop apps. Motorized standing desks are quick, smooth, comfortable. They do not require any physical effort from you. And they are not that expensive now as they used to be a couple of years ago. Most of them use up-to-date noise-canceling technology, so the motors are barely audible. This means that it won't bother either you or your co-workers.
Hydraulic Standing Desks
Hydraulic standing desks can be powered by both electricity or a hand crank. The thing about hydraulic lifting is that it makes sit-stand workstations as quiet as possible, has increased load capacity, and smoother ascent and descent. Efficient, silent, and easy to use.
Counterbalance Standing Desks
Pneumatically adjustable standing desks are equipped with counterbalance mechanisms that use pneumatic systems or springs to offset the weight and assist with lifting. Such a system guarantees a fast and smooth lift without any need for a power source. Counterbalance facilitates height transitions. Move the desktop in one magical movement! These are really good ergonomic desks models. Comfortable, silent, fast, smooth. Eco-friendly as they don't use electricity.
Our Best Picks: 12 Standing Desk Reviews - 2021
---
What are the health benefits of standing desks?
Stand up desk benefits are obvious for everyone who knows how a sedentary lifestyle affects health. Anyways. Let's take a closer look at standing desk pros and cons. So, a decent stand up desk workstation can help you:
stay focused and productive during the day;
reduce the tiredness level;
move more;
burn up to 750 extra calories a week;
lower blood sugar levels
reduce the risk of diabetes and chronic heart diseases;
reduce or get rid of back pain.
In fact, the sedentary lifestyle is now called "new smoking". And this is not far from the truth. It also can make you ill pretty quickly. First of all, your productivity falls greatly if you spend most of the time sitting. Second, you start having neck and back pain starting from the first months or even weeks of continuous sitting during the workday. Then comes the notorious tunnel syndrome, obesity, issues with the joints, hemorrhoids, etc. The American Journal of Public Health also warns that excessive sitting – more than 6 hours a day, increases the risk of Alzheimer's, chronic heart diseases, and even premature death by 20%. In a word, we are not created to sit.
What are the cons?
You have to be moderate with prolonged standing, too. It can affect your health as well. The best way to stay healthy is by changing positions during the day. This is the only way to get all the health benefits that a standing desk can give you.
The US Centers for Disease Control and Prevention recommends to take breaks, stretch and move your limbs, do aerobic exercise for at least two hours a week, plus some walking daily. Also, it is recommended to start using a standing desk. It can help offset the damage that all this sitting does to our bodies. Yes, even the best standing desk is not a cure-all, but if you choose the right one it can be a game-changer.
Here are some tips on how to how to use a standing desk properly to get the most of it:
Try to alternate frequently
Adjust your desk and screen to feel comfortable when standing for a long time
Pay attention to your keyboard and mouse position. Keep them at the same level, and your wrists straight when typing. Consider using a special keyboard tray. It will reduce pressure on your wrists.
Work on your posture
Use arm supports to relieve shoulder and neck loads
Try to stand after eating. This helps digestion and keeps you concentrated on work even after a big meal.
Consider purchasing an anti-fatigue mat. It will help to reduce pressure on your lower back and legs.
Remember to take breaks.
Correct Sitting & Standing Height
Make sure that your adjustable stand up desk works right. To get all the health and productivity benefits, you need to choose the correct height for a standing desk. You should not feel strained standing at your desk. Monitors should be stationed at eye level and at your arm's length distance. Position your keyboard and mouse at the same level, so your wrists are straight when typing. Or, consider a special keyboard tray that considerably reduces wrist fatigue. Also, remember the proper standing desk posture. Keep your back straight and your neck relaxed.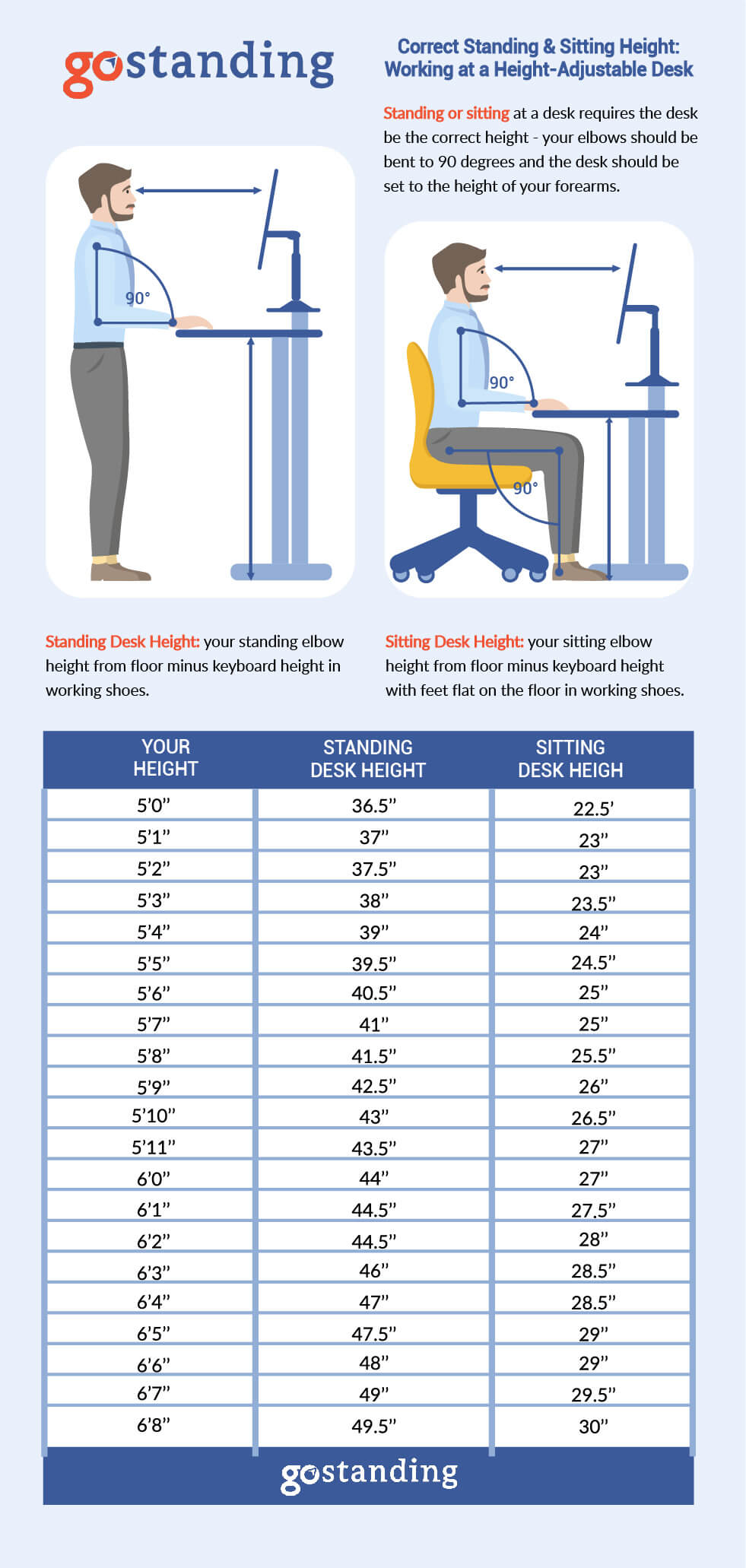 How to choose the right electric standing desk?
It is not easy to choose the right standing desk. Though, it is so much easier than to find the right spouse. At least, you can get our tips on how to choose a good one, and from where to start. So, let's go.
Weight Rating
First of all, estimate the weight of your equipment – monitors, phones, printers, folders, etc. This will give you an idea of the right weight capacity of your best standing desk.
Elbow position
Opt for an uplift desk that can go down to your lowest sitting elbow height, and then go up as high as your tallest standing elbow height. Pay attention that you need to get one with the largest amount of height range if the desk is destined for several users.
Shape
It is great if a rectangular full standing desk is fine for you and fits into your room. If not, look for a corner height standing desk or a compact one. They are normally smaller but still comfortable. For those who use lots of devices and have piles of papers, the best overall standing desk is an L-shaped one. It will cover all your needs. Though, don't forget that it requires a bigger room, too.
Noise
The noise level is critical, especially in the office. For sure you don't want to bother your colleagues. Anyhow, get yourself a quiet electric standing desk even if you work at home.
Speed
Pay attention to how fast you can change the desk height. You don't want to lose lots of time on this, do you? And yes, it is better if your desk has advanced controls. They are real time-savers.
Stability
Check out the users' reviews of the chosen model. If its desktop is wobbly, they will mention it for sure.
Materials and customization
Pay attention to the quality of materials used for the desk. The better the quality, the longer the desk serves you. Besides, we are pretty sure that you don't want to use toxic stuff that affects your health. Opt for well-known certified manufacturers. Normally, most of them are US-based.
It is also important if there is a possibility to customize your furniture. Customization helps to get more comfort and fit your new piece of furniture into your office space.
Warranty
If you want to be sure that your electric standing desk serves you for decades, choose the models that have the longest warranty. Remember, that during the warranty period, the manufacturer will assist you in troubleshooting any potential issues.
Adjustable Standing Desk FAQs
Is it bad to stand all day?
Standing all day can be as harmful as sitting. A sedentary lifestyle can cause lower back pain, varicose veins, sore feet. Our bodies are built to move, so the best way to protect yourself is to regularly switch between sitting and standing. Also, a good anti-fatigue mat can help to reduce the stress caused by prolonged standing.
How long should you stand at a standing desk?
Sitting or standing behind your desk continuously is bad for your health. What is good? Alternating the positions and taking breaks. The University of Waterloo researches show that it is preferable to stay on foot for at least 30 minutes per hour to get health benefits. Start with 10-15 minutes per hour to get used without stress.
Why are standing desks so expensive?
The changing height mechanism is normally responsible for the desks' high prices. Plus, lots of electric adjustable desk sets include electronic handset or smartphone app controls. This also adds to the cost.
Are standing desks good for back pain?
Yes, a correct set-up and used standing desk can improve your posture and reduce back pain, lower muscle fatigue, and keep you more toned during the day. Though, do not forget that it is not a cure-all. If you have serious issues like scoliosis, osteochondrosis, hernia, etc., you need a doctor first and foremost.
Are standing desks overrated?
No, a good stand up desk will make your life better. Just check out all the health benefits it can bring you. Though, nowadays there are better options. Or, to be more exact, there are some great improvements to the standing desks. You can add a treadmill to your desk and walk instead of just standing.
---