Uplift V2 Standing Desk Review 2021: A Functional Desk Within the Budget
Uplift V2 Standing Desk
Overview
Lift type
Electric Lift
Sizes Available
48" x 30", 60" x 30", 72" x 30" and 80" x 30"
Weight Capacity
355 lb
Colors Available
Black, Mahogany, Cherry, Maple, and White
Country of Production
USA
Warranty
7-year all inclusive warranty on work surface and base. Extendable to 12 years
Shipping
Free within the United States, including Alaska and Hawaii
---
More than half into a year of the quarantine culture and output-based performance, more and more people have been raising concerns about long sitting and working hours. This led the majority of the said workforce to look for ergonomic solutions like desks with adjustable height that can help them alternate between sitting and standing while working. The digitally-integrated feature in new sit-stand desks has also become a much-coveted upgrade because it offers maximum productivity and efficiency.
However, the expensive price range of these desks is one of the hindrances of making "the big ergonomic shift." But luckily for us, there are budget-friendly options in the range of $500 to $800. A big slash off the price tag would of course mean that its claims and hardware must be carefully examined to make sure that you get value from your investment — and that's what we're here to do. This Uplift Version 2 Standing Desk review will help you know if this standing desk is worth considering.
What Is a Standing Desk?
Today's standing desks are either custom-built for your specific height or come as an all-in-one electronic sit-stand desk that is height-adjustable with a click of a button. As for the Uplift v2 desk, its desk frame automatically shifts from your sitting height to standing height settings through its Chinese-made Jiecang electronic system, operated through the control panel attached to the side of the desk.
While most electric standing desks are sold with a matching desktop, the Uplift desk v2 gives you the option of adding your own desktop if their premade rubberwood collection does not suit your taste or budget.
Benefits of Having a Standing Desk
Having a desk for standing in between work hours brings a ton of benefits. Not only will it bring health benefits, but it will also change the way you work. In detail, here are some of its common benefits:
A standing desk can make you healthier.
Adjustable standing desks like the Uplift v2 can give you relief from pain points and a solution to existing health conditions. The usual complaint that office workers have is about their back pain and bad posture. Ask anyone who works a desk job and they'll tell you that they have issues in their neck, lower back, and legs. It doesn't even end with the pain — we've found that excessive sitting leads to cardiovascular diseases, obesity, and severe muscle degradation. By simply using desks for standing, you'll get rid of these health risks, increase your blood flow, and get a bit of exercise. Remember: the human body was never meant to "just sit."
Using a standing desk won't lessen your productivity.
Most people's concern about working while standing is their perceived decrease in productivity. We've been sitting in front of our desks for many years and the thought of shifting to a standing position is a bit difficult to imagine. However, studies show that productivity is not affected at all. In fact, you can get the same amount of work done using a standing desk like the Uplift v2. By doing so, you'll not only reap the health benefits, but you'll also maintain your performance score rating or target turnaround time.
Standing desks can increase creativity.
While standing doesn't directly impact your productivity scoring, it improves creativity, which is crucial for most jobs that require thinking, designing, and non-routine tasks. Meanwhile, sitting does the opposite by relaxing you and stifling your creativity. This may be traced back to how standing significantly improves blood flow. Studies show that a better circulation leading to your brain will immensely impact your creativity.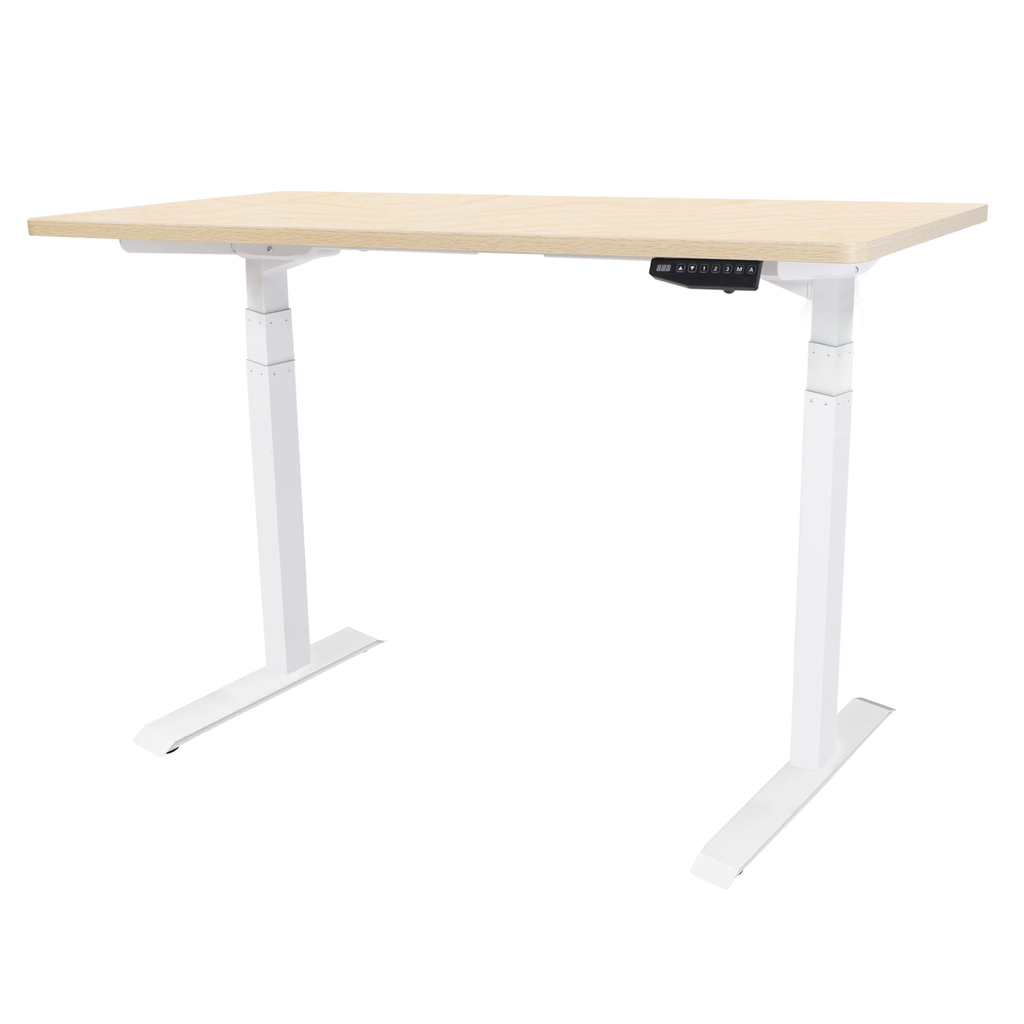 Is the Uplift Desk the Right Fit?
Those who choose this desk may be considering more than just its budget-friendly price. Standing desks — being a mix between electronics, construction, and digital innovation — offer features that vary in functionality and durability. Therefore, when researching the Uplift V2 standing desk, it's essential to know its target market. Are you part of the circle that it could serve best? Before you read the rest of this review, check the list below:
Are you a freelancer with limited home office space?
Whether you're a seasoned freelancer making big bucks or a newbie who has just made the shift, your working area should always be your top priority. Sadly, most average homes are not built for home-offices. Therefore, we'd like to save as much space as we can. Having a desk like the Uplift v2 will not only merge the space you need for a traditional sitting desk and a standing desk, it also comes in all shapes, designs, and sizes, so that you can find the best match.
Are you an employee who is temporarily working from home?
COVID-19 opened our eyes and showed us that nothing is certain. Because of this, most workers do not want to invest in something permanent except for things that give them an advantage in aspects like finances, security, and health. Uplift v2, being one of the most reasonably-priced desks on the market, may balance between this certainty and uncertainty. This is because it offers additional health benefits without draining your wallet. This standing desk is workplace-approved and collapsible, so if you need to go back to the office, you can definitely make arrangements to bring your desk with you.
Are you someone who spends the entire working day just sitting?
Since health is our number one priority today, having additional exercise will do your body a great favor. It's the easiest, most practical solution to our stay-at-home sedentary lifestyle. By standing every 60-90 minutes, your body's metabolism will prevent health complications, especially for those who are immune-compromised. Getting an Uplift V2 desk is a good "first step" into the workout-while-working culture because you can add other ergonomic and exercise accessories in the future. Some of these are under-desk treadmills, ergonomic chairs, and terrain standing mats.
Is your height within the average range?
The Uplift v2, being mainly Chinese-made, was intended for Asian heights. Fortunately, many Americans have reported that this standing desk accommodates the average Western height. The measurement of the base to the top can reach up to 50.9". However, if you're taller or have longer legs, you may want to get the regular Uplift v2 since the commercial version has a crossbar that may come into contact with your knees while sitting, taking away its ergonomic function.
Are you one of Uplift's target market? Whether you are or aren't, the review below will give you more insight into what you should look for when purchasing your standing desk.
The Uplift Desk Review
Our wallets just love the Uplift desk, but truthfully speaking, we can only give it an average score for most of its features, which is fair given the relatively affordable price. The sit-stand desk review below will hopefully help you balance out your decision.
1. General Product Description
Overall Reputation
Uplift ergonomic desks are known to balance between budget-friendly options and fair performance and reliability. Online reviews from independent influencers and reputable blogs support its fairly decent features. However, some have found a mismatch between its published claims and actual performance, which we also declare in this review. These are not that significant but still troubling, especially when you shell out anything more than $500 and would need some after-sales service, which you're not sure if you're going to get.
There have been reports that, unlike other higher-priced standing desk companies, Uplift tends to handle the more difficult complaints a bit poorly (you can check their website reviews to confirm). They have good ratings for the performance and features, though. We'll get into that in the next few parts of this review and hopefully help you gain a well-informed and balanced purchase decision.
Lifting Capacity
True to its name, the Uplift desk can lift a heavy load. There have been people who have tried to sit on the Uplift desktop while seamlessly adjusting its height. However, their weight might have fallen under below 250 lbs. since independent laboratory tests have shown that Uplift's claim of 355 lbs. already negatively impacts its adjustment speed and stability. Let's stay in the safe zone and take 250 lbs. as the maximum. So — what can you put on top of the Uplift desk with that weight capacity? Well, if you have 20 gallons of paint, that's how much you can put on the desk and still have it perform almost perfectly. With that much maximum weight capacity, a personal computer, printer, some books, plus some motivational memorabilia can be lifted easily by the Uplift desk.
Height Adjustment Range
I've already mentioned that the height range offered by the Uplift desk can accommodate its Asian and Western customers. If you're still unsure if it'll fit you, the v2's minimum adjustable height can go as low as 26.3″ (desktop included) and as high as 50.9″ (desktop included). On the other hand, the Uplift v2 commercial only has a 22.6″ to 48.7″ range. The latter's range meets the ANSI/BIFMA requirement for safety, which is why it is recommended for offices.
Aside from the height adjustment, though, wobble tests from different users turn out quite differently from each other since they vary in manual assembly, weight factors, and flooring. However, the same rule of thumb applies — the higher you adjust the Uplift desk frame, the more its tendency to wobble. While this is a perfectly common occurrence, it is important to note that higher-end standing desk products have a more stable and seamless height adjustment capability.
Electronics and Motor
Here's the catch: the electronics are made in China. While we don't want to discriminate, this adjustable height standing desk's control box still retains its thin wiring and obviously cheap components. Although its performance has significantly improved since Uplift's first version, this new control box comes with another problem — it may trigger the anti-collision safety detection too prematurely. With this said, if you try to manually adjust it, it may stop from time to time. Again, this is not an unusual thing, and it's better to have the anti-collision sensor than nothing at all. It's more sensitive than others, though. This inconvenience would probably take a toll on you, especially if you intend to use it as a shared desk with different users.
So, if you opt for the Uplift v2, make sure you don't try the manual setting so you can save yourself from additional inconveniences. The automatic adjustment isn't seamless either, but at least it's less effort on your part. On the other hand, most people have tried to demo their Uplift v2's adjustment and there wasn't any problem with it — even a full glass of water doesn't spill. It may be a matter of usage or a manufacturing defect. Don't worry, the Uplift desk has a 7-year warranty on all parts except the desktop. If you're not happy with your standing desk, you can also return it within 30 days.
Aside from work
The company claims that you can attach 48 accessories onto the desk, which we'll be discussing later. I just want to highlight that one of these accessories is — wait for it — an under-desk hammock. So, if you need to snooze during work, you can simply attach the hammock onto the main crossbar. Just make sure you have your boss's approval and you don't snore in the office! Just make sure to get the wider Uplift desk versions, because if you get the smaller ones, you'll end up with an unnecessary swing under your table.
Aside from this weird but innovative add-on, Uplift boasts of a whiteboard top for creative discussions in the office. And as promised, this sit-stand desk review will show you its pros and cons:
We wouldn't recommend writing on your table since you're likely to ruin your perfectly good business shirt.
Papers have been invented. If you direly need to write something down, it means it's important and something you don't want to be erased by mistake.
Having a whiteboard for a desk is an eyesore. I mean, it looks like a whiteboard placed on top of the frame, complete with the black edges. Lastly, I doubt it's non-slip, so it's a big safety issue, especially when you have high-value equipment sitting on top of it.
I could go on, but we have more important standing desk review details to discuss below. Just one word of advice: get yourself a regular white or transparent board if you desperately need one.
2. Design Options
The Uplift adjustable desk is one of the best contenders on the market when it comes to design — yes, minus the whiteboard — because it can give you an almost-personalized option for the size, desktop material, and accessories. It comes with a desk extension option, so you can mount a shelf directly onto the main crossbar.
Because they attempted to offer a wide range of options for Uplift's adjustable desk, some designs and accessories are a hit and miss. I've already moved on from the whiteboard, but now Uplift has certain reclaimed wood desktops with double the price, though all of these are still 1-inch thick. We've listed them anyway for your reference, but if you're set on getting a solid wood-type desktop, you're better off purchasing the Uplift frame separately and then mounting your own reclaimed wood on top (the desktop doesn't have a warranty anyway).
As for the Uplift bamboo design, we don't recommend it even if it's the bestseller. The carbonized bamboo standing desk has the tendency to warp and become easily dented unlike the laminated desktops, which are waterproof and intended for heavy-duty usage. However, the sleek feel given by the bamboo standing desk is definitely a top-rated feature. It was also claimed to be cured through an environmentally-friendly process, which makes the Uplift bamboo desktop production sustainable (though we highly doubt that the carbonization process was). If aesthetics are more important to you, by all means, go with the Uplift bamboo finish.
RECTANGULAR DESKTOP OPTIONS
Carbonized Uplift Bamboo Finish (bestseller, but not recommended)
Black Greenguard Laminate
Ash Gray Greenguard Laminate
Walnut Greenguard Laminate
White Greenguard Laminate
Whiteboard Greenguard Laminate (not recommended)
Maple Greenguard Laminate
Cherry Greenguard Laminate
Rubberwood Solid Wood - Natural (+$20)
Rubberwood - Dark Brown (+$30)
Reclaimed Fir (+$460) (not recommended)
Acacia (+$460) (not recommended)
Natural Ashwood (+$624) (not recommended)
African Mahogany (+$624) (not recommended)
Pheasant wood (+$624) (not recommended)
Walnut (+$738) (not recommended)
ERGO-EDGE CURVED DESKTOP OPTIONS
Carbonized Uplift Bamboo (+$20)
Black Eco Greenguard Laminate (+$20)
White Eco Greenguard Laminate (+$20)
SIZE OPTIONS
42" x 30" ($589 if with regular desktops)
48" x 30" (+$50.00)
60" x 30" (+$110.00)
72" x 30" (+$210.00)
FRAME TYPE OPTIONS
v2 frame (no crossbar in the middle)
v2 frame (with a crossbar in the middle)
FRAME COLOR OPTIONS
Black
White
Gray
Metallic
A few interior design recommendations:
Aside from the details of this review, we'd like to give you more insight into your ergonomic purchases. We've found a few things when it comes to adjustable desks, so here's one:
No matter how well you handle cable management, your cables WILL show. It will be an eyesore, especially if you place your desk directly across doorways because the first thing that people will see apart from your desk is the big clump of cables under it. The problem is, you cannot attach them to the legs, which is a common problem in all standing desks. Here are a few tips to avoid that:
Make use of the grommet hole on the side (not the center) so less of the cables are seen.
Use extension wires, but make sure you don't have the fire-hazard "octopus" setup.
Use a cable sleeve that matches the wall behind your desk. For example, don't use the regular black sleeves if your wall is white.
3. A Closer Look at the Uplift v2's Main Features
3.1 Desk Frame
Range & Speed:
The Uplift desk uses a sturdy frame that gives it an acceptable range of strength and stability. While the Uplift desk offers a generous height range that extends from 24.5" to 50.25", its speed falls a bit behind others at just 1.57 inches per second (as claimed) or 1.4 (based on an independent test). As previously mentioned, they have optional high extensions that add 2" if the maximum setting is not enough. It is important to mention that the Uplift v2 desks are made by a Chinese company called Jiecang, which has an ANSI/BIFMA X5.5-2014 certification for ergonomic equipment.
Lifting Capacity:
We've seen people sit on their Uplift desks and enjoy the elevator-like lifting provided they weight below 355 pounds (as claimed). To be safe, a weight of no more than 250 lbs. (equivalent to 20 gallons of paint) is recommended since there have been reports of inconsistencies and wobbling when the height and weight are maximized.
Motor:
Each of the Uplift desk's legs comes with a motor. They are not whisper-quiet at 50 decibels, which is similar to the sound of a transformer and a little bit louder than birds chirping in the morning. If this is something your co-workers can tolerate every 90 minutes, then the Uplift desk will be a good buy.
Assembly:
The regular Uplift v2 weights a whopping 68 lbs. while its commercial version, having a secondary crossbar, weighs 93 lbs. This means that while you may have an athletic built, it's best to ask someone else to help you assemble it or at least lift it into an upright position. Don't worry, its assembly only takes one hour on average.
3.2 Height Control
Control Box:
The Uplift standing desk has some significant improvements when it comes to their electronics, though we can definitely say that the wiring was "budgeted." The new circuitry now ensures better performance than the original Uplift desk, but these electronic components are still held together with excessive silicone caulk, making it cheap and somewhat unreliable. Still, their warranty of 7 years will assure you of a replacement should any electric problems arise.
Handset:
What's great about the Uplift handset is its design options and convenient location. Again, with the variety of choices comes a list of pros and cons. Here are the different Uplift handsets available:
Basic Keypad (analog with manual adjustment)
Advanced Keypad (digital display with automatic adjustment) (+$29)
Advanced Comfort Keypad (digital display with automatic adjustment) (+$35)
The differences between the above types are its features. The basic keypad is, well, basic. It has only two buttons for the manual up-and-down adjustment. On the other hand, the advanced keypad has a variety of features including its one-touch height adjustment, digital memory settings (up to 4 users), safety lock, height calibration, power-saver mode, and collision sensitivity. The only problem is that it is mounted too "perfectly" onto the desktop edge, making it difficult to press the buttons. The Advanced Comfort Keypad solves this problem by being tilted at a certain angle, giving our wrists just the right range of motion.
Wireless Integration:
The Uplift's standard digital offerings do not provide for WiFi or Bluetooth connections, so you'll have to change its settings manually using the handset. Some genius hackers could add a wireless connection, though. However, they did so by messing with the control box, which automatically makes the warranty void. Unless you're super confident about your electrical engineering skills, we don't recommend this.
3.3 Power Socket or Grommet Hole Option
Uplift extends its range of choices even to the slightest details. Yes, you can customize its grommet holes for functionality.
Standard 2 wire grommets
2 storage grommets ($+18)
1 wire grommet, 1 power grommet ($+39)
2 power grommets ($+69)
1 storage grommet, 1 wire grommet ($+9)
1 storage grommet, 1 power grommet ($+48)
These only come in one color — black. However, we love the fact that the power grommets will help us achieve a clean look and remove the inconvenience of reaching under the desk just to use the extra outlet.
3.4 Convenience
Remember how we mentioned that Uplift has a poor after-sales service? Well, they provide you with a very good experience before and just after the purchase. Here's why:
You can "create your own" desk via their website. Since they give you a variety of choices, you can select which color, size, and specifications you want with a few clicks. Take note that the prices might change as you do so.
The Uplift desks are available on the Uplift website as well as Amazon. While the price may vary, Amazon is better at after-sales services. If that's your priority, then it's better to go with the latter.
The packaging was carefully considered. Instead of placing a picture of the actual Uplift desk on the box, they imprinted it with a picture of a TV screen, which is a very smart move to avoid mishandling. However, to do this, the packaging comes in three separate boxes. Hopefully they'll all arrive at your home or office at the same time.
3.5. Other Accessories
Aside from the standard package (desktop, frame, standard grommets, keypad, and free cable management tray), Uplift gives you the option to add 48 perfectly compatible accessories. Because our responsibilities in this day and age have become so demanding, everything in our workspace must be of great use. Here's the complete list of functional add-ons that Uplift suggests to its buyers:
Free Promotional Item 1 (Standing mats)
Free Promotional Item 2 (Variety)
Wire Management Kit
Magnetic Cable Channel
Power Up
Caster Wheels (for easier transport)
Desk Extension (12″, with 60 lbs. capacity)
CPU Holder
Monitor Arms
Laptop Mount
Keyboard Tray
Desk Drawer
Back Modesty Panel
Side Modesty Panel
Back Acoustic Privacy Panel
Side Acoustic Privacy Panel
Lighting
Desk Surface Protection
Desktop Air Purifier
Wireless Mouse
Standing Mat
Motion Board
Hammock
Storage And File Cabinet
Stool
Chair
Footrest
Bike and Treadmill
Expert Desk and Accessory Assembly
Extended Warranty
Side Table
4. The Difference Between Uplift Desk v2 and v1
Design
The only significant change with this upgrade is its "mounting holes," which supports the whole idea of the 48 accessory add-ons.
Base Performance
The Uplift v2 is somewhat faster and its frames are have become more stable up to a certain height. However, the glide experience still isn't as seamless as higher-end versions. This is perfectly normal for an adjustable standing desk. What's important is that a glass of water won't spill as you adjust the height, as shown in one YouTube video review.
Electronics
The Jiecang circuitry complements the motors with faster height adjustment. However, the wiring is still the same. Another review demonstrated the overly sensitive v2 desk collision sensors.
The Verdict: Overall Pros and Cons
Pros:

Budget-friendly, starting at $589
Highly customizable
Has up to 48 accessories and different promotional items
Free cable management tray
Free shipping
7-year warranty on the frame and its electronics (fairly durable)
Memory keypad can store up to four settings
Cons:

Overly sensitive collision sensors
Inconsistencies between its claims and its actual performance (weight capacity and adjustment speed)
No warranty for the desktop
Poor after-sales services
Uplift bamboo desk is highly advertised, but it is the least durable desktop
Conclusion
When buying a budget-friendly standing desk, it's important to balance our expectations and its value for money. Honestly, the Uplift v2 is not the best standing desk on the market nor does it top our durability checklist, but given the price, it's the best "bridge" to having an ergonomic working space. Our standing desk review above detailed the Uplift desk v2's strengths and weaknesses. If you can tolerate some of its minor inconveniences, then the Uplift v2 or Uplift v2 commercial can work for you.
---