Vari Electric Standing Desk Review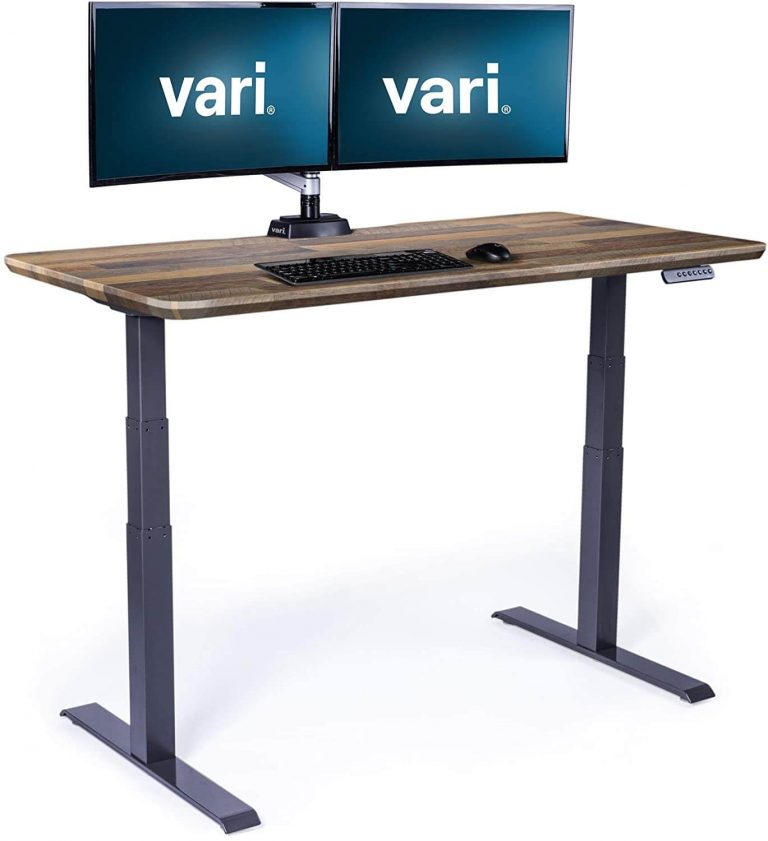 Vari Electric Standing Desk
Overview
Lift type
Electrical
Material
Solid metal one-piece laminate finish desktop
Sizes Available
48×30", 60×30"
Colors Available
Black, White, Butcher Block, Dark Wood and Reclaimed Wood
Weight
141.5lb (64.2kg)
Where Is It Produced
China
Shipping
Free to 48 states. Shipping to Alaska or Hawaii will be charged only the normal FedEx posted rate.
Warranty
5 years on all components
---
Any great day at the office can turn into some kind of agony just because you are exhausted from sitting for hours. It will be fair to say that in our time technologies are developing faster every year. And just right for people who mainly work while sitting or standing for many hours straight  (it does not matter in offices or from home, although now more and more people are switching to freelance work), such innovations as standing desks were invented. This is a great solution for those who want to work and be on their toes at the same time while using the same work surface.
Later in this article, we review the Vari ProDesk 60 Electric table, which significantly differs from competitors in stability and quality. According to the company, this electric desk is not only made of high-quality materials and has an excellent height adjustment but is also very easy to assemble.
Product Description
The Vari Electric Standing Desk is somewhat a newcomer among the other offerings of the VARIDESK company. Thanks to competent advertising, it immediately attracted the attention of the public. Inside the company, this is the first fully electric standing table.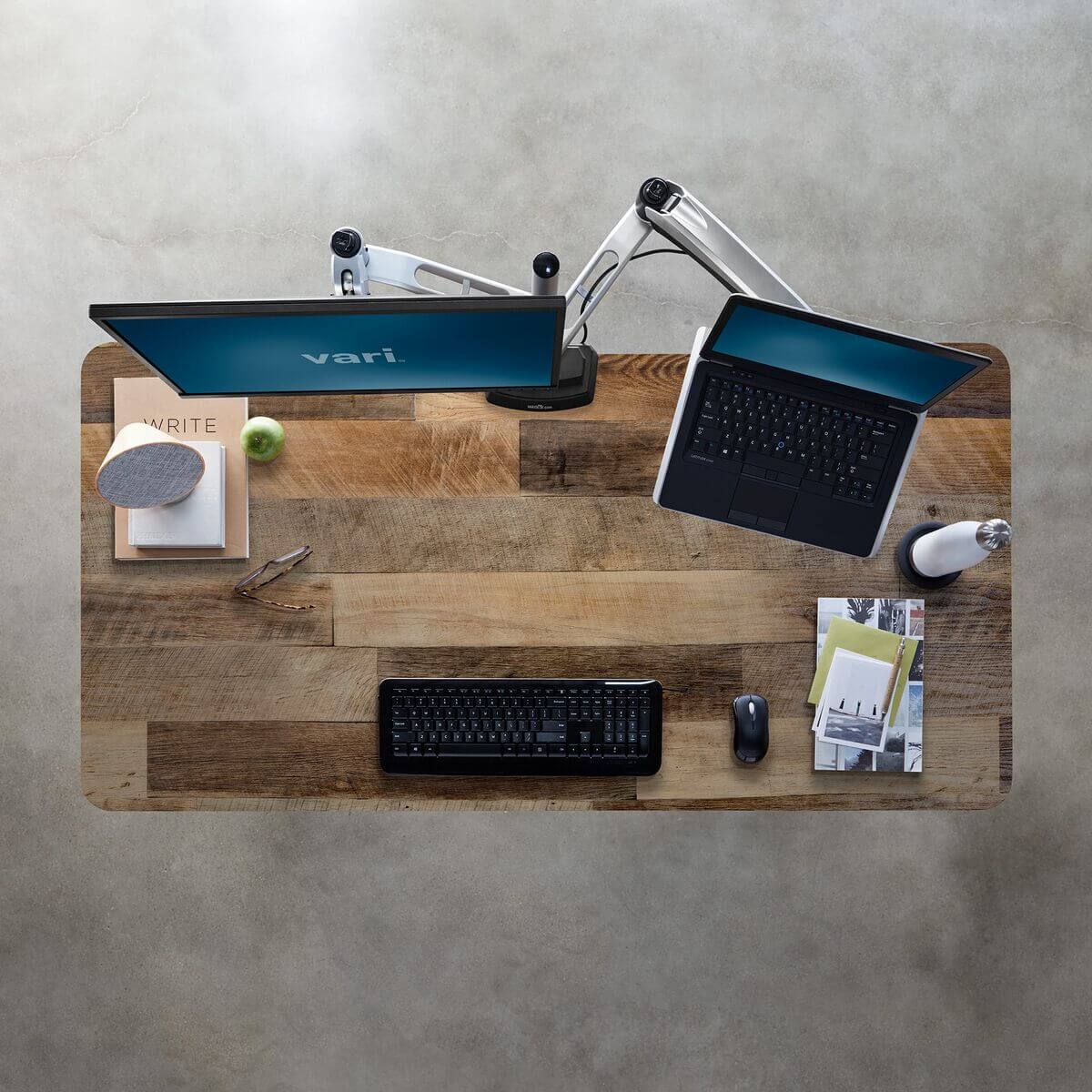 The first thing that certainly attracts users is the tabletop layout. The primary material of the Vari Electric Standing Desk is medium density fibreboard with a laminate finish, which makes the structure very robust. Another interesting fact: the production of VARIDESK tables guarantees a low level of chemical emissions into the environment, which is why it was awarded the GREENGUARD Gold certificate.
To reiterate, the Vari Electric Standing Desk has as many as five different countertop options (White, Black, Butcher Block, Darkwood, and Reclaimed Wood). The work surface is 1 1/4″ thick and 60″ and 30″ wide and deep, respectively. The top edge of the standing table is flat and chamfered by half an inch, with the rest of the edges smoothly going into desk thickness. Besides, the corners of the electric standing desk are rounded to avoid any type of accident injury.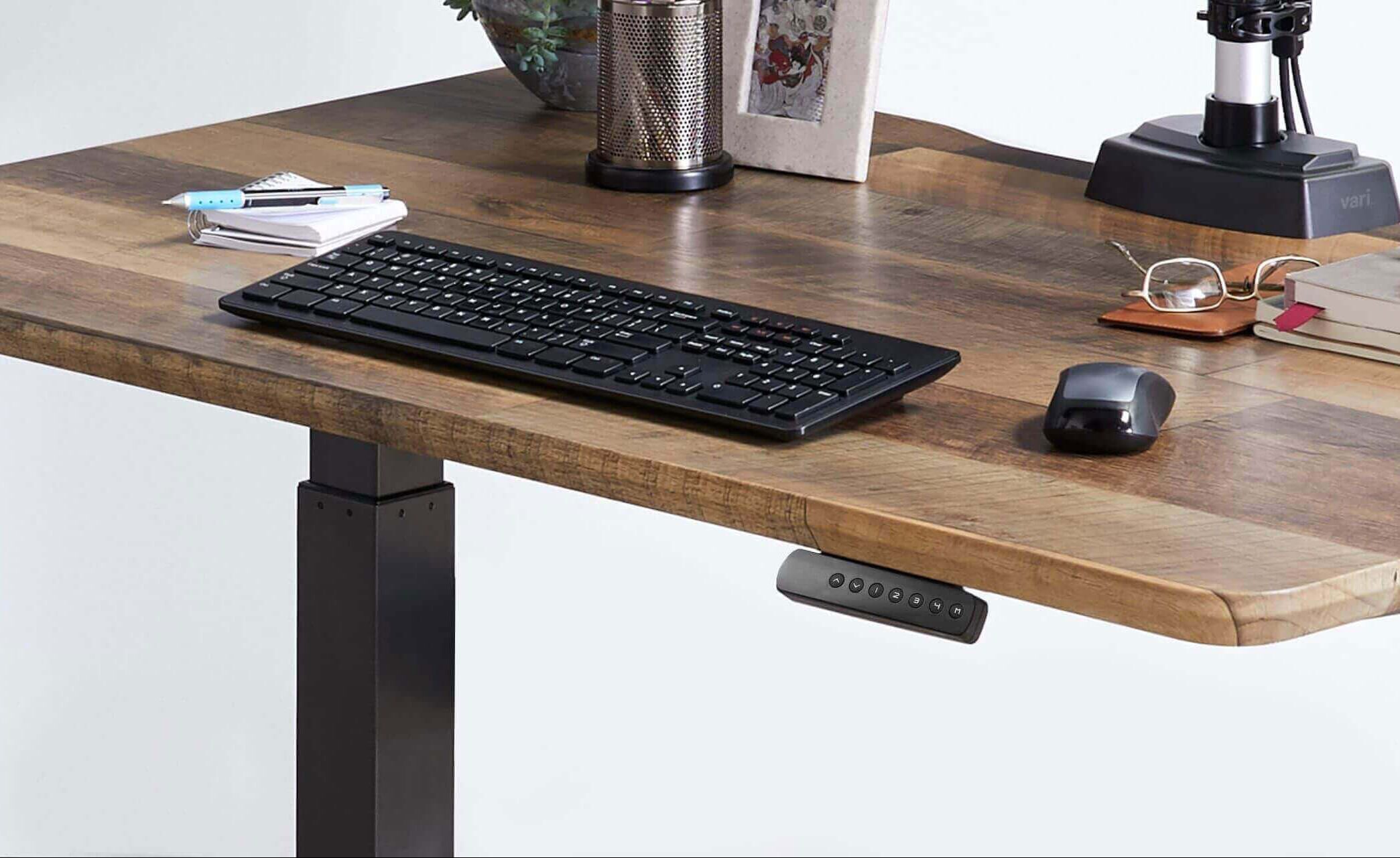 Attached to the right side under the table is a plastic control panel that is about 5″ in diameter and 3/4″ high. There are six buttons on it (1, 2, up arrow, down arrow, 3, and the letter S with a three-digit LED panel located in the center of the control panel itself). It is important to note that the panel can be pulled out and adjusted according to your preferences.
There is a cutout (which is 26 and ¾ inches across) at the back of the table that allows cables to pass down through the cable tray. The cable tray is also plastic (21 inches in width, 4″ wide, 4″ high with holes at both ends) and hinges at the bottom of the table. The tray is designed to keep the space free from constantly tangled wires of equipment you place on the table.
The steel legs of the Vari Electric Standing Desk are not centered and are located approximately 10″ from the back of the arms attached to the work table. They are connected by a metal track and secured by long levers. This type of construction stabilizes the electric desk well and allows the user to work comfortably at it in any position. Three smaller steel legs, of which the two large ones are composed, are part of the motor mechanism and slide in proportion to the fact that you raise this standing desk or lower it.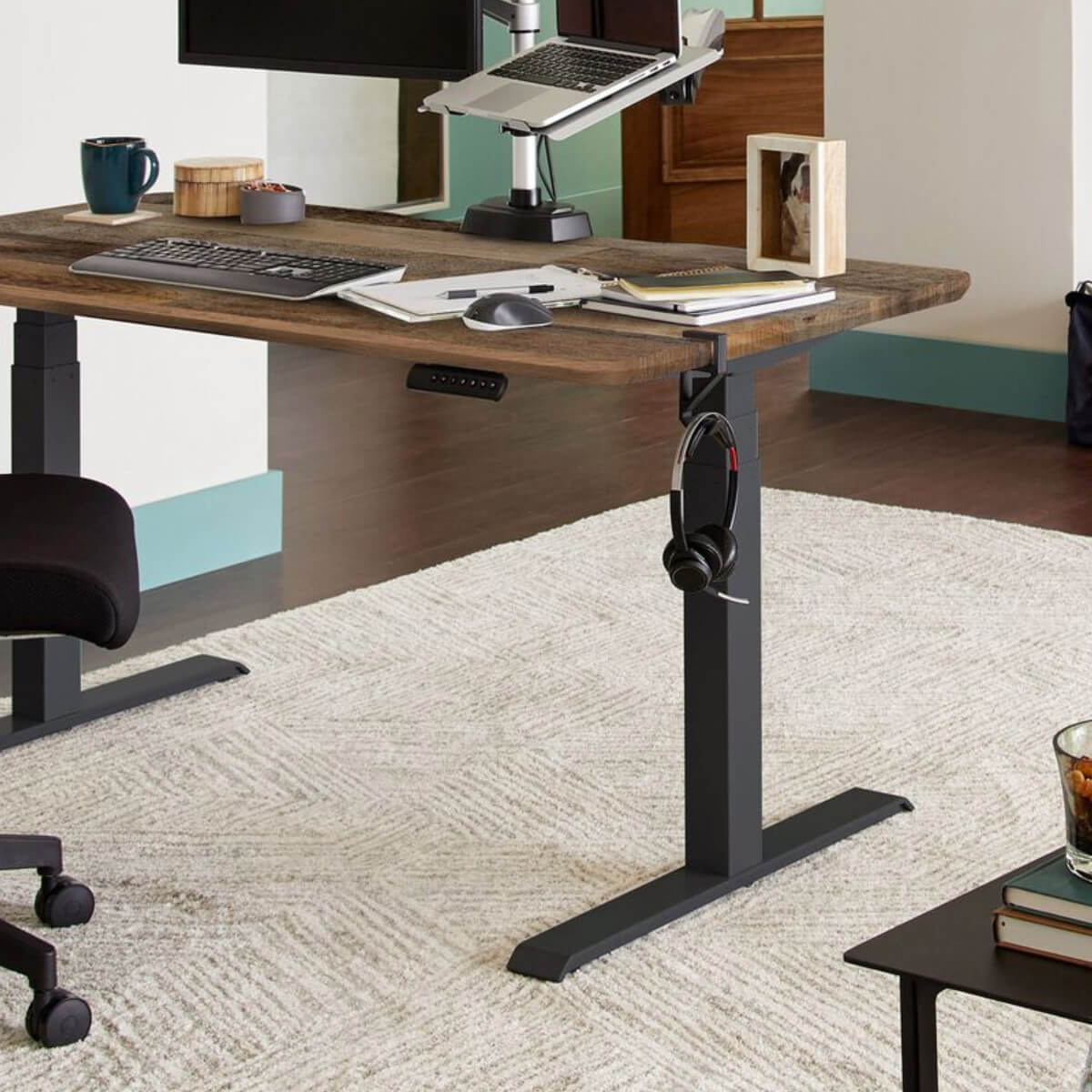 By the way, there are also very convenient hooks included with the desk, which you can use as a hanger for smaller equipment, headphones, or something like that.
The Vari Electric Standing Desk has many advantages. For example, easy and fast assembly, which takes no more than five minutes on average, or flexible height and a wide range of styles to suit everyone's taste. But along with this, it should be said that it also has disadvantages, like everything else on the market today.
Let's take a closer look at the evaluation of the VARIDESK standing table:
Pros:

High-grade stability under 45 inches
Five-year customer warranty
Wide height regulation scale
Has an integrated programmable switch
Fast build process
Client-oriented trouble-free return policy
Cons:

The top slides are 3D printed
Weak connection of the cross support and frame to the columns
Open worm drive and gear on the engine
High price for the middle class
Specifications
Details and Dimensions
Height: 25 1/2 to 50 1/2″ (65 to 129cm)
Weight: 141.5lb (64.2kg)
Surface: 60 x 30 x 1 1/4″ (152 x 76 x 3cm)
Leg base: 28 7/8″ (73.5cm)
Crossbar width: 45 1/4″ (115cm)
Materials
Solid metal one-piece laminate finish desktop
3-stage flexible legs (adjusts from 25.5" (64.5 cm) to 50.5" high (128 cm))
A steel stability crossbar
Other
Height parameters from 25.5" (64.5 cm) to 50.5" high (128 cm)
Desktop is 60" (152.5 cm) (W) x 30" (76 cm) (D)
Has a carrying capacity of 250 lb (113.4 kg)
Control panel with LED display screen
Has a low decibel engine/motor
UL-listed components
Cable tray included
Price
Mainly, the price on the American market is something about $650, which is a lot. But if you spend a lot of time at one place working, then most likely this sum is quite justified. Add here the cost of extra items such as a monitor bracket or a standing mat.
Honestly, there is a fact that smoothes the edges, an electric console delivered free of charge in 48 states, and it can be returned without problems if your expectations are not met.
Warranty
And eventually, the most anticipated and most pleasant part of the description is that since the year 2018, VARIDESK has changed the warranty period to five years instead of one year. Thus, absolutely all parameters and components of the electric standing table fall under the guarantee, so that you can replace or return them without any problems.
The Main Features and Benefits of Vari Electric Desk
The VARIDESK desk system with electric height adjustment can be summed up in two words: functionality and quality. However, each element and each component has its worthy characteristics. Let's discuss each point separately.
Packaging
As most buyers say, the Vari Electric Standing Desk has one of the best packagings on the market today, even though it comes in two boxes (desktop in one and the legs in another) and weighs a whopping 170 pounds. Therefore, before transporting the table to its destination, you should first think about the delivery method.
However, regardless of the company that delivers the standing table, it may still not be fully delivered intact. But you know what? It's easy to fix because a VARIDESK company with such a reputation as a great replacement system, you just need to make a call.
Installation
The only thing that can somehow discourage you when assembling is the installation of the desk in an upright position due to its weight. Otherwise, nothing complicated. The VARIDESK company has established itself as the best in terms of rutting together its products. It is super easy and fast and takes an average of five to seven minutes. It is important to note that they were the first to use the "no assembly required" principle. That is why customers choose this company when considering a suitable electric standing table. In order not to be unfounded, there is a video below where it is shown how to build such a table correctly and quickly:
There is one more thing that will delight every new owner. The company not only promises quick assembly but also puts all the necessary tools into the package, which of course, are branded and have the company logo on each of them.
Electronics
In every model of VARIDESK electric standing tables, there is an improved control unit, where you can find a single-board system inside. Single boards, unlike systems with multiple boards, are designed specifically for the product with which it is being used.
Compared to similar alternative boards, this one was mostly cleanly made. That is, very little caulk was used during its development and while fixing the components (not to mention the fact that caulk was also used for the capacitors). But even despite this, Kaidi Electrical still stands at the same position as such circuit boards as LogicData and Linak.
In other words, even though this PCB has been better designed than its predecessors, there is still work to be done by the developers and engineers in the future.
Best of all, this electric standing table comes with overload and anti-collision protection, which honestly doesn't work with light impacts. That is, it is inferior to those products that still have a security system and a software-based one-touch collision avoidance system.
Column, Foot, and Upper Frame Build Quality
It's no secret that such a table weighs a lot. Most of this weight comes from the upper frame and foot, which are constructed of thick steel to keep the desk stable. Compared to this, the column is not nearly as thick but still does its job well protecting the table from swaying or falling, alongside other electric standing table models.
Glide Systems
Sliding systems are designed to reduce friction between metal columns as well as a tighter fit, which greatly affects stability. The glide settings of the VARIDESK products are truly worthy. For each internal column of the Vari Electric Standing Desk, there are 16 polymer strips, which greatly affect the operation of all other elements and increase the quality of the structure as a whole.
Gear and Motor System
Despite all the advantages, this table has a small nuance. The table has two motors but moves only at 1.28ips, which is below average.
If you understand the engine system, it will be clear that the design was almost completely copied from the Linak DL4 column. The good news, however, is that the PU foam incorporated into the motor reduces the vibrations that typically occur in the DC motor boxes.
One of the problems with copying the old motor and column designs is that it is a faulty system. With an open worm drive, dirt can easily enter the engine system. And as you understand, it is not good at all.
But compared to the cheaper alternatives, this gear at least did not use plastic components to play a key role. So the gear itself is quite reliable and for sure is resistant to 250-pound loads.
Stability
There is no need to worry about the reliability of VARIDESK electric tables for standing work. These products will last a long time without losing functionality.
However, some disadvantages can be easily noticed when the table reaches a certain height. An example of such a drawback is the structural deflection of a frame, and this is all even though the table is equipped with a lateral support system. Reaching a certain height, it can begin to sway, but as a rule, this is not critical.
Performance
The table is a table. But if we are talking about the sensational Vari Electric Standing Desk, then it has a long service life and durability. After installing the desktop and all the necessary height parameters, you can utilize it for quite a long time without interruptions in the system. This means that all hotkeys will retain the specified criteria, yet there is one "but" clause. The digital number button must be held all the time while the table is in regulation mode. This, of course, is not a meaningful factor, but you must admit that it would be much more comfortable to set up a standing table with one touch.
When the table is fully lowered, it takes a little over ten seconds to raise it to the maximum. The desk is not noisy during the regulation process, so if you are afraid to be distracted while in the office, this will not be a problem for you.
Between the lowest and the highest height, there is a difference of 25 inches, which certainly shows that it suits absolutely everyone.
Ease Of Use
This table is very easy to use. To raise or lower the table to a height that would be convenient for you, you just need to hold the corresponding button, and the height will then be displayed on the panel. To save this result, press the S button.
Plus, there are also shortcut keys (displayed as 1, 2, 3) that you need to use for keeping the height in the position you want. That is, you first set the height for each position, and then the next time you press the shortcut key, the electric desk will adjust itself to your specified parameters.
Additional Standing Desk Accessories
Although this standing table as a console is a full-fledged independent workstation, there are also various additional elements being sold, which significantly improve the user experience. Here are some of the things you can buy along with the Vari Electric Standing Desk:
The soft and resilient anti-slip surface of the mat prevents the static load with which the whole body weight presses on the legs while standing.
Cable management power hub
For those who are tired of getting tangled up in wires that are stretched throughout the entire workspace, save time and nerves.
Sometimes comes with a headrest. But either way, it's great to sit down and relax a little while focusing on your tasks.
Designed and constructed to work in a semi-seated position. Reduces stress on the legs and spine, as well as back muscle tension.
Things to Consider Before Buying a Vari Electric Desk
The standing table from VARIDESK has many different functions, but its main feature is that you can sit and stand behind it, taking a comfortable working position. Moreover, it is also believed that such tables are more beneficial to health, and it is much better than sitting at the table in the traditional "bent" position for many hours a day (yes, prolonged sitting is very unhealthy). 
The VARIDESK electric table avoids the excess weight from permanent sitting. Unfortunately, the gym is not always able to completely solve this problem. Besides, people can skip workouts due to certain circumstances, and a standing desktop with an adjustable height is something that is always handy and brings real results. If your daily tasks mainly require working with a computer or papers, it is important to equip the workplace correctly.
Anyways, let us figure out in which cases you should consider buying the Vari Electric Standing Desk and when it is better to wait a while:
You should consider buying it if you:
Lead a predominantly sedentary lifestyle;

Get tired quickly at the workplace;

Want to prevent diseases of the legs and spine;

Want to stay toned even during the long-term work.
It is better to wait a while if:
For health reasons, you are not advised to stand for a long time;

Your overall work equipment weighs over 300 pounds.
Here are a few more points you need to mind when deciding to obtain an Electric Standing Desk:
Any height-adjustable standing desk differs from the standard one in that it can adapt to the owner's height. Therefore, it is essential to take into account the size of the work area you are accustomed to choosing the model that suits you perfectly.

All electrically height-adjustable desks come with a wide variety of accessories to enhance your comfort. Before going to the store or before shopping online, you should decide if you need them. The most popular additions include ergonomic supports, chairs, standing mats/balance boards, holders for system units, and elbows.

To correctly determine the height of the electric standing desk, it is worth starting from the height of the person, of course. And it is also worth thinking about the space where you want to place it and the permissible load (please, take into account the weight of all the necessary equipment for your comfortable work).

Every VARIDESK and other companies' products with electric height adjustment fits perfectly into modern designs and looks very futuristic. The modern market offers a variety of products, so choose wisely and bear in mind all the parameters so that it fits well into your interior.
Social Proof
Review 1

Review 2

Review 3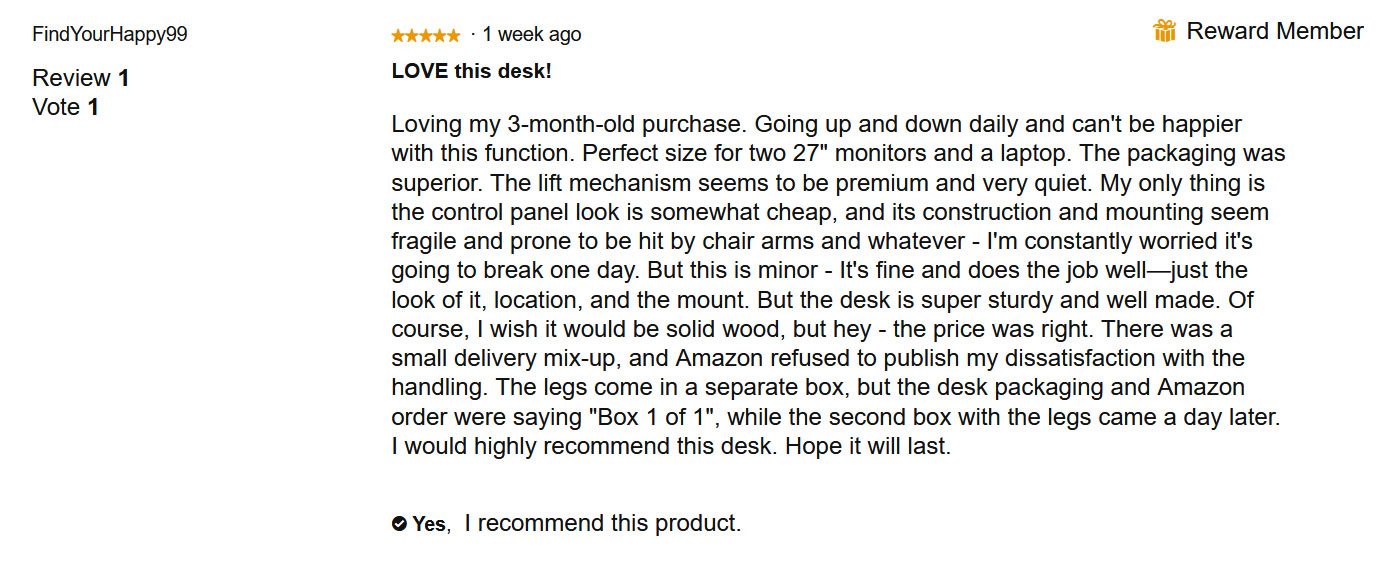 Questions and Answers About the Product
Can you buy the tabletop only?
The desk is one complete integrated unit. It does require assembly, but the mechanism that raises and lowers the desktop is in the telescoping leg mechanism, not the desktop, which simply attaches to the legs.
Does the bar across the middle interfere/cause problems while sitting at the desk?
It is not a problem. There is enough space to place your legs.
Can you install casters?
It is not set up for it, but you could design a caster set for it, and if it were on casters, the desk would not be as stable as it is now. You would have to modify the materials to install casters. If you need to move the desk, it is not that heavy. Although, if you decided to do this, please, do that as little as possible if you intend to add the monitor stands.
Does this package come with the monitor holder, as seen in the pictures?
No. The desk only comes with the original packaging which is described above. Every other type of accessory is being sold separately.
Conclusion
Vari Electric Standing Desks may not be suitable for everyone, but people who mostly work only standing or only in a sitting position would be pleasantly surprised by this acquisition. This multifunctional working desk will allow you to change position while working or in your free time. The standing table from the VARIDESK company looks great and combines an excellent proportion of quality and stability, as well as convenience and pleasant design.
Thanks to the wide range of adjustments and great return policy, you have nothing to worry about: you can try the standing table and form your own opinion, and then it's up to you to leave it or try something else.
But along with all the advantages, there are some disadvantages as well, and we tried to analyze them in as much detail as possible earlier in the article. Anyway, one thing is clear. This purchase option will certainly not leave you indifferent.
---