Flexispot Electric Sit Stand Desk Review
Flexispot Electric Sit Stand Desk
Overview
Lift type
Electrical
Material
Desktop is MDF, Frame is steel
Sizes Available
48×30", 48×24", 55×28", 60×24
Colors Available
Black, White, Mahogany, Deep Black, Maple, Marble Grey, Silver+mahogany
Weight
144lb
Weight Capacity
154lb
Where Is It Produced
USA
Shipping
Free to 48 states
Warranty
3 years
---
Many of us have to work a lot; therefore it looks quite reasonable to organize the working place as best as possible. What are the most important points to keep in mind in this connection? When you spend all your business day at the office, your working table becomes the most important player in this game. Perhaps, you are printing, or calling up your customers, writing or reading, or performing any other kind of work on the computer, anyway, you inevitably have to use a desk table.
At present, since remote work has already become an everyday reality, arranging the best workstation at home seems essential too. Whatever we do in the office or at home, we all certainly suffer from the lack of movement, sitting almost all day long. This passive lifestyle results in excessive weight or even obesity, and in the future, it can probably lead to several cardiac, neurological, spinal, and muscular diseases. Most frequently, sedentary workers suffer from various kinds of pain that certainly causes fatigue and reduces productivity and effectiveness of work in general.
To avoid these sad consequences, progressive mankind invented a standing desk. Using that simple but handy device, you can do the same work as before, but standing instead of sitting. Different companies nowadays produce a great variety of standing desks that can satisfy any taste and requirements. Apart from every possible specification, the standing desks can be supplemented with the training facilities like the treadmill desks or the under desk bikes.
In this way, it becomes possible to perform all the working duties with the same effectiveness, but standing or walking, pedaling, and even slightly running. This achievement sounds great but still has a reverse side. Standing all day long becomes a heavy burden for your feet and musculoskeletal system on the whole. It is known that the doctors recommend alternating the body position and various types of work and movement. Specifically, it is advised to spend an equal amount of time standing and sitting. Therefore an adjustable height standing desk appears to be the best solution, as it can be quickly and easily customized to any height you need, allowing you to change your body position from sitting to standing as often as you prefer.
The Flexispot Electric Sit Stand Desk was specially designed to ease your life, improve your health and optimize your working space. From the informational article below, you can learn everything about the characteristics and possibilities of this convenient workstation and find the answers to some frequently asked questions.
Product Description
The model range of these perfect ergonomic, reliable Electric Sit Stand Desks are designed and produced by Flexispot. This advanced brand provides the customers with a wide variety of convenient equipment, easily adaptable for any kind of office duties. And at the same time, it has a health improvement effect and helps to reduce the harmful impact of sedentary work.
Here you can find the standing desks, desk converters, the under desk bikes, and office chairs of any size, color, and technical features.
The main goal of Flexispot production is to offer all possible capabilities for transforming conventional facilities for the demands of the client and the environment. Thereby, the Sit Stand Desk supplied by the Flexispot has a lot of opportunities for various changes to contribute to the effective but harmless continuous work.
Using the Flexispot standing desk, you can easily change your body position from sitting to standing as quickly and as often as you need to feel comfortable and avoid pain and muscular spasms. Besides, due to additional customizable options available for some models, you can do it by just pressing one button!
So, this definitely advanced and best-selling product will change your habitual working style, your living environment, and your general health status if you only dare to obtain it. By the way, the price of this electric workstation is surprisingly affordable, and you even can choose the type that suits your budget best of all. It is possible to buy the smaller and simpler ones, or the standing desk equipped with more options and having various design opportunities. It all depends on your choice, needs, and possibilities.
Here we shall describe the peculiar properties of the Flexispot Sit-Stand Desk in detail.
The pros and cons, mainly characteristic for the Flexispot standing desks, are the following (may be different for various models):
Pros:

Wide table surface. The working space varies from 42" to 60" in length to 24-30" in width. You can easily accommodate all your working appliances, including not only the monitor or the laptop, but all your papers as well.
Variability of tables' sizes. On the contrary, when you have to furnish a cramped room, you have the opportunity to choose the smaller standing table.
Diversity of shape and design of your perfect workstation. There is a choice of shape, material, and color for any taste and habits.
Quick and easy height adjustment. The electric lifting system allows changing the table height from 28" to 47.6", with a speed of 1" per second, almost noiselessly, softly, and quietly.
The desktop remains stable even at the maximum height.
Reliable and durable construction, due to the steel frame and the profound desktop made of metal or solid wood. You can arrange your ideal working place on the Flexispot as it endures the weight up to 154 pounds.
Some of the models are equipped with remote control and preset opportunities. For instance, it is possible to tune a signal to remind you that it's time to change your position and the height of the table.
Attractive appearance and high quality for an affordable price.
Sufficient warranty for the frame and electric motor.
Cons:

This Sit Stand Desk is delivered in two packages that may come separately from each other. According to the customers' reviews, sometimes it takes a week or two to wait until the second portion of equipment comes. It causes some inconvenience, as you have not only to wait until your desired workplace arrives but also to store the first box somewhere.
In some cases, it is needed to drill the additional holes to assemble the whole construction.
For the same purpose, it may need two persons to participate in the technological setup process.
The Main Features and Benefits of Sit Stand Desk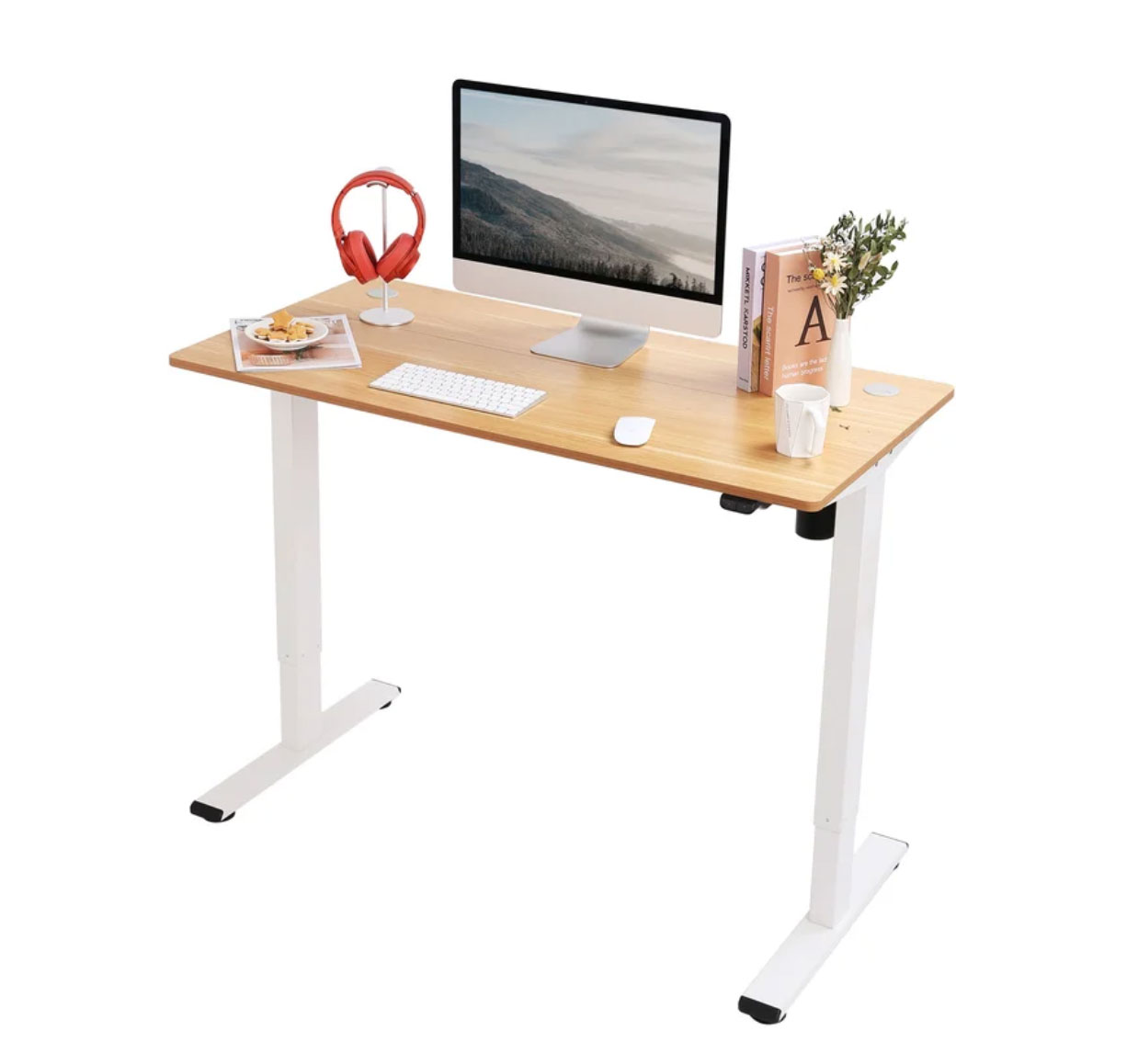 The electric standing workstations produced by the Flexispot possess a whole lot of useful characteristics and advantages, which certainly make them different from other standing desks of the kind. Some of them are already described above. The following peculiar attributes deserve our attention too:
You can change your body position from sitting to standing at the touch of a button, and it usually takes about 10 seconds.

Monitor arms for the electric desks are available in single and dual designs.

The Sit-Stand desks can be additionally equipped with under desk bikes to replenish your day with diverse movement. When you get tired of active motion and revert to the sitting position, just take this bike away from the table and press the button on the panel again. Only 10 seconds after, you can sit down in your ergonomic adjustable Flexispot office chair.
Additional Standing Desk Accessories
Any model of the Flexispot standing desk can be complemented and furnished with several additional useful appliances that will make your work easier, more comfortable, and healthy. You might consider purchasing the standing desk converters, under desk bikes, and chairs for different purposes.
As for the subsidiary equipment, you will certainly admire using the monitor arms, as well as the standing desk mats and chair cushions. Well, and to bring your place of work to the ideal, buy some mouse pads or paper shredders. Perhaps you need a magnetic board or a magnifying mirror? You have them at your disposal on the company's website. The Flexispot actually cares about your convenience and benefit and makes everything possible to offer you a maximum choice of everything you might need for your effective work and good health.
Things to Consider Before Buying a Sit Stand Desk
Let us start from the point that we intend to buy the standing desk to make our life considerably better. This highly progressive appliance, like the Sit Stand Desk, serves this purpose perfectly. However, as you plan to acquire something new and unusual, we recommend thinking over the following issues before making a final decision.
You undoubtedly need this height-adjustable table when:
Your work requires sitting all day long with very little movement.

You suffer from hypodynamia but do not have time or opportunity to attend the gym for regular workouts.

Excessive weight is your problem.

It is desirable to reduce the fatigue that you always feel after the working day.

You are constantly thinking about how to increase your productivity and effectiveness of work.

The pains of different origins or any other related diseases torment you regularly.

The idea to make your life more healthy and active looks very attractive to you.
The standing desk is not good for you, if:
Despite all the advantages of standing instead of sitting, it will be difficult for you due to your age, diseases, or doctors' recommendations.

You need to place too much heavy equipment on top of your table, and their total weight is obviously more than a standing desk allows you to carry.

The same problem refers to the surface these working appliances occupy. Though there is a good choice of spacious table covers, their size still has a certain limit.

The last but very simple reason for not buying a standing table. You are not obliged to stay sitting all day long, and you always have an opportunity to have a walk or alternate your activities.
Supposedly you have already decided that the Sit Stand Desk is the best remedy for a lot of problems and you will certainly buy it. The Flexispot offers a great variety of standing desks for your health and comfort, and to make a perfect choice, it is advisable to look around and answer some questions.
Some additional important issues to keep in mind in this concern:
The size of the workstation you wish to buy. Maybe a smaller one will be enough, and thus you can save not only free space but your budget as well.

Also, it is reasonable to consider the minimum and maximum height of your standing desk, as it may be different.

Try to imagine where you can put this furniture to fit the premises in general. You have the opportunity to choose not only the size and height of this high-tech table but the shape and color as well. This can be especially important when you plan to add this standing desk in the office, where you are already surrounded by other pieces of furniture and some of your colleagues.

You may also need certain additional appliances for your comfort and productive work. The Flexispot makes it possible to buy a whole variety of accessories and optional equipment to complement the Sit Stand Desk. For example, you can consider a modern adjustable office chair to have a rest after an hour of standing or even pedaling your under desk bike.
Social Proof
It's possible to describe more and more advantages of this Flexispot electric standing desk, but the opinion of the customers is no less important. Therefore we carefully analyzed many responses posted on the internet resources. Here we reproduce some opinions of users who have already obtained and started using this perfect healthy equipment.
Review 1

Review 2

Review 3

Questions and Answers About the Product
We receive a lot of questions from the customers, who examine the possibility to buy the Electric Sit Stand Desk. Also, some clients need technical support after the purchase, for example, concerning the assembly process or the warranty periods for different parts of the Flexispot desk. In this review, we submit to your attention some of the questions most frequently asked by our audience.
What is important to consider when choosing a standing desk?
You can really consider a lot of things because the Flexispot presents different standing desks and a good deal of additional appliances as well. First of all, we recommend thinking about the size and shape of the workstation. The maximum possible load is essentially important too.
How can I use this adjustable standing desk instead of my conventional working table?
This height changing desk is aimed at helping you to add some useful movement in your sedentary way of life and thus solve a lot of problems caused by sitting all day long. Using the Sit Stand Desk, you can not only work standing instead of sitting but also change your position regularly, as the therapists advise.
I need this workstation to improve my health, but our office is rather small. What can you recommend?
We offer an extensive model range of standing desks that differ in size and shape. Some of the desktops are spacious enough to accommodate two or even three monitors or laptops. You can choose the one that suits you best. Moreover, some additional appliances like single or dual monitor mounts or standing desk converters also may save some useful space and optimize your working area.
Is it difficult to assemble the Flexispot electric desk? I am not an experienced woodworker.
You may need the help of the second person, but the process itself is not complicated and does not need any special education or professional skills. Sometimes it is also necessary to drill the additional holes, depending on the model. Anyway, the package with the standing desk is always supplied with profound instruction, which is also available on the website as a video. At last, you always have an opportunity to call up the support service or email us any questions, whatever you may have.
Conclusion
Nowadays modern technologies offer a good deal of opportunities to improve our lifestyle and especially health. The Flexispot standing desk provides a perfect and widely available option to achieve a set of goals for an affordable price and without any trouble. Break up with inactivity, excessive weight, pains, and fatigue! Increase your productivity, activeness, and general tone! Get used to be always healthy, cheerful, and slim! The Sit-Stand desk of the Flexispot is just what you need to buy. You will certainly be satisfied with the high quality and immediate results.
---