Monitor arms earned their place in the ergonomic furniture hall of fame. It's hard to decide which is worth the money. This review will present you some of the best arm monitor models.
We've chosen four – each unique in some aspect. Ergotron LX easily passed the 10.000-cycle motion test, Humanscale M2 is extremely durable, Humanscale M8 has a tremendous weight capacity, and Ergotech Freedom Arm truly provides free, unrestricted motions. However, easy adjustability, mobility, appealing design and quality materials are some of the characteristics shared by these monitor arms.
Best Monitor Arms On the Market

---
Most capable and skillful manufacturers are constantly setting new and higher standards, so all that is left for the others is to follow these innovative pioneers. Or at least try to do so.
Not only did Ergotron LX, Humanscale M2, Humanscale M8,Humanscale M/Flex and Ergotech Freedom Arm succeeded in living up to the standards, but they also established some new ones.
Ergotron LX Monitor Arm
Ergotron LX Monitor Arm is the result of a 30-year long tradition in providing quality ergonomic solutions for office workers. Covered with polished aluminum, LX is a very elegant piece of equipment. Its two 360° rotating joints, 75° tilt and 360° rotation of the monitor's pan provide quite a delightful arm movement. This single monitor arm extends the screen up to 25", and reaches 13" in height. The weight capacity is quite satisfying – 20 Ibs. The mounting can be done with a clamp or a grommet. Ergotron LX gets along very well with some of the other Ergotron's products, like under-desk keyboard arm and lockable tablet mount. Additionally, if you need more than 25" extension, you can easily get extra 9" with Ergotron's extension tool.
Humanscale M2 Monitor Arm
Humanscale M2 Monitor Arm is a safe choice since it accommodates 95% of all single monitors on the market. M2 is a single monitor, sleek (1 inch thick) and user-friendly arm. Like Ergotron LX, it supports a maximum weight of 20 Ibs. Vertical height adjustment reaches 20", while the horizontal adjustment reaches 10". Humanscale set a golden standard in durability with their M2. Thanks to the innovative mechanical spring used instead of common gas cylinder, this desk monitor arm is highly resistant to failure. A 15-year, 24/7 warranty support is providen by the manufacturer. The installation process is very simple, and the mounting can be done with a clamp or a bolt-through method. Another great and innovative feature of M2 is the environmental aspect. With 99% recyclability rate, M2 is eco-friendly product.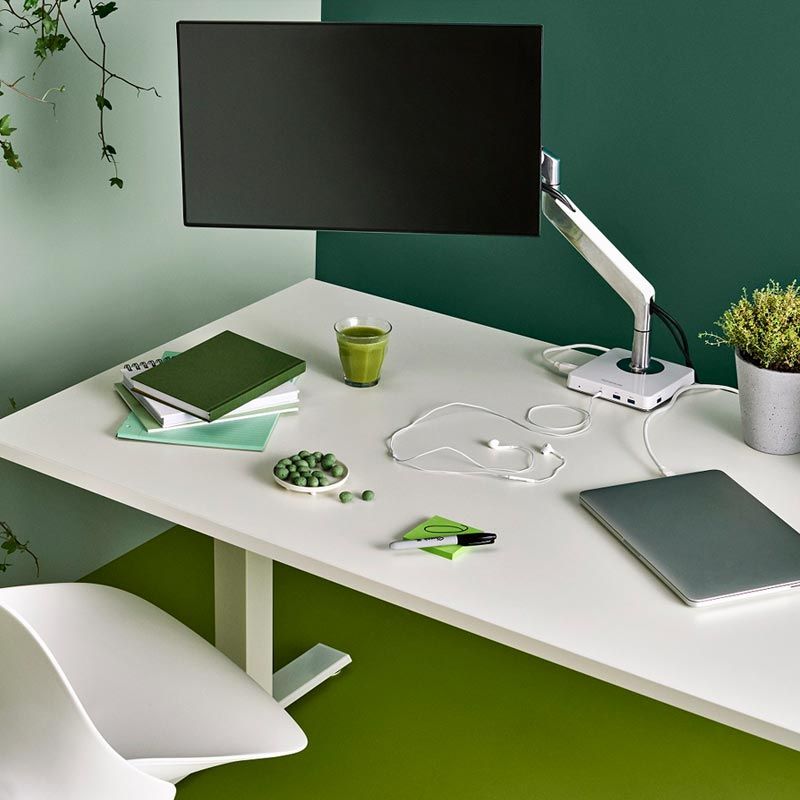 Humanscale M8 Monitor Arm
Humanscale M8 Monitor Arm is closely related to M2. They share an elegant and sophisticated design. What distinguishes M8 is the capacity of supporting twice the weight – up to 40 Ibs. This kind of construction can easily support two monitors. By adding crossbar support, the user can change from a single into a dual version. The combination of friction axles and an internal counterbalance mechanism resulted in smooth height and depth adjustments. M8 allows 22" horizontal extension and 11.5" vertical extension.  Like with M2, clamp mount and bolt-through are the mounting options. M8 accompanies M2 as a faithful follower of the ecological standards and is 99% recyclable. The users also love the 180-degree stop mechanism, which prevents over-rotation by locking the position.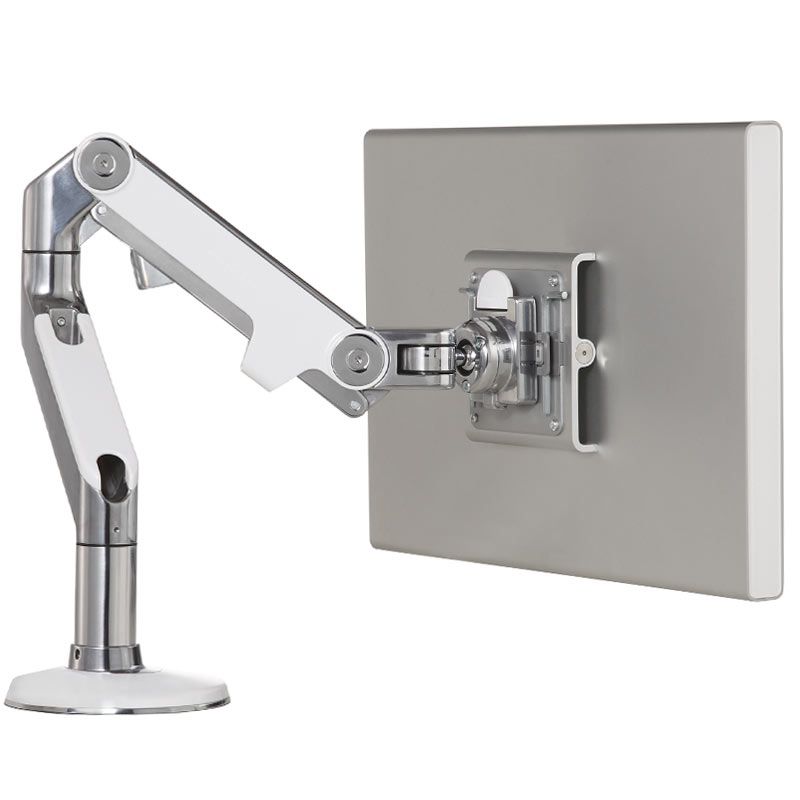 Ergotech Freedom Monitor Arm
Ergotech Freedom Monitor Arm looks rather simplistic but can improve any workstation by elegantly holding the monitor and providing the floating effect. The Freedom Arm supports weight which ranges from 4.8 Ibs to 17.8 Ibs. A 360° rotation allows a wide range of motion. It is a highly adjustable monitor arm – it tilts  90° up and 45° down. The arm lifts the monitor up to 14" and extends 24" in depth. The users can easily position the display any way they like. Ergotech's Freedom Arm isn't beloved just by office workers. By supporting large screen monitors – 27", it is ideal for movie viewing. The mounting is done with a clamp, but there is also a grommet mount available as an accessory add-on. Stability and flexibility are noticeable aspects of this ergonomic equipment.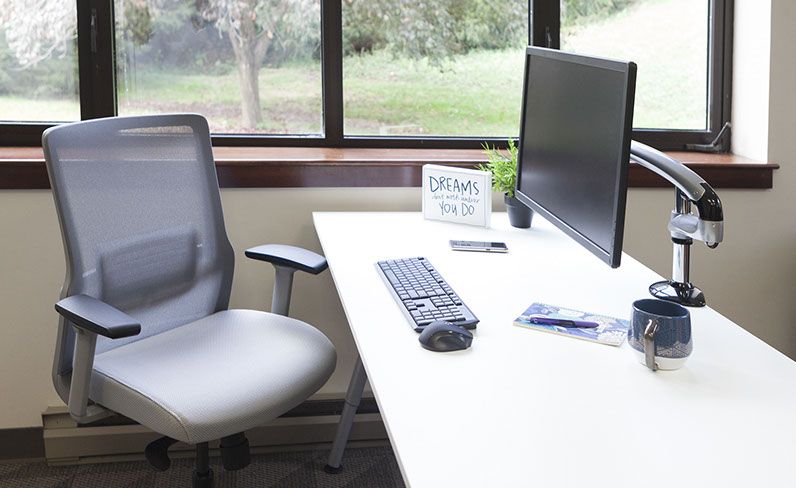 Humanscale M/Flex Multi-Monitor Arm System
Humanscale M/Flex Multi-Monitor Arm System is an innovative solution that allows users to multitask by using multiple monitors at any given time. The seamless design of the system conserves space as it allows up to 6 screens to be mounted on it at one time. Each screen, which can be attached/detached easily, can have a maximum weight up to 20 lbs. It also offers some advanced features through which users can increase their productivity in a customized environment. The monitor arms can be rotated and height-adjusted according to user preferences. Many different accessories can be used with this system to enhance one's experience further.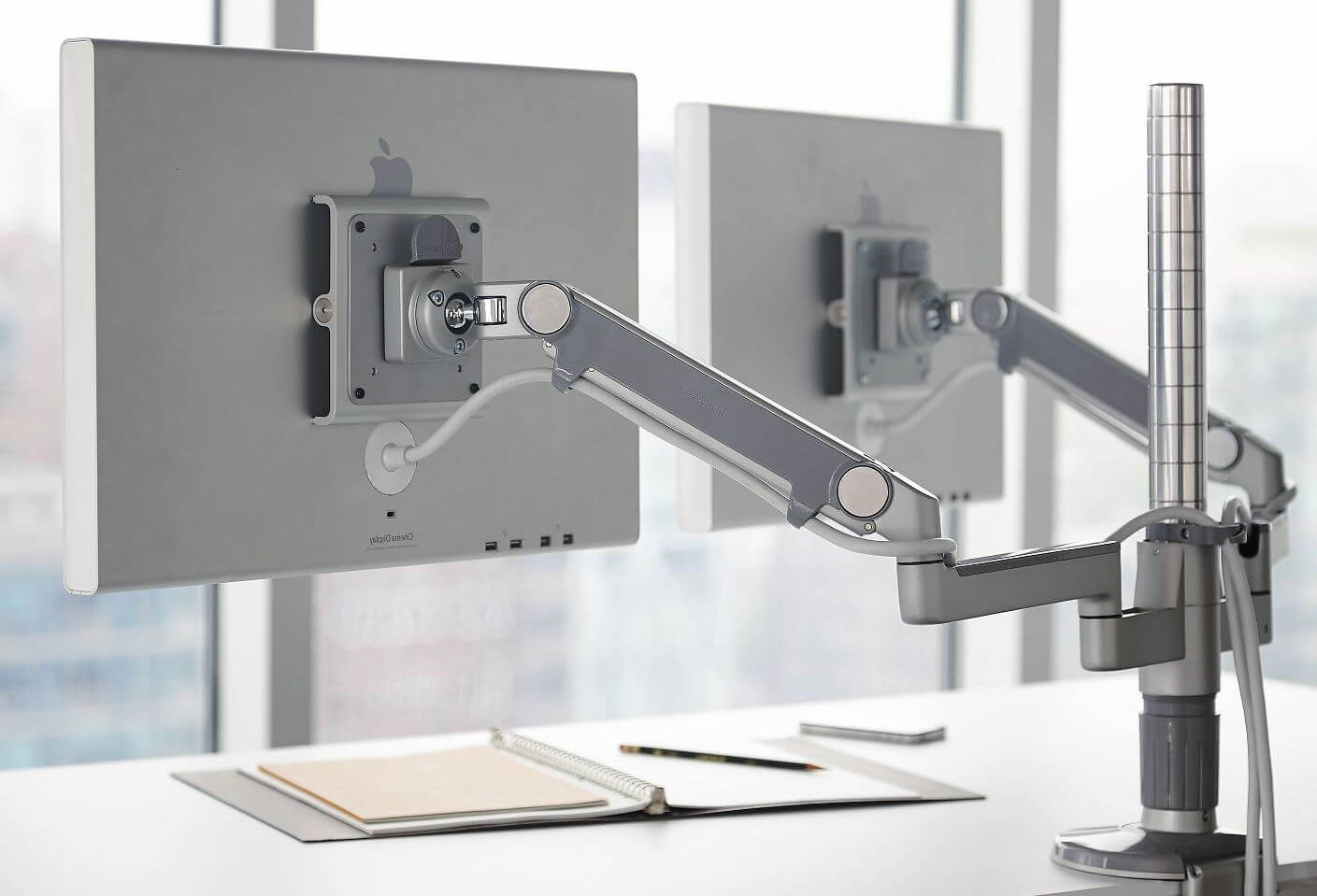 Monitor Arm Buying Guide

---
If you are thinking of buying a monitor arm, you are probably quite familiar with neck and back pain caused by constant efforts to find a suitable position on your desk. You also know it is difficult to do so with standard computer monitors. This guide should help you gain insights in what exactly is a monitor arm, which types it includes, and which criteria you should pay attention to when selecting the perfect arm for your needs.
What Is a Monitor Arm?

---
Think of it as a helping hand in performing the daily tasks. It is a piece of ergonomic furniture, designed so it can accompany the user's specific needs, by offering a semi-permanent holder for the monitor. It is mobile in every direction, so by moving it, the user places the computer monitor in the most favorable position. Extra free space on the desk is also an important benefit.
So why would you need one of these? We'll answer this question with another question – Why would you need a healthy posture? Speaking in medical terms – If vertebrae are constantly under pressure from tilting your head and body, the blood vessels surrounding the spine can fail to provide blood supply to the muscle cells. Thus, the body will experience a lack of nutrient and oxygen.  This sounds serious, and it is. One of the ways to prevent this is to get a monitor arm which will relieve the pressure on your neck, back, and eyes.
Types of Monitor Arms

---
The market is pretty vivid. There is a whole palette of different models, and it's not an easy task to choose just one. First thing's first, let's see the bigger picture as a starting point – Which types are there?
Number of Monitors Supported
Single Monitor Arms
Most commonly used – they work well in both home and office environments. By connecting your monitor with its new friend, the user can move it horizontally (also in depth) and vertically.
Dual Monitor Arms
This is an ideal solution for those who need two monitors for their work. Media and designing are much easier to do with two screens. Each arm can be independently adjusted. Newer models enable the user to perfectly align both monitors.
Some models can be transformed from a single into a dual monitor arm, by adding a crossbar.
Triple Monitor Arm
Triple versions truly make a working station which includes three monitors. Besides functionality, the users can also enjoy in extra free space on the desktop. Like with dual monitors, each of the three is separately modified and aligned. Gamers and people involved in the multimedia industry love this feature.
Mounting Options
There are different desk mount monitor arms. Read on to find which mounting options are offered on the market.
Clamp Mount
Clamp mount is the most popular option. Clamps get along well with most of the desks and monitors. By increasing and decreasing the clamp opening, it is easy to find a proper width. The clamp is easy to install and isn't aggressive to the surface of the desk.
Grommet Mount
Grommet mount accompanies desks which already have a built-in wire hole. The holes are usually wide enough to support a grommet, which will then efficiently and quickly secure the stability of the entire construction.
Bolt-through Mount
Looks the same as grommet mount. Although this method also provides stability, it is least preferred by the users. The reason for this is that the bolt-through method requires drilling a hole through the desk.
Wall Mount
Wall mount found its purpose in many different offices, healthcare, and financial settings. The installation and de-installation process is pretty simple, based on a DIY system.
Rail Mount
The rail mount is suitable and very convenient for those who need to keep an eye on more than three monitors, like people involved in surveillance, security, etc.
Monitor Arm Stands
This is by far the least invasive, portable and easy to handle desk mount option. No pressure on the desk and no drilling required. However, stability comes at stake with monitor stand arms.
Although most of the products on the market have at least a clam and a bolt-through as a mount option, be sure to check before purchase.
How Do We Review Best Monitor Arms and Mounts?

---
You must admit it is not an easy task to choose only one monitor arm model with so many on the market. A comprehensive study supports every review we provide. But how do we choose models which we review? To be honest, some companies do have good marketing. While looking at certain commercials and reading some reviews, you get the impression that this mechanical extension is doing all the work itself. The users can sit back, chill out and relax in the meantime.
Of course, we know better but to believe in fairy tales. Instead, we focus on the user's experiences and rating. If the users are satisfied and truly got what they paid for, it says a lot about a specific model. Unsatisfied users will not spare negative critics. This helps in narrowing the choice of models we test by ourselves. Besides the user's reviews, what other things did we consider while creating the best monitor arms review?
Ergonomics: Of course ergonomics is the first and foremost criteria. You don't want your ergonomic furniture to fail in its primary function. It should enable the user to sit in a position which suits him/her the best. A good model alleviates neck and muscle straining.
Adjustability: If the adjustment takes a while, the users usually get annoyed and give up. It is very important that the movements of the arm go smooth and easy so that work doesn't have to suffer.
Mobility: 360° rotating wrists allow the user to move the arm in every direction.
Height and Depth Range: The monitor arm should reach certain height and depth. Only this way the user can position the arm correctly.
Weight Capacity: The weight of the monitor has to be supported. Weight range differs depending on the model, especially if there is a dual monitor option.
Construction: Materials used in the manufacture play a significant role in the overall durability. High-quality aluminum and steel guarantee a long life.
Design: We do not underestimate the importance of an attractive design. The best looking models are sleek and elegant, easily fitted in different working environments. Some models have an integrated cable management system, which gets the cables out of sight.
Additional Features: Some models allow handy add-ons, like notebook holder, docking station, VESA plates, etc.
Installation: Easy, simple, DIY installation process is a big plus.
Stability: No matter the mounting option, the construction has to be stable and keep the starting position. If the clamp, grommet-mount or monitor arm stand are good, the base of the arm shouldn't move an inch.
Shipping: Shipping time varies greatly. The faster, the better.
Warranty: High-quality products have a longer, 24/7 warranty. Poor construction is often associated with just a few months long warranty.
Value for Price: High price must be justified by high quality.
If one decides to buy this ergonomic arm, it is important to carefully consider the options. A customer should know how many monitors is expected for the arm to support. Also, the dimensions of the monitor and the depth of the desk are very important. With these numbers in hand, it is much easier to find a suitable model. The four models from our best monitor arms list successfully accompany the demands of a great number of users and are compatible with over 90% of the monitors on the market today. The choice is entirely up to the user and his/her requirements.