Jarvis Standing Desk Review 2021
Jarvis Standing Desk
Overview
Lift type
Electrical
Sizes Available
30×27", 36×27", 42×27", 48×30", 60×30", 72×30″
Material
Desktop is MDF, Frame is steel
Weight
66 lbs
Lifting Capacity
350 lbs
Colors Available
Black, Silver, White and Red
Where Is It Produced
USA
Warranty
7 years on frame, electrical, and mechanical components
Shipping
Free to 48 states. Shipping to Alaska, Hawaii, and Canada varies
---
We all know the health benefits of standing from time to time, especially when our work involves excessive use of computers or sitting down most of the day. This is especially true for home-based jobs and those in customer service industries where standing desks become a health necessity. I've tried the Jarvis Standing Desk for a few months now, and I must say that it's definitely competition for other famous desks like the Uplift Desk, which I discussed in another review. Is the Jarvis Standing Desk the best electric standing desk out there? Well, for me, the latest version of the Jarvis desk passes my review checklist, but there is a lot to say about its pros and cons. The following review will show you what I love about the Jarvis standing desk and why its features make it the best standing desk for most people.
Things to Consider Before Buying a Jarvis Desk
Standing desks are created for people's comfort and to reduce the need for sitting if you're working for many hours in a row. If you wish to stay active and reduce fatigue, I think you should consider this table as one of the most viable options.
You might want to buy a Jarvis standing desk if you're:
Looking to reduce the need for sitting when working at a desk
Want to stay active and reduce fatigue while working
Suffering from back pain as a result of sitting at your table for long hours
It's better to avoid buying this product if:
You're an elderly person who is used to sitting at your desk because it would be hard for you to work while standing.
Due to some health issues, it is not recommended for you to stand for a long time.
Your table essentials (computer monitor, printer, lamp, books, etc.) have a cumulative weight of 350 lbs.
Think about the things listed below before buying the Jarvis standing desk:
Determine the size of your ideal workplace to understand what model to choose.
Consider the overall weight of things that will be on your table (computer, laptop, etc.) because various models of this desk have different weight capacities that must fall below 350 lbs.
Consider where you will put the table and make sure it will fit the space.
Consider the maximum height of your future desk (this desk has various options for the desk height).
Take into account the design of your future table (it's possible to choose various colors for its legs and desktop to fit your home or office interior).
Take your time to figure out if you need a chair, mat, balance board, arms for monitors, or any other additional accessories on your Jarvis desk.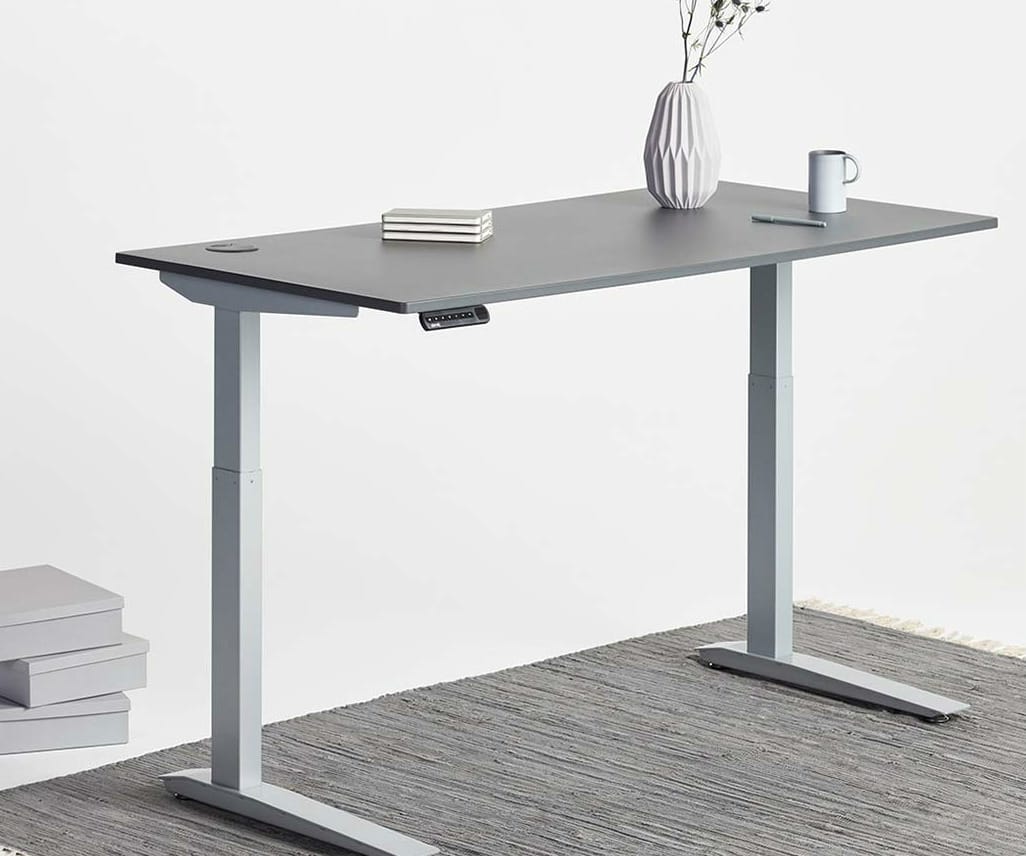 Product Description
This standing desk is designed by Fully, an Oregon-based store that offers ergonomic and affordable home and office furniture to customize your workplace. Thanks to its standing height being adjustable, you can easily cycle standing and sitting phases during your work, which is important for your health and comfort. Jarvis electric standing desks are a combination of great design, reliability, functionality, and comfort.
Jarvis standing desks can definitely help make a difference if you experience pain or discomfort while working at a standard sitting table. If you cannot bear that neck or lower back pain or just want to stay active while working at the desk, you can convert your workplace into a standing workstation with a press of a button! Of course, if you cannot stand for a prolonged time due to health reasons, you should stick to a standard table. Let's take a closer look at the Jarvis table's features below.
Pros:

Adjustment range is 26"
Recommended weight capacity is 281 lbs.
Maximum weight capacity is 350 lbs. as advertised
Adjustment speed is 1.52 inch/sec
7-year warranty on electronic parts
Varied colors for the desktop
Smooth surface with an ergonomic structure
Eco-friendly used materials for the desktop
Responsive customer service team
Cons:

Low-quality control box electronics
There are stability issues starting from 36"
Has difficulty lifting 350 lbs
The desk still moves for some time after releasing the button
White grease on its legs
Has no cross support, so the legs tend to wobble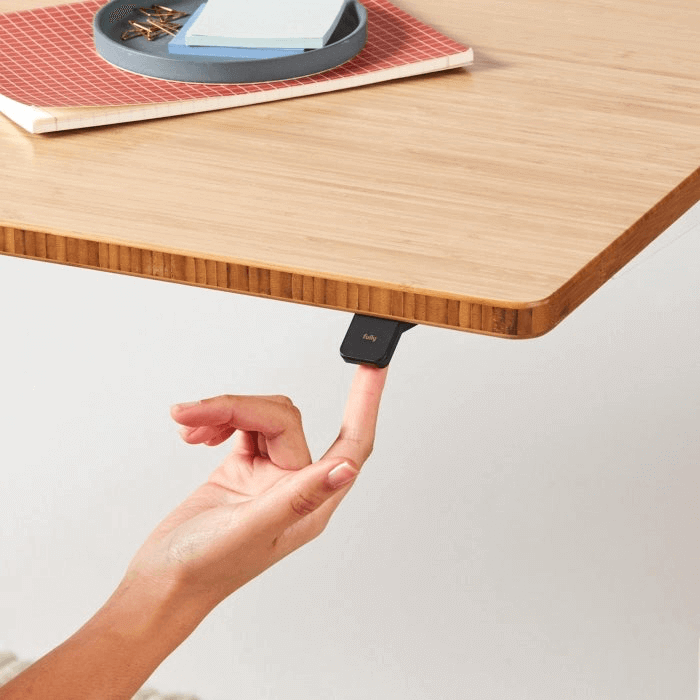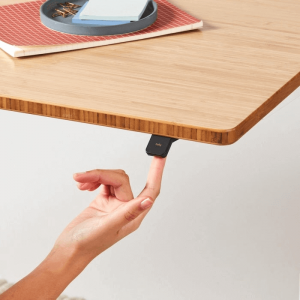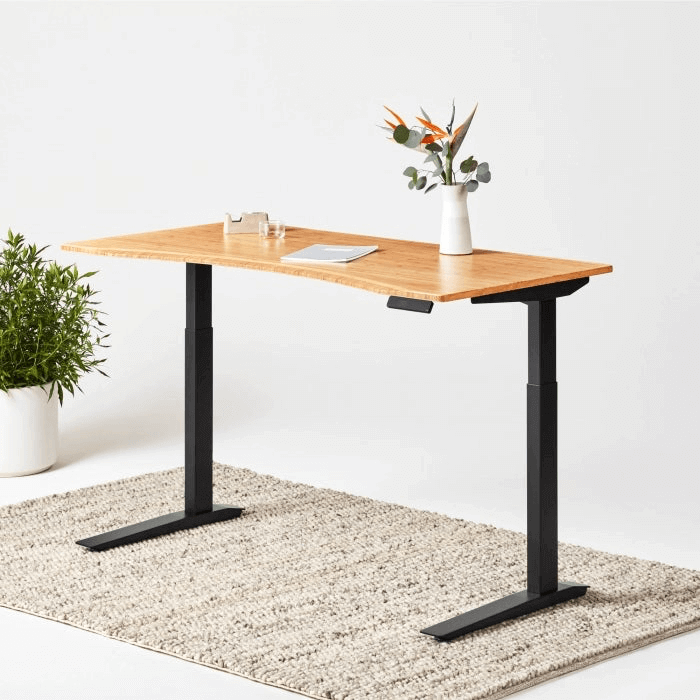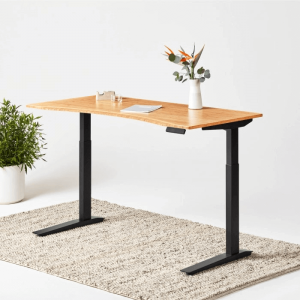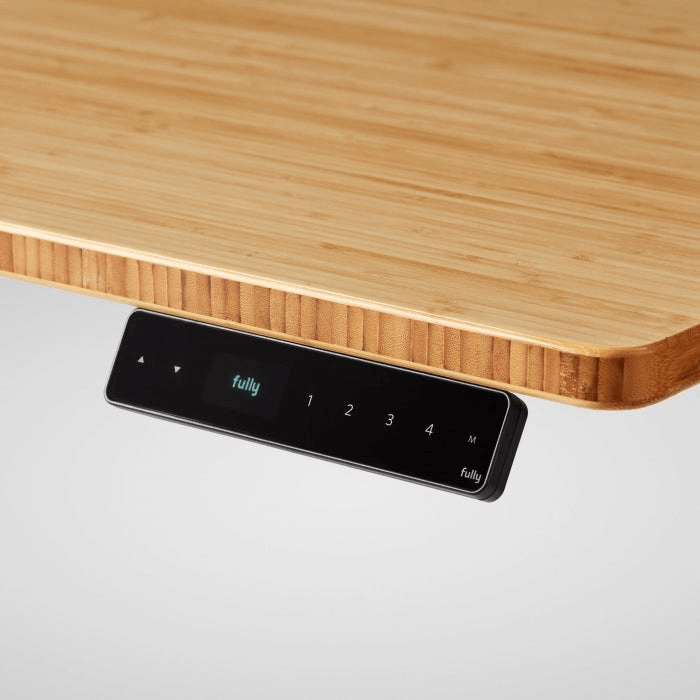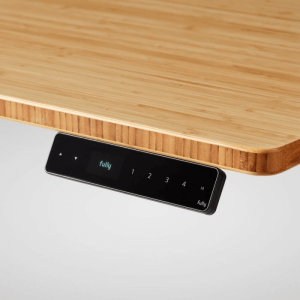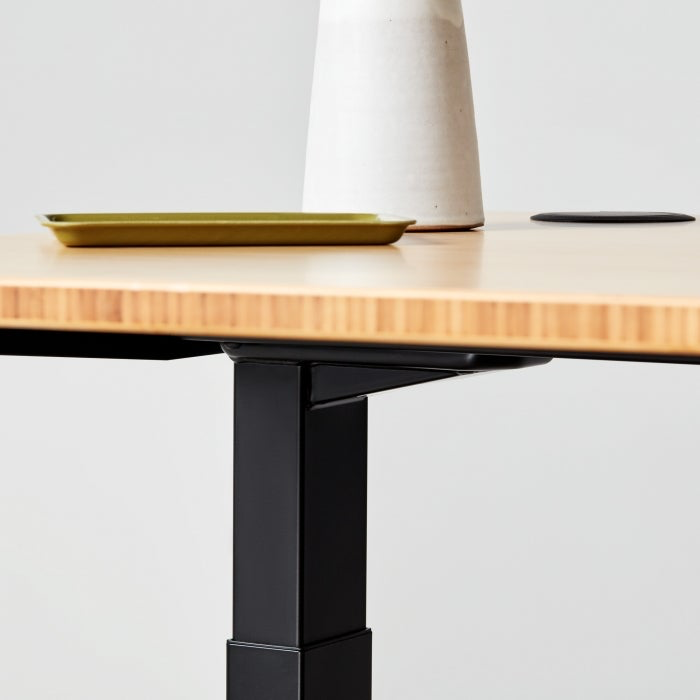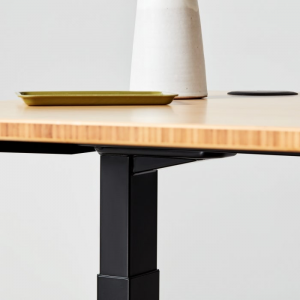 Further details of this product like design, electronics, add-ons, and alternatives are discussed in the rest of this review.
The Main Features and Benefits of Jarvis Desk
The Jarvis electric desk has a bunch of useful features to customize your workplace and make it more comfortable. The following review will discuss each detail thoroughly so you can make better decisions before you go electric standing desk buying.
A range of various options for the desktop
You can select the most suitable finish, size, and shape of your desktop. The top finish is made from top-rated, eco-friendly bamboo and available in two colors: natural and dark. Depending on your workplace size, it's possible to select from seven variants of desktop dimensions (30''x24'', 36''x24'', 42''x24'', 48''x30'', 60''x30'', 71''x30'', and 78''x30'').
There are two shapes to choose from. If you are in search of a flat and continuous surface, pick a rectangular top. If you want to have better wrist support and the ability to get things from far corners of your desk, a contoured top might be a better choice. However, while its weight capacity is 350 lbs, it's best not to fill the desktop with too many items so that its adjustment speed won't get affected.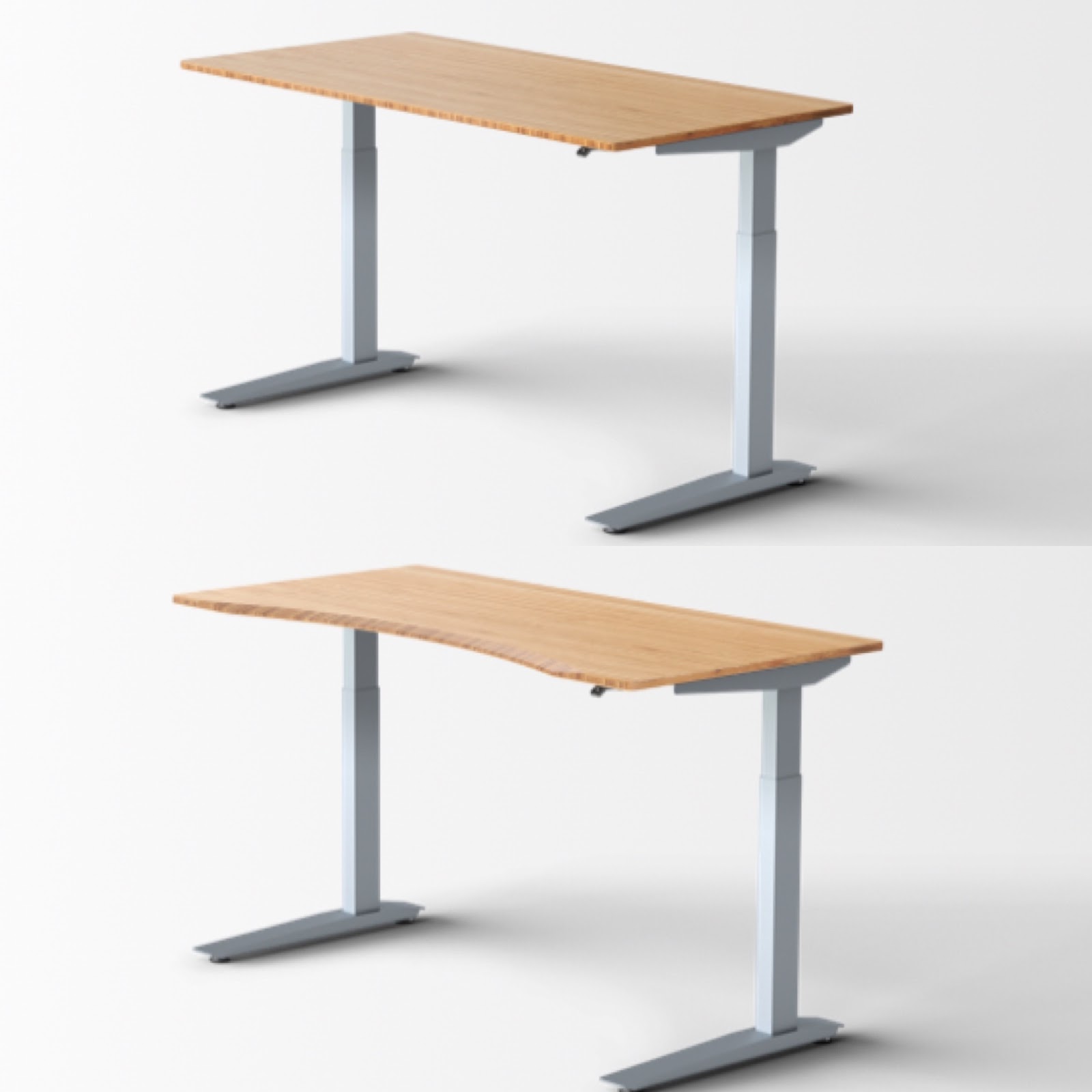 Grommet holes
Larger tops have two holes for wires on the back right and left corners, so you can connect your devices easily. The smaller desk is available with a single-drilled circular opening situated on the back center. All of the holes are about 3.15" in diameter (80 mm). You can also choose between white and black covers that are 3.75" (95 mm) across.

Above-desk power
When you work at a desk, it's important to have all of the needed outlets and ports to connect your devices. You can get easy access with powered grommets that have 3 outlets and 2 ports: one USB-A and one USB-C charging port. It can be quite awkward to crawl under your table every time you need to connect a device, so thanks to the clamp-mounted surge protector from Fully, you can work with comfort. It's possible to choose from a black or white powered grommet depending on your preference.

Desk frame options
You can choose from four color options: black, white, silver, and alloy. The latter is a special edition finished with an automotive coat. It displays a steel-like texture, color, and surface, which is also smooth to the touch. It also has welds and heat marks, imitating raw steel. This range of colors allows you to choose the most suitable look to fit your style.
The lifting capacity of the Jarvis is 350 lbs. Depending on your height, you can choose between two options: a mid-range option that can be adjustable within the height range of 29" to 48.25" and an extended-range option that has an adjustment range between 24.5" and 50".
Despite the powerful weight capacity, the desk frame deviates from normal standing desks since it lacks the traditional cross support that would hold the desk securely in place as it adjusts its height. When this happens, the standing desk tends to wobble. While this is a common problem for electric desks, it can still make its user question the product's durability. Comparing it to our Uplift V2 review, which boasts a corner wedge that secures the tabletop relatively more firmly in place, the Jarvis desk falls behind with its lack of frame support.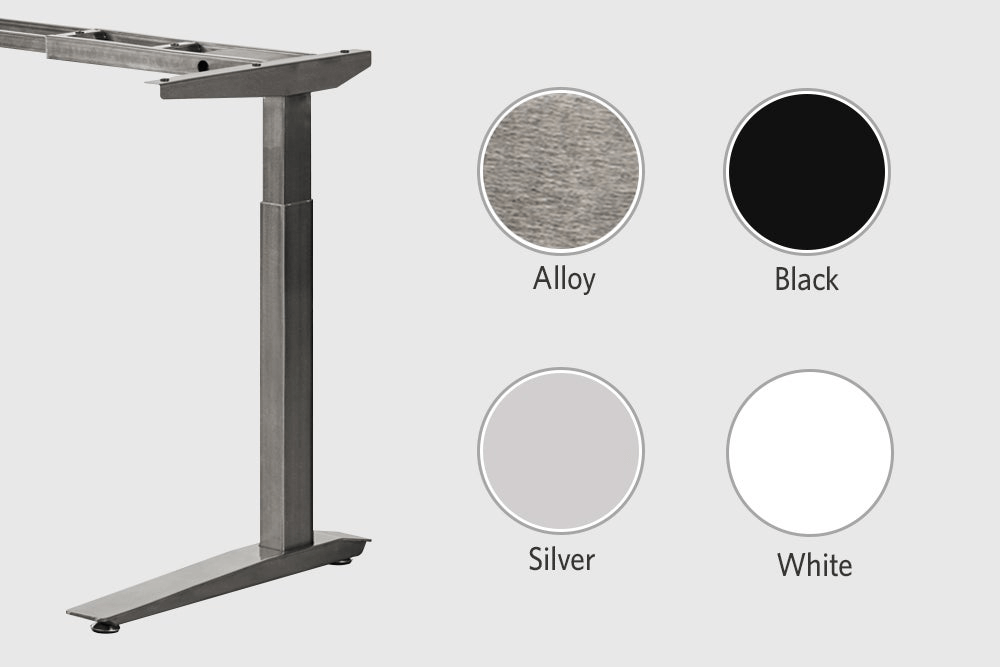 Custom handsets
Just push a button to adjust your standing desk easily! You can select from custom handsets of two types. If you're planning to just move your desk vertically and don't need any extra features, pick the up-down toggle handset (its size is 1" x 1"). With this simple handset, it's quite easy to adjust your desk—juts press it down to lower the desk and lift it up to raise it.
The second option is the OLED-touch programmable control box (1.3" x 6") that has an indicator screen and gives you access to some additional functions. This panel is a must-have when the table is used by more than one person. You can save your individual adjustments as presets and set the height as soon as you need it using just one button. One thing that's just a bit off about the control box is that it uses excessive amounts of caulk to hold low-quality wiring in place.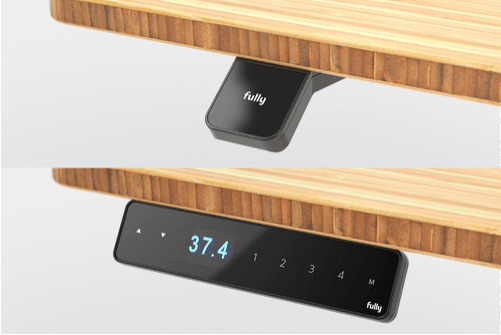 Custom chairs
When you sit a lot at a desk, you may feel discomfort in your body. This is how problems with the neck, back, hips, and spine start manifesting. You might also feel like you have no energy to fulfill all your tasks. During work, it's important to feel comfortable. You can select a perfect chair to work in tandem with the standing desk keeping you in good health and providing comfort. All of the chairs are made from soft materials and would be a great addition to your workplace.
There's a great choice of standard ergonomic chairs with a traditional look to provide you with comfort and movement at your workplace:
Capisco Chair (middle) — A comfortable and ergonomic chair with upholstered back and seat.
Capisco Puls (right) — It's a narrower chair compared to the classic Capisco with a plastic seat that has a special cushion to bring you comfort even when you have to work for many hours in a row.
Regeneration Chair (left) — A must-have if you want to change your sitting positions easily while working. This sustainable chair will provide you with decent comfort.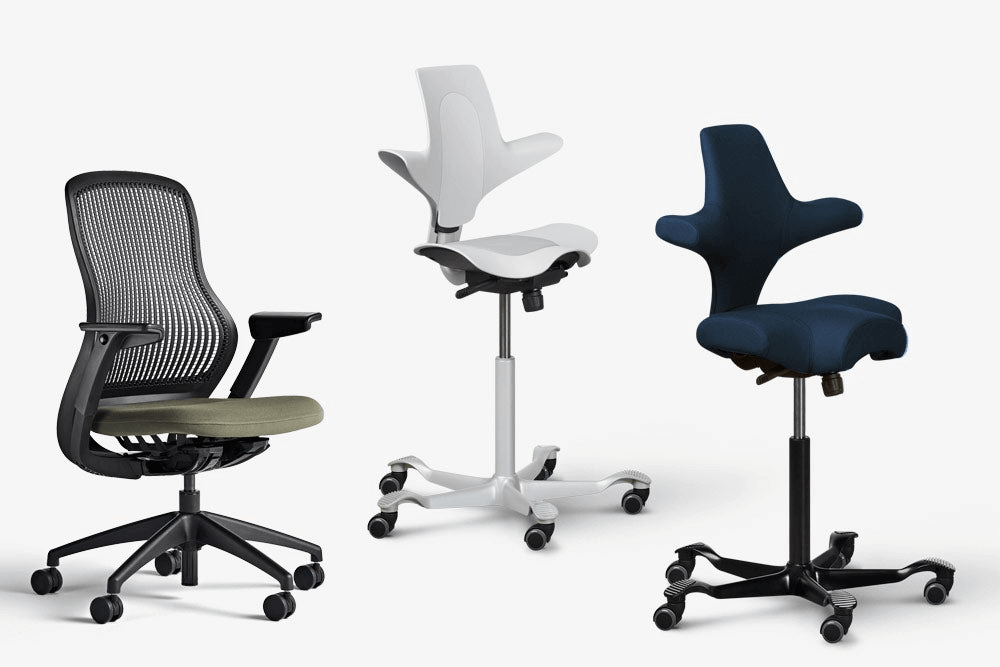 You can also select a perfect pair to your Jarvis desk from these supported standing comfortable chairs:
ILOA (right) — This is a saddle-type chair that helps to reduce back pain by placing your spine back to its natural curve.
Luna (left) — A modern-looking stool in various colors will provide you with the needed support and comfort and will be a great addition to your workplace.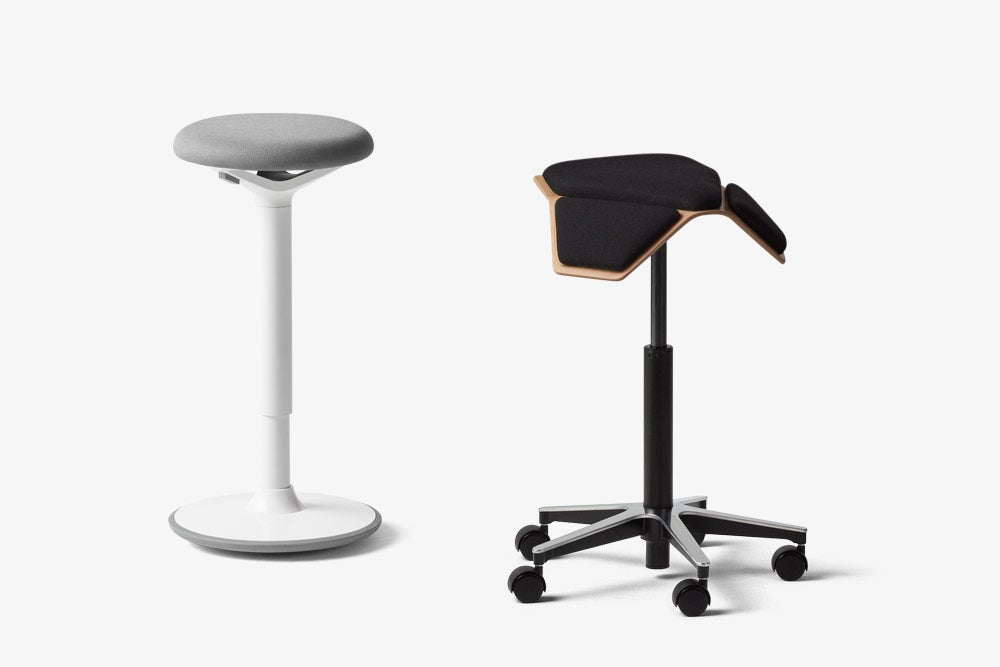 Additional Standing Desk Resources
Comfortable standing mats and balance boards
You can choose from a variety of balance boards and mats to help your body stay balanced, comfortable, and energized. As part of my review process, I've included helpful add-ons that you may want to consider. In the list below, you'll see the best additional accessories for your standing desk:
Stand Mat. It's a simple version of a mat in black to give you all of the needed comfort during work at your standing desk. Thanks to supportive foam, your body will be well-balanced. Size: 30″ L x 18″ W.
Topo Mat. If you want to get a table wider than 42", it might be better to combine it with this mat. Your calves and ankles will get natural movement like you're on a slow stroll. Topo is available in two sizes (standard and mini): 29" L x 26.25" W and 25.2" L x 19.2" W.
Muvmat. This mat has special hidden contours that imitate forest roots, branches, and rocks to give your feet a good massage and bring energy to your body when you're standing at your workstation. Size: 36″ L x 19″ W.
Tic Toc Stand. Thanks to this standing board, your body can move when you shift your weight front to back or side to side. Size: 17.6" L and 11.5" W.
Floatdesk Balance Board. This helps to strengthen and stabilize the muscles of your knees, hips, and core while you're standing at your Jarvis desk. Size: 29.5" L and 12.2" W.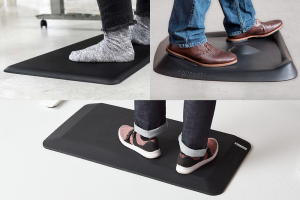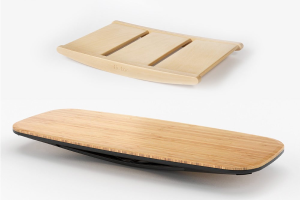 Power and wire management
Cable and wire organizers will keep all of your wires neat to prevent them from tangling and help you to work comfortably.
WireTamer Cable Tray or Cable Management Tray. It is a J-shaped channel that mounts to the underside of your table to hold power strips or cables. You can select from two options for tables with different sizes: a 46" x 27" one that can be equipped with one tray to mount between grommets and a 58" x 27" with two trays.
You can get both trays as stand-alones or get the following upgrade:
Wire Management Kit that includes:
1 or 2 trays depending on your table size (available in gray, white, or black)
10 adhesive cable mounts
20 zip ties
1 Fully surge protector (ETL listed) with 2 USB ports, 6 AC outlets, and a 12' cord (available in white or black)
Cable Management Solution Kit that includes:
1 tray (available in gray, white, or black)
2 tray brackets
6 cable clips
6 Velcro straps
4 Velcro Superlocks
1 Fully surge protector (ETL listed) with 2 USB ports, 6 AC outlets, and a 12' cord (available in white or black color)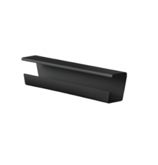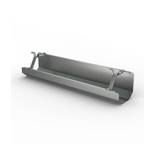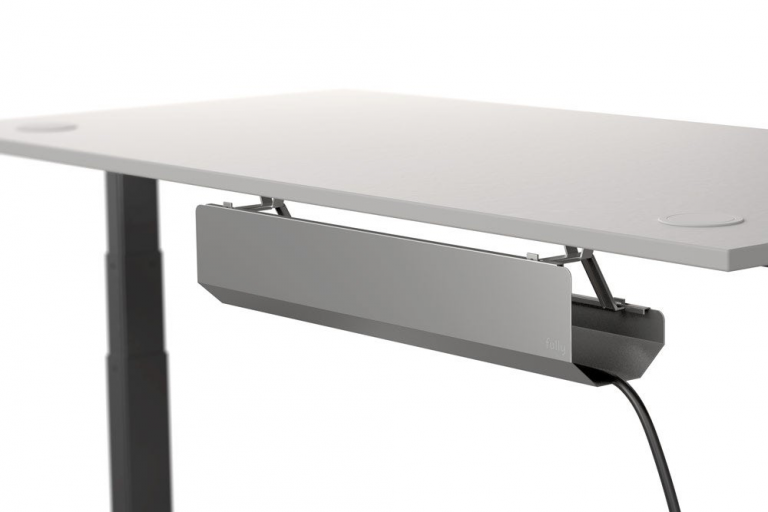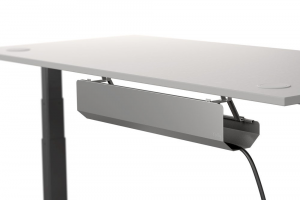 Monitor arms
Upgrade your Jarvis desk with a laptop stand or a monitor arm to keep your workplace well-organized as well as supporting a healthy posture for your body by keeping the monitor at your eye level.
Jarvis Monitor Arm. Upgrade your table with a gas-activated arm to provide you with comfort during work. This arm fits most VESA-compliant monitors. Choose a single or dual option (1 or 2 arms) with or without a laptop tray in silver, white, or black to match your Jarvis workstation.
Fully Pole-Mounted Monitor Arm. With this functional arm that allows 360° rotation, you can easily raise your monitor(s) to eye level. It's available in options for one, two, three, or even four monitors.
Jarvis Desk Shelf. You can upgrade your workspace with this shelf to get maximum comfort. The Desk Shelf's weight capacity is up to 60 lbs. It can be easily mounted on your table. Sizes: 9.8" H and varying widths of 27", 36", and 48". Please be informed that you cannot mount a 48" shelf on a 48" Jarvis desk due to its wire management grommet position.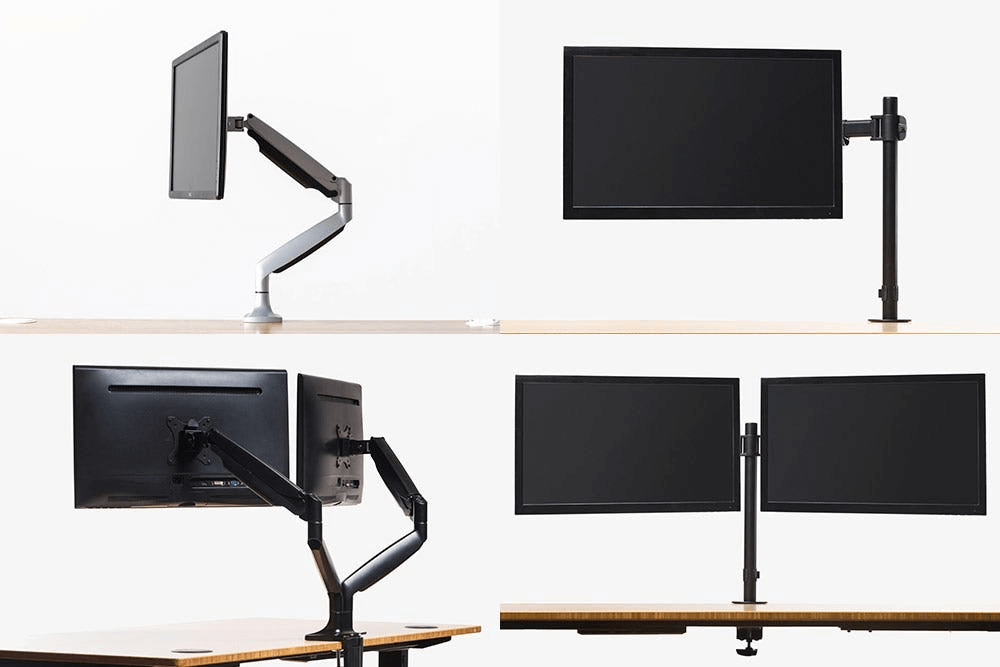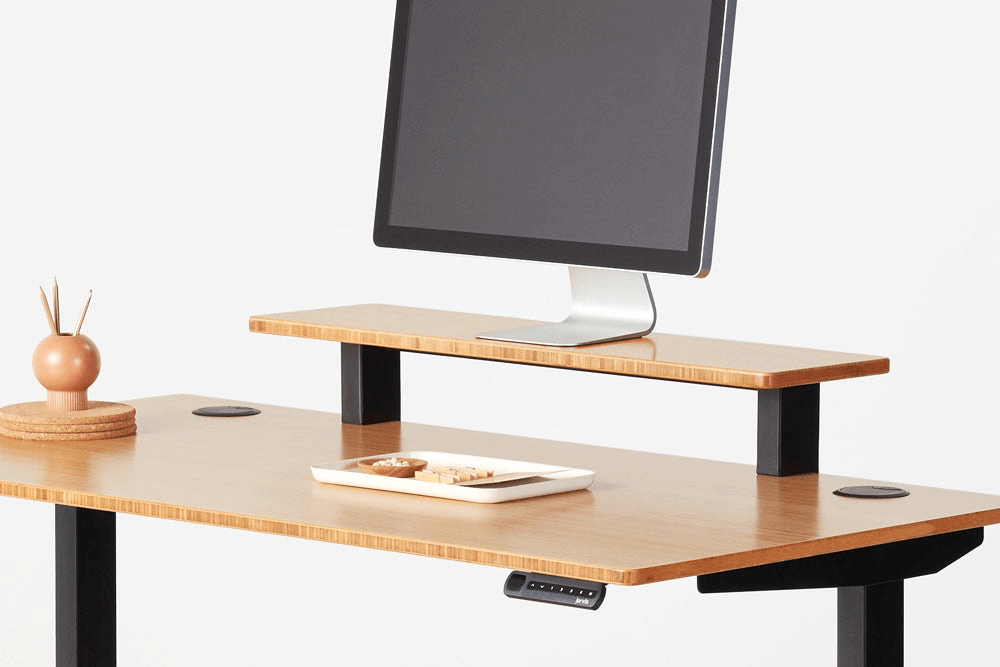 Space organizers
When you have to keep many things on your table, it's easy to turn your workplace into a mess. You can upgrade your Jarvis table with a bamboo desk drawer created from eco-friendly materials. This drawer will help you keep everything well-organized. It's simple to install this drawer on your table with a power drill.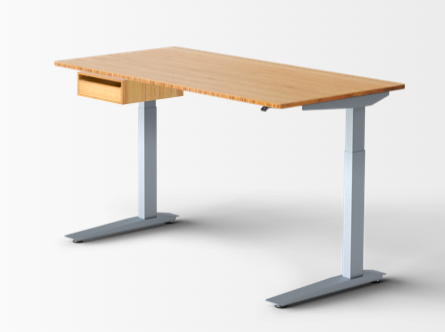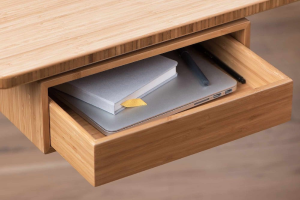 Desk accessories
Select from useful accessories to provide you with comfort and better support during work.
Sidekick File Cabinet. It is a handy and neat-looking file cabinet that will become a perfect match for your table. You can select from white, silver, black, and alloy colors.
Desk Hooks. Mount one or several hooks on your desk to hang bags or backpacks.
Desk Casters. Move your Jarvis easily with desk casters. It's simple to mount them on your table's legs. When you want your table to be steady, just lock the casters.
Bottle Opener. Would you like to have some drinks during work without leaving the desk? This accessory allows you to open a bottle of your favorite drink with minimum distraction!




Specifications
Please view the manufacturer's specifications for details and dimensions, materials, and recommended WireTamer quantities.
Details and Dimensions
Contoured tops are available in preset sizes only
The table has rounded corners
The thickness of a top made from natural bamboo is 0.75"
The thickness of a top made from dark bamboo is 1"
Materials
All Jarvis tabletops are made from bamboo
Bamboo releases 35% more oxygen compared to other trees
No fertilizers or pesticides during the bamboo growing
All of the materials are harvested by hand to preserve the structure of the roots
Wear-resistant UV coating from Germany manufacturers and E1-level European glues
WireTamer quantities recommended for various sizes
30–42" (with grommets): None
30–42" (without grommets): 1
48" (with grommets): 1
48" (without grommets): 2
60–78": 2
Warranty Advantages
When you are buying a Jarvis table, you get a warranty for all of its parts. If you're not satisfied with your table for some reason, it's possible to return it within 30 days.
Type of warranty: All parts
Warranty period: 7 Years
Return policy: 30 days from the date of purchase
Is return shipping covered?: Yes (within the US)
Social Proof
I was quite interested in other people's experience with Jarvis electric standing desks, so I scoured the Internet and found some user reviews that seemed rather close to what I have to say about this great product:
Review 1

Review 2

Review 3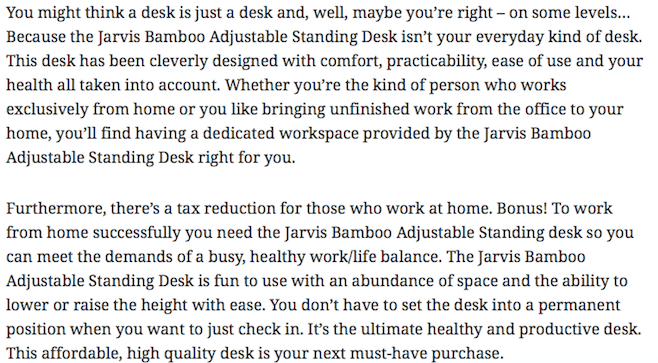 Review 4

Questions and Answers About the Product
Q: What is the top coating made of?
A: Jarvis desktop is made of 100% natural bamboo covered with a UV-cured waterborne polyurethane topcoat.
Q: Is it possible to add a double or triple monitor stand?
A: Yes, you can mount a double, triple, or even a quadruple monitor arm on your Jarvis table.
Q: What's the Jarvis's depth?
A: It depends on the table size and style. If you choose a rectangle 42" desktop, it will be 27" deep. A bigger 48" rectangle desktop will be 30" deep on all sides. For a contoured desktop, it's 30" deep on the sides, and the contour starts from 9" on both sides, tapering toward the center of the cut-out, and is 26.25" deep.
Q: What's the length of the power cord?
A: The length of the power cord for a Jarvis table is 10′, which will give you enough space to lower or raise your workplace.
Q: Does Jarvis have a dual motor?
A: The table is equipped with two motors in each of its two lifting columns.
Q: What happens if I am not satisfied with the product?
A: You may call customer service and return it within thirty days if you are not satisfied.
Alternatives
Before choosing Jarvis, I was considering a few other options. I hope that my quick review of these alternatives will help you make an informed buying decision.
SHW Electric Height Adjustable Computer Desk. The desktop of this adjustable table is wood, and the legs are made of steel. It can be adjusted by the motor or manually with a hand crank. This table is recommended for people who work at the computer for many hours in a row whether they have problems with their back or not.
Vari Electric Standing Desk. This is a stable and reliable table available with a powerful motor, frame with a crossbar, and a durable desktop. It's easy to switch this product from a sitting to a standing position. Use this table if you want to boost your mood, decrease neck and back pain, and increase your productivity.
DEVAISE Height Adjustable Standing Desk. This is the cheapest standing table on the market for people who want to try this type of desk without wasting a lot of money. If you want to get a clean and minimalistic standing table at home or in the office, pay attention to this model.
Jarvis Standing Desk

Height: from 24.5 to 50 inches
Desktop made from natural bamboo
Electric adjustment only
Up to 4 monitors to mount on the monitor arm
0-2 wire grommets (depending on the desktop size)
Warranty: 7 years (30-days of free return guarantee is included)
Quick customer service response
Price: from $467

SHW Adjustable Desk

Height: from 28 to 46 inches
The desktop is made from two wood panels
Manual or electric adjustment
Up to 2 monitor stands on the table
Just 1 wire grommet
Warranty: 1 year (30 days of a free return guarantee is included)
Price: from $250

Vari Standing Desk

Height: from 25.5 to 50.5 inches
Durable laminate finish desktop
Electric height adjustment only
Up to 2 monitors to mount on the monitor arm
250 lbs capacity
Warranty: 5 years (30-days of a free return guarantee is included)
Price: from $595

DEVAISE Standing Desk

Height: from 29 to 45 inches
Eco-friendly particle board with melamine facing tabletop
Manual height adjustment only (has a removable hand crank)
1 monitor to stand on the table or mount on the monitor arm
Weight capacity: up to 100 lbs
Warranty: 1 year (30-day return guarantee is included)
Price: from $239
Conclusion
Jarvis helped me to reduce my sitting time when I'm working on my computer for long hours. With this great desk, I realized that spending time on my desk can still become a more healthy activity just by shifting to a standing position. Thanks to its adjustability, I can reduce fatigue and decrease the neck and back pain caused by a sedentary lifestyle. Plus, all of those great features and useful accessories help to organize my workplace with maximum comfort. In this review, we discussed the pros and cons of the Jarvis standing desk. If you still need help, get a closer look at our other standing desk reviews, which will help you choose the right ergonomic product for you.
---