ProForm Thinline Desk Treadmill Review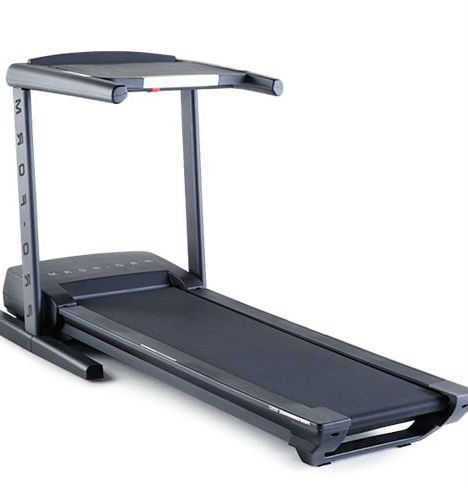 ---
The Proform Thinline Desk Treadmill is a fully functional treadmill which incorporates a console work table and allows users to run, walk and stand while using the desk surface. The Thinline features a unique space saving design which allows the product to be folded vertically and easily stored to free up space. The treadmill unit comes preinstalled with iFit® wireless technology and an integrated tablet holder, making it easy to control the treadmill with an iPad or other tablet and the unit can also be synced with iOS and Android smartphones and tablets.
The Proform treadmill desk can accommodate all walking and running speeds up to a maximum of 12 mph and is pre-programmed with 40 individual workouts, all of which have been professionally created and designed to challenge and improve fitness levels. It also has a built-in CoolAire™ fan to maximize comfort and keep users exercising for longer.
ProForm Thinline Desk Treadmill
Overview
Price
$1299 (and financing options are available)
Material
Mixed materials
Sizes Available
One size only. Footprint 54.9" x 80.6" x 35"
Weight Capacity
300 lb
Controller
Integrated Tablet Controller
Walking Belt Size
22″ X 60″
Top Speed
12 mph
Horsepower
2.75 CHP
Where Produced
USA
Shipping
Free
Warranty
Lifetime Warranty on Frame & Motor. 5-Year warranty on parts. 2-Year Warranty on Labor
How Does the Proform Desk Treadmill Look?
The Proform Treadmill Desk is first and foremost a treadmill with its work table functions secondary in importance. At first glance, it simply looks like a piece of gym equipment. The unit is quite large and weighs 350lb so it may not be suitable for smaller offices. Realistically the Proform Thinline Treadmill would not look right in a shared or open-plan office. The control panel of the treadmill has a built-in console which users can flip down and use while walking or running. In the basic model, the workstation height is fixed but Proform does offer an upgraded Pro model in which this can be adjusted.
An integrated tablet holder makes for easy viewing and users can control the treadmill with compatible tablets. The small table console is made of black plastic and the frame is silver but there are no customizable options available. The treadmill belt is a generous 60", long enough to accommodate even the longest of gaits but this also means that the unit requires a large space for use. Named 'Thinline' for its ease of storage, the unit can be folded to a width of just 12" and stored vertically out of the way.
How Easy Is to Run on Proform Treadmill While Working?
Most treadmill desks offer a top speed of just 2 to 3 miles per hour allowing users to walk at a gentle speed while also working. Realistically, walking or running at speeds higher than this make it very difficult to type or engage in any hands-on computing work. The Proform Thinline desk's top speed of 12 mph along with incline and decline settings provide excellent opportunities for fitness enhancement. However, running at such speeds will almost certainly impede users' abilities to work simultaneously.
As the desk console is bolted to the treadmill frame, running will cause significant vibrations to the unit which is likely to have a negative impact on productivity. A built-in fan helps to keep runners cool during their workout but vibrations from the treadmill are likely to slow down productivity or completely prevent users from running and working at the same time. The work surface will accommodate a laptop or tablet that can easily be used while users walk at lower speeds. Nevertheless, to review Proform Treadmill Desk specifications highlights a number of issues which may cause problems in using the product.
How Does the Proform Thinline Perform as a Treadmill?
As a treadmill, the Proform Thinline delivers excellent operational functionality. The 0 – 12 mph QuickSpeed function is suitable for all levels of fitness and the extra long running belt means that both runners and walkers have plenty of room to spread out. The Thinline's 2.75 horsepower motor is smooth, powerful and quiet and Proform tests every belt at double user weight for one million cycles before release. The 7" backlit display shows key information on mileage, heart rate, and calorie burn while the unit is in use and the heart rate monitor is built into the handlebars. What is really impressive about the treadmill is its innovative technology. Users can access the 40 pre-installed fitness programs or for an additional charge, an unlimited number of professionally designed programs via iFit®.
Existing iFit® users can sync the treadmill with their personal existing settings on iOS and Android phones and tablets. This functionality allows users to customise their fitness schedules and avail of the expertise of professional athletes and celebrity fitness experts. The unit is compatible with Google Maps so it is possible to virtually walk and run on scenic routes all over the world. This makes for an engaging walk or run with great virtual scenery and corresponding preset incline and decline settings, which build endurance and help to work little-used muscle groups. But, although the cushioned belt is fine for walking, it just doesn't have enough shock absorption for running any great distances. It's a real oversight on Proform's part because, with the upper-speed limit of 12 mph, this is a really important feature for the safety of users.
How Does the Proform Thinline Perform as a Desk?
Unfortunately, the Thinline is somewhat lacking in terms of workstation performance. There is no way to mount a monitor or install a keyboard tray and the basic model does not offer any means for adjusting the console height. This function is only included in the more expensive pro model. The size of the desk severely limits the user to have only a very small number of items on the surface and ergonomically, the layout and position are not conducive to maintaining a healthy posture. Looking down on a laptop or tablet for any length of time from above could easily cause neck and back strain. Because the work console and the treadmill are bolted together, walking or running while using the desk will cause significant vibration and users may well find it is impossible to work and walk at the same time. The plastic material used on the table top is likely to be easily scratched or damaged and any small items placed on the console surface could roll or fall off when the treadmill is in use.
Shipping and Warranty of the Proform Thinline Treadmill Desk
Proform offers free curbside delivery within the United States using a number of different courier services, depending on customer location. The Proform Thinline arrives pre-assembled which is great news for most customers. There are a few simple set up steps to run through before the treadmill can be used but this takes a matter of minutes. Proform offers a 30-day money back guarantee on the unit minus restocking and returns freight fees. The treadmill desk is covered by a Lifetime motor and frame warranty, a 5-year warranty for parts and 2-year labor warranty.
The Bottom Line
The Proform Thinline offers many more workout features than the average treadmill desk. I like the variety of pre-programed exercise apps and the fact that the unit is compatible with Google Maps™ and preinstalled with iFit®. However, it is very clear that this product is primarily a treadmill with its working function secondary in importance. As a piece of gym equipment, the Proform Desk Treadmill is excellent but as a workstation, it is lacking in several areas. Little attention is given to enhancing work productivity and it is difficult to imagine spending much time working at the unit due to the size, material, and lack of adjustable options. I'm not sure that I could see myself increasing the amount of exercise I do during my work day, particularly because it is so difficult to transition from working to walking or running.
The table surface itself is too small to hold much more than a laptop and a few pens and there is very little adjustability to the height of the work surface. Nevertheless, for users who are just looking to walk or run for short distances while browsing the internet or reading emails, the Thinline desk would be fine. For work, however, it's clear that users would need to have a second 'main' workstation at which the bulk of their time would be spent and as such this Proform Thinline desk treadmill review cannot give this product a higher score than 3/5.
Have doubts concerning ProForm Thinline? There are actually a lot of high-quality other options. As an example, check our Exerpeutic WorkFit 2000 review to have a better perspective.
---