Ergotech Freedom Monitor Arm Review
Ergotech Freedom Monitor Arm
Overview
Material
Aluminum
Weight
11.1lbs
Colors Available
Metal Gray, Silver. Ergotech Freedom Arm HD is only available in silver.
Weight Capacity
Minimum: 8.4lbs, maximum: 17.8lbs, Ergotech Freedom Arm HD – minimum: 20lbs, maximum: 30.8lbs
Maximum Height
14"
Maximum Monitor Size
27"
Number of Monitors Supported
1
Where Produced
USA
Shipping
Worldwide
Warranty
3-year warranty
---
An average person, who works at office, spends more than eight hours a day sitting. This is the reason why we need to think ahead and prevent neck pain before it happens. Ergotech Freedom Monitor Arm is designed to help people who spend a lot of time working at a computer. Combined with other ergonomic products such as desks and chairs, this product can have a beneficial effect on one's health. Employers already understand that ergonomic design is an investment, rather than an expense.
Ergotech Freedom Monitor Arm Overview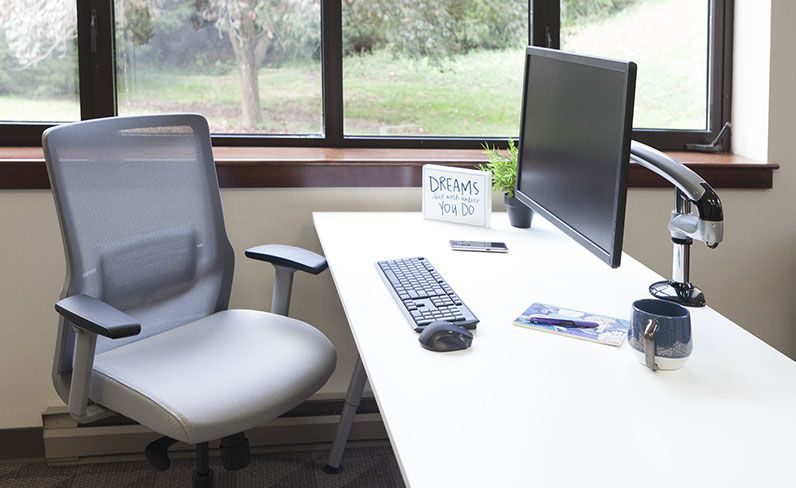 The company has designed Freedom Monitor Arm to replace monitor's stand. It allows users to tilt, rotate, and pan the display according to their position. One should not have to adjust to the monitor, but the other way around – one should be able to adapt the monitor according to their needs and preferences.
Ergotech Freedom Arms are stable and easy to handle. If an individual needs more space on their desk, the simple push is all it takes. It is convenient for standing desks because it can lift and reach the maximum height of 14". Ergotech Freedom Arm HD has the same traits but can support monitors that weigh up to 30.8lbs. All the above-mentioned features make this product from Ergotech Freedom line convenient not only for hard-working professionals, but even for gaming enthusiasts. The item is available for both PC and Mac.
Ergotech Freedom Monitor Arm: Design
The design of the adjustable monitor arm is simple, yet elegant, and it comes in two colors—metal gray and silver.
Because of the neutral colors, the arm fits with any monitor. It comes with a cable management system which prevents cables from tangling. The small but secure base occupies just a small portion of desk space.
Ergotech Freedom Monitor Arm: Mobility
Both Freedom regular and Freedom HD models rotate 360° which allows users to set their monitor in portrait position. The arm tilts up to 90° up, 45° down, pans 180°, and lifts up to 14" above the surface. With a simple push, one can move the monitor around working space. The range of motions allows users to stand up or use the treadmill while working. This is important to prevent neck pain and eye strain. Joints are stable and enable smooth motion. To ensure that joints are moving as they should, the screws should not be overtightened; otherwise, the arm can be difficult to adjust.
Ergotech Freedom Monitor Arm: Weight Support and Stability
The entire set is stable, so users do not have to worry that the monitor will fall off. The base is small, but one should not worry because the clamp is strong enough to support the weight of the monitor. Clients have made one small remark regarding the base — it is curved making it impossible to put an object on top of it. However, due to the newly gained free space on the desk, there is no need for using the base as shelve.
Installation
The installation process, although simple, requires two people. The product comes with the installation manual which makes the installation pretty straight-forward. The parts include the arm, a clamp, and an 8" pole. The clamp fits on any desk that is not thicker than 2.5". Additionally, there is no need for drilling holes in the desk, which is another plus. The arm comes already assembled. The user only has to put the pieces together and fixate the base to the desk. The metal parts make the arm stable and secure.
Ergotech Freedom Monitor Arm: Accessories
Grommet Mount Accessory is also available along with Ergotech Freedom Monitor Arm. It comes in black and costs $26.99. However, the users find it inconvenient because it requires drilling a 0.5" hole in the desk.
The Bottom Line
Ergotech Freedom Arms provide a wide range of motions which is highly appreciated by those who spend more than eight hours a day in front of computers. Ergonomic design is no longer a luxury; it has become essential in preventing modern-day ailments, such as discomfort, neck pain, lower back pain, and eye strain.
The installation of both versions of the product is straightforward, but it is a two-man job. The set consists of the aluminum arm which is pre-assembled, an 8" pole, and the base. For additional $26.99, users can purchase Grommet Mount if they need extra security due to monitor's weight, in which case, they will have to drill a hole in the desk.
Given all the above, Ergotech Freedom Arms are designed with a sole purpose to create a pain-free and comfortable setting for hard-working professionals.
Still cannot choose after reading our review of Ergotech Freedom Monitor Arm? There is a different option you could like: Humanscale Mflex
.
---