Fully Jarvis Ergonomic Monitor Arm Review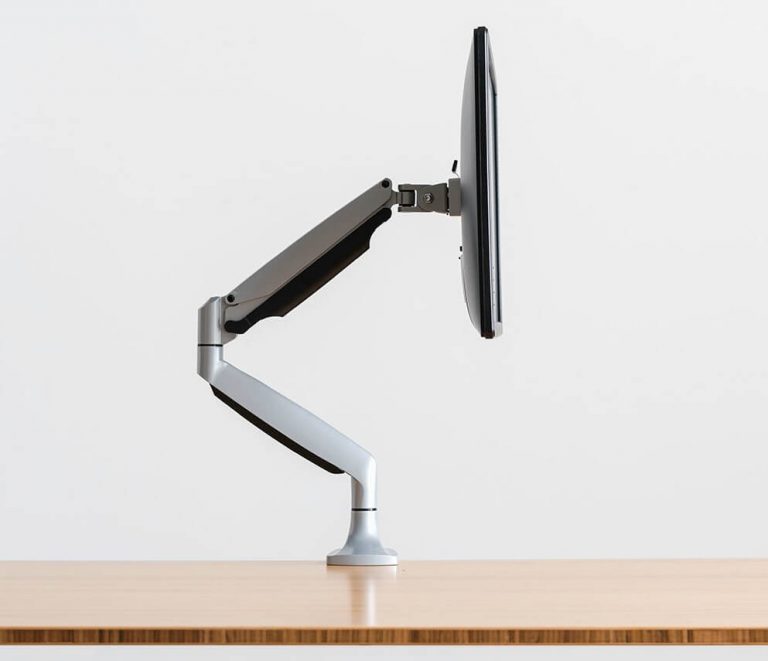 ---
Fully Jarvis Monitor Arm is a simple, affordable, and elegant device that can be installed without much effort and is compatible with a large range of monitors. The manufacturer of this desk mount monitor arm has a relatively large focus on the potential health benefits that are associated with elevating the height of a screen, either in a seated or a standing position. This adjustable monitor stand for a desk can be easily installed on a standard desk or a standing desk, depending on the preferences of the customer, as well as the particular setup of the office where the Jarvis Monitor Arm will be installed.
While this is certainly a great option for customers who would like to have a monitor arm in their office without spending too much money, we did notice a few factors about the product that customers should take into account. It may not be ideal for every single customer, but for those simply looking for a basic setup, it might make a great option.
Fully Jarvis Ergonomic Monitor Arm
Overview
Price
From $99.00
Lift Type
Gas lift system
Material
n/a
Sizes Available
n/a
Colors Available
Black / Silver / White
Weight Support
2.2lbs to 19.8lbs
Monitor Sizes Support
13″ – 32″
Where Produced
n/a
Shipping
The manufacturer will provide a quotation on shipping based on the provided location entered by the customer. The shipping cost does depend on the location where the arm will be shipped. There is a free shipping offer to a specific 48 states within the US. Customers who reside out of these states will need to pay a shipping fee.
Warranty
a 30-day guarantee period is offered, along with free returns.
Jarvis Monitor Arm Overview
Jarvis Monitor Arm was designed with two primary purposes – to offer customers access to a simple system that will allow them to add their monitor to a device that allows them to customize its height, as well as to offer these customers an affordable alternative to some of the pricier options that are on the market.
The product's pricing starts from under $100. This makes it a much more accessible option – many of Jarvis monitor arm systems often cost hundreds of dollars. Customers can choose between silver, white, and black when it comes to the color of the mounting arm.
Mounting System
Jarvis Monitor Arm is a single monitor mounting system, unlike options like Ergotech monitor arm that mounts more than one. This particular product is easily attached to a desk to provide an elevation in the height of the screen used by the customer. The product has many convenient features that have been implemented to provide the customer with various benefits when it comes to using the monitor arm.
The product features a VESA plate that can be easily removed, along with a wire management system that helps to reduce clutter in the office and on the table. The wire management system has parts attached to both the lower part and the upper area of the arm, allowing cables to be easily attached to the arm.
There are two different mounting systems that the customer can utilize when attaching a monitor to the Jarvis Monitor Arm. The first includes the Jarvis grommet holes, with a second option that includes the use of a clamp that attaches to the desktop where the product will be installed at.
The product is compatible with a large variety of screen sizes from 13 to 32 inches. Monitors with a display size of up to 19.8 inches are supported. Customers looking to mount larger screens may be better off looking at an alternative option, such as Vivo monitor stands, a range of mounts that are compatible with screen sizes up to 27 inches.
Height Adjustment System
Jarvis is an adjustable monitor arm, unlike some alternative options out there. Height adjustment, along with a change of the monitor's position, is easy because the product utilizes a gas spring system. Adjustments can be made without the need for any particular tools – the changes can be made in an instant. It should be noted that the gas system also allows for smoother movements – this is beneficial since a lot of customers find that some monitor arms out there tend to be difficult to adjust, especially during the first few uses of the product.
Warranty
A limited guarantee is provided with the purchase of the Jarvis Monitor Arm. The customer is provided a 30-day guarantee period. The customer will be able to utilize the monitor arm during these 30 days to determine if it is the right solution for their office or an at-home setup where they frequently use a computer.
If the customer is not happy with the product while the guarantee is still active, they can get in touch with the manufacturer to request a refund on their purchase. The customer should note that the product needs to be returned in a "like new" condition and will need to be accompanied with its original packaging.
No details are provided about any warranty that comes with the product.
The Bottom Line
Overall, we found that the Jarvis Monitor Arm is a convenient product. The company behind this monitor mounting arm is constantly improving the model to ensure the needs of their customers can be adequately met. It is, however, a more affordable option when compared to products like the Humanscale Mflex monitor arm, as well as the Vesa monitor mounting stands, but it come with some particular limitations that should be taken into consideration before a final decision is made.
In addition to limitations, it should be noted that it does not seem like this particular product comes with an extensive warranty. For this reason, customers are advised to thoroughly test the Jarvis Monitor Arm during the initial 30-day period, as returns seem to be only allowed during this time.
Still cannot choose after reading about Jarvis Monitor Arm? There is an alternative you may find interesting: Vivo Dual Monitor Stand.
---