Vivo Aluminum Dual Monitor Desk Stand V102BB Review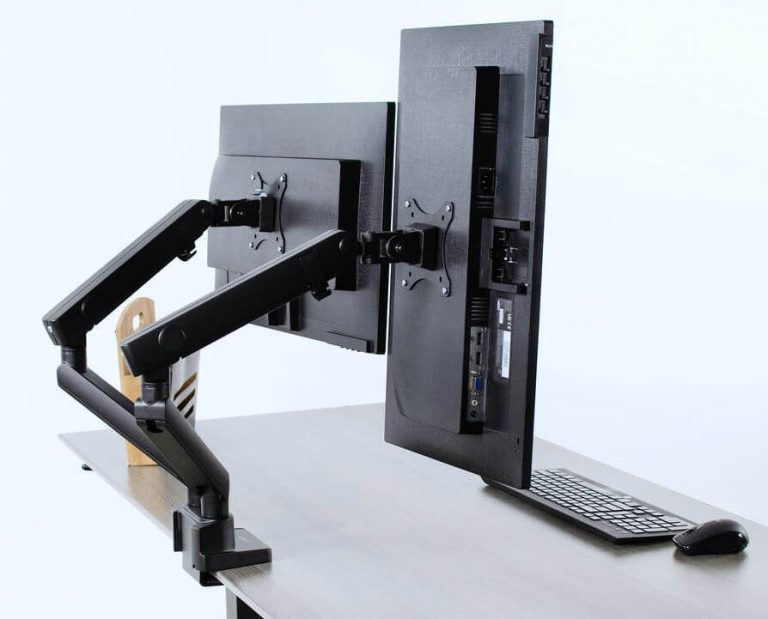 ---
Vivo Aluminum Dual Monitor Desk Stand V102BB is a set of flexible monitor arms made of aluminum and steel with a grommet mount, meaning that it can be expected to last for a reasonable amount of time. Vivo dual monitor stand offers comfortable viewing angles for displays, allowing two monitors to be placed at a comfortable height that can be adjusted easily. The whole setup looks classy and makes workspace management easier for the user.
Vivo V102BB boasts monitor arms that can support any displays that fall within the range of 17" to 32", and all the information that may be required for a user looking to assemble by themselves is provided as a part of the package.
In this review, we look at the product's best features, weigh them alongside its cons and come to an informed conclusion about its overall performance. We also make a brief comparison with one of the best dual monitor arm desk mounts on the market.
Vivo Aluminum Dual Monitor Desk Stand V102BB
Overview
Price
$149.99
Lift Type
Manual
Material
Aluminum and Steel
Sizes Available
Built for monitors within the 17" to 32" range. Bracket to Bracket arm span of 37"
Colors Available
Black
Weight Capacity
17.6 lbs. per monitor
Package Weight
13 lbs.
Production Location
USA
Shipping
International
Warranty
3-year manufacturer's warranty
This section looks at some of the strengths and weaknesses of the product. Here, the buyer can decide if the product possesses a feature or trait that would make them want to purchase, or if the product has a weakness that is a deal breaker.
Vivo Aluminum Dual Monitor Desk Stand V102BB Overview
For users who need more than one monitor at a time, the key benefit of using a device such as Vivo dual monitor stand is the ability to adjust and place their screens at different heights for better comfort. Most users may choose to place them side by side, which is fine, but the fact that monitor arms are adjustable, and each arm has its own weight limit means that the user can set up different kinds of displays on the monitor stand at once without having to worry about any imbalance. Of course, it depends on the fact that the weight limits and height adjustment limits are adhered to, but it still allows for a reasonable amount of manipulation.
Vivo dual monitor stand also gives the user the option to set different monitors of different sizes at the same top level. One can individually adjust each single monitor arm, such that the arm with the smaller monitor is raised higher than the other, pushing the top of the smaller monitor to the same level with the larger one.
The set up also allows the user to experiment with monitor mounts orientation. The user may use one monitor in portrait setup and use the other in a landscape or use both in portrait, or the landscape. This is also very convenient because the tasks that the user runs on the displays may be made easier with such tweaks occasionally.
Build Quality
The build quality of Vivo monitor stand is impressive. The combination of aluminum and steel give it a certain feel of genuine high quality that gives a bit of insight into why it is priced at the rate that it is. Once set up, the stand does not wobble. A 17.6 lbs. per display weight limit for the VESA mounts means that it can take up to 35.2 lbs. with no issues, and the sturdy feel of it, while it is set up, supports this claim.
Key Features at a Glance
Dual Monitor Support
This monitor stand gains instant points for its dual screens power. The usefulness of this feature is particularly apparent users that need to create room on the work desk. A desk that has limited space may not normally be comfortable for working with two displays, but the desk stand frees up some of that vital space, creating the effect of a less cluttered workspace and generally increasing productivity.
Viewing Angles
As previously mentioned, the stand is flexible and can be manually adjusted for different viewing heights and angles. The multi-monitor display screens can be placed vertically or horizontally at angles of -90 degree to +90 degree tilt, 180-degree swivel, and 180-degree rotation. The stand also allows for a smooth height adjustment of up to 10 inches with its mechanical spring arms and an arm span of 37″.
Compatibility
Both flat and curved screens can be mounted on the device, but there is a limit to the supported desktop thickness. It must fall within 0.39" to a 2-inch maximum. The VESA brackets have mounting capabilities of 75 by 75 mm and 100 by 100 mm.
How Does Vivo Dual Monitor Stand Stack Up?
It looks mostly positive so far, but how does Vivo Dual Monitor Stand stack up against one of the best?
For this comparison, there's the iMovR Tempo Dual LCD Monitor Arm. That model uses a gas cylinder counterbalance which means a significantly reduced need for manual adjustment while setting up. The built-in weight gauge offers a major advantage that Vivo mounts do not. Also, the weight limit per arm is 20 lbs to Vivo's 17.6 lbs. However, it is also worth noting that the iMovR is over two times more expensive than this Vivo monitor stand. Where Vivo Dual Monitor Desk Stand goes for just $149.99, the iMovR would set the buyer back by at least $339.99.
Basically, you get what you pay for, and for its price, Vivo dual monitor stand still seems like a good deal. It sits comfortably somewhere in the mid-range category of desk stands, offering a mix of reliability in quality and value for money.
Package Content
The contents of the Vivo package include:
The base
The lower arms
The spring arms
The VESA plates
One cable clip
One support plate
A 3mm Allen wrench
A 6mm Allen wrench
One Grommet bolt
3-year warranty that covers any mechanical faults to rely on too.
A screwdriver will be needed to install the stand, and it is extremely important to note that children should be kept away from the tools and equipment while it is being set up.
The Bottom Line
Vivo Dual Monitor Desk Stand V102BB is stylishly designed, effective and in a decent price range. Vivo as a manufacturer is well-known for their quality standing desks, and it appears that they have a good one here. Setting up is an easy process with the assembling guide provided by Vivo and all the basic features are available. This product may not be on the same quality level as the best monitor stands in the market, but it holds its own amongst its direct price competitors.
We suggest you check our Ergotron Lx Arm review if you don't know if you want to get Vivo Dual Monitor Desk.
---