Humanscale M/Flex Multi-Monitor Arm System Reivew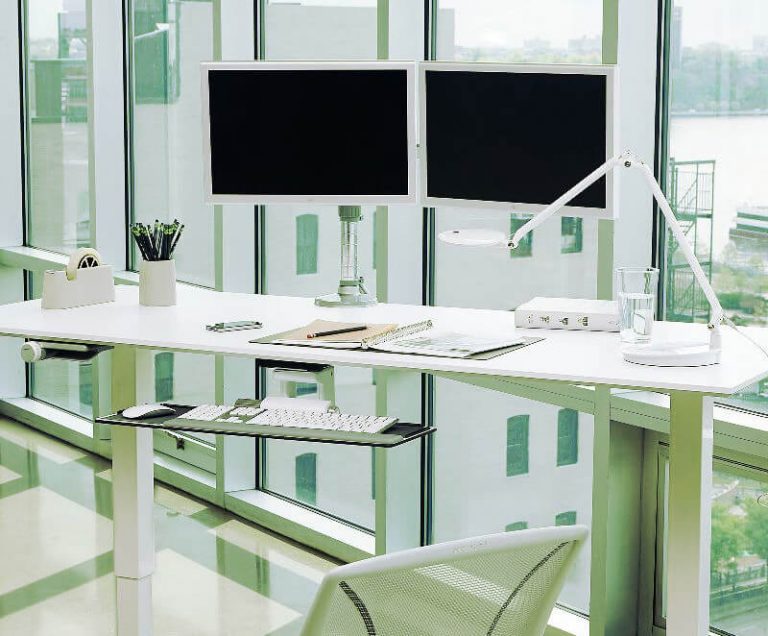 ---
Humanscale brand is known for designing products for the office that focuses on providing functional features, while also looking good and seamlessly integrating with the décor and aesthetics of modern office designs. Humanscale M/Flex Monitor Arm is no different, living up to the expectations customers have come to expect from the brand – when it comes to a high-quality multi monitor mount system or other products that are essential in the office.
Humanscale M/Flex Monitor Arm focuses on providing innovative design, while also offering the customer many customization options, and the ability to fit multiple monitors on the arms, due to the easy attachment of additional arms. Additional features allow for better organization, while the product was also designed not to take up too much space.
Humanscale M/Flex Multi-Monitor Arm System
Overview
Price
Starting at $329
Lift Type
Spring lift system
Material
Recycled aluminum
Colors Available
Silver
Weight Support
Up to 20 lbs (per display)
Max Arm Reach
24"
Max Height Adjustment
12"
Monitor Capacity
1-6
Where Produced
n/a
Shipping
Shipping depends on where the customer purchases the product from, as well as the shipping destination. The product will ship within two weeks of the order date. There are some cases where the product may take longer to ship, depending on specific customizations chosen by the customer.
Warranty
Humanscale M/Flex comes with a 15-year warranty period. Customers are provided access to Humanscale's 24/7 warranty offering when they purchase this particular product.
Humanscale M/Flex Multi-Monitor Arm System Overview
As part of Humanscale monitor arms series, Humanscale M/Flex Monitor Arm is a highly customizable product. It has been designed to fit modern offices and provide functionality that ensures the customer can set up their workstation in a way that space can be freed up, ensuring all monitors can be easily accessible at all times.
The product is equipped with many convenient features that focus not only on productivity but also keeping the walls safe and ensuring customizations to the setup can be done quickly and easily, without the need for any advanced tools.
Multi-Monitor Mounting System
The mounting system featured by Humanscale M/Flex Monitor Arm was designed to support between one and six displays, which can be customized according to the needs of the office and specific location where the monitor arm is utilized.
Thanks to the quality materials used in the construction of this mounting system, each display attached to the multi-monitor arm may weigh up to 20 lbs. This makes the product compatible with a total weight of up to 120 lbs when a total of six items have been mounted.
Humanscale M/Flex Monitor Arm is equipped with a 180-degree stop. This feature was added to help protect against monitors bumping against the wall, adding a level of protection to both walls in the office, as well as thescreens themselves.
Customization Options
Multiple customizations can be made to Humanscale M/Flex Monitor Arm to support the specific configuration required to support the productivity of the employees who are part of the office. The entire monitor arm system was developed to provide a plug-and-play operation – various parts of the product can be easily attached and detached to different locations to set the displays up the way that the employee needs them.
Multiple monitor arms can easily be added to the base of Humanscale M/Flex Monitor Arm. The M/Connect base supports up to three monitors in a row and six items at a time, as previously noted, and has a number of additional accessories that can be added to provide additional functionality.
The product is also compatible with Humanscale M/Connect monitor arm base, allowing for a significant improvement in the organization within the office. With this combination, the customer can keep cables in the setup organized. Additionally, the system also provides easier access to high-speed charging ports, along with USB ports.
Another significant benefit is the fact that no special tools are required to make on-the-fly customizations to the monitor arm. All parts can be easily removed and then re-attached to a different location. This makes it easy to go from a dual monitor arm to a multiple monitor mounting system.
M/Flex Warranty
All products from Humanscale brand comes with a convenient warranty that protects the product against the manufacturer's faults. Humanscale M/Flex Monitor Arm, in particular, comes with a 15-year warranty. This provides a significant period during which the product will be protected. Customers who notice any faults that occur with the product will be able to get in touch with Humanscale brand and request a repair or possibly an exchange in cases where a repair may not be possible.
Additionally, customers are given access to a 24/7 warranty when they purchase Humanscale M/Flex Monitor Arm. Customer care services will be available at any time – customers will be able to get in touch with a representative at any time of the day or night, ensuring the customer can utilize the warranty the moment that a problem with their product is detected.
The Bottom Line
Humanscale M/Flex Monitor Arm is an excellent option for anyone looking to the best multiple monitor mounting arm, especially in terms of customization. The product was designed to perfectly integrate with modern offices where employees need to keep their eyes on multiple monitors in a single workstation. The product can hold as many as six monitors at a time with a higher weight limit per monitor than many of the competitive products.
The product has a series of customizations that the customer can also choose from. This arm is even can be used as a desk riser for an employee's laptop. While these are convenient, the customer should note that specific options may extend the time it would take the manufacturer to ship out the order. Humanscale M/Flex Monitor Arm is also an affordable option when the features of the product are compared to similar options on the market.
Like Humanscale MFlex? You may as well wish to take a look at the iMovR Tempo Dual review.
---