Ergotron LX Monitor Arm Review
Ergotron LX Monitor Arm
Overview
Material
Aluminum
Colors Available
Polished Aluminum
Weight Capacity
20 Ibs (25 Ibs if the height range is decreased)
Maximum Height
17"
Maximum Monitor Size
32"
Number of Monitors Supported
1
Country of Production
USA
Shipping
usually ships in 2 to 3 business days
Warranty
10-year warranty
---
Considering the vast number of hours spent with our new best friend – our computer, we can't help but wonder how this friendship affects our body. We would like for our working environment to be both healthy and productive, so challenges we set before manufacturers of office furniture have become increasingly demanding. The right positioning of your computer monitor is of equal importance as having an ergonomic chair and desk. Your head is turned towards the monitor and your entire posture adjusts to that. So, having a proper monitor arm is crucial.
But with so many different models on the market, it is often a bit overwhelming to choose the right one. Here we present one which shines brightly in the most important criteria you should consider. Ergotron LX Monitor Arm has sufficient weight capacity, easy adjustability, and stability.
Overview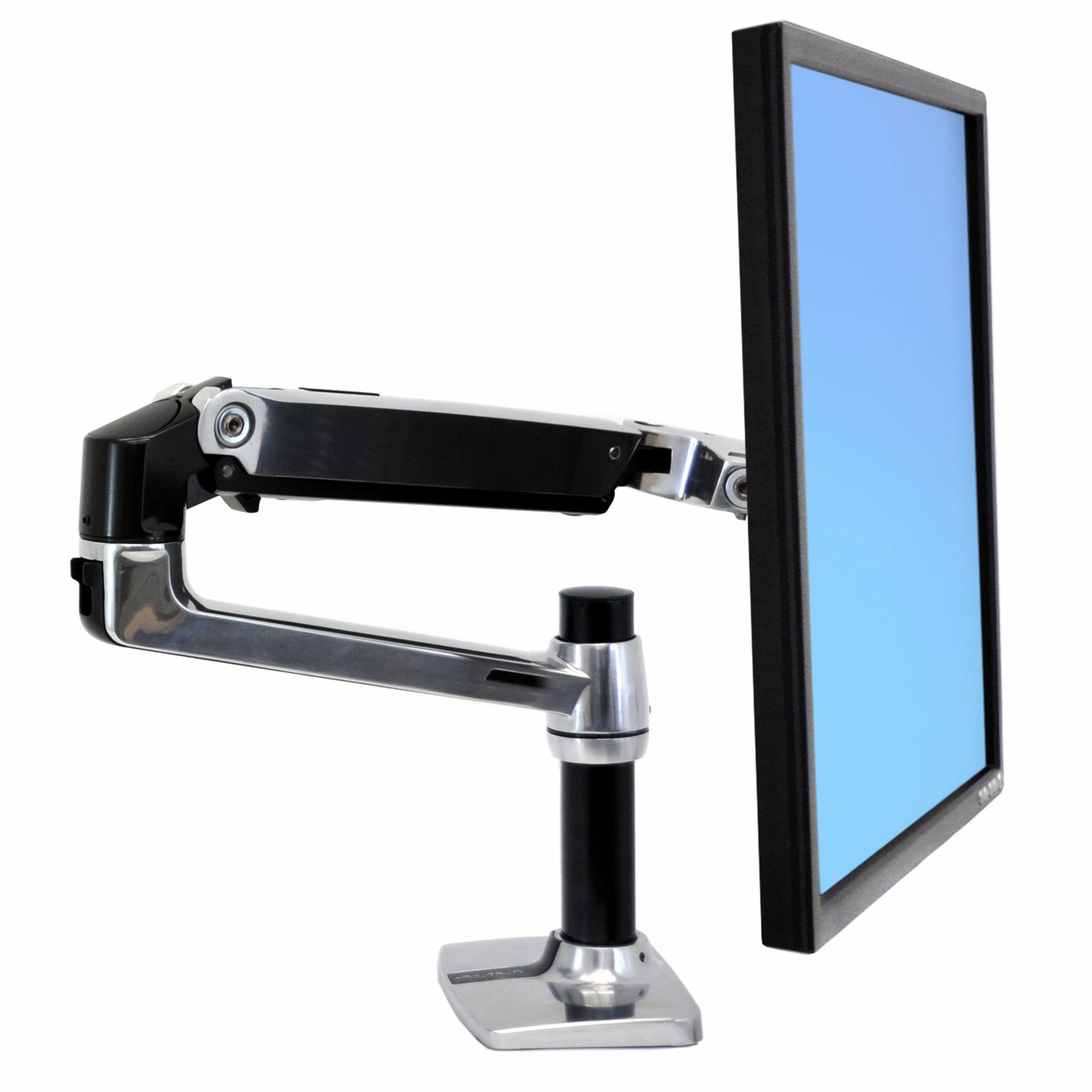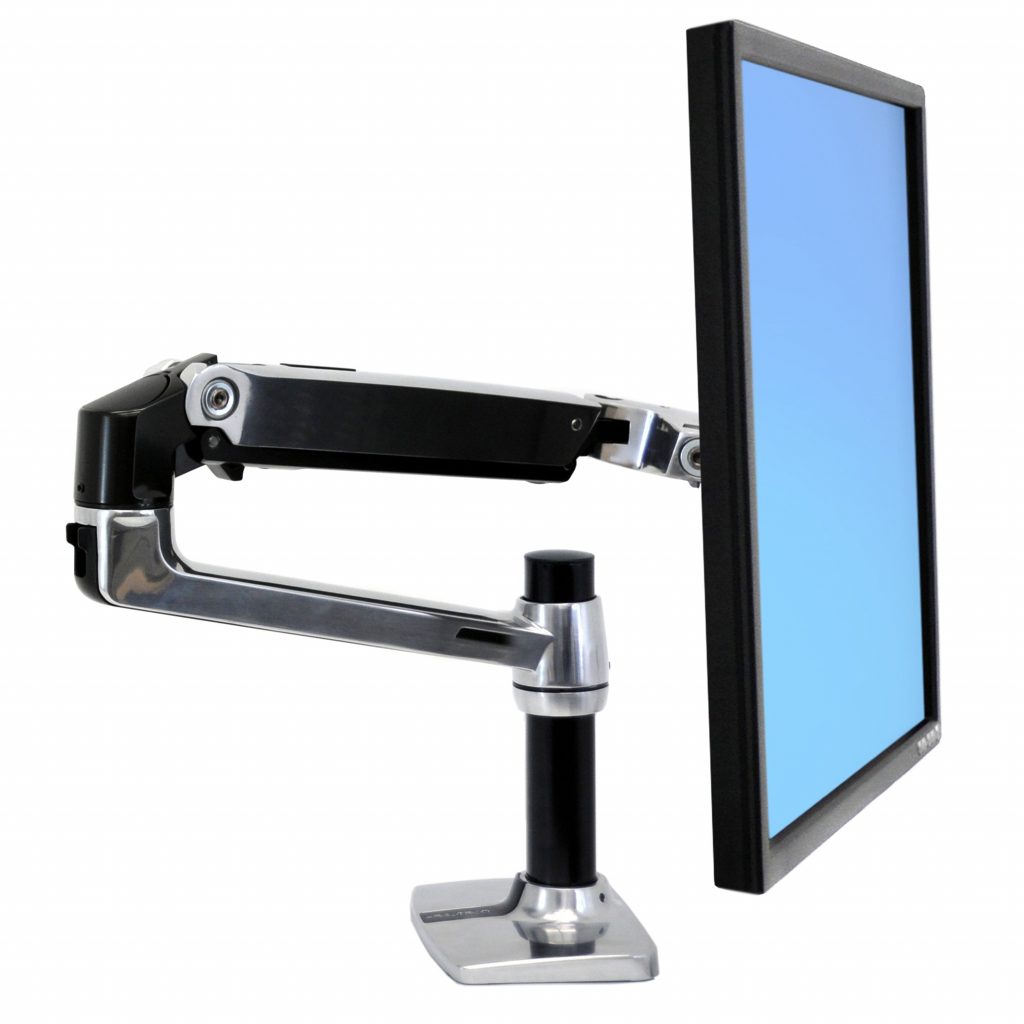 Ergotron is a serious and experienced ergonomic furniture manufacturer. For more than three decades, the company has worked hard on improving productivity in the workplace. Ergotron LX Monitor Arm is a prominent representation of their accomplishments. Not many monitor arms are able to fulfill the above criteria the way this piece of equipment does.
Adjustability is an important aspect to consider, and the Ergotron LX Monitor Arm allows you to change height and depth and the overall positioning of the monitor. Modifications from one side to another are also very easy to do. This helping hand provides you with stability, so there is no shaking of the monitor caused by using the keyboard, or a treadmill desk.
Ergotron LX Monitor Arm – Design
Once you take a peak in the delivery box, before even installing the monitor arm, you'll know you have something classy in your possession. The polished aluminum cover offers a sense of elegance and style. It also resists corrosion very well, so the Ergotron LX Monitor Arm will look shiny and new for years to come.
The only down-side of this fine paint is that it's susceptible to revealing fingerprints. However, a gentle brush will leave a shiny and clean surface, so don't be lazy. Additionally, some users think Ergotron LX Arm is a bit bulkier than most of the other monitor arms on the market.
Another neat touch is the plastic cable management feature, which allows you to put the cables under the monitor arm. This way they are subtly hidden from your sight. However, some users didn't like the aesthetics of this aluminum-plastic combination.
Ergotron LX Monitor Arm Mobility
Ergotron LX is much more than a pretty-looking arm. With a simple touch, you can move the arm in all directions. Thanks to its two 360° rotating joints, a whole range of motion is provided. The mobility of Ergotron LX desk mount is also portrayed with 75° tilt and 360° rotation of the monitor's pan.
These ergonomic adjustments allow the users to position the arm so that the pressure on their neck and back is reduced. This greatly improves the overall physical well-being of the user and mitigates the potential health issues linked with long periods of sitting.
The arm itself also provides an impressive range of mobility. Like it is stretching the monitor, the Ergotron LX Monitor Arm provides the horizontal extension of the screen up to 25" (64 cm).The height range allows modifications up to 13" (33 cm), accommodating the needs of nine out of ten adults. The height adjustment passed Ergotron's 10,000-cycle motion test, which serves as a quality confirmation, and a guarantee that this monitor arm will be your faithful helper for a long time.
Elegance is not just a trait of the design, but also of the way Ergotron LX moves according to your adjustments. The change of height and angle of your monitor is done very quickly and efficiently, with a simple move. Creating a comfortable working environment is realized within seconds.
Ergotron LX Monitor Arm – Weight Support and Stability
A helping hand also needs to be stable and enduring. Ergotron LX fulfills both these criteria. The maximum weight of the monitor this hand supports is 20Ibs, while the maximum size it accommodates is 32".
An artificial arm attached to only one supporting point, holding a heavy monitor, may not be a credibility factor. Nonetheless, Ergotron LX Monitor Arm elegantly beats our prejudices. It provides very solid support for the monitor without transferring vibrations created as you type. This doesn't change even while using a treadmill when the pressure significantly increases. Thick construction and a stable, wide desk clamp resist turbulence so you will not spend a second putting the clamp back on its place (like with most other smaller-base monitor arms).
Ergotron LX Monitor Arm – Installation
Ergotron takes its job very seriously. Purchased products can be installed by Ergotron experts, who emphasize that "it is best to do it right the first time." Not to mention your feet will be grateful because if set properly, there is no danger of Ergotron LX base detaching from the desk. Although this will ensure a successful installation in a few minutes, you can also do it yourself. The process is very simple and everyone can perform it.
The attachment of the Ergotron LX monitor arm to the desk is done with a clamp or a grommet. The clamp is more popular, because it attaches on the back side of your desk. There is no need for drilling holes in your desk like with a grommet.
The arm actually consists of two segments. The first segment is on the mounting axle, while the other one connects to it.
If you are performing the installation yourself, make sure you use all the screws provided. Do not think there is an extra one. After ensuring that the Ergotron LX arm is stable, attach a VESA-compatible monitor to the plate.
Ergotron LX Monitor Desk – Accessories
Even the mighty LX monitor arm has special helpers. Ergotron offers quite a number of products you can combine with LX for extra working comfort.
Ergotron Underdesk Keyboard Arm is a good illustration of this integration. This helping arm provides extra ergonomic support for the users, by allowing them to lift, lower and tilt the keyboard as needed.
If you need more extension than 25", then the Ergotron LX Extension tool provides you with an additional 9" (23 cm). This may not seem to be significant, but it provides additional flexibility.
Lockable Tablet Mount is another member of the Ergotron LX Monitor Arm family. It makes all the difference for those who need their tablets for work.
The Bottom Line
Comfort and ergonomics have become an important aspect of office furniture. Monitor arms are not new on the market, but Ergotron made quite a revolution with its LX monitor assistant. Finally, we have a monitor arm which adjusts according to the user's needs. Not the other way around.
Its solid, polished aluminum construction provides endurance, support and eliminates typing vibrations. The installation is very easy, and if done properly, the LX monitor arm won't move an inch. The flexibility of the Ergotron LX is truly admirable – thanks to the two fully-rotating wrists and the monitor pan, the user can easily move the monitor arm in every direction.  The extension of the monitor goes up to 25" with a 13" height range. When not in use, simply push the display out of the way.
Ergotron LX Monitor Arm is much more than a good design. This sore-eyes-reliever is at the top of the range and deserves the warmest recommendations.
Like Ergotron LX Monitor Arm? You might also want to take a look at our Humanscale M2 Monitor Arm review.
---