Humanscale M2 Monitor Arm Review
Humanscale M2 Monitor Arm
Overview
Material
Recycled Aluminum
Colors Available
Polished Aluminum/ white accents, silver/gray accents or black/black accents
Weight Capacity
20 Ibs
Maximum Height
10"
Maximum Monitor Size
32"
Number of Monitors Supported
1
Where Produced
USA
Shipping
usually ships in 2 to 3 business days
Warranty
15-year warranty
---
If you are an office worker, you are probably familiar with the unsettling pain in your neck and upper back. You have also probably heard of different ergonomic furniture on the market which is supposed to relieve your pain. Various models of chairs, desks and monitor arms are customized so that they accommodate different needs of customers. Each member of this fabulous three truly makes a difference, and even though monitor arms are perhaps the least popular, you would be surprised what a quality monitor arm can do for you. Here we present the Humanscale M2 Monitor Arm.
Humanscale M2 Overview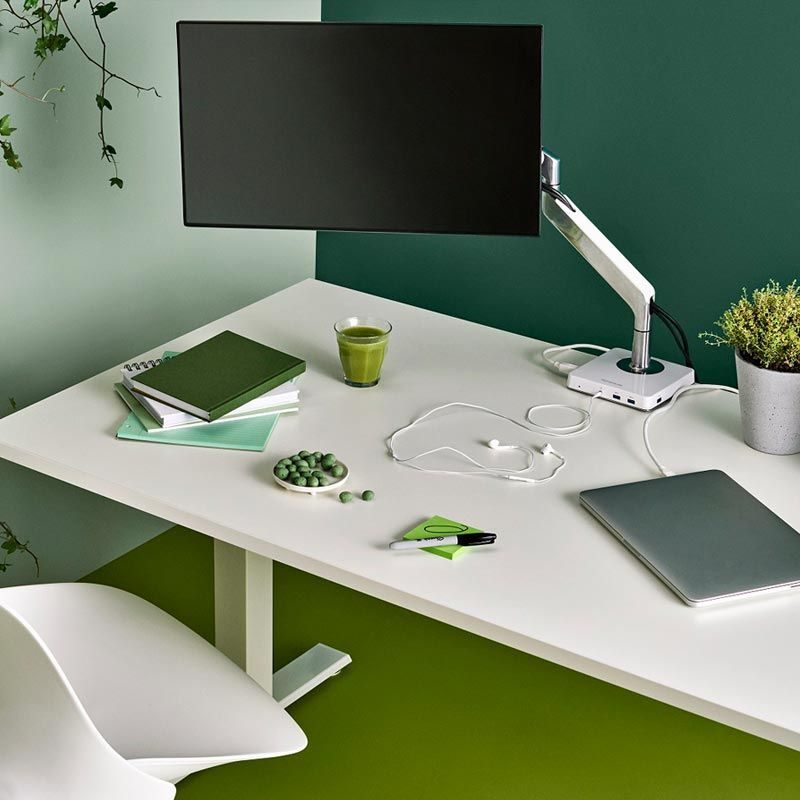 Humanscale's elegant and sleek design is easily recognizable with their M2 monitor arm. Unlike commonly used gas lift mechanism, Humanscale monitor arm M2 uses an innovative spring mechanism. This allows a finer and a much easier control of vertical movement. Users can move the monitor in every direction without delays. Humanscale also has the environmental aspect in mind, so their M2 is 99% recyclable.
Read on to find out why Humanscale M2 monitor arm received a gold award at NeoCon in 2009 (Chicago).
Design
The Humanscale M2 portrays how good steel and aluminum look together.
The M2 comes in different colors and combinations:
polished aluminum with white trim;
silver with gray trim;
black with black trim.
The key to its elegance is the lack of bulky moving parts, as opposed to some other monitor arms. Its thickness is just over 1 inch, which results in ultra-slim profiles. The aesthetics is supported by integrated cable management below the arm, so the cables are out of sight. M2 is also lighter than most competitive monitor arms.
As aforementioned, the entire composition is 99% recyclable, thanks to the 52% of recycled aluminum included in its manufacture.
The M2 arm is easy to maintain – just mild liquid soap, water and a soft cloth should do the trick.
Humanscale M2 – Mobility
Mobility is, of course, a major aspect of any monitor arm, and M2 certainly fulfils the expectations. It allows effortless height and depth adjustments and supports a very satisfying weight range, starting from 4 to 20 Ibs. Maximum size of the screen that M2 can handle is 24".
Vertical height can be adjusted in the range of 10" and in depth. In other words – the height adjustment option easily fulfills your specific requirements. Humanscale M2 is applicable for a vast number of monitors on the market (95% to be exact). The chance of M2 not supporting your monitor is very slim. Probably slimmer than the arm itself!
This high-performance is achieved with the help of an innovative mechanical spring instead of a gas cylinder. A gas cylinder is typically used to counterbalance monitor's weight. However, this mechanism makes the arm more susceptible to failure. This happens because there is a strong chance of gas leaks and pressure loss. The mechanical spring mechanism is far less prone to failure, and thus, increases durability and performance. Simply put – the possibility of something going wrong is significantly lower and people at Humanscale are pretty confident in their innovating solution offering a 15-year, 24/7 warranty!
By allowing different height and depth adjustments, M2 is firmly established among other top quality ergonomic furniture. The fine tuning relieves pressure on your neck and spine column, and your body will be grateful.
Humanscale M2 – Installation
Like other Humanscale products, M2 doesn't require you to be an engineer – aneasy-to-follow installation manual accompanies each product. However, those less confident in their mechanical skills are also welcome to call Humanscale staff for assistance. If you are doing the installation yourself, use every provided part.
The mounting options come in two forms: clamp mount and bolt-through mount. Clamp mount is probably better if you do not like the idea of drilling a hole in your desk.
Humanscale M2 – Features
Humanscale M2 Monitor Arm can be accompanied by the M2 Light – a notebook holder which accommodates 9"-14" laptops. This combination helps in maintaining the ergonomics of your workstation.
Furthermore, a whole variety of VESA plates are available. M2 can also be combined with Humanscale M/Connect TM. This is a USB 3.0 dual-video docking station, which greatly facilitates access to user ports, conceals IT connections, and prevents cable clutter.
Humanscale M2 – Eco-friendliness
It would be unfair not to mention the efforts Humanscale has invested in environmental protection. M2 can serve as an example of a high-performance product which is also sustainable. With simple design and fewer parts, M2 requires fewer manufacturing processes, less material and less disposal.
By purchasing this kind of durable product, you have also bought an opportunity to use it for many years to come. Each part is made to last for a long time.
The Bottom Line
The Humanscale M2 Monitor Arm is a new member of the ergonomic furniture. It's elegant, simple, and sleek. Unlike some other monitor arms, M2 is nowhere near as bulky and noticeable.
With its mechanical spring mechanism, M2 represents a new standard for manufacturers of monitor arms. It allows fine maneuvering, without losing on strength capacity. Commonly used gas spring is the most susceptible to failure, so with its elimination, the lifespan of the Humanscale M2 arm is significantly prolonged. Also, Humanscale is very responsible towards its customers and with a 15-year warranty – you've made a good investment!
M2 is made from more than 50% recycled Aluminum, and even the shipment packaging includes 85% of recycled material. The entire M2 is 99% recyclable, which is yet another praise-worthy quality of Humanscale.
Have doubts about Humanscale M2 Monitor Arm? You'll find lots of good alternative options. For instance, check our Ergotech Freedom Monitor Arm review to have a different perspective.
---