Humanscale FM500 Foot Machine Footrest Review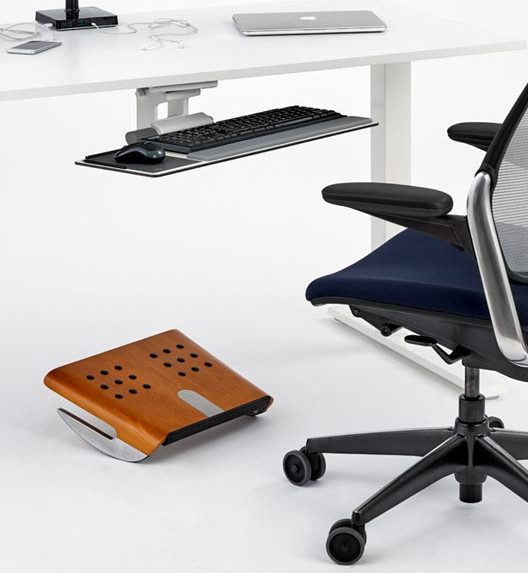 ---
Humanscale FM500 Ergonomic Foot Rocker is one of the top options that a person can choose from when it comes to adding an active footrest to their workstation. When compared to other models on the market, many of the features offered by this particular product are superior to what alternatives have to offer. The product comes with a non-slip surface with quality rubber spots, along with a convenient curved design that adds to the overall comfortability while the footrest is in use.
Customers interested in Humanscale FM500 Foot Machine foot rest will be happy to learn that this particular product has adequate space to accompany both feet at the same time, and offers a pivoting system that supports more than just their feet. The product also comes in two great colors and modern design.
Humanscale FM500 Foot Machine Footrest
Overview
Price
Starts from $168
Colors Available
Black or Cherry
Construction Materials
Die-cast aluminum, steel, molded plywood, and rubber
Size
16.75" x 12.25" x 4.5"
Shipping
Free US shipping
Warranty
Lifetime warranty
Humanscale FM500 Foot Machine Footrest Review
Humanscale FM500 Foot Machine Footrest is different from many alternative footrests that are on the market today. While the majority tend to feature a flat design or perhaps a cushioned design, this one is made from molded plywood to offer a curved design that helps to ensure the user's feet can be placed in a comfortable position. The product is sturdy, made from quality materials, and comes in two great colors that customers can choose from when they decide to invest in the product.
This particular footrest was not only designed to provide adequate support for the user's feet. In addition to ensuring the user can comfortably rest their feet on the surface, the product's unique design was developed in such a way to offer support for the user's legs as well and to even extend the support toward their lower back. The curved design further adds to the rocking motion's potential health benefits and may assist in improving blood circulation and avoiding blood pools in the user's lower limbs compared to options that feature a flatter surface where the user's feet are rested during use.
Construction
Humanscale FM500 is made from a range of quality materials to provide a sturdy performance, while also ensuring the entire product is durable enough to be used daily without concerns.
The legs of the footrest are made from a high-quality die-cast aluminum material. This provides a stable structure for the rest of the device. The platform itself is made from molded plywood, along with a steel foot stop and rubber grips on the surface of the footrest. The rubber grips have been added to help provide a more comfortable positioning of the feet without the risk of frequently slipping.
This particular footrest is a relatively large option that ensures the user's feet can both comfortably fit on top of the surface without restrictions. The product measures 18.75 inches in width, 12.25 inches in depth and 4.5 inches in height. Even though a larger option than some competitor products, the footrest is still portable enough to be taken with the customer should they need to use the product in a different location.
Design
Humanscale FM500 Foot Machine Footrest offers a remarkable design with a curved upper platform that provides a better fit for the user's feet. The product is made from wooden material and comes in two different finishes that the customer can choose from – these include a cherry finish for those looking to buy a product that features a vintage look, as well as a black option for customers looking to buy a product with a more contemporary appearance.
Warranty
One particular benefit that is definitely worth mentioning about Humanscale FM500 Foot Machine Footrest would be its warranty. While most of these products do tend to come with an included warranty, the majority of the options out there on the market tend to offer very limited warranties that are only valid for a few years. Humanscale FM500 Footrest, however, comes with a lifetime warranty – this is how proud and confident the manufacturer of the product is in its construction, quality, and the product's sturdiness. Customers who find any potential issues that may be caused by a factory fault with their footrest can get in touch with the manufacturer to arrange servicing, repairs, or perhaps in exchange for a new footrest in some cases.
The Bottom Line
Overall, we find the Humanscale FM500 Foot Machine to be one of the best footrests that are currently out there on the market. Sure, the price is somewhat higher than a lot of the alternative and competitor options that are available at the moment, but the overall design and the exceptional quality of this product certainly make it worth spending a few extra dollars.
The Humanscale FM500 Foot Machine Footrest is an ideal solution for any person who finds that they are experiencing the adverse effects of sitting down in front of a desk all day while working. The machine is sturdy and will last for a more significant period than many of the competitor options out there.
Like Humanscale FM500? You might also wish to consider the Humanscale FM300 guide.
---