Humanscale FM100 Ergonomic Foot Rocker Review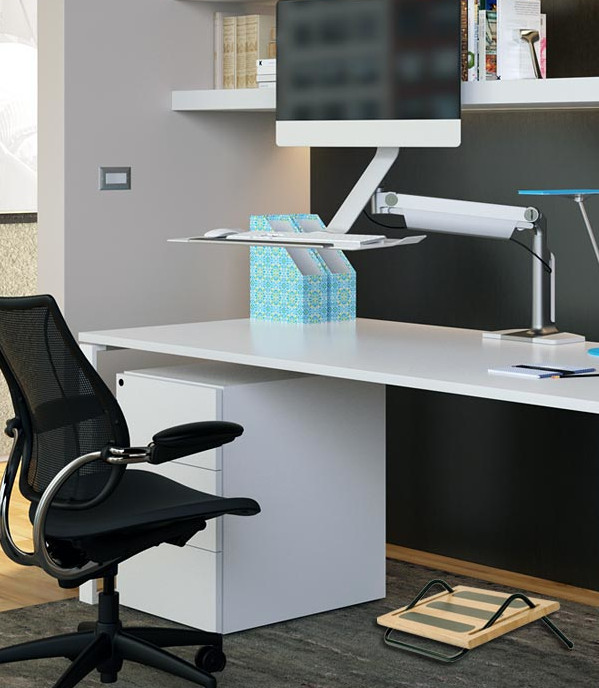 ---
Humanscale FM100 Foot Rocker is a relatively cheap footrest that people are opting to help them gain the advantages of keeping their feet active while they are in a seated position, such as when they are working during the day in front of a desk. While this is a relatively basic product in terms of footrests, the product does offer series of convenient features that can help to improve the experience of the user.
The product was designed to work on more than just the user's feet, as it can assist in providing support for their back to reduce the risk of pain migrating from their legs and lower limbs toward their lower back. Furthermore, the product does offer a relatively unique positioning system – while convenient, and there are some limitations in regards to the positioning system that should be taken into account.
Humanscale FM100 Ergonomic Foot Rocker
Overview
Price
$59.99 to $99
Colors Available
Natural wood
Construction Materials
Solid hardwood, steel, rubber
Size
19" x 11.75" x 3.375"
Shipping
Free local shipping to 48 US states
Warranty
Lifetime warranty
Humanscale FM100 Foot Rocker Review
Humanscale FM100 Foot Rocker is a quality, yet affordable footrest that comes with built-in rocker functionality that will keep a user's feet active while they are seated. The product offers a very basic design that is perfect for offices that focus on being minimalistic but still utilizes materials that are durable enough to allow for everyday use without significant wear.
The product is also a relatively large option, with a top platform that is larger than many of the alternatives we have looked at. This means that there is more space available for the user's feet and that individual's with larger feet can be appropriately accommodated without any significant restrictions to the space that is available for them. One more thing that should be noted is the fact that the larger size also makes the product less portable and perhaps a little harder to carry around to different locations.
Construction
Humanscale FM100 Foot Rocker features a very basic design that is still equipped with the appropriate materials that can offer better sturdiness and quality, ultimately leading to a product that will last for a more significant amount of time, compared to some of the cheaper options on the market that are made from poorer quality materials.
This particular foot rocker is made from three different materials. The frame is constructed from a quality steel material that is powder-coated and provides a tubular design. This forms the basis for the foot rocker. The deck, or platform, is then made from a solid hardwood material and is mounted onto the steel frame. Lastly, the product features a range of rubber pads on top of the surface. These rubber pads were added to the surface to offer a better grip for the user's feet, leading to a non-slip surface where the feet can remain mounted until they need to get up.
Design
The design of the Humanscale FM100 Foot Rocker, similar to its construction, is quite limited. When a customer decides that they would like to purchase this particular product, they couldn't choose between a variety of colors as with some of the alternative options that are currently available on the market. Instead, the product only comes in one particular color option – which is a natural wood finish. This still provides for the attractive overall design, however, that a lot of customers will appreciate.
Warranty
The lifetime warranty that accompanies the purchase of Humanscale FM100 Foot Rocker is certainly one of the most important advantages that we should note here. This particular warranty period is superior to what a customer would be able to find with most competing brands – all of the products that are manufactured by the Humanscale brand are known to come with this type of convenient warranty.
A more extensive warranty is provided on this particular product for the first 15 years. Thereafter, a lifetime warranty will still remain active for the purchase of the Humanscale FM100 Foot Rocker. There are also additional limitations that fall into place after the first 15 years, which customers should take note of before they make a final decision in terms of whether this is the right option for them to keep their feet active while they are working.
The Bottom Line
Humanscale FM100 Foot Rocker is an overall good product for people who are looking to keep their feet active while they are sitting down without spending too much money on a more expensive foot rocker or footrest product. This product is often available for under $60, but the specific price depends on where the customer decides to buy it from.
Customers who buy Humanscale FM100 Foot Rocker will be provided access to a convenient device that comes with a friction adjustment system for positioning the angle of the surface, along with a device that is large enough for fitting both of their feet at the same time. The product is also made from hardwood, steel, and rubber.
We recommend you to check our Hovr Desk Swing guide if you don't know if you want to choose Humanscale FM100.
---