Humanscale FM300 Foot Rocker Review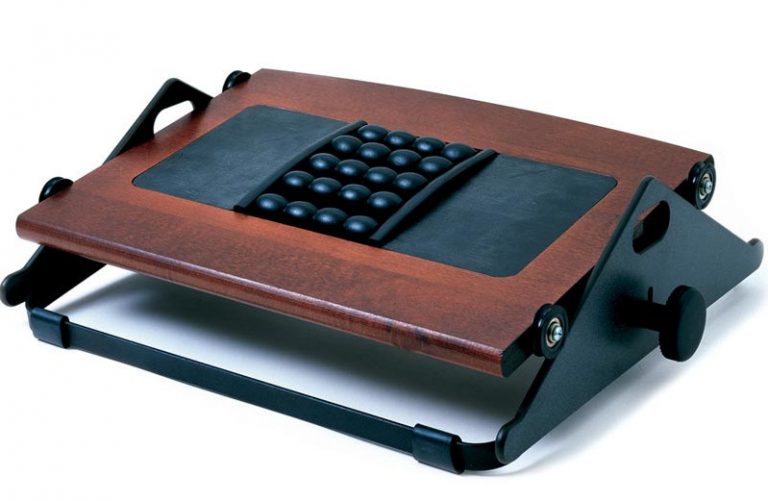 ---
Humanscale FM300 Foot Rocker combines quality with affordability to bring customers a convenient product that will help to boost their blood circulation during periods of sitting down, without breaking the bank. The product offers sturdy construction and is made from quality materials. The anti-skid surface further adds to the benefits that the footrest offers its users, by reducing the risk of the user's feet constantly slipping off the device while it is in use.
The product is also one of the more affordable options out there when taking the actual set of features that the product offers into account. There are additional convenient features also installed in the device that is not available with many competing options, such as the ability to adjust its height. The device also offers a very attractive design and is available in two color varieties to suit the user's specific preferences.
Humanscale FM300 Foot Rocker
Overview
Price
Starting at $109
Colors Available
Natural or Dark Cherry
Construction Materials
Solid hardwood, steel, rubber, and plastic
Size
16" x 11.875"
Height Adjustability
Between 3.75" and 6.75"
Shipping
Free local shipping in the US
Warranty
Lifetime warranty
Humanscale FM300 Foot Rocker Review
Humanscale FM300 Foot Rocker is both a leg and footrest, as well as a foot rocker, simultaneously. The product was designed to offer the user a comfortable spot to rest their feet in cases where they are sitting, perhaps during a day job that requires the user to be in front of a desk or computer all day long. At the same time, the product offers a rocking motion that the user can utilize to keep their feet active when they sit down.
The addition of features such as height adjustability, featured by Humanscale FM300, helps to make the entire process of using the device more convenient for the user. With the height adjustability feature, the user can modify the height of the device toward a level that is most comfortable for them. This is a particular feature that we do not see in all of these footrests that we find on the market, but certainly, something that those who are shorter should take into mind.
Construction
The construction of Humanscale FM300 Foot Rocker focuses on sturdiness and quality, to provide the user with a device that will last them well over a decade. At the same time, the manufacturer developed a construction that promotes a useful function that can help to benefit the user's health – improving circulating, preventing their legs from being still for too long, and ultimately reducing the risk of pain symptoms that are often experienced with prolonged periods of sitting down.
The product features a steel frame, along with phenolic supports on both sides of the footrest. The platform itself is made from a solid hardwood material, which is durable. The top part of the platform features a series of rubber pads and plastic knobs, which were added to reduce slipping and ensure the user can get a firm grip when their feet are placed on the surface.
The plastic knobs were added to also provide a massaging effect to the user. This can further help to stimulate the circulation of blood in their feet.
Design
Humanscale FM300 Foot Rocker offers an attractive design, and customers are able to select from two different colors when they decide to buy this footrest for their office. The company has made the product available in a natural wood color, as well as a stained wood color that comes in Dark Cherry.
It should be noted that, unlike some alternatives from this manufacturer, Humanscale FM300 Foot Rocker is not available in black color.
The fact that the product is constructed with a steel frame further adds to the overall appearance – this ensures that the footrest will easily blend in with almost any type of interior that an office or particular room where the product will be used features.
Warranty
Humanscale FM300 Foot Rocker is one of the few options in this category that comes with an extended warranty period. Many alternatives that are on the market today would come with a very short "money-back guarantee" period, such as a one-month window, or a warranty that is both limited and will only be valid for a year or two.
When a customer buys Humanscale F300 Foot Rocker to benefit their well-being and keep their feet active when they are sitting down, they are given access to a lifetime warranty instead. The lifetime warranty ensures the customer to get in touch with the manufacturer regarding faults even if they have owned the product for over a decade already.
This is certainly one of the important points that a potential customer should take into account if they are trying to determine if Humanscale F300 Foot Rocker is a good option for them.
The Bottom Line
We found Humanscale FM300 Foot Rocker to be a great choice for people who are looking to become more health-conscious while working a desk job on a day-to-day basis. The device is portable enough to be carried with the user, while also large enough to easily fit both feet comfortably. The product also comes with a sturdy design to ensure it lasts for a long time and will not start to break down after a few uses – and in cases where issues do develop, the lifetime warranty further adds to the overall value that the product offers the customer.
While there are a couple of issues that previous customers have noted, such as the deck that may sometime slip out of place, we did notice that these were not significant problems that cause a great disruption in a person's productivity.
Like Humanscale FM300? You might also wish to read the Humanscale FM100 guide.
---