Office Ottoman Foot Rest Non-Slip Ergonomic Foam Cushion Review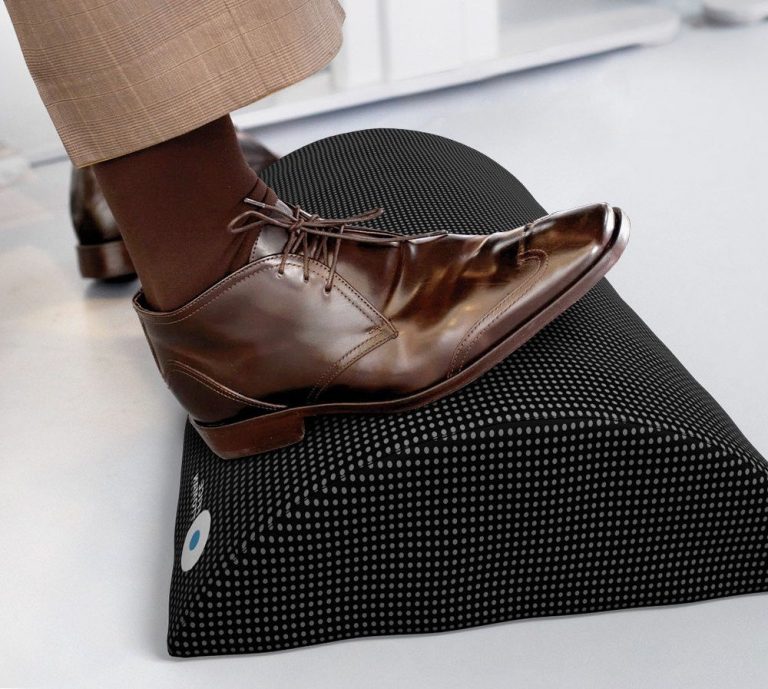 ---
Office Ottoman Foot Rest Under Desk Non-Slip Ergonomic Foam Cushion is an excellent option for people who are looking for an affordable, lightweight, and compact solution to ensuring they have a comfortable place to rest their feet while they are working in a seated position. The entire foot cushion is made from quality materials to ensure maximum comfortability, while also addressing issues such as durability. The end result is a product that will remain stable underneath the user's feet and will last for a long time, even when used on a day-to-day basis.
This is also one of the most affordable options on the market when it comes to choosing a good footrest that can provide a soft and comfortable position for the user's feet, with appropriate support and an adequate surface that will not feel restricted.
Office Ottoman Foot Rest Non-Slip Ergonomic Foam Cushion
Overview
Price
Starting at $28.95
Material
Medical grade foam, valor cover
Sizes Available
11.7" x 11.5" x 4.0"
Colors Available
Black
Weight
1lbs
Where Produced
n/a
Shipping
Shipping is charged based on the customer's location. International orders may incur additional fees for import taxes and customs duties
Warranty
n/a
Office Ottoman Foot Rest Under Desk Non-Slip Ergonomic Foam Cushion Review
Office Ottoman Foot Rest Under Desk Non-Slip Ergonomics Foam Cushion combines affordability with quality and ergonomic design. This provides a product that is affordable for most people, while still focusing on the user's overall comfort while the cushion is in use, and ensuring the ottoman is durable enough for frequent use, without the need to worry about the cushion wearing out or "going flat" after just a few days of use.
A Foot Rest For Multiple Purposes
Office Ottoman Cushion was designed with multiple purposes and uses in mind. While many of these footrests are promoted for office use, the company behind this footrest, being Office Ottoman, decided to design a cushion that is perfect for use at the office, at home, and in various other scenarios – some of the people who have bought the product are even using it for improved comfortability in the car.
According to the manufacturer of this cushion, Office Ottoman is not only the ideal solution for avoiding aching feet when sitting down for long periods at work. Additionally, this cushion was also designed for people who suffer from pain related to swollen feet, plantar fibroma, peripheral neuropathy, arthritis, bunions and sprains, heel spurs, and even those who have undergone a surgical procedure in their foot.
Furthermore, Office Ottoman was designed to be the perfect companion to any shoe – regardless of size and design. This is a great benefit since some footrests do not pair well with certain types of shoes, such as those with heels attached to them – these, however, does not pose any issues with Office Ottoman Foot Rest Under Desk Non-Slip Ergonomic Foam Cushion.
Designed For Maximum Comfort
The Cushion features an internal cushion that is manufactured from a hypoallergenic high-resilient medical-grade foam. What this means is that the foam can provide a superior level of comfortability to many of the other foot rests that are made from foam.
It should be noted as well that The Foam Cushion offers improved workspace clearance over a large number of the competitor products that can be found on the market right now. While many of the current options available often lead to an uncomfortable seated position, this particular option was designed to ensure most people can use it without experiencing a significant restriction in the space available underneath the table.
This particular footrest cushion can accommodate the majority of users. We have found that a lot of these cushions tend to be less convenient for those shorter or taller than the average individuals. Office Ottoman Foot Rest Under Desk Non-Slip Ergonomic Foam Cushion, however, is an appropriate option for most people – even if they were to be considered somewhat taller than the average person's height.
Easy Cleaning And Improved Hygiene
Cleaning is a breeze with Office Ottoman Foot Rest Under Desk Non-Slip Ergonomic Foam Cushion. A large number of these footrests are not machine washable and when cleaned, may be at risk of mold on the inside. This particular product, however, was designed to favor hygiene.
The cushion itself is covered with a high-quality velour cover, which can be easily removed. Once removed, the cover can be washed in a standard washing machine and then allowed to air dry.
Additionally, the foam used in the manufacturing of the cushion itself was selected based on its hypoallergenic and antimicrobial properties. What this means is that the foam has some level of resistance to the build-up of microbial species, reducing the risk of bacteria and other living organisms making the cushion their new "breeding ground." In turn, this helps to provide a significant improvement in the overall hygiene of the product – which is crucial in the specific uses for the cushion.
Affordability And Bulk Discounts
It should also be noted that Office Ottoman Cushion is certainly an affordable option out there. In addition to being affordable, when buying a single footrest the manufacturer also has several coupon codes and discounts available when purchasing the product in bulk.
The Bottom Line
Office Ottoman Foot Rest Under Desk Non-Slip Ergonomic Foam Cushion is a compact and portable cushion that does not weight a lot and comes with a relatively soft design. The footrest was developed to accommodate both feet at the same time, even though some might find it a little too limited in certain seated positions. The footrest offers a high-quality overall design, along with the ability to remove the cover of the cushion for washing and cleaning purposes.
Another essential fact about Office Ottoman Foot Rest would be the fact that the product is available at an affordable price, with a price tag that is lower than $30. The additional special offers provided by the manufacturer further reduces the price when bought in bulk.
Still can't decide after reading about Office Ottoman Footrest? There is another option you may find interesting: Webble Footrest.
---