HOVR Floor Stand Leg Swing Review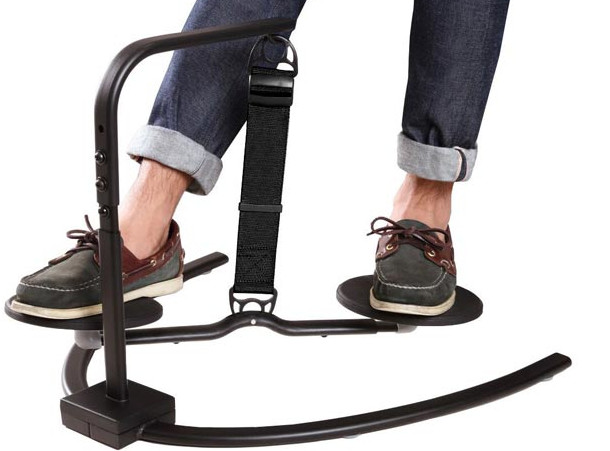 ---
HOVR Under Desk Leg Swing is one of the most unique products on the market that can be utilized by people who are looking to keep their feet and legs active when they are sitting down during the day. The product was developed to provide a way to keep these lower limbs active to avoid blood pooling in these limbs, while also enhancing blood circulation. This helps a lot when a person is sitting down for a long time – which is common for people who find themselves working at a desk throughout the day.
This particular product is more appropriate for specific types of desks and does not seem to be a good option for some particular types of tables that a potential customer may already own. It is also not one of the more affordable options on the market at the moment. Still, there are a few convenient benefits associated with HOVR Under Desk Leg Swing; thus it is important for customers to closely weigh the benefits and the potential drawbacks of the product to ensure they make a good choice.
HOVR Floor Stand Leg Swing
Overview
Price
Starting at $59 for desk mount option and $119 for floor stand model
Colors Available
Back base, with Blue or Black straps
Size
18.5″H x 22″W x 20″
Shipping
Free local shipping to U.S. addresses
Warranty
30 days money-back guarantee
HOVR Floor Stand Leg Swing Review
HOVR Under Desk Leg Swing comes in two different options – this includes a desk mount option and a floor stand option. The desk mount under desk foot rest is attached to a table and will then hang from the table. The user then places their feet in the height adjustable hanging swings and starts to move their feet to produce motion. The second option is ideal for cases where the desk that a customer is already using does not feature the appropriate hooks where the desk mount option can be attached.
The product is a unique concept that is different from most of the current food stands available on the market. There are different colors to choose from, the product comes with a money-back guarantee, and customers are able to get free shipping when they place an order.
Construction And Design
The overall construction of HOVR Under Desk Leg Swing ensures the product is durable – since consistent movement is produced by the product while in use, it is important for the construction to include high-quality materials. The steel-based design ensures the product can be used daily, while still providing an extended lifetime.
The design of the two different options that are available defers somewhat – the desk mount includes hooks that attach to a table, while the floor stand option comes with a stand that is placed directly on the floor, with no additional hooks that need to be connected to a table.
Customers who are interested in buying HOVR Under Desk Leg Swing can choose from two different straps colors. The product comes with both blue and a black straps, base is available in black color only. While both of these colors are convenient and looks great, some customers may find that the selection of colors available at the moment is somewhat limited.
Warranty
HOVR Under Desk Leg Swing does not seem to include any warranty, but it comes with a limited money-back guarantee period. For the first 30 days following the original purchase date of the product, the customer is provided an opportunity to test this under desk foot swing to help them determine if the product is convenient for them. If the customer does not feel happy with what the product is able to offer them, then they are eligible for a refund on their purchase – given that they submit a request for a refund within the first 30 days after they have purchased HOVR Under Desk Leg Swing.
The Bottom Line
HOVR Under Desk Leg Swing is more than just a simple footrest for people who want to be more aware of their well-being when they sit down – this is a swing system that allows for improved motion during those periods where a person remains seated for a long time at once. The product features an unusual design and is constructed from a range of quality materials.
While most of the features offered by HOVR Under Desk Leg Swing does seem to be convenient, there are a few drawbacks that need to be noted. The product has a limited compatibility with existing tables that a customer may own, which means many people will have to spend more money on the floor stand option if they do not own a table that the basic product is compatible with. There is also only a limited selection of colors to choose from, and the product may not be a good option for people who use chairs with wheels.
Have doubts about HOVR Floor? You'll find many high-quality options. For instance, check our Toasty Toes review to get a better perspective.
---