Carrom Balance Board: Roller Board Review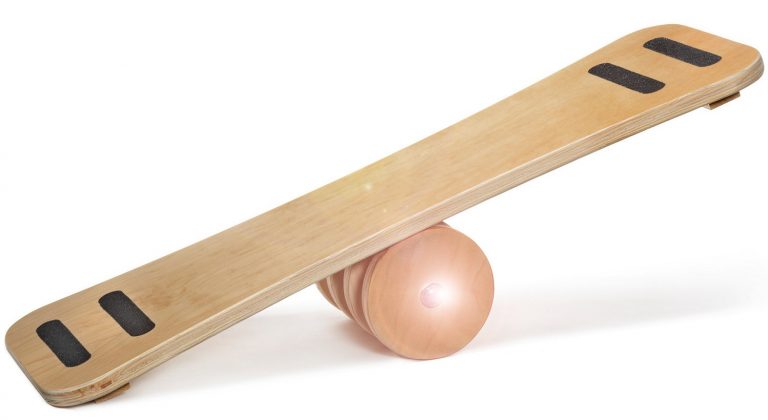 ---
Carrom Balance Board is a basic roller that offers users a chance to strengthen their core muscles and improve coordination and balance. It comprises a hardwood plywood plank that balances on a roller made of the same material. Anti-skid strips are provided on the sides to help users gain a better grip and control over the board. The roller consists of grooves which fit in the grooves provided in the underside of the plank. This helps the roller move side to side resulting in a rocking motion. The balance board is strong and sturdy which does not bend if used within the weight capacity limit. It can be used in sports, gymnastics, balance training, athletic training, skateboarding, and fitness training. When users balance and rock on it, it helps engage all the core muscles in their body. This helps to strengthen and tone all their upper and lower body muscles.
Carrom Balance Board: Roller Board
Overview
Price
Starting at $57.99
Material
High-quality hardwood plywood, UV polyurethane finish
Sizes Available
Board's dimensions: 31.5" x 10.2" x 1.5" (80cm x 26cm x 3.8cm), Roller's length: 10.2" (26 cm) with a diameter of 4.5" (11.4 cm)
Colors Available
Natural, Red, Blue, Green
Weight Capacity
300 lbs (136 kg)
Manufactured
USA
Shipping
Free 2-day shipping offered through Amazon Prime
Warranty
2-year manufacturer's warranty
Review of Carrom Balance Board
---
Specifications
Carrom Balance Board is a simple yet effective device that offers its users a significant amount of balancing and rocking options through which they can achieve fitness and health. It is a type of roller board with the plank balancing on a roller. Both the plank and the roller are made from high-quality hardwood plywood with a UV polyurethane finish. The dimensions of the board are are 31.5" x 10.2" x 1.5" (80cm x 26cm x 3.8cm). The roller's length is equal to the width of the board, i.e. 10.2" (26 cm). It has a diameter of 4.5" (11.4 cm). The underside of the board has lengthwise grooves which fit in the corresponding grooves of the roller. This does not let the roller roll sideways. The board has anti-skid strips on both the left and right sides. This helps users in securing a firm grip with their feet whether they are wearing shoes or not. Two roller stops are also provided at the underside to prevent the roller from rolling too far. Users can incorporate various exercises into their workouts using this balance board to bring a new angle to their workouts.
Appearance and Maintenance
Carrom Balance Board offers an appropriate balancing and rocking motion based on its design and construction. Although not very stylish or aesthetically pleasing, it has a strong and durable construction. It comes in four different colors: Natural, Blue, Green, and Red. Users are offered four different options through which they can choose the one which they like best. Price of the board varies slightly based on each particular color. The Carrom is easy to use and does not offer a very difficult challenge because of its small diameter roller. Thus, it is ideal to be used by beginners. Because of its UV polyurethane finish, it is easy to clean. The grooves of the board and roller may require more effort in cleaning. If not cleaned regularly, it can make balancing on the board a bit difficult. A package comes with a user guide which outlines all the usage instructions and troubleshooting topics. The user guide also describes various exercises which can be done using this board. Different types of exercises engage different muscle groups in the body. By incorporating these different exercises into any workout, users can help improve their balance, coordination, and fitness.
Carrom Balance Board Assembly and Accessories
Carrom Balance Board is a roller board that allows users to roll it sideways and balance on it. It can be utilized in a variety of exercises and fitness training to help improve one's strength and balance. When its box is opened, it requires minimum assembly on the user's part. The package contains a hardwood plank and a roller. The roller has to be placed underneath the plank in a way that their grooves fit together. After that, users can start balancing and rocking it immediately. Some accessories can be bought with this balance board to enhance their experience. One such accessory is an exercise mat. Since the balance board is made of hardwood, it will cause a lot of noise if it is used on a hard floor. It can slip as well on hard, slippery floors. For this purpose, an exercise mat can be placed on the floor and then the board is balanced on it. Another accessory which can be used with this balance board is an anti-fatigue mat. It can be placed on top of the board to provide a cushion for the feet as compared to the hard surface of the balance board.
Packaging and Shipping
Carrom Balance Board is a simple yet beneficial balance equipment that helps users in their exercises and fitness routines. The balance board is made in the USA and is shipped free of cost to all states of the US. Free shipping is also offered for all the APO/FPO addresses. However, for the APO/FPO addresses, users will have to check from the manufacturer about the warranty and other support issues as these may not be offered for those destinations. The shipped package has the dimensions 31.5" x 10.2" x 6" (80cm x 26cm x 15.2 cm) and its shipping weight is 6.6 lbs (3 kg). The shipped package contains the board, the roller, and all the support documents provided by the manufacturer. The manufacturer also offers a 2-year limited warranty, for defects and other issues, which is shipped along with the board.
Benefits of the Carrom Balance Board
Carrom Balance Board offers a number of benefits and advantages considering its low price and simple design. It is a type of roller board that allows users to balance on it and roll sideways to improve their coordination, reflexes, and balance. It has a basic structure but is quite strong and durable. It can easily accommodate an individual weighing up to 300 lbs without causing any damage to it. The anti-skid strips on the sides prevent the user from slipping on the board. It can be used in a number of ways in various exercises and fitness routines to get its maximum benefit. It helps engage all the muscles in the body which in turn strengthens the core and improves overall fitness. Various upper and lower body exercises can be incorporated in a workout using this balance board. This balance board is also very beneficial for skiers, snowboarders, surfers, and skateboarders. It helps them practice their particular sport so that they can excel in it.
The Bottom Line
Carrom Balance Board is a basic type of roller board that has some significant features which make it a good choice for users. Although it has a simple and basic design, it is quite sturdy and durable. It is also appropriate even for heavier individuals weighing up to 300 lbs. The board itself has a high-quality finish with anti-skid strips for added grip and comfort. The roller rolls along its length which has roller-stops at each edge which prevents the roller from rolling too far away. The roller has a small diameter which means that the degree of balancing is relatively smaller. Hence, it is ideal for beginners as it is easier to master. However, for experienced individuals, this balance board might not be appropriate as it is not very challenging. Thus, for beginners and people with a low budget, this balance board is a perfect choice as it offers them the required challenge, flexibility, variety, and durability.
Have doubts about Carrom Balance Board? You will find plenty of high-quality alternatives. For instance, check our Fluidstance Level Balance Board review to get a better perspective.
---