Indo Standing Desk Balance Board Review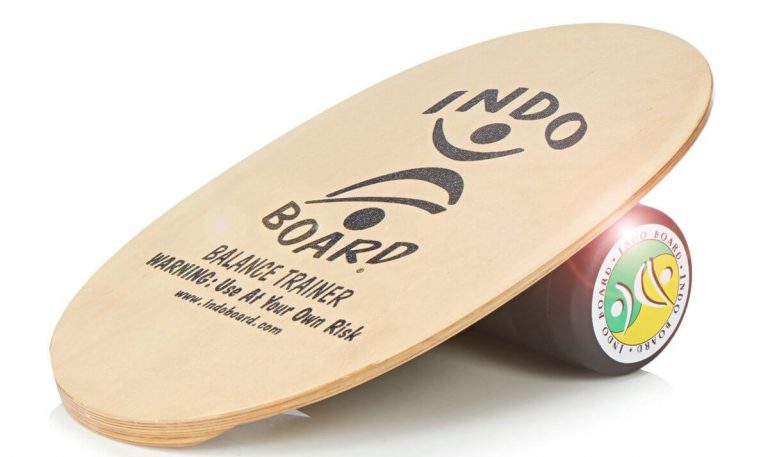 ---
Indo Standing Desk Balance Board is a premium device that offers not only a beautiful and artistic design but also numerous benefits through a number of ways in which it can be used. The board comprises an oval-shaped, cabinet-grade, birch wood deck which balances on an inflatable cushion. The cushion can be mouth-inflated according to the users' preferences of whether they want it firm or soft. The type of inflation determines the level of challenge that the board poses. Indo can be used in fitness training, athletic training, or during workouts. It can also be used with a standing desk to incorporate some activity into a stationary routine. Users can work on a standing workstation while balancing on this board to stimulate their minds and bodies. Using this balance board, they can burn calories and improve their core strength. This, in turn, helps in improving one's energy, alertness, efficiency, and productivity. An instructional DVD is also provided.
Indo Standing Desk Balance Board
Overview
Price
Starting at $119
Material
Cabinet-grade birch wood deck
Sizes Available
The board's dimensions are 30" x 18" x 3" (76.2cm x 45.7cm x 7.6cm), the inflatable cushion diameter is 14" (35.5 cm)
Colors Available
Bamboo Beach, Barefoot, Blue, Doodle, Natural, Robert August, Snow Peak, White Art, Yin Yang
Board Weight
13.2 lbs (6 kg)
Weight Capacity
250 lbs (113.4 kg)
Manufactured
USA
Shipping
Free 2-day shipping offered through Amazon Prime
Warranty
2-year manufacturer's warranty
Review of Indo Standing Desk Balance Board
---
Indo Specifications
Indo Standing Desk Balance Board is a superior device that can be used in a variety of situations and offers numerous advantages. It comprises an oval-shaped deck which is made from high-quality birch wood. The deck balances on an IndoFlo Cushion which can be inflated or deflated easily by the users according to their requirements. When inflated to a low level, it poses the least difficult challenge where users can balance on the board with the least effort. When fully inflated, it becomes the most difficult to balance on it. The wooden deck has dimensions 30" x 18" x 3" (76.2cm x 45.7cm x 7.6cm). The inflatable cushion has a diameter of 14" (35.5 cm).  The cushion can be inflated easily without any pump in 3 to 5 seconds. It offers great variety in choice based on the various designs and colors that it offers. The board weights 13.2 lbs (6 kg), and it has a maximum weight capacity of 250 lbs (113.4 kg). The balance board can be used in the office with a standing desk. It can also be used in the gym during workouts along with its use in fitness training, athletic training, physical therapy, and sports.
Appearance and Maintenance
Indo Standing Desk Balance Board is an attractive and aesthetically pleasing balance board that has a strong and sturdy construction. It comes in a variety of colors and designs with some designs being limited edition. It is available in the following colors:
Bamboo Beach
Barefoot
Blue
Doodle
Natural
Robert August
Snow Peak
White Art
Yin Yang
The Bamboo Beach design is designed by the world-famous surf lifestyle artist Drew Brophy. The Robert August design is also a limited edition design. Due to its stylish and artistic designs, the balance board serves as a beautiful edition at the gym or the office. The wooden deck of the balance board is made from a non-slip material which prevents users from slipping. It does not matter whether they are wearing shoes or not; they would be able to secure a firm grip on the board. The balance board is easy to use and easy to maintain. The balance board comes with a user guide and support documents that describe all usage instructions and any maintenance required with the board.
Assembly and Accessories
Indo Standing Desk Balance Board is a premium quality balancing equipment that requires minimum assembly after it is bought. The box contains a wooden deck and a cushion which is originally deflated. Users can easily inflate the IndoFlo cushion according to their preferences. The cushion then has to be fitted underneath the wooden deck, and the balance board is ready to be used. Users can stand on it and try to balance it by moving it in any direction and not letting the deck's edges touch the ground. This balance board can be used as an accessory with a standing workstation to include some movement in one's routine while working at the desk. One accessory which can be used with this balance board is an exercise mat. Since it is made of wood, it makes a lot of noise when placed on a hard floor. For this purpose, an exercise mat can be used for balancing the board on it to prevent loud noises while rocking. Another accessory which is available with this balance board is a roller. The roller can be placed instead of the inflatable cushion to make it a roller board. It can then be rolled from side to side for increased challenge.
Packaging and Shipping
Indo standing desk balance board that comes in a box when it is ordered. The shipped package contains the wooden deck, the inflatable cushion, and any other accessory that was ordered along with the board. The package also contains all the user guides and support documents of the balance board. The shipping dimensions are approximately 35" x 22" x 8" (89cm x 56cm x 20cm). The exact dimensions depend upon the various accessories ordered with the board. The shipping weight is approximately 17 lbs (7.7 kg) or more. The shipped package also includes an instructional DVD which shows various routines and exercises in which this balance board can be used. Users can follow these routines to burn calories and strengthen their muscles and joints by using this Indo balance board.
Benefits of Indo Standing Desk Balance Board
Indo Balance Board is not only attractive, but also offers a great number of benefits and advantages. It has a sturdy and aesthetically pleasing design which matches the interior of any room, office, or gym. Users have a huge variety of designs and colors to choose from. It requires minimum assembly or installation before being used. The board offers varying levels of difficulty in balancing. This difficulty level can be adjusted by the users by inflating or deflating the cushion within a few seconds. The cushion is mouth-inflatable which does not require any other equipment. Users can use this balance board with a roller as well instead of the cushion. This makes it a roller board and offers a different kind of balancing experience. This balance board can be used with a standing desk to avoid the standing fatigue faced by users of standing workstations. It also can be used in different workouts and sports training.
The Bottom Line
Indo Standing Desk Balance Board is a high-quality balance board that provides users with flexibility and versatility. Whether it is used at home or in the gym during workouts, it helps users burn calories and improve fitness. For individuals who spend long periods working at a sit-stand desk, this device is ideal as it lets them keep their feet in motion all the while that they are standing. This helps them counter the side effects of working while being stationary at a desk. The balance board offers different difficulty levels which can be adjusted by users themselves within a few seconds. Thus, this balance board is feasible for beginners and advanced users alike. Although this balance board is a bit expensive when it is compared to its counterparts, the level of versatility and durability that it offers makes it a sensible choice.
We advise you to take a look at our Vew Doo Balance Board review in case you do not know if you would like to choose Indo Balance Board.
---