FluidStance The Plane Balance Board Review
FluidStance The Plane Balance Board
Overview
Material
Rubber and high-density polyethylene
Sizes Available
Dimensions 24" x 12" x 2.5" (61cm x 30.5cm x 6.3cm)
Colors Available
Black, White, Black base with white accents, White base with black accents
Board Weight
7 lbs (3.1 kg)
Weight Capacity
less than 200 lbs (90.7 kg)
Manufactured
USA
Shipping
Free shipping to 48 states of the US except Hawaii and Alaska for which standard shipping costs apply
Warranty
Lifetime warranty on manufacturing defects
---
FluidStance's The Plane Balance Board is a type of wobble board that is designed to bring about movement and activity at one's office, home, or any other workplace. It provides users with the option of incorporating some motion in their otherwise stationary lifestyles. It was first introduced in 2017 and since then has become one of the most sought-after balance boards available in the market. It is lightweight and offers three-dimensional movement which enables users to engage their core muscles while they work. The movement mimics one's walking style through natural ankle movements and helps increase the heart rate to achieve fitness. The Plane is environment-friendly product that is made from 90% recycled materials and is completely recyclable. Its wide range of motion offers variety and versatility to its users. It has an appealing design and easy-to-clean surface area which makes it a good addition to any workplace or room.
Review of FluidStance The Plane Balance Board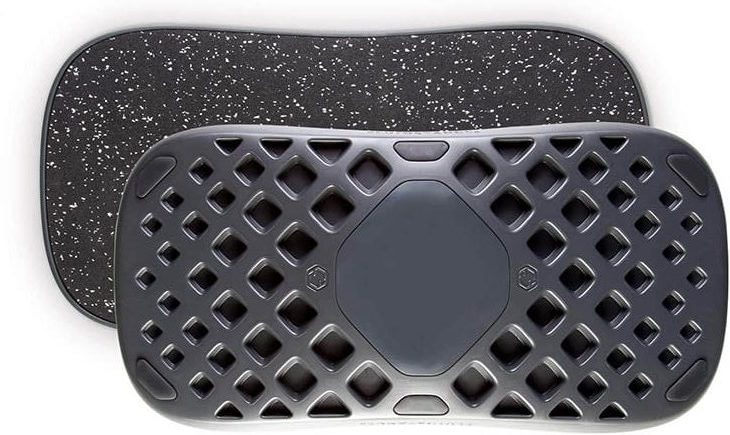 Specifications
FluidStance's The Plane Balance Board is a balance board that helps users achieve physical fitness in a lifestyle where daily activity and movement is limited. This is especially useful for people whose job requires them to sit on a desk for prolonged periods. The Plane balance board helps users engage all muscles in their body as they try to balance and move while standing on this board. The balance board is made of high-molecular polyethylene and recycled rubber. It has a dimension of 24" x 12" x 2.5" (61cm x 30.5cm x 6.3cm). Its weight is 7 lbs (3.1 kg) and can accommodate a maximum load of 200 lbs (90.7 kg). The light weight of the board enables it to be carried easily on the go. The board is of convex shape with its convex base serving as the fulcrum on which it balances. The convex base offers 360 degrees movement as opposed to one-directional movement in other balance boards. The surface of the board is made of non-slippery rubber which does not allow users to slip. Users are able to achieve a firm grip on the board as they stand on it.
Appearance and Maintenance
The Plane Balance Board by FluidStance is a beautifully designed board that comes in a variety of colors. Solid colors of black and white are available along with options of black with white elements or white with black elements. The white Plane is called Cloud whereas the solid black one is called Storm. Nimbus is The Plane in black color with white elements whereas the white one with black elements is called Cumulus. This balance board serves as a nice addition to any room or workplace. Its light weight allows it to be moved wherever one wants. It is quite compact and easy to use. The structure is quite sturdy and made from recycled plastic and tires. The only non-recyclable material of the board is the screws; otherwise, the complete board is recyclable. Its material of construction allows it to be cleaned and dusted with minimum effort. No other kind of maintenance is required for this balance board.
Assembly and Accessories
FluidStance's The Plane Balance Board requires no kind of assembly or installation. It is delivered in one piece which is ready to use immediately upon opening the box. It is also very easy to use. The user manual further describes the various specifications and usage instructions of the board. There are no specific accessories offered for this balance board. However, the board itself can be used as an accessory with other products to increase one's productivity and efficiency. The balance board can be used with a standing desk to increase the amount of physical activity of users. They can benefit from the advantages of standing while working along with the added benefit of engaging all muscles of their body when they try to balance and move with this board. The balance board can also be used during gaming or household chores where instead of sitting or standing, users can balance on the board and include an extra amount of physical activity in their routine.
Packaging and Shipping
FluidStance's The Plane Balance Board provides an ergonomic solution to counter the adverse effects of sitting during work or leisure activities. It enables users to incorporate some physical activity at their workplace or home so as to promote better health and wellness. The Plane balance board comes in a box when it is ordered. The shipping dimensions are 26.5" x 13" x 3.5" (67cm x 33cm x 9cm). The shipping weight is 8.6 lbs (3.9 kg). The board is shipped free of cost through Amazon to 48 states of the U.S. except for Hawaii and Alaska. For these two states, regular postage charges apply. The shipped item contains the balance board, a user guide, and other support documents. The manufacturer provides a lifetime warranty for defects in the balance board which is also supplied along with the product.
Benefits of FluidStance's The Plane Balance Board
FluidStance's The Plane Balance Board is a type of wobble board that offers a wide range of motion to its users. The unique design of the board comprises a convex shape which allows multi-dimensional motion. It provides users with a medium level of challenge and requires skill and practice by them as they try to balance on it and rock it without letting the board's edges touch the ground. This kind of movement and balancing when incorporated into the daily routine and work environment provides users with the benefit of being active throughout the day. The rocking motion of the board is achieved by using all muscles of the legs and feet. Thus, users feel as if they have been walking all this time. The Plane balance board can be used with a standing desk while computing. It can also be used at home or during gaming. Users can easily carry it around with them wherever they go. It is compact and easy to use.
The Bottom Line
FluidStance's The Plane Balance Board is a wobble board that offers a number of advantages to its users. It helps bring about some physical activity in this increasing era of sedentary lifestyles. Individuals who spend hours and hours in front of the monitor while sitting can use this balance board with a standing desk. The board enables them to use their body as they balance and move the board in various directions. Usually, balance boards allow movement in only one direction. However, the FluidStance Plane allows the board to be moved in any direction. This gives it an edge over other balance boards in the market. The Plane also comes at a reasonable price which is not too expensive. Thus, this board is ideal for people with a low budget who want to receive the benefits of a balancing board. It comes fully assembled when it is delivered, so users just have to take it out of the box and it is ready to be used. However, this board has a weight capacity of 200 lbs and a small surface area. This means that it is not suitable for individuals who are heavier than 200 lbs. Other than that, this balance board offers a number of advantages when compared to other balance boards in similar price ranges.
Have doubts about FluidStance Balance Board? There are plenty of high-quality other options. As an example, check our Wurf Board review to have a different perspective.
---