Revolution Fit: Fitness Balance Board Review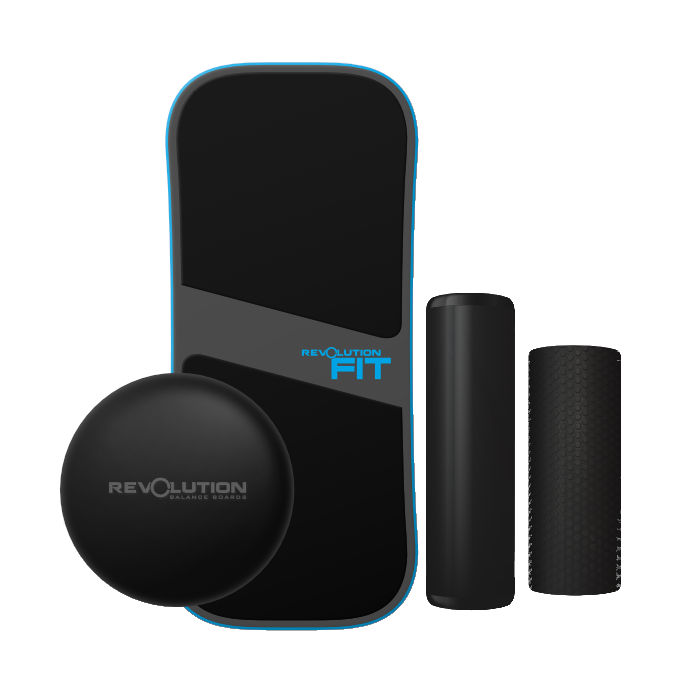 ---
Revolution Fit Balance Board is a 3-in balance board that works as a wobble board, rocker board, and roller board. It provides a full body training system where balance meets performance. It comprises a highly strong and tough structure which offers great durability and flexibility. The balance board comprises a plank which has replaceable bases. Three different types of bases are available which offer a different type of motion and balancing options to the user. These include an inflatable cushion, a plastic rocker, and a plastic roller. Each detachable base allows different degrees of motion and poses a different difficulty level. In whichever way it is used, the balance board helps users in carving and strengthening their muscle groups and improving core stability, flexibility, balance, reflexes, and recovery speed. The balance board is ideal to be used in functional cross training, sports training, gym workouts, athletic training, and fitness exercises. The board adds challenge and fun to any normal workout and add a whole new dimension to it.
Revolution Fit: Fitness Balance Board
Overview
Price
Starting at $179.95
Material
High-quality hardwood, high-density foam, high-grade plastic
Sizes Available
Board's dimensions: 32" x 14" (81.2cm x 35.5cm), Cushion's dimensions: 14" x 2.6" (35.5cm x 6.6cm), Rocker's dimensions: 12" x 6" (30.5cm x 15.2cm), Roller's length: 18" (45.7 cm) with a diameter of 5" (12.7 cm)
Colors Available
Solid Black color, and black with blue, magenta, teal, and yellow accents
Board Weight
10.4 lbs (4.5 kg)
Weight Capacity
350 lbs (181 kg)
Manufactured
USA
Shipping
Free 2-day shipping offered through Amazon Prime
Warranty
2-year manufacturer's warranty
Review of the Revolution Fit Balance Board
---
Specifications
The Revolution Fit Balance Board offers three different types of balancing options in one single package. The plank is made from high-quality hardwood which is strong and durable. Its dimensions are 32" x 14" (81.2cm x 35.5cm). A cushion, rocker, and roller serve as the base attachments to the board. The cushion is made from high-grade rubber which is fully inflatable with minimum effort. Its dimensions are 14" x 2.6" (35.5cm x 6.6cm). The high-density rocker is made from high-quality wood and has the dimensions 12" x 6" (30.5cm x 15.2cm). The high-grip roller is made from wood and has a length of 18" (45.7 cm) with a diameter of 5" (12.7 cm). The weight of the Revolution Fit Balance Board is 10.4 lbs (4.5 kg), and it has a maximum weight capacity of 350 lbs (181 kg). The different base attachments can be used to achieve different types of rocking motions which can be incorporated in various workouts. This helps users in achieving physical fitness by strengthening and stabilizing their core muscles and joints. This board is a multipurpose balance trainer that poses different levels of challenge to users and makes the whole experience fun-filled.
Appearance and Maintenance
The Revolution Fit Balance Board is a premium balance board that has an exquisite and stylish design. It is available in a few different colors with one being the solid black color and other options include a black balance board with blue, magenta, teal, or yellow accents. It comprises a plank whose top layer is made from a dura-soft material. It offers a firm grip to users irrespective of whether they are wearing shoes or not. The underside of the plank includes two side roller stops which prevent the roller from rolling too far while balancing. The rocker, roller, or cushion could be attached to the underside of the plank in the center. These attachments can be changed with ease in minimum time. No other kind of maintenance is required during use of the balance board. The user guide and other technical documents describe various usage instructions and related guidelines.
Assembly and Accessories
The Revolution Fit Balance Balance Board is a top-of-the-line balance board that requires minimum assembly and installation when its box is opened. The balance board along with three accessories of a cushion, rocker, and roller are wrapped together and placed in the box. After unwrapping, users have to attach any one of the bases to the plank, and they are ready to use it in whatever way they want. The accessories include an inflatable cushion which can be attached to the board to make it a wobble board. Users have the option of inflating the cushion according to the type of firmness they want. With this accessory, the balance board can be moved and rocked in any direction. Another accessory is a rocker which allows the board to be rocked sideways. The third accessory is the high-density roller which poses the most difficult challenge. The roller moves underneath the plank which makes balancing on the board quite difficult. Another accessory which can be bought with this balance board is a Medicine Ball which allows users to incorporate various upper and lower body exercises into their workout to improve core strength, balance, and coordination.
Packaging and Shipping
The Revolution Fit Balance Board is a device that provides the benefits of a wobble, rocker, and a roller board altogether. The package, when shipped by the manufacturer, includes all the necessary base attachments. These include an extra-grip roller, a 360 air cushion, and a high-density rocker. The base attachments are wrapped together with the plank board to prevent any damage during shipping. These wrapped elements are then placed in a branded box by Revolution. Shipping package has a dimensions of 35" x 17" x 6" (89cm x 43cm x 15cm). The weight of the shipped package is 10.4 lbs (4.7 kg). The manufacturer offers a full 2-year warranty against any manufacturer defects or malfunctions. It is included with the package along with the assembly instructions, an exercise guide, and a New Lease on Life document.
Benefits of the Revolution Fit Balance Board
The Revolution Fit Balance Board is a balance board that provides great versatility and variety in the type of functions that it offers. Upon the user's preferences, it can be transformed into a wobble, rocker or a roller board. It has detachable bases which can be changed in very less time with minimum effort. It adds fun into your boring workouts through the variations in its balancing and rocking motion. By incorporating it in various exercises during a workout, users can achieve core strength and improve their balance and coordination. It has an aesthetically pleasing design and strong construction. It offers varying levels of difficulty from which users can choose the one with which they are comfortable. It has a dura-soft upper deck which offers a firm grip to users. The two roller stops on the underside of the board prevent the roller from slipping away which is a problem faced by a major portion of roller boards available in the market.
The Bottom Line
Revolution Fit Balance Board offers a great number of advanced features and benefits which make it one of the best available in the market today. It has a high weight capacity which means it can easily be used by tall and heavy individuals. It is a stylish balance board that can be used in the office, at home or the gym. It offers the experience of three different balance boards in a single package. It can be used in a workout and incorporated into various exercises to improve one's balance, core strength, and coordination. Because of the huge number of benefits that this device provides, it can be considered a very good option if you are looking for a versatile balance board. Its price is a little towards the expensive side, but its advantages and durability outnumber the price you pay for this balance board.
Like Revolution Balance Board? You might as well want to consider the Carrom Ballance Board guide.
---