Review: FEZIBO Standing Desk Anti Fatigue Mat Wooden Wobble Balance Board
FEZIBO Standing Desk Anti Fatigue Mat Wooden Wobble Balance Board
Overview
Tilting Angle
8.5°
Carrying capacity
320 lb
Height
2.2 to 2.5″ (5,59 to 6,35 cm)
Weight
6.39 Ibs and 8.48 lbs (2,9 to 3,85 kg)
Surface
20"L x 12"W x 2.2"H (50,8 x 30,48 x 5,59 cm) and 25"L x 12"W x 2.5"H (63,5 x 30,48 x 6,35 cm)
Materials
High-density latex, natural hardwood
Surface
Comfortable non-slip anti-fatigue mat with foot massage points
Today, people begin to lead a low-activity lifestyle almost from childhood – the digitalization of most services and the need to spend a lot of time sitting at the computer is the price that humanity is forced to pay for the technological progress of recent decades. If you have to spend a lot of time in a sitting position, then most likely, you are experiencing a lot of health problems, muscle and back pain, as well as general fatigue. This condition is dangerous not only with negative physical consequences for your body, but it can also contribute to the development of chronic stress, depression, and other mental problems. In order to quickly and effectively relax the body and mind, people have invented various types of standing desks. In short, it is a board on which you can stand or on which you can put your feet, sitting on a chair and not being distracted from work.
In this article, we review the FEZIBO Standing Desk Anti Fatigue Mat Wooden Wobble Balance Board that, according to manufacturers, is a very ergonomic, effective, and useful item for your everyday use. This standing desk balance board is considered to be almost an ideal item with the newest and most progressive features and convenient design.
Product Description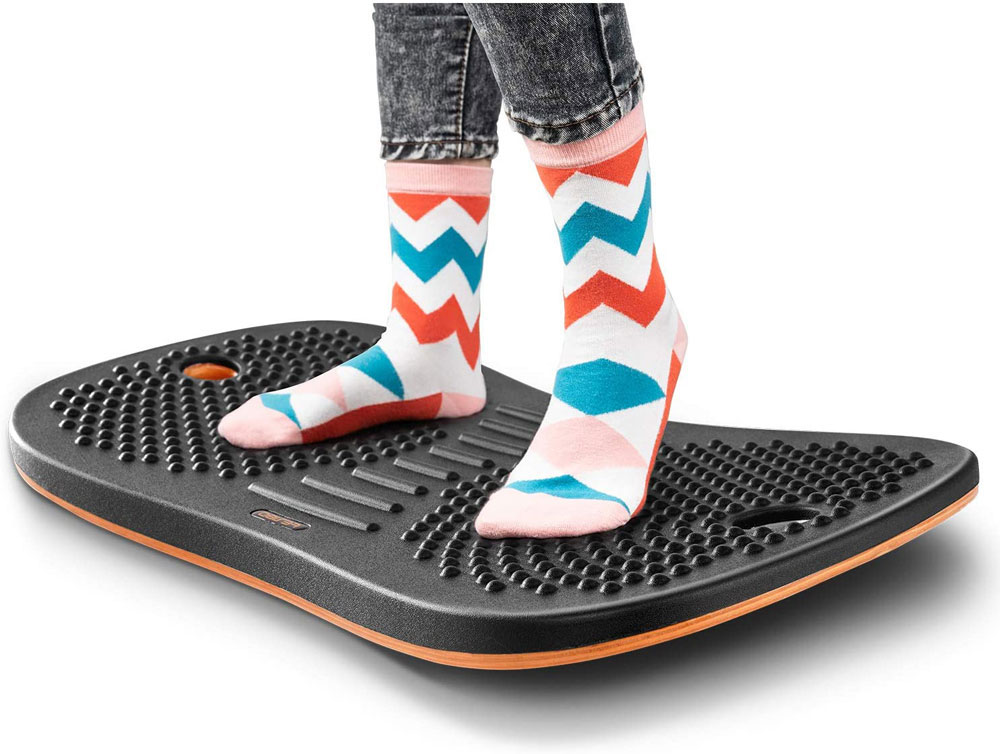 The FEZIBO Standing Desk Anti Fatigue Mat Wooden Wobble Balance is one of the best modern options you can find on the market today. It is perfect and well-known for its ergonomic design: the standing Anti-fatigue mat remains steady with an 8.5° tilting angle. This Standing desk is a nice item for everyone who aims to don't have a lot of free time and wants to have a healthy body not destructing from their daily or work routine. As all people these days lead a sedentary lifestyle, such a desk will be extremely helpful for people of different ages who need to relax their body and mind and to make their body healthier.
Fezibo company has made this anti-fatigue mat of the most quality materials, such as premium natural hardwood and high-density latex, to ensure your comfort and safety. To provide them and to make you enjoy using the desk, they added a comfortable natural robber Non-Slip Elastic Surface that covers the bottom part of the mat and reliably protects it from slipping and scratching. And it is not all! The Fezibo desk has anti-fatigue foot massage points helping to relieve your muscles, provide posture, increase blood circulation. Make this massage, standing on the desk for a while during the day, and you will be able to get rid of physical and mental fatigue and stress – you can either stand wearing some kind of shoes or do it with bare feet. But remember that if the sole of your shoes is too dense and thick, then you will hardly feel all the positive effects of self-massage.
There are three colors available on the market right now, and you can choose the most preferable for you from Obsidian Black, Denim Blue, Altostratus Gray options. Besides, the standing desk is produced in two different sizes (medium and large). The work surface of the medium mat is 2.2″ height and 20″ and 12″ wide and length, respectively. The large size option is 25" in length, 12" in wide, and 2.5" in height. The huge benefit of this product is its portability – you can quickly step on or off the dest without wasting your time on installation, assembly, and other stuff. Also, if you're indeed planning to carry in from one place to another, there is a special anty-scratch natural rubber surface and convenient carry hole for easy portability.
What about weight capacity? Manufacturers claim that the maximum weight FEZIBO mat can withstand is up to 320lbs. You can also get a 30-day risk-free and make sure the quality and durability of the product without huge financial costs.
The FEZIBO anti-fatigue mat has many advantages, including fast assembly, ergonomic design, size, and color availability to suit everyone's taste and preference. However, along with this, like any other market product, this desk also has some drawbacks, and you should take them into account before you decide to buy it for your work/ home use.
Price
In general, the price on the American market for a medium-sized board is $64.99, and for a large-sized board – $94.99. However, right now, there is a promotion on Amazon, and you can buy a large-sized board with a noticeable discount of almost 30 percent and pay for it at the price of the medium option – $69.99.This price is really quite reasonable for a device that will become a must-have for you and significantly improve your health and quality of life.
Warranty
The nice part of buying this standing desk is that the manufacturer gives a 7-year warranty for this item, instead of 1 year as it happens with many other companies. In addition, there is a 30-Day Satisfaction Guarantee, during which you can return the product if it suddenly does not satisfy you completely. Thus, this purchase is absolutely risk-free, and if you worry about wasting our money on a bad and fragile product, we can calm you down.
Main Benefits and Features of FEZIBO Standing Desk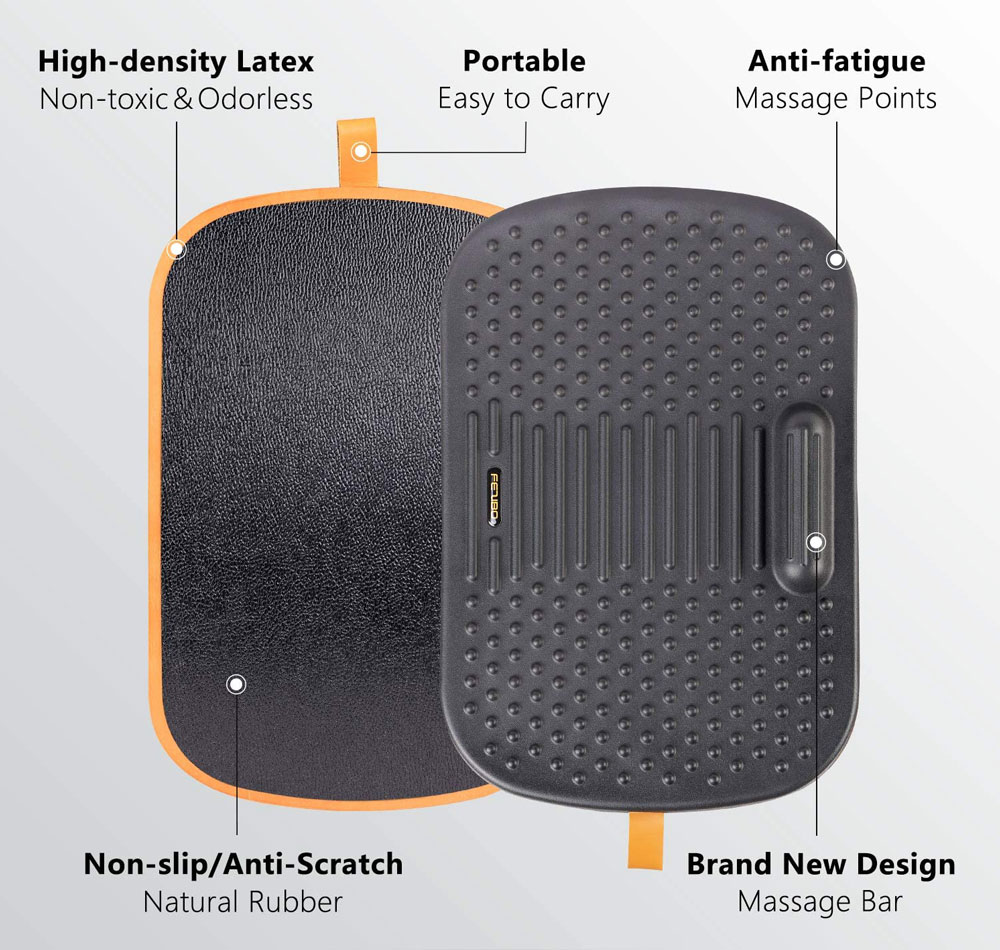 As I mentioned before, the FEZIBO standing desk is a very functional and quality product suitable for everyone. In this part of the article, I want to go into more detail about the characteristics and features of each aspect of the table so that you can learn more about this product.
Packaging
Many people note the fairly compact and convenient packaging in which the anti-fatigue mats are delivered. Portable dimensions of this standing desk are 26″ in length, 14.7″ in wide, in 3.1″ in height that makes it relatively small. The product is also not very heavy, and a box with it inside weighs about 6.39 Ibs to 8.48 lbs and can be easily and conveniently transported.
Shipping
The FEZIBO company offers free shipping via UPS/USPS/FedEx to the Contiguous United States for most of its products. The delivery within the U.S. usually takes about 5-8 business days. However, note that due to the Covid-19 pandemic, the delivery may be delayed indefinitely due to the heavy load on the postal service. Besides, keep in mind that there could be different circumstances that don't depend on the manufacturers, such as national holidays, inventory shortages, shipping carrier delays, customs delays, extreme weather, and other scenarios because of which your delivery may be delayed.
Installation
What makes this standing desk even more convenient is the fact that you do not need to install or assemble it, wasting your time and effort on these processes. In fact, the device is ready for use right after you buy it and all you need to do is locate it in the most suitable and comfortable place for you (in the kitchen, near the computer table, in front of the sofa, in the fresh air, etc.), and you can freely use it without additional effort. Thus, even your child can easily place this anti-fatigue mat in any part of your home and start using it. In addition, this product is completely silent, which means that it will not distract you from work, and what is more, it does not require any special care.
Quality
Despite its compact size, this standing desk has a fairly solid construction, made of premium natural hardwood and covered with High-density latex/ Natural rubber and a non-slip elastic surface. Each of these materials perfectly performs its functions and provides durability, damage, and scratch resistance, and comfort in use. In other words, you can be sure that you will feel comfortable and safe standing on this desk and will not be at risk of falling to the floor and breaking your nose accidentally.
Stability
Again, as a result of the reliable anti-slip covering, the design of the standing desk is incredibly stable and does not allow you to fall to the floor and hurt yourself. Despite the fact that the board is designed in such a way that the user can balance on it, train their sense of balance and stretch the cramped muscles of the legs, the anti-fatigue mat still stands confidently in one place, no matter how you move while standing on it.
Ease Of Use
This FEZIBO standing desk is very easy to use, even for little children. This board does not require any special care, complex installations, or knowledge of many special techniques for performing exercises on it. All you have to do is stand on the board and balance from side to side, developing the mobility of the muscles and the body as a whole, massaging the points on the feet, and strengthening the muscles of the back and legs with such light warm-up movements. This activity will help you improve blood circulation, relieve tension and pain in the body, as well as lift your mood!
The best thing is that you can use the board even without leaving your computer and without being distracted from work and other important businesses. Ideally, you should balance standing, but if you prefer to work sitting at a table, then the lightfoot self-massage provided by anti-fatigue foot massage points can significantly improve your well-being anyway.
What You Should Know Before Buying FEZIBO Desk
The FEZIBO standing desk seems a very useful and comfortable item for both your home and office. In general, using this item during the day makes everybody feel better and relaxed, so it is a great tool for people of any gender and age. However, today there are a huge number of different desks on the market, and therefore you should think about which type of board is more suitable for you. You may want to have a simple, stable massage mat, or you may need an active board on which you can significantly improve your coordination and overall sense of balance – anyway, you should be based on your preferences, the general style of your life, and other factors.
I strongly recommend you to buy the Standing Desk if you:
Often under stress and feel tired
Lead a mostly sedentary lifestyle
Feel back pain and muscle fatigue
Want to be more active and toned.
Warnings:
Please, take into account your health issues, and if your doctors do not recommend you to use standing desks, you better quit this idea.
Remember about the weight limit of 320 lbs, and if your total equipment weighs more, you better find an option with a bigger weight capacity.
Where can the standing desk be applied?
It is equally convenient for use in the home, at work, or even outside the house. There are no special rules or restrictions adjusting this, so in general, you can apply it anywhere you want.
Can the desk be used on a carpet?
Yes, many customers use it on the carpet, and there is no problem. However, you need to be careful because since the carpet, unlike the quality standing board, most often does not have an anti-slip surface, so there is a risk of falling on the floor and get hurt.
How long can the desk be used?
It depends on you and how careful you use the board. The seven-year warranty means that at least during this period of time, your standing board should serve you immaculately. However, as always, with improper operation, the service life can be significantly shortened.
Will my feet fit on the board if I have large feet (us size 15)?
Manufacturers do not say anything about this aspect, and the board is considered universal for all people. However, according to some customer reviews, the mat may really be too small for you if your shoe size is more than 11.
---