Simply Fit Balance Board Review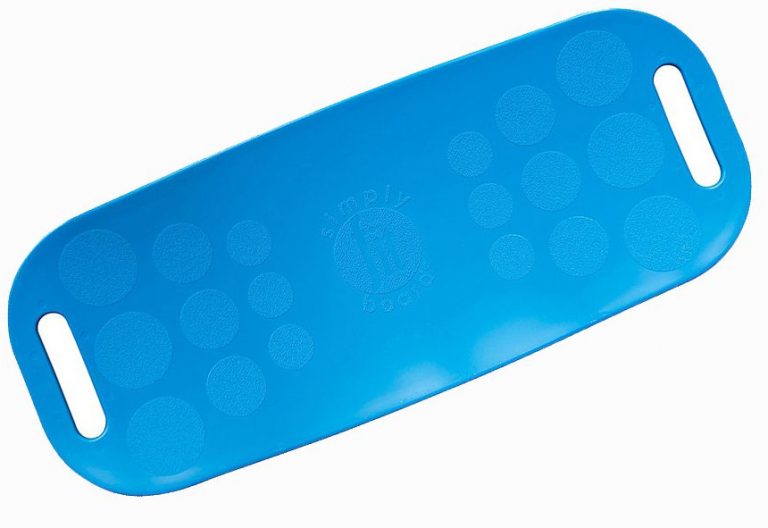 ---
The Simply Fit Board is a type of fitness balance board that offers side-to-side motion and balance options through its various moves. By using this device, people can achieve fitness whether at home or the gym. The board was introduced in 2017. It features a plastic which has a convex shape. It comprises a special anti-slip surface which allows users to stand on it without slipping. Users can rock it from side to side and try to maintain their balance without letting the edges touch the ground. This rocking and balancing motion by the users help in toning their abs, legs, core, and upper body. It can be used as a plank board, push-up support, or as a twist board. The Simply Fit has a lightweight and compact design which makes it quite portable. Two side handles are also provided for comfortable carrying. Users can incorporate various moves into their workout using it to achieve ultimate fitness.
Simply Fit Balance Board
Overview
Price
Starting at $27.75
Material
Premium-quality Plastic
Sizes Available
One size with dimensions 26" x 11" x 4" (66cm x 28cm x 10.1cm)
Colors Available
Blue, Green, Magenta, Orange
Weight Capacity
400 lbs (181 kg)
Manufactured
USA
Shipping
Free 2-day shipping offered through Amazon Prime
Warranty
1-year manufacturer's warranty
Review of the Simply Fit Board
Specifications
Simply Fit Board is a device that can be used in different workouts and exercise sessions by benefiting from its balancing and rocking motion. It is made from high-grade plastic that offers a somewhat sturdy design. It does not have additional fulcrum or roller attached at the base; rather the convex shape of the board allows for the rocking motion. It has the dimensions 26" x 11" x 4" (66cm x 28cm x 10.1cm). Its weight is only 3.2 lbs (1.5 kg), and it can accommodate a maximum weight of 400 lbs (181 kg). It's lightweight yet strong construction allows it to be carried around anywhere and be used in a variety of ways to maximize the benefits it offers. The upper surface of the board is made from an anti-slip material that offers a firm base to users. The board can be used in a variety of ways in fitness training and workouts. It can be used to increase one's core strength and balance capability. It can be used as a support during push-ups. It can also be used as a twist board to strengthen one's abs, legs, ankles, back, and upper body.
Appearance and Maintenance
Simply Fit Board is a basic yet elegant balance board for fitness that is aesthetically pleasing and offers great versatility in its functionality. It has a unique and stylish design which is available in four different solid colors: Blue, Green, Orange, and Magenta. It weighs very less which makes it an ideal choice to be carried around wherever one wants. It is made from high-quality plastic which is easy to clean and manage. The top surface of the deck is made of a rubbery, anti-slip material that offers firmness and stability. However, the surface can feel a bit hard while standing on the board. This could be countered by using an anti-fatigue mat on top of the board. There are two side handles provided which allows for easy lifting and handling. It can also be hanged on a wall using these side handles to conserve space. If it is used properly according to the user guide provided, the board does not require any maintenance apart from the usual cleaning. The user guide and other support documents outline all the problems and their solutions that users might face when using this board.
Assembly and Accessories
The Simply Fit Board is an easy to use balance board that does not require any installation or assembly when its box is opened. It comes in one piece which is ready to use as soon as you unpack it. Users just have to take it out of its packaging, put it on the floor, and start using it without any further ado. It can be used in the gym or at home when one wants to do some exercise or incorporate it into their workouts. It offers a great deal of variety into the types of exercise options available. The board can also be used with some accessories to enhance its experience. It can be used with a workout mat for added comfort and cushioning during exercises. Another useful accessory is the different types of workout DVDs available with this balance board. The DVDs show various ways in which this board can be used to strengthen the body's muscles and joints. They contain complete workout routines which serve as a great guide for anyone wishing to use the SImply Fit for achieving good health and fitness.
Packaging and Shipping
The Simply Fit Board can be bought directly from the manufacturer outlets, or it can be ordered online which will be delivered at your doorstep. The manufacturers offer two-day free shipping within the USA to all the lower states. For Canada, Alaska, Hawaii, US Virgin Islands, Guam, and Puerto Rico, extra delivery charges apply. The shipping dimensions of the package are 27" x 11.5" x 4.5" (68.5cm x 29cm x 11.5cm). The shipping weight is 4.2 lbs (1.9 kg). The shipped package contains the balance board as one piece and all other support documents and user guides. The manufacturer offers a 1-year warranty which is supplied along with the board. The balance board, when taken out of the box, does not require any kind of installation. It can be used immediately for exercise or workout.
Benefits of the Simply Fit Board
The Simply Fit Board offers a great number of benefits especially considering the price that it comes in. It is one of the cheapest balance boards available in the market. It is lightweight and has a stylish design which is quite attractive. It comes in bright solid colors which are aesthetically pleasing. The board offers varying degrees of motion and balancing which are useful during fitness training and gym workouts. Users can not only use it in the gym but also at home or in the office. It can be used as a balance board, as a twist board, and as push-up support. Through its balancing and rocking motion, users are able to engage all their core muscles including the upper body and lower body. User's abs and thighs are toned if used according to the workout routines available for this board. It does not require any assembly and is very easy to use. The anti-slip surface prevents users from slipping while using it.
The Bottom Line
The Simply Fit Board is a type of balance board that is easy to use and offers a number of advantages. It is ideal for individuals with a low budget who want to experience the benefits of a balance board but cannot afford the expensive ones. However, there are certain issues with this board. The design and construction of the board are not durable and strong. Users report cracking of The Simply Fit after a few months use. The advertised weight capacity of the board is also much higher than its actual weight capacity. It can only be used on a carpet, rug, or some other cushioning. If used on a hard floor, the board slips and also damages itself and the floor with its crude movement. For heavier individuals, this board is not at all appropriate as it could crack and break very easily. Thus, this board is a good choice for someone who does not want to spend too much on a balance board and does not plan on using it for long. Other than that, it's better to invest in a more durable and sturdy balance board.
We advise you to check out our Fluidstance Balance Board guide in case you don't know whether you would like to try out Simply Fit Balance Board.
---