Humanscale Float Table Stand Up Desk Review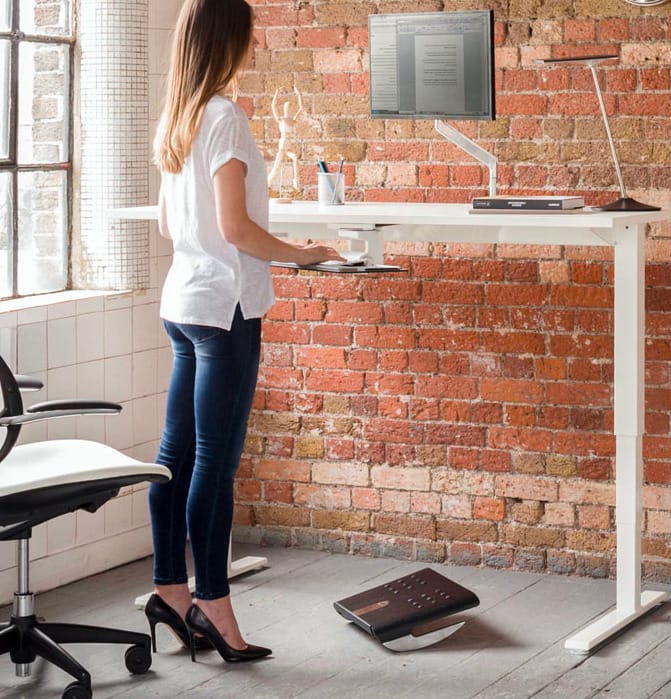 ---
Whether working from home or in an office, computer and desk work, in general, are probably integral and irreplaceable parts of your daily routine. However, long-term sitting may cause certain discomfort and anxiety. Office furniture manufacturers recognized this problem, and provide a solution in the form of ergonomic furniture. Seeing different adjustable sit-stand desks is nothing new, but there is always one that catches our attention the most.
A leader in creating innovative ergonomic solutions is the Humanscale. What inducted this company into the hall of fame is their seductive float table. Humanscale Float Desk allows its users to alternate between sitting and standing effortlessly, by using a crank. No need for interrupting work. Thanks to the innovative design and neat features, this table accommodates the ergonomic requirements of 99% of its users.
The Humanscale Float Table truly stands out on the sit stand desks market with its easy and smooth use. This gliding office assistant seems to have collected the best of both standing desks options (crank and motorized). Unlike other crank desks that operate very slowly, the crank mechanism of this table allows fast adjustment from sitting to standing height. There are no motors and electronics that accompany this motorized desks. Just an elegant and functional table.
Humanscale Float Table Stand Up Desk
Overview
Price
Starting at $1,749
Lift type
Counterbalance. The transit speed depends on how fast the user can lift it
Material
Aluminum frame and a body from steel. Both are recyclable
Sizes Available
Laminate top thickness is a ¾ inch, and the available sizes of the model are: 24″ x (48″. 54″, 60″, 66″, 72″), 30″ x (48″. 54″, 60″, 66″, 72″)
Colors Available
Humanscale Float Table offers different color options for customization – Top colors include black, gray, platinum, tan and white, while the Base colors include black, grey and white.
Weight Capacity
130 Ibs of desktop weight
Manufactured
USA
Shipping
The shipping is included in the price, so there are no additional delivery costs. The delivery may take up to 4 weeks (due to the large popularity rate of this product)
Warranty
Five-year, 24/7 warranty
Humanscale Float Table Overview
The following text will offer a more detailed review of Humanscale Float Table Stand Up Desk and its features.
Humanscale Float Desk – Adjustability
The Humanscale desk regulates height with the help of a counterweight technology, tuned to the right tension. This fine tuning is performed by turning the tension crank until the change of height feels easy and smooth. A neat feature is that it is possible to make the adjustment with one hand only. This is done by pressing a small, elegant paddle on the right side of the Humanscale's desktop. However, it might feel more "natural" to use both hands – one on the paddle and the other to apply additional up/down force.
If the weight on the desktop changes due to adding or removing items – weight 0 Ibs to 130 Ibs, the tension should be readjusted. The Humanscale Float Desk offers two types of cranks to use – mounted and removable. Although the mounted version is more expensive – $80, it is without a doubt worth it. The removable version can be quite difficult to adjust and may take a while.
There is no risk of everything crashing down if the table carries too much pressure. A safety mechanism locks the position, so there are no sudden surprises. The speed and elegance of the way this user-friendly desk allows the change of height are indisputably unique. In a matter of seconds, the transition is made quietly and without any delay or stuttering. Most importantly – there is no spilled coffee on the desk.
Humanscale Float Desk – Design
The main idea of the people at Humanscale was to make an ergonomic solution for people who spend a lot of time in the office, in front of the computer and surrounded by papers. By providing a standing-option, this piece of ergonomic furniture opens a whole new dimension of office work. The focus is on the Humanscale Desk's functionality, but its appearance wasn't ignored in the least.
Less is more. Humanscale embraced this advice and designed a float desk in a minimalistic manner. No motor. No cords. No extra gear. Only flat edges, two base legs, and a table top. It may sound too simple, but what does one actually need from a work desk? Any office would be proud to have this aluminum-steel table. The materials are recyclable and the composition doesn't include commonly added toxic urea formaldehyde.
The Humanscale Float Table has a fair range of customization options, from colors to its dimensions. Both tabletop and base come in white, grey, and black, with extra tan and platinum options for the tabletop. The Humanscale table can be dressed in different color combinations. Keep in mind that the light colors faithfully portray coffee rings and dust. Size options for the desktop vary from 48" to "72 in width, and 24" to 30" in depth. Even the smallest dimensions provide enough space for different gadgets. The Humanscale Float desk is very elegant. That is why it aesthetically accompanies only modern décor spaces. Otherwise, the float desk can just be "too much."
Humanscale Float Desk – Ergonomics
What is so appealing with this Humanscale Float desk is the way it accommodates each body type, no matter the height (and width) of the user. Since there are only two table supports, there is plenty of leg space. Those who like to cross their legs and often switch sides will be very pleased with the lack of a crossbar. No more knee bruises. It is also unusually beneficial to change the desk height by just a few inches while focusing on a laptop vs. the desktop computer monitor.
However, the Float Table's support legs can't move apart enough to allow a treadmill. This issue can be a downside for some enthusiasts.
Extra desktop space can be acquired by placing a keyboard platform under the desktop. This additionally maximizes the ergonomic experience which the Humanscale Float Table provides.
The Bottom Line
Humanscale Float Table should interest people who are having difficulties in accepting the harsh reality of sedentary work and wish to gain a new perspective on office work. While using this gliding office equipment, you can't help but feel a bit futuristic.
Its elegant and minimalistic design is irresistible and inviting. Today's sit-stand desk market is full of different models, but it is difficult to find one which fulfills the user's needs as much as this piece of art does. The smoothness of the Humanscale desk's height adjustment is a sight for sore eyes. An important advantage is that it doesn't need electricity – no ugly cables are lying around. Both tabletop and leg space are ample, so you can truly feel comfortable while working.
Honestly, despite owning this desk, I have spent more time in the "sitting down" position. However, there is a very important psychological benefit to the desk. You can stand up whenever, without interrupting what you are doing at the moment. If you don't burden yourself with counting how long you've been sitting and just listen to your body, the Humanscale Float Desk will definitely be money well spent. Not to mention it is also an investment in your long-term health.
Though an admirable piece of art, Humanscale's floating table has some setbacks. The price is pretty high, so your budget will suffer. Additionally, I would strongly recommend paying the extra $80 for the built-in crank option. Otherwise, you will just get annoyed and regret choosing a cheaper option. Besides, you can't really expect to get quality at low cost. The desk's modern appearance may also be a shortcoming. Although its design expresses simplicity, it may be quite challenging to fit its elegance into a typical office setting.
Suma sumarum, Humanscale Float Table Stand Up Desk is an innovative, high-caliber height adjustable table you will be very satisfied with.
Still can't come to a decision after reading about Humanscale Float Table? There's an alternative you may like: UpDesk Ultra UpWrite.
---