Upwrite Standing Desk Review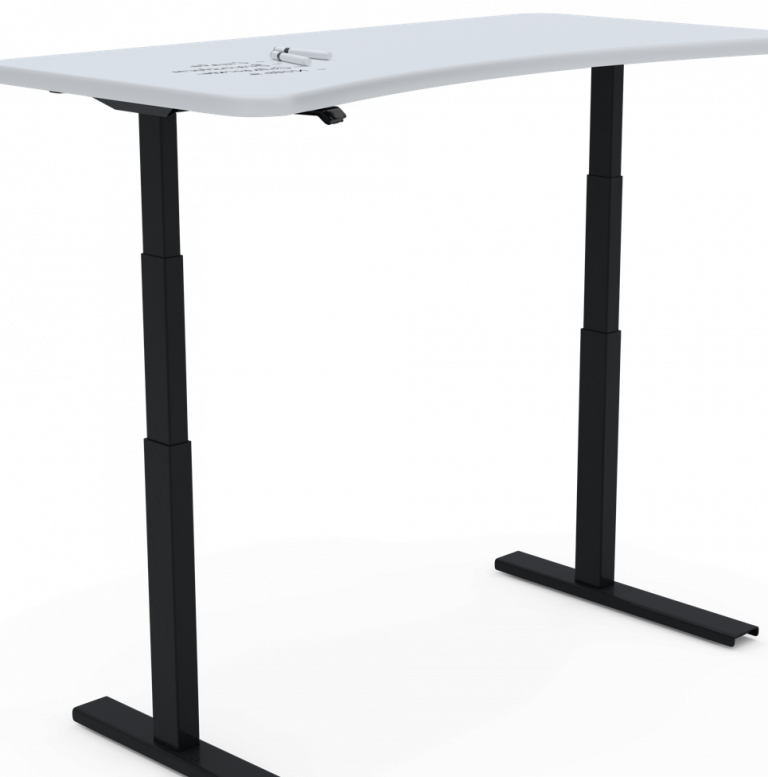 ---
The Ultra UpWrite Standing Desk is a premium sit to stand smart desk manufactured by the US company UpDesk. Ultra UpWrite incorporates a whiteboard tabletop surface which users can write on with wet and dry erase markers. The desk combines a Danish designed height-adjustable frame with an innovative electronic lifting system and the latest in contemporary style. The result is a sleek and modern looking desk with the most advanced smart desk technology on the market. The UpWrite Adjustable Desk uses integrated Bluetooth technology and can be paired with Android or iOS operating systems and controlled via desktop or smartphone. UpDesk is renowned for creating contemporary minimalist furniture which will fit beautifully into any setting and the UpWrite desk is an upscale and polished example, fulfilling the highest in both design and performance requirements.
Upwrite Standing Desk
Overview
Price
$1,149.00
Lift type
Electric
Material
Frame is steel, desktop is high-pressure laminate (HPL)
Weight
Small 106 lb, Medium 136 lb, Large 146 lb
Sizes Available
Small 48 x 30", Medium 60 x 30", Large 72 x 30", Custom sizes also available.
Colors Available
Black, White, Titanium
Where Produced
USA
Shipping
Free to 48 continental US states. Variable rates apply for international shipping.
Warranty
5 years limited
UPDESK Pro UpWrite Commercial-Grade Electric Adjustable Standing Desk Overview
---
How Does the UpWrite Standing Desk Look?
UpDesk products are created in line with the design principles of Hygge, focussing on simplicity and timeless style. The company is renowned for its minimalist style and true to form, the UpWrite Sit to Stand Desk is a modern and stylish work station. The UpWrite UpDesk is available in a variety of color options. The frame comes in Black, White and Titanium finish and the white board work surface itself is customisable with single color and contrast combinations in black and white. The curved standing table top is 1.25" thick and made of stain and scratch resistant high-pressure laminate which users can write on with wet and dry erasable markers. UpWrite's "Ultra Frame", created by Danish tech firm LINAK is sturdy and solid, with square telescopic legs containing the powerful dual motors on two reinforced steel footings with inbuilt levelers for uneven floor surfaces. UpDesk supplies the standing table in three standard work surface sizes. The Small size is 48" x 30", Medium is 60" x 30" and the Large size is 72" x 30". They can also create custom sizes for users who have more specific requirements than these.
What's Unique About the UpWrite Standing Work Table?
At $1,149.00, the Upwrite is at the higher end of the adjustable work table market, but customers can expect to receive plenty of value for their investment. Users love the handy whiteboard surface which saves time and paper. As well as being one of the best looking adjustable desks on the market, the UpWrite standing desk comes installed with a Bluetooth Smart Desk Controller which according to UpDesk is the most innovative desk controller available anywhere. The controller is programmed automatically meaning that users don't need to manually enter preferred settings. The desk holds four preferred height positions and is moved by pointing the controller in the direction that the user wishes the desk to go (up or down). An LED halo display uses amber and green flashing lights to remind users when to change height settings. Another unique characteristic of the UpWrite standing desk is that it can be controlled via Android or iOS app. Users who avail of this capability will receive notifications and reminders on smartphones or on Mac or Windows desktops.
UpDesk UpWrite Smart Desk Performance
TheUpWrite Smart Desk is exceptionally easy to assemble. Instructions are clear and concise and the manufacturers estimate assembly time at between 20 and 25 minutes. Users will need either a screwdriver or a drill but no other specialist equipment is necessary. Once assembled, the desk is very sturdy and solid. All UpDesk workstations meet ANSI and BIFMA furniture industry standards. The UpWrite standing table is the most powerful in the UpDesk range, lifting up to 375 lbs in weight from a minimum height of 23.5" to a maximum of 49.5" at 38 mm per second. It is possible to order castors for the desk that will add an additional 3 inches to the overall height. The LINAK "Ultra Frame" uses two dual motors, one in each leg to maximise power and stability while lifting. The compact motor is hidden from view within the desk. The electric lift is extremely quiet at just 55 dB and the unit comes with two integrated cord management channels as standard. UpDesk will cut grommet holes in desk surfaces at no extra cost if users wish to run wires through the worktop but they do advise that this can add up to four extra business days to the delivery time. The included power cable is just 10 feet in length meaning that users will need to add an extension lead if there is any distance between the desk and the nearest power socket. The standing work table comes with a 120V power supply as standard but a 240V is also available for international customers. In standby mode, the UpWrite desk uses 0.1 watts of power.
Shipping and Guarantee
UpDesk offers free delivery to the 48 continental states within the United States but there are additional charges for orders going to Alaska, Canada, and Hawaii. International delivery is available and calculated individually by contacting Customer Services prior to ordering. UpDesk estimate shipping in 5 – 7 business days and US deliveries are dispatched via FedEx. The sturdiness of the UpDesk UpWrite is reflected in its weight, arriving in a shipment of between two and four heavy boxes, depending on the size selected. The box containing the largest size desktop weighs 83 lbs, so it is worth noting that assembly will take at least two people. UpDesk offers a 30-day money back guarantee on all standing desks but items must be returned in the original packaging and customers are held responsible for return shipping fees. The smart UpWrite table comes with a 5-year limited Warranty for parts and labor. This covers the desk for any defects in materials and/or workmanship and a normal use policy applies.
What are Customers Saying About the UpDesk UpWrite Desk?
UpWrite UpDesk reviews are overwhelmingly favorable across the board. Users report very positive interactions with UpDesk customer services and many benefits from using the UpWrite Desk. Customers also praise the ease of assembly and the straightforward operating system. The high cost of the unit appears to be offset by the cutting edge technology and the superior stability when compared to competitors' products. Some users have complained that writing on the desk surface can easily rub off on clothing but in general, the majority of users are impressed with the added convenience that the whiteboard desk top offers. It is worth taking the weight of the shipping packages into consideration when planning the assembly of this desk. As it is one the heaviest adjustable desks on the market, users will need at least one other person to assist during lifting and assembly.
The Bottom Line
It's hard to find anything to dislike about the Ultra UpWrite Standing Desk. UpDesk delivers the latest technology solutions in a slick, modern and stylish piece of furniture that will fit into any environment. As far as technology goes, with the Bluetooth smart controller and the LINAK app, UpWrite blows the competitors out of the water. We really loved the intuitive automatic settings and the clever pointing height adjuster. The LED halo light strip also looks great. UpDesk has added just the right amount of futuristic technology without throwing off the balance of the minimalistic simplicity of the design. The addition of the Whiteboard surface is simple but clever, saving users time and paper and adding to the green credentials of the desk. However, at $1,149, the UpWrite Smart Desk is going to be out of budget for many people and there are some relatively good alternatives on the market if users are willing to forego some of the innovation on display in this model. This UpWrite Updesk review agrees with that old adage; You get what you pay for. The UpDesk Upwrite Standing desk is a premium product at a premium price and in our opinion, UpWrite more than fairly compensates customers for what is a considerable investment.
Still can't make a decision after reading our review of UpDesk Ultra UpWrite? There is another option you may find interesting: Uplift Standing Desk.
---