72" Fixed Height Standing Conference Table by EBSCO Industries, Inc Review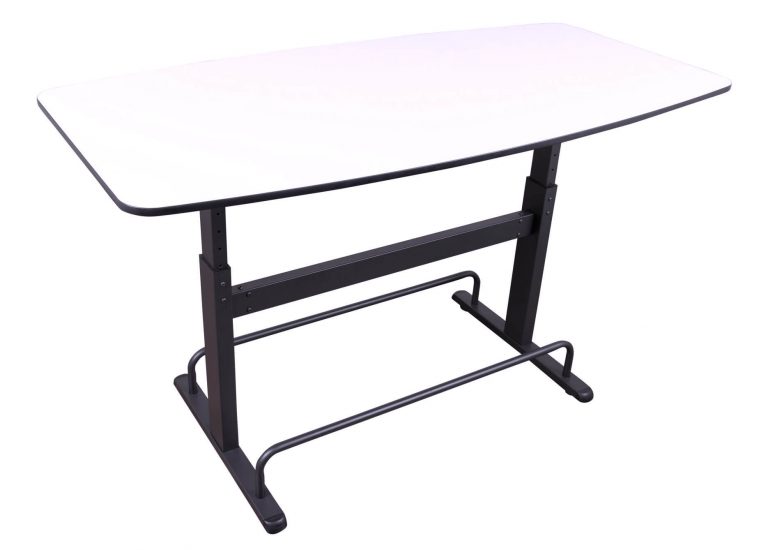 ---
The 72" Fixed Height Standing Meeting Table is a type of standing conference tables that offer fixed height which can be adjusted in 2" increments. It is similar to the 72" Crank Adjustable Standing Conference Table with the only difference being that that one's height can be adjusted through a hand crank. It offers the benefits of a standing meeting table where users can hold meetings and participate in discussions, all the while standing. This helps them improve their fitness and health as they burn calories and remain energized during work. This medium-sized standing table lets you adjust its height to an ideal level that is suited to all the users who will be working on it. It provides a pair of foot bars which offer added comfort for users whether they are standing or sitting. This standing height meeting table comes in two different styles where one offers an erasable whiteboard top. This is extremely useful as team members are able to brainstorm and exchange ideas by writing on the tabletop which is easily erasable.
72" Fixed Height Standing Conference Table by EBSCO Industries
Overview
Price
Starts at $299
Lift Type
Fixed 2" increments
Material
Strong steel frame with a powder-coated paint finish, high-quality laminated wood for the tabletop
Sizes Available
72.25" x 36.125" (183.5cm x 91.7cm), Fixed 2" height adjustments from 29.75" (75.5 cm) to 49.75" (126.4 cm)
Colors Available
Charcoal Frame with Butcher Block Top, Charcoal Frame with Whiteboard Top
Weight Capacity
154 lbs (69.8 kg)
Manufactured
USA
Shipping
Standard shipping charges apply based on the destination address
Warranty
2-year warranty for manufacturer defects and faults
Review of the 72" Fixed Height Standing Conference Table
---
Specifications
The 72" Fixed Height Standing Conference/ Meeting Table is a type of desk that does not offer adjustable conference table heights. Rather the height can be fixed at a required level using the screws and bolts. The height of the table can be adjusted at 2" intervals by screwing/ unscrewing certain screws. The table has the dimensions 72.25" x 36.125" (183.5cm x 91.7cm). The table's fixed height can be set between 29.75" (75.5 cm) and 49.75" (126.4 cm).  It has a maximum load capacity of 154 lbs (69.8 kg). This 72" desk comprises a steel frame which is finished with powder-coated paint. The tabletop is made from good quality wood with one model of the desk providing a dry-erase white tabletop. Users can write and draw stuff on the top during discussions and meetings which can be erased and cleaned easily. The steel frame also has foot bars which help ease the strain on users' feet while they are standing. They also offer a comfortable base where they can rest their feet while sitting on drafting chairs or bar stools. The size of the desk enables it to easily accommodate 3-4 individuals at one time whether sitting or standing.
Appearance and Maintenance
The 72" Fixed Height Conference Table is a type of conference desks that offer affordability and improved fitness through its standing height design. The table comes in two different colors and tabletop material of construction. These include a Charcoal Frame with Butcher Block Top and a Charcoal Frame with Whiteboard Top. The Butcher Block Top offers a sophisticated outlook which goes with any officer or room interior. The white one offers great usability through its dry-erase option. The conference table has a simple design with a steel frame and wood tabletop. It is easy to clean and move wherever one wants. However, adjusting its height is not a simple task. During assembly, it can be fixed at a particular level. If the height is to be changed later on, users will have to unscrew some bolts, make the required height adjustment, and tighten the screws once again. All the instructions required for making this height adjustment and other support issues are outlined in the user manual provided with the table.
Assembly and Accessories
This standing conference room table which is delivered to the user's doorstep after they have ordered it. It is a DIY conference table that users have to assemble from scratch according to the instructions provided. The received package contains all the unassembled components including the steel frame, wood tabletop, and other items required to make the finished product. The installation guide describes the complete steps through which users can assemble the table. This conference table is BIFMA (Business and Institutional Furniture Manufacturer's Association) certified for safety, comfort, and durability. Some accessories can be used with this table to enhance one's experience and make it more comfortable and useful. These include an anti-fatigue mat and Sit to Stand Drafting Chairs. The mat can be used while standing to put the strain off the feet. The drafting chairs and task stools help users to switch between sitting and standing position irrespective of the fixed height of the table.
Packaging and Shipping
The 72" Fixed Height Standing Conference Table/ Meeting Table is a standing meeting table that enables 3-4 users to work on it while standing. It is shipped by the manufacturer to the destination address. The manufacturer only offers domestic shipping within the USA. The shipping costs depend on the state to which it is delivered and the standard shipping charges. International shipping is not currently offered for this table. The shipping dimensions of the package are 73" x 37" x 50" (185.4cm x 94cm x 127cm). Its shipping weight is 130 lbs (59 kg). The package contains all the individual components of the table which can be assembled by following the instructions in the assembly guide. The guide is included in the package along with the user manual and other support documents. The manufacturer offers a 2-year warranty for manufacturer defects and faults. The warranty card is also included in the shipped package.
Benefits of the 72" Fixed Height Standing Conference Table
This fixed height conference table is a standing desk that allows its users to gain the benefits of working while standing which could not be achieved otherwise when working while sitting. It offers a fixed height which can be set before using this table. It does not provide any mechanism through which the height can be adjusted at runtime either manually or electrically. This meeting table may not be as versatile as other standing desks such as the Adjustable Height Flip Top Table or the 72" Crank Adjustable model, but it still offers some benefits which make it a good choice to be considered. The standing option of the desk helps users burn calories and improve their health and fitness. This results in a more productive and efficient work environment. The whiteboard tabletop allows users the ease of exchanging ideas and brainstorming during meetings and discussions. The foot bars at the base also offer increased comfort for the users whether they are standing or sitting on bar stools and drafting chairs.
The Bottom Line
The 72" desk with a fixed height offers the benefits of a standing desk at an affordable price. It offers a wide surface area where 3 to 4 individuals can easily place their laptops and other supplies during work. When they stand and work on the table for long periods, they are able to burn calories and remain active. During meetings, people tend to get bored and lose their concentration. However, while using a standing desk, this problem can be overcome as people can stay focused and energized while standing. However, this desk does pose the problem of not providing any runtime mechanism for adjusting the table height. The low price of the table makes up for this shortcoming. Thus, this table is perfect for people with a low budget who want to benefit from a standing desk but are unable to pay a lot of money for it. It will provide them with a durable and strong standing table.
We recommend you to take a look at our Xdesk Conference Table guide if you do not know whether you want to choose EBSCO 72" Conference Table
.
---