UPLIFT Height Adjustable Conference Table Review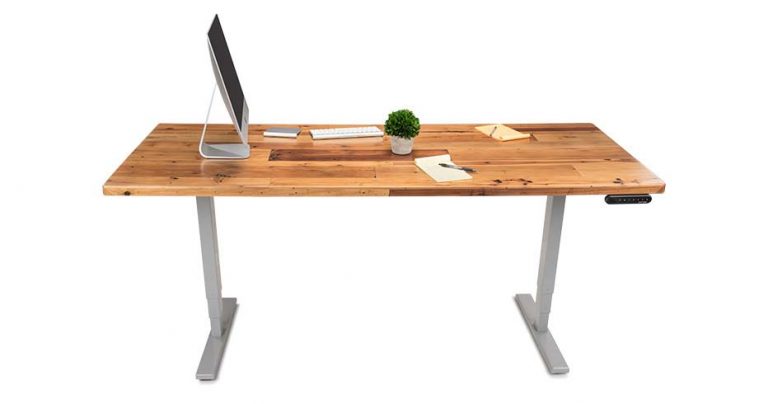 ---
Height Adjustable Conference Table by UPLIFT Desk is certainly one of the most unique options that we have seen, allowing customers to build their own conference desk by selecting from a large variety of options. This manufacturer provides the customer with a more customized solution that will ensure it fits with the room's decor, while also satisfying the need for space during meetings.
The table comes with quality construction that ensures not only a sturdy performance but also durability that makes the table last for many years. The warranty further adds to the overall warranty for the product.
UPLIFT Height Adjustable Conference Table
Overview
Price
From $739
Lift Type
Electric
Sizes Available
Customizable – standard option includes 80″ desktop, with a base width option between 43″ to 70"
Colors Available
More than ten different colors and styles to choose from
Weight Capacity
355 lbs (two-leg frame option); 530 lbs (four-leg frame option)
Where Produced
United States of America
Shipping
Free shipping to certain states in the USA. Discounted rates for international shipping
Warranty
Seven-year limited warranty
Height Adjustable Conference Table by UPLIFT Desk Review
Height Adjustable Conference Table by UPLIFT Desk is one of the more versatile options in this category to hit the market in recent years. The meeting table comes fitted with a variety of technological and design advantages that sets it in a class of its own – from a quiet and super fast electrical height adjustment system, all the way to the many customization options that customers get to choose from when they decide they would like to invest in this conference table.
The table has also been fully certified to comply with all the requirements set out by BIFMA/ANSI X5.5-2008, including multiple test sections, in order to ensure the safety of every person who will be using the table during their meetings.
Height Adjustment System
The table features an electric height adjustment system to make the process of increasing or decreasing table height more convenient, as well as faster, for the customer. The electric motor is made from high-quality parts, along with appropriate gears that are fitted at the right positions to ensure the entire desktop surface can be moved evenly.
The motor is able to provide an average transit speed of 1.5 inches per second, which is quite fast when we compare the transit speed to other leading conference tables on the market. The speed does, however, depend on the load that has been applied on top of the table's surface. A heavy load can lead to a reduced transit speed. The motor is equipped with a soft start system in order to ensure adjusting the height can be done without any wobble.
The height range of the table depends on the specific model selected. The two-leg option has a minimum height setting of 24.4 inches and a maximum height setting of 50.0 inches. The four-leg option has a minimum height of 23.5 inches, along with a maximum height setting of 49 inches. This range is very convenient and should be able to accompany most users.
Build Your Own Table
UPLIFT Desk, the company behind this particular adjustable height conference table, has developed a system where the customer is able to choose between a number of different customization options when they are buying the table. Essentially, this allows the customer to build their own version of the table in order to meet the demands of their office space better.
The customer is able to choose between a variety of colors and designs, such as:
Bamboo
Reclaimed Douglas
Rubberwood (Available in natural and dark brown options)
Laminate desktop
White Eco desktop
Stock solid wood
The base width of the table can also be customized to a size between 43 inches up to 70 inches, depending on how large the customer needs the table to be in the conference room. The customer is also able to choose between a two-leg  and a four-leg option.
Warranty
Height Adjustable Conference Table by UPLIFT Desk comes with a seven-year limited warranty. Not all parts seem to be included. The parts that are included in this seven-year warranty include:
Motor
Frame
Mechanisms
Electronics
Keypad
Controller
Customers are able to opt for an extended warranty period while they are choosing customizable options during the ordering process. This will, however, incur further charges. The warranty will not be redeemable if the company finds that any of these components became faulty due to misuse or standard wear and tear, but rather when the company notices that factory faults and specific issues with the mechanisms of the table itself caused the issues to occur.
The Bottom Line
Overall, Height Adjustable Conference Table by UPLIFT Desk is certainly one of the better options on the market when it comes to installing a standing desk into a conference or meeting room. The product comes at a convenient price, even when not on promotion, and has a range of different features that make this option superior to a lot of the other conference tables we have seen.
Customers are able to customize their selection in order to buy a table that will be more suitable to the specific needs of the room where the product will be used. There are a variety of options, including color, design, the number of legs, and other features that can all be customized to ensure the perfect conference desk can be bought.
Have doubts about UPLIFT Conference Table? There are actually a lot of great alternative options. For instance, check our iMovR Synapse review to have a better perspective.
---