Xdesk Sit-Stand Conference Table Review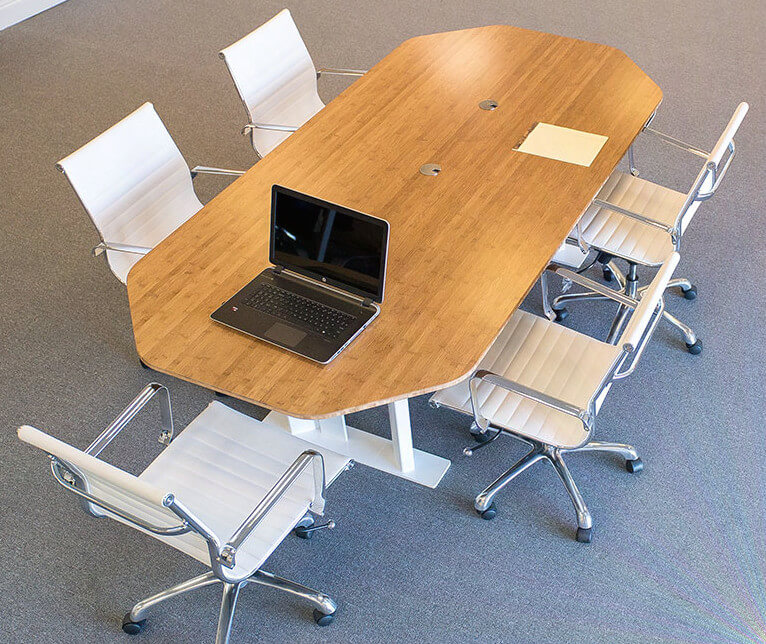 ---
The Xdesk brand has become popular among customers who want to focus on the health benefits of standing desks – and the Xdesk Sit-Stand Conference Table has become an essential part of their offerings. This counter height conference table is large enough to accommodate multiple people at the same time, and the ordering process allows for a significant number of customizations that allows the client to make the table more convenient for the office.
A customer can customize the desk to their liking. The desktop finish, along with the aluminum frame finish, can be customized to ensure the table will perfectly match the interior décor of the conference room where the product will be used. Several additions can also be added to the table to make it a more useful product for meeting rooms.
Xdesk Sit-Stand Conference Table
Overview
Price
Starts at $2,697.00
Lift Type
Electric
Lift Speed
1.7 inches per second
Material
Aluminum, Bamboo
Sizes Available
63" x 31.5" / 79" x 31.5"
Weight Capacity
630 lbs
Colors Available
Light Bamboo, Medium Bamboo, Dark Bamboo, Light Rubberwood, Medium Rubberwood, Dark Rubberwood
Weight
n/a
Where Produced
United States
Shipping
Depends on table size selected, as well as the customer's location. Shipping domestically to addresses in the United States costs less than international shipments. Customers will be held responsible for any customs duty fees added by their local government
Warranty
30-day guarantee + 5-year limited warranty
Xdesk Sit-Stand Conference Table Review
Xdesk Sit-Stand Conference Table is a high-quality option that can be easily added to conference rooms, meeting rooms, and other areas in an office where multiple people are required to work at the same time. The table features a relatively large desktop surface and comes with a large range of customization options to provide a product that will be perfectly suited to the specific environment.
Desktop Surface
The desktop surface of the Xdesk Sit-Stand Conference Table is, by default, made from natural bamboo. This is perfect for offices and individuals who are aiming to become more environmentally friendly, but also offers a durable material that will last for a longer time than a lot of the alternatives out there that uses lower quality materials. In addition to the natural bamboo material, customers also have the ability rather choose a rubberwood material as an alternative.
The surface of the desktop comes with a standard size that measures 63 inches in width and 31.5 inches in depth. Customers in need of an extended desktop size can choose the upgrade, which provides them with a desktop that measures 79 inches in width and 31.5 inches in depth. This upgrade will add $297 to the cost.
Customization Options
One of the great features offered by the Xdesk Sit-Stand Conference Table would be the fact that the desk comes with a large variety of customization options. This allows the customer to ensure they can get their hands on a conference desk that is perfect for their office, whether only a few people usually attend a meeting or there are usually multiple individuals sitting in during a conference.
Customers can choose between six different desktop finishes. These options include:
Light Bamboo
Medium Bamboo
Dark Bamboo (Costs an additional $47)
Light Rubberwood
Medium Rubberwood
Dark Rubberwood
In addition to allowing the customer to choose from different finishes, materials, and shades for the desktop, the customer is also able to choose between various aluminum frame finishes.
The options that are available include:
Jet Black Gloss
Alpine White
Silver Gloss (Costs an additional $97)
Silver Matte (Costs an additional $147)
Black Matte (Costs an additional $197)
Other options that can be added to the table during the customization include a vanity cover, an added Harmon Kardon sound system, the addition of up to three grommets, and an ergonomic monitor arm, among other features.
Warranty
A warranty with a product like the Xdesk Sit-Stand Conference Desk is essential, especially when the price of the product is taken into consideration. Fortunately, this product does come with both a guarantee and a warranty. The customer has 30 days to test the product – during this time, and the satisfaction guarantee is in place. The customer is then allowed to return the desk to the manufacturer within the first month if they are not happy with it – the manufacturer will then provide the customer with a refund.
After the first 30 days have passed, a five-year limited warranty kicks in. This protects the Xdesk Sit-Stand Conference Desk against faults that can be traced back to the manufacturing process.
The Bottom Line
When compared to a large number of competitor products on the market at the moment, we find the Xdesk Sit-Stand Conference Table worthy of a conference room that wishes to focus on providing an alternative to people being seated around the table. This is a highly rated table and is constructed with quality materials to provide a durable product. The addition of a five-year guarantee also offers protection against factor faults and similar matters.
On the other hand, however, it is crucial to consider the fact that this is also an adjustable height table for the conference room that is on the pricier side of these products. Thus, the table may not be suited for companies who are looking to buy a standing height conference room desk on a lower budget. For those who can spend more on a quality product, the Xdesk Sit-Stand Conference Table may be one of the ideal options available.
We advise you to take a look at our NewHeights Elegante XT review in case you do not know whether you'd like to buy Xdesk Conference Table.
---