Unsit Under Desk Treadmill Review
Unsit Under Desk Treadmill
Overview
Weight capacity
350 lbs.
Walking belt size
30" x 40"
Speed range
0.3 – 2.0 mph
Horsepower
2.75 HP
Noise level
max 42.9 dB
Where Produced
USA
The overall size
39" W x 56" L
Weight
162 pounds
Warranty
lifetime frame, 3 year parts, 1 year labor
The dreaded desk job affects nearly 86 percent of American workers. Today and over the last few decades, our sitting time has increased. Americans are sitting way too long on average, about nine to ten hours a day. Sitting actually is the new smoking. In fact, it is worse to sit all day than to smoke a pack of cigarettes.
The modern work lifestyle consists of conference calls, Skype calls, and webinars. That's a perfect time to be up and walking. There's no reason to sit for an experience like that. There are a plethora of health ailments that are rooted in the city. You're putting pressure on the back of the legs and the glutes. Where there's not supposed to be pressure, there's the cut of blood circulation. The lumbar spine arches the wrong way, so you get pressure on the discs that leads to sciatica and all kinds of other low back ailments if you look and talk to people who are working in offices for a long period of time those are big health ailments.
If you sit in front of a computer for eight hours a day, maybe you've thought about an
an alternative to sitting in an office chair. But it can be a little bit confusing because some people you see sitting on balls, and then you read studies that show that those balls don't do anything. That you got to be standing up instead. But then another study comes out that says standing doesn't make sense either and that you got to be moving in order for it to be effective. And so maybe that's what led you here because you're considering an under desk treadmill and if that's the case, then great because we're going to be talking about Walking Treadmill by Inmovement.
Overview
So as you can see, this is an under desk treadmill. Inmovement does have this really cool accordion desk that's a desk riser. So you can set it on like a normal-sized sitting desk, and it will hold two monitors and just kind of expand up to what you need. There is that option if you're looking for it, or if you already have your own standing desk, the unset can be slid underneath.
Now the first thing you'll notice about this treadmill is it is a different size than most treadmills that you've seen. Inmovement does this on purpose. This walking treadmill has a different size belt, and it is 30 inches wide and 40 inches long. A typical walking treadmill belt is about 20 inches long wide and 50 inches long. They're usually longer and narrower. But what Unsit has done is expand the treadmill out to the sides of the width of your desk. That way, you can move a little bit from side to side as you're working at your desk and not step off the treadmill.
The other thing is as you're walking, you don't need all that kickback length that you would typically need on a running treadmill. And since most walking treadmills have been designed or patterned after running treadmills, they kind of follow the same footprint, but this one is a little shorter because when you're walking, especially at slower speeds, you don't need all that rear length.
In an office environment, that can jut out into the room and be a trip hazard for other people or make it so that you have to navigate around the treadmill when you're moving around your office. So as you can see, this is just wider and a little shorter than your typical
treadmill.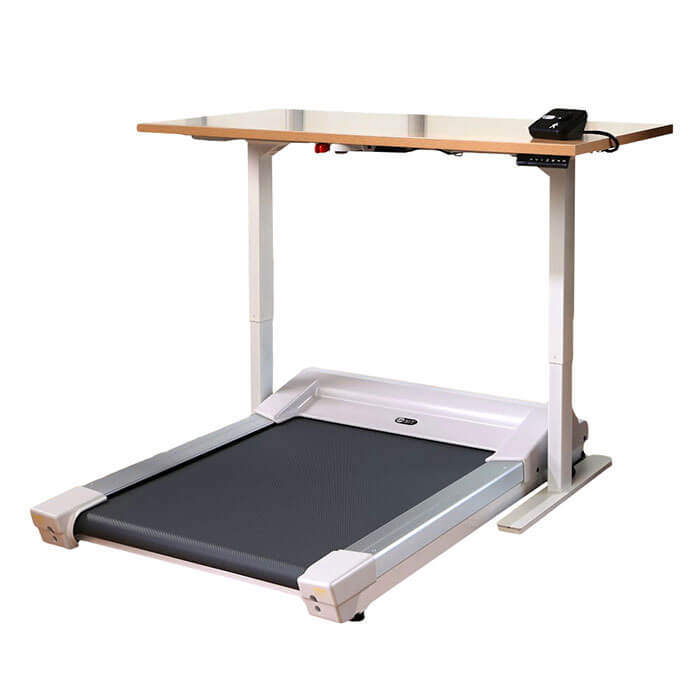 Construction
Let's take a look at the construction of the Unset Walking Treadmill. As mentioned above, it does have a slightly wider but shorter footprint than standard walking treadmills. You need a 40-inch span to be able to slide this up underneath a standing desk or an existing sitting desk. If you opt to use the riser, just make sure that you've got 40 inches of span under there. The belt itself is 30 inches wide and 40 inches long. The footprint of the treadmill is 39 inches wide and 56 inches long, so that's why you need that 40-inch span in there.
It has a very sturdy construction. This treadmill itself weighs 162 pounds and will support up to 400 pounds. It's a very durable, strong treadmill. You can see you've got nice textured
side rails on either side that angle gently in or out, and they make an excellent stopping point when you're getting on and off the treadmill. Your step-up height is only five inches, so it's even a little bit lower than typical walking treadmills. It's really easy to get on and off.
There is a nice textured belt which is especially nice because in an office setting, a lot of times, you might not be wearing athletic shoes; you might be in more business shoes or some
kind of half casual. It grips your foot and helps you move along if you don't have traction underneath your shoe.
It does have wheels up at the front so you can lift and move it. As mentioned above, it's a little heavy, but there's a bar back at the bottom grabbing which you can lift that treadmill up and just kind of slide it back and forth and shift it around your room as you need to. So it can be moved. It's a very important feature because it doesn't really make sense to spend eight or nine hours a day walking on a treadmill desk. You're going to want to switch to a sitting
position from time to time. Models that do not have wheels require another sitting place.
It comes with a control box which plugs into the back and sits on the top of your desk. That's how you control the speed and the movement of the belt.
There's a pretty good warranty on the Unset Treadmill. It has a full lifetime warranty on the frame, which is really impressive. You also get three years on parts and one year for labor.
Control Dial
There is a very simple control box with one knob and lights around it. There's both good and bad about this. One is that it's very lightweight and doesn't take up very much room on your desk. It reminds a port that you would plug a cordless phone into. It doesn't take up much room. Lights around the knob turn on depending on the mile per hour you're at. The one downside is there are no numbers on here. So if you turn it up or down, it'll start, and you have to keep walking, or else it's going to stop. You can turn it up, and it will increase to that speed, but you don't necessarily know what it is.
However, you can download the app for your phone, and it will tell you on the app how many steps you've taken, your walking time, your standing time, the total time you've spent on the treadmill, estimated calories burned, and mileage. It will keep track of it in the app, on your phone. You can turn it on or off, depending on what you want. So it means that you've got to have your phone nearby, and you've got to have the app on to know how fast or slow you're going. It's not my favorite design. I would prefer it if there were numbers on the cons on the box or whatever, but it is what it is.
There is a safety key with sticky tabs that you can put up underneath your desk so that you can sit at the front of your desk and not be in your way, but you can still use that safety key. The lowest speed is 0.3 miles an hour, and the highest speed is 2 miles an hour. The console box is pretty simple, and then at any time, if you need to get off the treadmill, it will automatically stop for you, and the red lights indicate the fact that the tread belt has stopped.
Functionality
As mentioned earlier, the footprint of the treadmill is a little bit wider and shorter. The white coloring is very handy because it's really chic, and it would fit into any office environment. It also makes it easier to see because it doesn't blend in with the floor. Being able to see the parameters on the sides of the treadmill is actually really helpful.
The belt of the treadmill has a gently textured surface. Side rails provide a nice place to step on when you're getting on and off the treadmill. It has a safety feature, so if you step off this treadmill, it will automatically stop after just one or two seconds.
There's also another safety feature where it will not turn back on for any user or object under 70 pounds. The reason that it does that is so that children, pets, or other things may get set on your treadmill. It won't be able to turn on for that amount of weight. Even if your child gets on the treadmill and hits the button, if they're under 70 pounds, it won't start. That's a really nice feature, especially for those of us who are now working in a home office situation.
It has the dial on the control box that sits up here on your desk, and it does have an expanding cord that drops down behind.
The safety key is separate and is designed so you can stick it up underneath your desk and hook that safety key to your clothing. If you pull the safety key out, the treadmill will automatically stop. It will not continue to run if that safety key comes unhooked.
0.3 miles an hour which is the slowest speed, and this particular treadmill will only go up to 2 miles an hour. Which really is the recommended highest speed that you would want when standing at a desk and trying to type or work or anything else.
The dial on the control panel can just turn the treadmill up, and it just will incrementally go up a little bit at a time. The lights around the knob will indicate not only where you're going, but it will kind of let you know when you get there. As it increases speed, it will increase those lights.
The device is very quiet. At the speed of one mile an hour, you will hear very little noise. There's hardly any motor noise. A little bit of noise from the belt as it moves along the top of the deck and moves along rollers. More than anything, you will get foot noise just from the shoes. Even at a speed of two miles per hour, it's very quiet.
It does require a dedicated outlet. Inmovement recommends that you have a dedicated circuit for this. Don't plug it into a power strip anything like that. The control box plugs right into the back of the treadmill itself.
Conclusion
As you can see, this is a fantastic office treadmill. The walking distance is quite enough, the space of the extra width and a little less length so it doesn't stick out and bug people around you.
It has a slightly wider profile which gives you more lateral room to move back and forth along your desk. The total width of the belt is 30 inches, and the total length is 40. It does have front transport wheels, so you can lift and roll it as you need to.
The white styling with the gray belt is sleek and will look nice in pretty much any office environment.
It will support up to 400 pounds of user weight which is also another really handy feature.
There is also one point for setting your expectations right. You're not going to be quite as productive, at least not at first. In fact, your first reaction might be to regret having made the purchase, to begin with, because it's just awkward, and you can't type or think as fast or as precisely as you used to. There's a significant learning curve that you should expect.
This treadmill does have a really cool app that will sync with your phone, and there's no display on the control box itself; it's just a dial. So it will kind of give you a little light as to how fast you're going, but there's no output of numbers speed calories burned, anything like that. You do have to download the app for that.
---