Lifespan TR1200 - DT3 Treadmill
Lifespan TR1200 - DT3 Treadmill
Overview
Weight capacity
350 lbs
Walking belt size
20" W x 50" L
Top speed
4 mph
Horsepower/RPM
2.25 HP
Noise level
max 50.1 dB
Where Produced
USA
The overall size
70.5" L x 29" W x 9.5" H
Weight
Treadmill: 131 lbs., console: 3 lbs.
Warranty
Frame - lifetime, motor - 3 years, parts - 2 years, labor - 1 year
Maybe you haven't heard, but sitting is the new smoking according to a lot of research done in the last couple of years. It's a rise in all causes of mortality. Every system in the body is affected by long-term sitting. I believe that we are created to move; we aren't meant to be stagnant creatures. Ironically a lot of college-bound students sit to get their education for their job, and then once they have that degree, for a lot longer time, they're going to be sitting at that job. Most of us can relate to that.
Let's start a journey of trying to change some of those things because I knew I didn't want to be sitting all the time as well as standing for long periods of time. Just being stagnant also comes with its own set of problems, so I didn't really want to stand for long periods of time either, I started with a standing desk to get at least into standing, which seems better overall than sitting, but the problem is the stagnation. It's not just sitting or standing, and it's staying in one place.
Here we'll review the TR-1200 DT3 model. Those of you who read this are probably looking into purchasing one of the best under desk treadmills so that you can maintain a healthy lifestyle by attentively walking your 10,000 steps minimum per day or maybe because you suffer from back issues.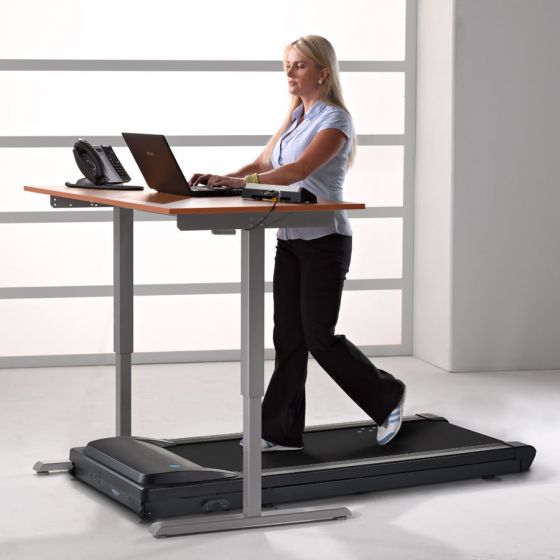 Construction Matters and Features
Its footprint is 28 inches wide and 63 inches long. The walking surface is 20 inches wide by 50 inches long, so it will easily fit under every desk. There are two side rails that give support when you want to hop off. The motor hood at the front isn't obtrusive and doesn't really get in your way, so you don't lose any track length.
The frame is firm and sturdy. You don't get any vibration or noise underneath due to six compression shocks. Most of the time, when you're on a walking treadmill at a desk or in an office situation, you might walk for longer periods of time. In theory, you could walk up to several hours a day. This treadmill has been designed to handle this kind of use.
The side rail's height is just 5.25 inches. The belt is slightly lower than that. It has a nice texture, so it's not going to get slippery, and even with business shoes, you're able to walk with cadence. 
It is equipped with wheels on one side so you can lift it from the back and move around by holding a bar located down underneath.
It weighs about 120 pounds and can handle up to 350 pounds of user weight. It is a great option for pretty much any size user.
Speed limits
The lowest speed is 0.4 miles an hour, and the max is 4.0 miles an hour. This is considerably faster than other brands' walking treadmills. Mostly they are designed to be used while working at a desk,  with a max speed of two miles per hour. Four miles per hour won't be your go-to speed, of course, but it's nice to have such a feature.
Recommended walking pace, in my opinion, is one point four miles per hour. You do get some cardio benefits, and you can focus and concentrate and work on detailed tasks such as artwork with a mouse on the screen you can type. 
If you're on the phone or you're watching some sort of instructional video and walking, you can increase your speed. At three miles per hour, it's a relatively fast, brisk walk. You can still perform, but it may become challenging to have to perform cognitive tasks such as typing.
Simple controls
The console weighs about three pounds and firmly sits on your desk. The digital LED display shows the numbers of steps, burned calories, distance, and speed. Once your set your weight, the system will show you the number of calories you've burned.
Up and down buttons choose modes and different speeds. There are Stop/pause and Start buttons. A security latch so that if you fall, this pulls out and stops the belt. There is a USB port on the back to charge your smartphone.
Bluetooth compatibility lets you see even more advanced stats by using the free health app. To connect it, just hit the Bluetooth button on the console, and it will pair with your device, be it your phone or computer.
When you first get on the machine, hold the start button for about three seconds to get the belt rolling. It will automatically move on at 0.4 miles an hour speed, and then you can scroll down through different modes.
If you want to stop at any point, you can just pause it, and the belt will stop. You can step off from side to side and then start. You just hit on again, and it will count down for you to let you know it's going to start, and it will begin to back up at that point four miles an hour.
Broad functionality
The Intelli-guard feature detects when you step off the treadmill. It gives you the warning sound, and then the belt will automatically stop. That's a safety feature. You don't have to worry if you hop off real quick to answer the door or go to a meeting, the treadmill will stop if your feet do not touch the belt, and it won't keep running in the background.
The Intelli-steps feature counts the number of steps you've taken. It's a common notion that a healthy daily minimum of steps is 10,000, but when you're working at the desk and typing, your arms aren't moving a lot of the time. The various fitness trackers are unable to count your steps correctly in such circumstances.
The safety key can be attached to your clothes. If that safety key gets pulled out, it will automatically stop the motion. Once you plug it in, it will start back up exactly where you left it. Just hit the start button. It will give you a countdown of three, two, one, and then it's going to go. It will always start at the slowest speed of 0.4 miles an hour.
Conclusion
The TR1200-DT3 is an excellent under desk treadmill that will allow you to walk for hours and remain active while staying productive, regardless of which standing desk you use. This quiet treadmill doesn't produce distracting background noise, so it won't bother the neighbors. In reality, the treadmill is so quiet that it comes with many safety measures to help you use it properly. The Intelli-Guard function stops the belt if you step off it, and the belt markings and console signify belt speed and motion.
Government departments, hospitals, gyms, and companies that have embraced an active-office lifestyle use LifeSpan under-desk treadmills all around the country. This model, like the rest of the Lifetime office treadmills, absorbs impact at six stages and comes fully assembled so you can start waking up straight away. It also comes with a lifetime frame warranty, as well as a 3-year motor warranty, 2-year parts warranty, and 1-year labor warranty.
---