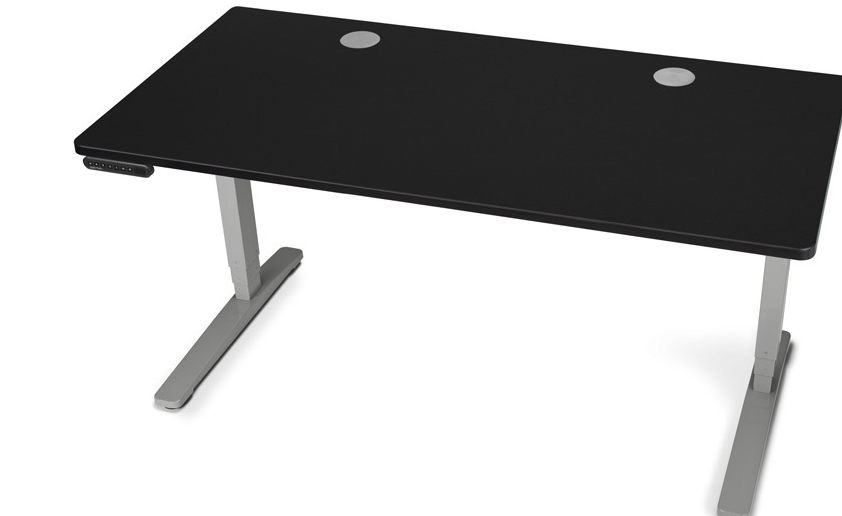 The Uplift Height Adjustable Standing Worktable is a modestly priced sit to stand desk which is available in a variety of frames and differently colored laminate finishes. The Texas manufactured Uplift delivers a quick and quiet lift using a three-stage frame on telescoping legs. The Uplift's work surfaces are GREENGUARD certified and made from 100% recycled MDF. With a starting price of $495, the Uplift desk offers excellent value for money. Shipping is included in the price and the manufacturer provides a 7-year limited warranty on the unit.
The workstation is highly customisable and comes in a wide range of sizes, styles, and finishes. Customers can choose from an extensive selection of ergonomic accessories to complement their Uplift table. Integrated smart technology lets users store up to four preferred height settings allowing for a hassle free and smooth transition between seated and standing postures.
Pros:
Wide range of sizes and color options
Great selection of coordinating accessories
High weight capacity
Industry-leading warranty
High level of Customer service
Cons:
The laminate surface is not water and stain resistant
Not the easiest unit to assemble
Some users complain of a slight wobble
The Main Review
---
How Does the Uplift Adjustable Standing Workstation Look?
The Uplift desk design is based on simplicity, with clean lines and a fuss-free appearance. One of the greatest advantages aesthetically is the impressive range of customisable options available of the unit. The Uplift table consists of a 1 inch thick, high gloss laminate work surface on a sturdy extendable frame. A wide variety of different colors, sizes, and finishes allow customers to personalize the workstation's appearance according to their own preferences. The desk surface comes in standard black, white, and grey options, but Uplift also offers a variety of wood-looking finishes including mahogany, cherry, and maple. All of these are made from 100% recycled MDF, are environmentally friendly and certified by Greenguard.
The frames are powder coated and available in black, white and grey. No toxic materials are used in the manufacturing process of either the frame or the work surface. The desk motor is contained within the square telescopic legs and a crossbar where the tabletop meets the frame provides extra stability during transition. The Uplift frame sits on two solid feet made of 100% recyclable aluminum. These are equipped with leveling studs allowing for an adjustment of up to 3/8", providing an ideal solution for uneven floor surfaces. Uplift also offers a great range of stylish ergonomic accessories such as monitor arms, keyboard trays and other handy tools to complement the unit and maximise functionality. As another option, it is possible to buy the Uplift frame alone to use with existing work surfaces. The frame is compatible with any desktop which is at least 1 inch thick, up to 90 inches in width and 30 inches deep.
Technical Specifications and Uplift Desk Performance
The Uplift uses a three-stage frame which gives it a superior range of extendability and maximises strength, stability, and durability. This also means that when in motion, the desk operates at a speed 33% faster than two-stage adjustable standing desks. Uplift tables offer a generous height range, extending from a minimum of 24.5" to a maximum 50.25" with a lift speed of 1.5" per second. Optional locking casters will increase the height by approximately 2". With a weight capacity of 355 pounds, the Uplift is one of the heaviest lifting sit to stand desks on the market. A haul sensor, located within the control box of the frame helps with alignment and the telescoping base can be adjusted width wise from 42" to 74", allowing customers to fit different desktops to the frame or to change work surfaces in the future. Work tables narrower than 43" do not require the use of a crossbar. Users can store the standard four preferred height settings in the Digital Memory Keypad and these can be quickly changed or updated. The keypad itself is simple to program and use but it has little more than basic functionality to offer.
The current height of the desk is displayed on the keypad unit and users can switch from sitting to standing at the touch of a button. To save on power, the display goes dark when not in use. The Uplift Adjustable Work Table is extremely quiet, with an operating volume of just 50dB. Users report excellent experiences in using the product, reporting that it is both quick and quiet. Transitions between sitting and standing are fuss free and easy. However, some customers have commented that when extended to its maximum height, the work surface wobbles slightly. The desk needs to be connected to a power source at all times to ensure the operation of its safety features.
Putting the Uplift Standing Desk Together
Although in general, reviews of the Uplift workstation are excellent, some users note that this particular product is not as easy to put together as some of the other options on the market. The manufacturer provides detailed and comprehensive assembly instructions as well as a helpful video and troubleshooting tips. Nevertheless, the large number of parts and the weight of some of the components mean that at least two strong people will be required to assemble the unit.
Based on Uplift desk reviews, assembly time can vary between less than one hour and more than three. The desktop is pre-drilled with guide holes for the frame. To assemble the desk, customers will need to use an electric drill or a Phillips head screwdriver along with an Allen wrench which is included in the packaging. For those customers who are not confident in putting the desk together, Uplift offers a custom assembly and set up service at an additional charge.
Shipping and Warranty
The company offers free shipping of Uplift desks all over the United States, including Alaska and Hawaii. The units are shipped from Austin, Texas. Delivery is quick with most customers receiving their order in less than a week. The Uplift desk is shipped in one single delivery of multiple packages and comes with an industry leading 7-year warranty. This covers manufacturer's defects and malfunctions in frames, desktops, and accessories including electronics and motors. Problems resulting from an incorrect assembly, modification or force majeure are not covered. Uplift also provides 24/7 access to customer support. The company's 30-day money back guarantee allows customers to return the desk in its original packaging for a full refund minus shipping charges within 30 days of delivery.
The Bottom Line
---
The Uplift Height Adjustable Sit Stand Desk has a lot going for it. It is a sturdy, well-made product with decent technical specifications and lots of customisable options. Its extended height range and heavyweight capacity give it an excellent range of versatility. It's easy to see why this desk is popular, not just for office use but for artists and craftspeople and in recording studios and educational establishments. What we really like is Uplift's customer focused and principled ethos. The 7-year warranty provides a high level of security for investment and the 24/7 helpline means that if something does go wrong, there's somebody on the other end of the phone to help out, no matter what time it is.
Uplift's environmental credentials are excellent. The firm's use of recycled and recyclable materials leaves us with a clear conscience and the use of nontoxic materials in the finishing process makes for a healthier work environment. With prices starting at $495, the price represents good value for money and there are no hidden costs or delivery charges to surprise you at check out. If anything is lacking in the Uplift, it is in the Digital Memory Keypad which looks like something from the last century. With LED displays and interactive technology becoming standards in many competitor products, it feels like Uplift could up their game in this department. That said, the simplicity of the keypad will appeal to many users for its uncomplicated and straightforward operation. Overall, this workstation is a great option for users who want a long-term and secure investment. What the Uplift lacks in technical innovation is more than compensated for by its versatility, simplicity and excellent customer back up.