Vaunn Medical Pedal Exerciser: Low Resistance Under Desk Cycle Review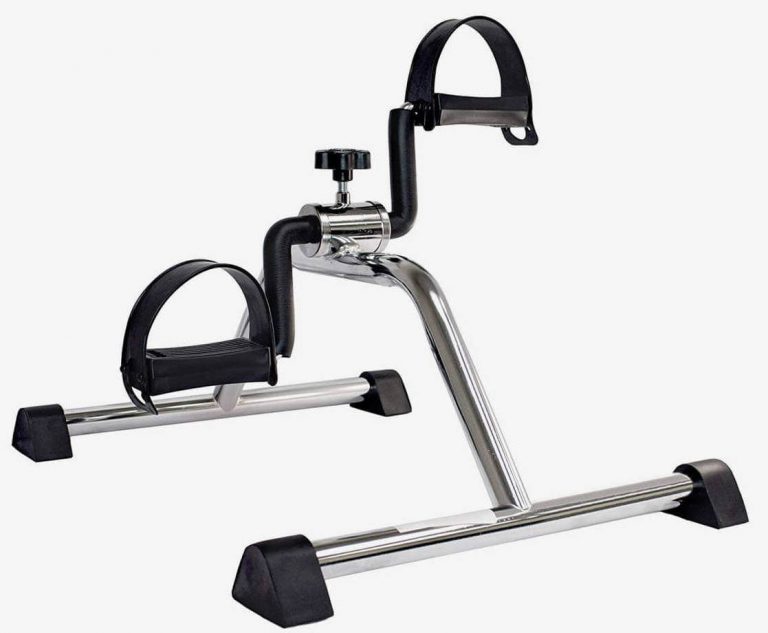 ---
Vaunn Medical Pedal Exerciser is an under desk bike  built with physical therapy in mind. It has a sturdy construction that features a strong chrome frame for maximum stability. The entire line of similar pedal exercisers – including the competitors of Vaunn Medical – target their products at consumers that are looking for workouts with attention to convenience. This is partly achieved with the portability of the machines, and this Medical Pedal Exerciser is also a portable device.
The medical bike peddlers are suitable for use for both hands and feet, thus eliminating any urgent need to have separate exercise machines for either. To round up what appears to be a solid piece of construction, non-skid rubberized feet at the bottom of the pedal machine makes it safe to use on most types of floors.
Vaunn Medical Pedal Exerciser: Low Resistance Under Desk Cycle
Overview
Price
Starting at $42.99
Dimensions
15.75" (Width) ×21" (Diameter) ×11.75" (Height)
Operation
Manual
Material
Steel and Rubber
Weight Limit
Not specified
Assembling issues
Comes already assembled
Color
Silver with black highlights
Where Produced
USA
Item Weight
4.4 lbs.
Shipping
International
Package Weight
4.7 lbs.
Warranty
1-year warranty
Vaunn Medical Pedal Exerciser Overview
Vaunn Medical Pedal Exerciser gives the body a cardiovascular workout in a convenient manner. The user can simply set up the desk cycle under a desk and workout at any time of the day, wherever they decide to use the equipment. The need for having to go to a gym or make out special hours for simple workouts is reduced with the introduction of these under-desk bikes. The strain impact of the machine on the body after a workout session is low but it still manages to tone arm and leg muscles while increasing circulation of blood in the body.
Additionally, Vaunn Medical Pedal Exerciser has a knob on the top of it that allows the user to adjust the resistance of the machine. This works by either increasing the intensity of the workout if the user decides that it is too low or decreasing it if it is too high for the user to keep up with.
It is an especially handy feature for users that are recovering from an injury and are still going through the therapeutic phase. These people need to take things easy when they slowly begin to get back into workout routines.
They may be unable to dive right back into the same level of intensity that they used to, and the option to adjust intensity takes care of that potential problem. As they get back into the thick of getting used to the workouts, they can also increase the intensity to keep the workouts interesting and effective.
Assembly
Vaunn Medical Pedal Exerciser is shipped in fully-assembled form, but there are older versions of the product that come in at a lowered price range without assembly.
Regardless, setting up the pedal machine is a straightforward process and if a user purchases the non-assembled variant, then a manual will be contained in the package with instructions on how to set it up easily.
Appearance
Unwrapping the package, it appears to use a high-quality triple-layered chrome plating joined with screws. It makes the product look sleek and modern while providing some level of protection from corrosion.
The medical bike pedals feel snug and comfortable, the machine feels well-built and sturdy even though it is light-weight, and it is not hard to imagine that it should last for a reasonably long period of time if used with care.
Vaunn Medical Pedal Exerciser Weight
The product weighs 4.4 lbs. which is generally lower than the average seen with under desk bikes. This size is great for portability, but it begs the question of the stability of the machine while in use in some cases. It may be too light, such that it stutters and shifts in position while the user works out with it. Instability may cause the product to topple over which could be a potentially serious concern for the user.
Rubber Platform
The non-skid rubber platform seems to be a possible answer to the question of stability raised due to the product's weight. The rubber offers some extra traction that helps the machine to have a better grip on floors, tables, and other surfaces. This provides some extra level of security for users that may be justifiably worried about stability.
Dual Function
The way the machine is set up, it can be used as an arm exerciser or under desk leg peddler. This dual function makes things easier for the user in the sense that they don't have to get a separate exerciser for either of their arms or legs. Since this is a medical pedal exerciser that will be used more often by older/medically challenged people, it is an interesting change of pace from the regular "pedal-alone" set up that is seen with similar machines on the market.
How Does It Stack Up?
In a bid to gain some insight about how Vaunn Medical Pedal Exerciser stacks up against the competition, we made a brief comparison with the Vive Pedal Exerciser, and we also looked at desk cycle reviews. To start off, it is important to point out the fact that the Vive Pedal Exerciser is in a higher price range than the Vaunn pedal Exerciser, coming in at up to $17 more. However, it is used for comparison here because it is generally seen as one of the better brands on the market.
Interestingly, the Vaunn Medical Pedal Exerciser doesn't do badly in comparison at all. In fact, It is advertised as one of the best pedal exercisers for seniors. It also manages to hold an advantage over its competitor in the fact that it can be used for both arms and legs while the Vive Pedal Exerciser is built for the legs alone. This means that it is offering a bit more versatility for a lower price. However, the Vive Pedal Exerciser has that LCD screen that will be very useful for users that like to keep track of their workout progress and information – a feature that is lacking in the Vaunn Medical Pedal Exerciser.
Summarily, the fact that the Vaunn Medical Pedal Exerciser is reasonably cheaper means that we would still rate both products at a similar level. However, if budget is not an issue for the user, then the Vive Pedal Exerciser is the superior product.
The Bottom Line
Vaunn Medical Pedal Exerciser is a versatile, portable and sleek-looking pedal machine that fits in nicely into the pedal exercisers market. It also manages to carve a sort of mini-niche for itself in that it places some emphasis on its usefulness for medically challenged people. For its price, one would be hard pressed to find significantly better under desk exercise bikes. It performs as advertised despite a distinct lack of flash in doing so.
Have doubts concerning Vaunn Medical Pedal Exerciser? There are actually many top-quality other options. For instance, look at our Flexispot Deskcise Pro review to gain a better perspective.
---