Stamina InStride Folding Cycle Review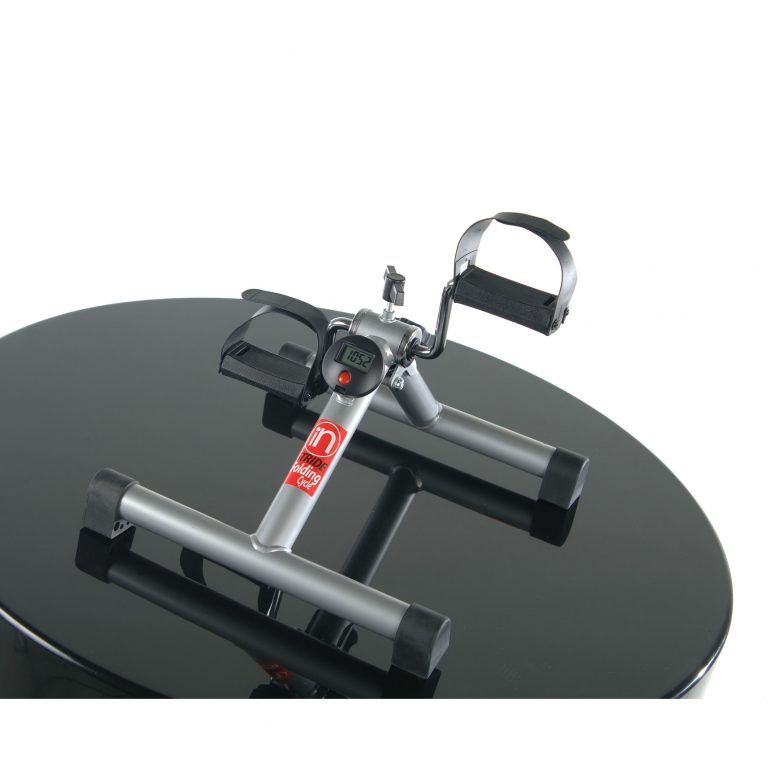 ---
The Stamina Instride Folding Cycle is a highly practical piece of equipment. Not only does it fold to make storing easier, but it is incredibly light and compact. All this helps to contribute to the under desk cycle being easily transportable. This helps with the machines multiuse design as it can then be taken to work or used in physical therapy as well as at home.
So what else is there you need to know about this budget cycle?
Stamina InStride Folding Cycle
Overview
Price (may vary)
$34.11 (Amazon), $69.99 (official website)
Features
Adjustable tension and footstraps, full range of motion, electronic monitor
Material
Steel frame
Dimensions
18 x 15 x 12.5 inches
Colors Available
Pewter (Silver)
Weight
6.2 lbs
Where Produced
China
Shipping
Worldwide. Delivery is free in the USA
Warranty
90 days
The Review
---
Appearance And Assembly
If you like an easy to set up product then this is perfect. Due to its tiny size, the Stamina Instride already comes fully set up and ready to use. The product comes in the a pewter colour and is designed with a steel frame.
What Is The Purpose Of The Stamina Instride?
The Stamina Instride has one clear and concise purpose. To enhance health. Whether that is using the machine in the office, at home or during physical therapy is not relevant. The fact is, Stamina Instride was designed to be portable so that you can use it in every one of these situations. Due to its portability it is even possible to take it on holiday with you, so you don't lose all your progress whilst you're away.
What Are The Stamina Instrides Top Qualities?
This cycle can be used by both arms and legs, ensuring you good balance when it comes to exercise. This quality goes hand in hand with the products portability and range of motions. All these qualities combined, create a cycle which ensures balance, versatility and strength from its use.
Where Does The Instride Fall Short?
Despite its endeavours, the Stamina Instride is still a budget cycle. This is evident in many of its shortcomings. This cycle feels cheaply made. On some occasions it even fell apart within the first day of use. It also has a tendency to overheat, rendering it completely useless and moreover, highly dangerous. The product also has a complete lack of stability when in use. It has been known to slide across various forms of flooring rather than maintaining grip whilst you exercise, even on carpets. This is a very irritating attribute as well as a dangerous one.
One of the main selling points of the product is its variable tension. This is another shortcoming however, as the product tension barely seems to change even on the highest level. If there is a change, then it is so minimal that it is ineffective. Furthermore, moving the Stamina Instride to the highest tension level tends to increase the noise it makes, as well as causing it to overheat at a faster rate.
Shipping, Warranty And Returns
Shipping of this product is free within mainland USA. If you want faster delivery then costs may vary. International delivery also varies in cost. If you order through Amazon then delivery follows the same policies, unless you have Amazon Prime, which ensures you get the product within two days for free.
The product is under a 90 day warranty. During that period it may be returned or replaced if broken or faulty. To receive a full refund on the product, it must be returned within 30 days of being delivered.
The Bottom Line
To conclude, the Stamina Instride is a product with both exceptional qualities and outstanding flaws. The cheap price and folding feature make it both a practical and logical product to buy and travel with. However, when it actually comes to using the cycle, it can slip up slightly. Some users will have no issues with the cycle at all, yet others will suffer overheating or the product sliding annoyingly around whilst in use.
Furthermore, these flaws aren't alone. One of the main reasons for buying the product would be its adjustable tension. This would enhance your exercise experience, possibly pushing limits and helping you gain muscle strength. Yet this feature fails to fulfil its promise. For this reason, along with the other flaws, the Stamina Instride may not even be worth its budget price, as it does not always do as it is intended.
We suggest you check out our Deskcycle review in case you don't know if you would like to choose Stamina InStride.
---