Flexispot Deskcise Pro: Under Desk Bike Review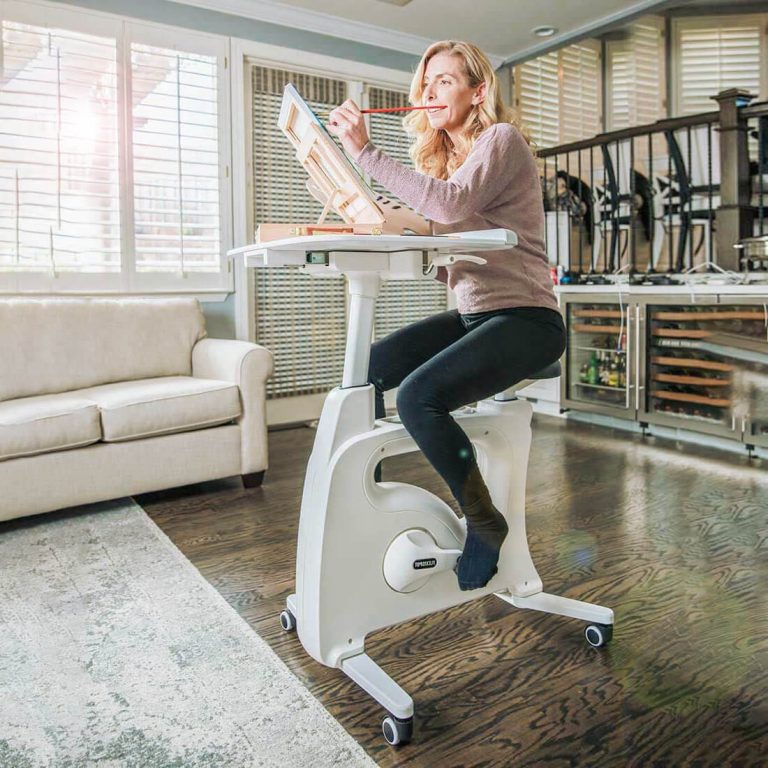 ---
Flexispot Deskcise Pro is promoted as a true all-in-one product when it comes to implementing a fitness solution into an office. This under desk bike aims to take the user away from sitting down while they are working all they, and introducing them to a flexible desk with various functions for flexibility during the day — the desk functions as a sitting solution, as well as a height adjustable standing desk. Additionally, the built-in under desk bike makes it easy for the user to get active while they are working.
Even though Flexispot bike may seem exceptionally useful, a few concerns should be raised when it comes to considering whether or not it may be a good addition to an office. It does, however, seem like the company behind the product has a large focus on promoting this particular desk cycle for home use. Still many customers might be interested in such a complete solution for their office.
Flexispot Deskcise Pro: Under Desk Bike
Overview
Price
$399.00
Material
n/a
Size
Bike 37.6" x 22.8" x 42.5"; Desktop 20" x 22.8"
Colors Available
Black or White
Batteries
2 AA type batteries
Weight Support
300 lbs
Where Produced
n/a
Shipping
Shipping is free through the FedEx delivery company to 48 states within the U.S. It should be noted that shipping charges will be added to an order when Flexispot bike needs to be shipped to Hawaii or Alaska. Customers need to contact the company directly for orders that need to be shipped outside the United States.
Warranty
Flexispot Deskcise Pro comes with a one-year limited warranty.
Flexispot Deskcise Pro under desk bike Review
At first glance, like an exercise bike for under desk, Flexispot Deskcise Pro may seem like one of the most convenient devices for people looking to go from being sedentary in the office to rather being more active. When a potential customer starts to look at the specifications of under desk bike and the specific features, as well as take the overall stability into account, then some factors may put this product to a disadvantage. When looking at bike stand reviews, it is crucial to consider both the good and the bad. This step ultimately allows the customer to make the right decision.
An All-In-One Solution
When it comes to looking for stationary bike pedals for under desk, the majority of products on the market at the moment would be a relatively small device that is simply placed underneath an existing desk in an office. Flexispot Deskcise Pro, however, is one of the complete options that a customer will be able to find.
While Flexispot bike has under desk bike pedals that can be used for cycling while working, the product can easily become a standard desk as well. The user can sit still on the seat and go to work. In addition to these two functions, the desk's height can be adjusted, converting the product into a standing desk solution. The seat's height can also be adjusted according to the comfortability of the user.
The seat has a height adjustability range from 29.6 inches up to 37.2 inches. The desktop has a height adjustability range from 42.5 inches up to 48.4 inches. The desktop does not provide a significant range, but can still offer a convenient way to stand up while typing, writing, or performing other tasks. This under desk bike will be a perfect choice for people between the height of 5'1" and 6'2".
Cycling Features
The stationary bike stand features comfortable pedals that can be used to cycle. Flexispot bike uses a magnet to produce adequate resistance, which can be configured according to the user's preferred pace. There are 8 different resistance levels that the user can choose from. The user can easily start with the lowest resistance setting and increase the intensity as they cycle.
Warranty
Flexispot Deskcise Pro comes with a warranty to ensure the user's investment is protected against factor faults and construction errors. The frame of Flexispot bike comes with a three-year warranty period. The electronic parts that are used in the cycle and the height adjustable desk are only under warranty for one year of the purchase date of the product. The official Flexispot website has a complete list of rules that relate to the warranties that come with their products. The customer should acknowledge themselves with these terms and regulations to ensure they understand what will be covered underneath the included warranty.
The Bottom Line
This Flexispot bike is an effective office solution that lets the user choose between three different modes, including sitting, standing, and cycling while they're busy with their work. While Flexi bikes seem to offer customers the ultimate solution to implementing a healthier way of working at the office, this product may be an ideal option for those who wish to move away from a sedentary lifestyle at home.
Stability is the primary issue with the Flexi bike reviewed in this post. The Deskcise Pro seems to wobble too much for most people to get their work done, especially when using the under desk cycle that it comes equipped with. When using this product as a standing desk, the user is likely to find that they will continue to bump against various parts, such as the under desk bike pedals.
Have doubts about Flexispot Deskcise Pro? You'll find many top-quality other options. For example, look at our Sunny Mini Exercise Bike review to get a better perspective.
---