DeskCycle Under Desk Bike Review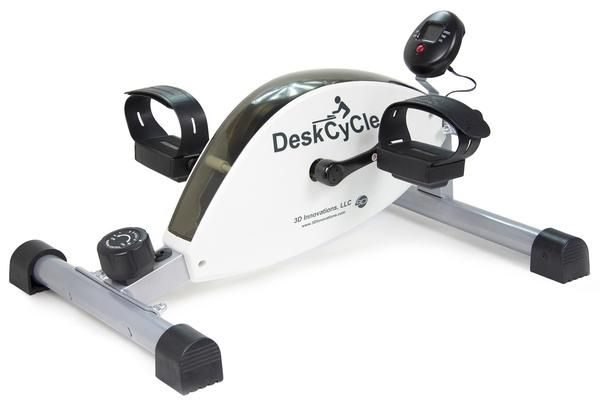 ---
The Deskcycle is a simple under desk  exercise machine that goes under your desk, allowing you to pedal and exercise your legs whilst working. It can improve your health, increase your energy levels if you are feeling lethargic and maybe even increase productivity.
The product will not only get your health back on track, but it can free up time during the day that you may have previously spent at the gym. Furthermore, Deskcycle has also been known to help in schools with children who have short attention spans. This exercise cycle is highly effective in various situations and pushes the limits of quality in its market segment.
DeskCycle Under Desk Bike
Overview
Price (may vary)
$159.00 on official website and Amazon.com
Features
Display with display stand, wide range of resistance level, magnetic resistance, lowest pedals available
Dimensions
24 x 20 x 10 inches
Colors Available
White
Weight
23 lbs
Where Produced
USA
Shipping
Available worldwide through the official website and Amazon. The item must be shipped alone. Standard delivery is usually free within most countries. Faster delivery will cost more
Warranty
1 year with a 30 day money back guarantee
The Review of DeskCycle Under Desk Bike
---
Appearance And Assembly
The Deskcycle comes pre assembled so you can simply place it where you wish to use it and start cycling. It comes in the colour white and is designed to look sleek and suave.
What Is The Purpose Of Deskcycle?
Deskcycle is designed to allow you to get your well needed dose of exercise even whilst in an office environment. Many people go to work and sit in front of a desk for several hours in a row, without ever getting any exercise. This can lead to an abundance of health related issues. The purpose of the Deskcycle is to cut down health related issues from sitting at a desk, by offering people a way to exercise whilst still sat working.
Is The Product Effective?
The Deskcycle is arguably the most effective exercise cycle on the market. Its range of 8 different magnetic resistance settings mean that you can exercise at the level that suits you and there is always an opportunity to push yourself further. In addition to that it is highly suited to the office environment it is designed for. This is because of how quietly it operates and the height of its pedals being so low. These features contribute to it being an efficient office product that isn't a distraction.
What Are The Standout Qualities Of The Deskcycle?
The standout qualities of the Deskcycle are all of its features. Its 8 setting magnetic resistance is just one of the factors that contribute to effective cycling. Its low pedals help the user to be comfortable whilst cycling. This means they are likely to cycle for longer. In addition to those features, the desktop monitor helps the user to keep track on their exercise. By doing this, the user can track the exercise they do each day, possibly keeping to a fitness schedule to get maximum effects from the product.
Does The Deskcycle Have Any Shortcomings?
There are very few issues with the Deskcycle at all. The only issue some people had has when they used to the product on wheel based office chairs. The Deskcycle would sometimes cause them to slide away from the desk when in use. However, this issue could easily be combated by lodging the wheel behind the cycle. Yet, this then lead to cycling being less comfortable, so it is recommended you purchase an item to attach the cycle to the chair instead. This will ensure you do not slide away and your cycling experience is still comfortable.
The only other regularly occurring issue wasn't with the product itself. It was instead, with delivery. The product can only be delivered on it own. This means if people want to purchase other items, such as attachments for the product, they may have to wait for a seperate delivery. This can be quite inconvenient.
Shipping, Warranty and Returns
Shipping for the product is available worldwide for free via Amazon. It is also free within the US from the official website. Faster or evening delivery is available at a higher price. The item must be shipped alone and cannot be delivered with any other items. The Deskcycle has a 1 year warranty that covers the loss of parts, damages and the product not correctly functioning. With returns, the product has a 30 day money back guarantee.
The Bottom Line
Quite simply, the Deskcycle is the best product on the market in its area. It is an efficient, well priced and effective exercise machine. Its variety of settings, as well as its desktop monitor contribute to the strength and quality of the product. Furthermore, unlike many of its competitors, there are very few negative comments you can make about it. If you are looking to exercise at work then you should look no further than the Deskcycle.
We recommend you to check our Vaunn Medical Pedal Exerciser guide in case you don't know if you'd like to get DeskCycle.
---